5 Ways to Automate the Important Parts of Your Business
How often do you find yourself overwhelmed by your daily to-do list? As a small business owner, I know how quickly a to-do list can balloon to impossible lengths. There are always so many things to get done and only so much time to do them. When you run a small business, countless small tasks are on your shoulders, as you must likely wear several different hats. In larger organizations, these tasks would be the responsibility of dedicated employees, but you likely can't accord a full-time worker to take care of your social media, for example. While hiring a virtual assistant can be a remarkably effective way to get rid of many of these tasks, there are other strategies you can use alongside a VA. My personal favorite is to automate your business!
Content Overview
What is Automation (for a Small Business Owner)?
Automation is responsible for the world we live in today. The manufacturing industry has almost entirely switched over to robots taking care of the work rather than employees on the assembly line. AI now takes care of countless tasks that required entire teams in the past.
As a small business owner, you can harness the power of automation yourself to take care of many of the small, time-consuming tasks that make up your weekly to-do list. It can require a little bit extra work to get things set up, but after the automated processes are in place, you only need maintenance. These automated systems will quickly save you quantities of time that would otherwise take up hours of your week.
Here are a few of the places where you can save big by automating your tasks…
Selling
Sales are at the heart of every business, but you don't need to be at the center of every potential transaction personally. 
For example, one of the most effective sales methods out there is an email funnel. This email marketing method "primes the pump" for a customer, positioning them to take advantage of an offer or jump at the opportunity to purchase a product. You provide them with tons of value and actionable tips, and in return, they become a raving fan who eventually become paying customers. Win, win! 
While you COULD write personalized emails to every customer, that would not be an efficient use of your time (frankly, the idea gives me stress hives just thinking about it). Instead, by automating your sales funnel, you can connect with your current and countless potential customers with emails specifically designed to continue building solid relationships by providing value and stimulating sales. 
Sales Funnel
All you need to do is write fantastic emails to get recipients to visit your website or landing pages. These emails should be as interesting and "personalized" as possible while providing value and actionable steps that equal quick wins for your ICA. 
The funnel works like this: Imagine that you have a fantastic freebie offer on your website. The sales funnel can start once a potential customer gives you their email in return for the download. A few days after they have time to absorb the download, they receive an email elaborating on the freebie's content, offering them even more valuable information and small actionable steps. If they don't "take the bait," another email is automatically sent out a few days later, providing more value. Then another. 
Emails inside a sales funnel can run between a few emails to dozens, depending on your audience. But the crucial part of the sales funnel is that you don't need to lift a finger. After writing, they automatically get sent once someone downloads your freebie or joins your email list. Scheduling sales emails, newsletters, and other sales promotions can be a fantastic way to save you time and get people excited about your services while providing value. Value is the key!
Client Onboarding/Offboarding
I'm not going to delve TOO deep into automating client onboarding and offboarding, as I've already written a detailed download about how onboarding automation can save you a tremendous amount of time. But I will go through the basics!
Similar to your sales funnels, writing personalized emails can take up a ton of time. Onboarding a new client should be a time of celebration, not a massive time sink.
My business' onboarding system goes like this. Regardless of whether a potential client signs up with me or not, I automatically send them a thank you email after our consultation. This email provides a gentle reminder of everything we discussed, a little value, and a slight push to sign up. 
If they DO become a new client, a welcome email is sent out to them. This is a low-impact message that simply thanks them for becoming your client! In this email, you should lay out the onboarding process and what they can expect over the next day or two. I also include my Welcome Kit, a brief guide to working together, and other important information. 
Finally, I will send a Welcome Kit follow-up email to gently remind them to fill out their signed contract and intake form and schedule a kick-off call. It's human nature to put things off, so this last automated email should act as a polite reminder. And, of course, they should only get it if they don't fill out the documents in a timely manner. 
By automating your client onboarding, you can save yourself a ton of headaches and stress while also ensuring that your new clients receive everything they need to start your business relationship in a fast, professional way.
Social Media
Is there a bigger time sink in the world than social media?
Simply checking your personal Instagram messages once a day can easily lead to a full afternoon of looking at dog photos, baby pictures, funny memes, and travel destinations. Everything about social media tries to pull you in for the maximum amount of time, and it's no different when it comes to your professional social media.
Writing a single Instagram post takes up enough time, but add to that the minutes it takes to find the perfect image to post, and you're looking at a considerable amount of lost time. Especially if you accidentally get pulled into the social media vortex of content! But social media marketing is an essential part of digital marketing as a whole? So, what can you do?
The best way I've found to fix this is to keep off social media as much as possible by automating your content posting schedule. For example, I write all of my social media in advance, using a social media management system such as Later to post them at times of greatest engagement. Not only will this help get as many eyeballs as possible on your content, but it will also prevent interruptions in your day and breaks in your workflow.
This isn't to say that you should cut off all one-on-one contact with your social media. After all, it IS social. But you can always hire a virtual assistant to take care of follower engagement, updates, comments, and more. Honestly, as a small business owner, you should (personally) be spending as little time on social media as possible. It can be a big trap and definitely not the best use of your valuable time! 
Invoicing
I know that invoicing used to take up a massive amount of time for my small business. I would need to take an entire afternoon off to ensure everything was ready for my clients.
Nowadays, I barely need to think about invoicing since I have the entire process automated. I use a service like Harvest to track my tasks/projects as I go. Harvest automatically takes those time entries, puts them into a professionally formatted and customized invoice, and sends them off to my clients without me needing to do a thing.
I can't tell you the headache and stress that automating my invoicing system saves me. Spending the time putting this system into place has saved me hours and hours every month. And the best part is that you don't even need to be the one to spend that time setting it up. Hire a virtual assistant to do it for you! Suddenly, your invoicing afternoons will be free for you to do much more important work!
Project Management
Remember when I mentioned your to-do list? As a small business owner, I've found that the busier and more successful I became, the less useful a pen-and-paper to-do list was. 
Why? Because it just became too darn long! There was too much to put on it, and because of that, things could get lost in the mix. I would need to go through it, organizing it out into due dates, importance, difficulty, and much more. In the end, maintaining my to-do list was an item ON my to-do list!
That ended when I started using a Project Management system over a decade ago. Suddenly, I no longer needed to keep everything organized because it did it for me. Rather than going through a lengthy to-do list, my Project Management system would lay out my entire day in front of me, optimized to save time, effort, and energy. I can even organize it to ensure that I get the biggest or hardest projects done first (you know, eat the frog!)
Of course, this requires you to set one up, which can take a bit of time. You must put in all your clients, repeated tasks, big projects, and more. Thankfully, a virtual assistant can do this for you, saving you even more time! Either way, it's something I highly recommend. You'll think back and wonder how you lived with it! 
So, What Did We Learn?
Let's review what we learned:
The small tasks on your to-do list can eat up your entire day.
Automation can save you a massive amount of time in your business.
An automated sales funnel is a great way to stimulate sales.
Using a value-packed freebie is a fantastic way to get people started in your sales funnel.
Client onboarding and offboarding can be easy when you have all of the emails automated.
Social media is one of the biggest timesucks EVER!
Automating your posting schedule can save you time and help you maintain your workflow.
Automating your invoicing can clear up an entire afternoon.
To-do lists can get WAY too long when you're a small business owner.
Using a project management system can automate the way you organize your life.
Remember when I mentioned that I had a special download to help with Client Onboarding? Well, here it is! The 8 Steps to Automating Your Client Onboarding: Workbook & Checklist. This workbook is the actual series of steps I use for my client onboarding, so I know that it works wonders at saving time and energy. Give it a try!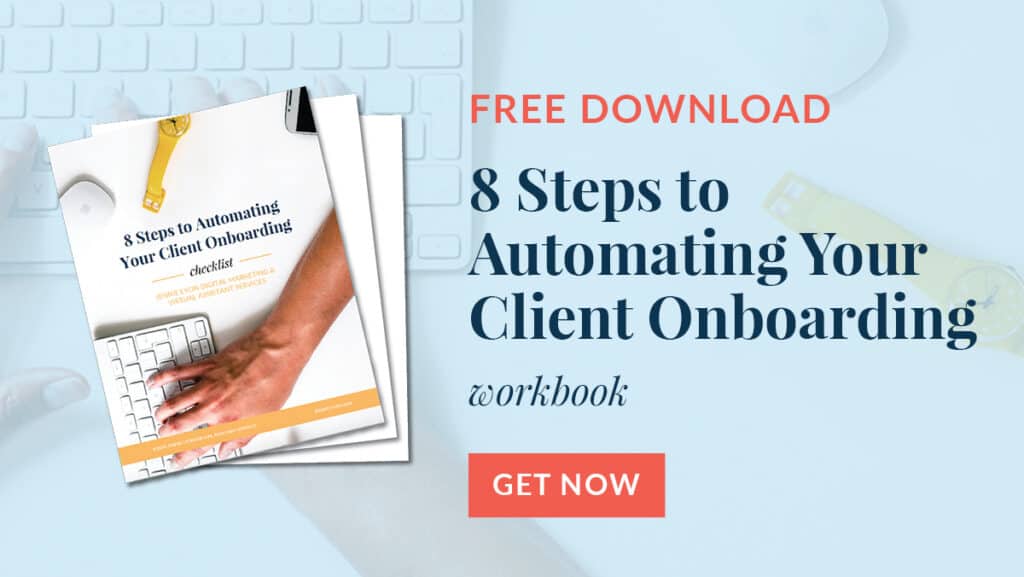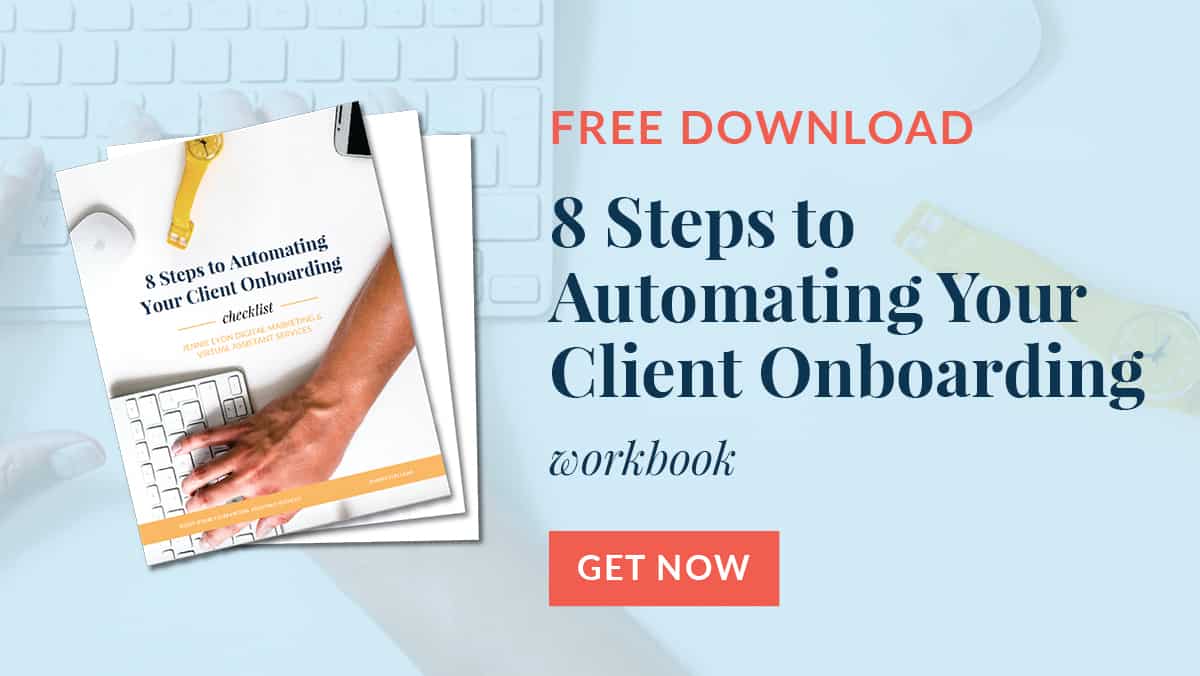 While automating many of the most important parts of your business can save you a ton of time, it can also take a while to set these systems up. If you'd like some help, please feel free to contact me for a free consultation. Together, we can get automation working for you, saving you massive amounts of time and clearing your schedule so you can focus on actually growing your business!
Links For This Episode:
Rate, Review, & Subscribe on Apple Podcasts
If you like what you hear on the podcast, please consider rating and reviewing my show! Woo Hoo! Click here, scroll to the bottom, tap to rate with five stars, and select "Write a Review." I would love to hear what episodes you enjoy the most!
If you haven't done so already, please subscribe to the podcast. I'll be adding new content weekly; if you're not subscribed, there's a good chance you'll miss out. Subscribe now!