Pinterest Strategy Samples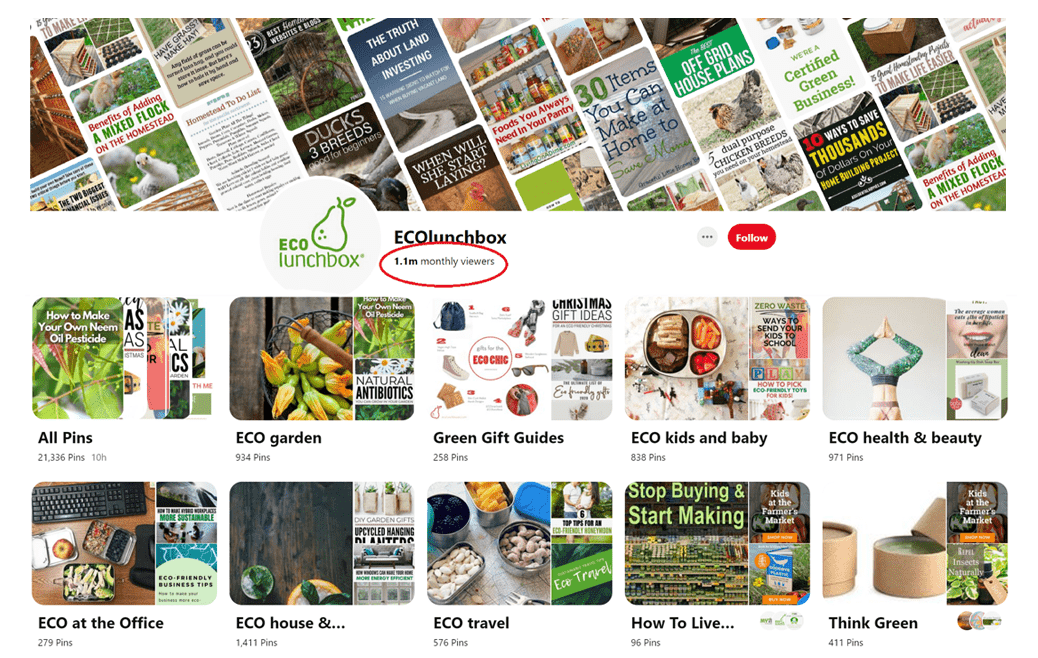 We began working with ECOlunchboxes in 2016. They provide eco-friendly, BPA-free containers and strive to raise plastic-free awareness. They wanted us to take on monthly content creation and management of their social media spaces, so we collaborated to cultivate their identity and crafted content to unify their brand. 
With a regular posting strategy coupled with great visuals, fun, eco-centric copy, and regular community engagement posts, ECOlunchboxes has exploded with followers, chiefly where most of their target clientele are found, on Instagram and Pinterest. Instagram has over 28.7K followers, Facebook has 16.5k, and Pinterest has 1.2M monthly views. 
Jennie Lyon Digital Marketing Inc.
Being digital marketing experts, we take on the management of our own host of social media accounts as well as the accounts of our clients.
Over the past year alone, our reach has increased 64.4% and our audience has grown massively from 2k to over 10k! On Pinterest, we currently average 278.2k monthly impressions. 
With a refined strategy consisting of creating engaging content coupled with beautiful graphics that hook the scroller, we're sharing quality, value-driven content regularly.
We showcase our company's credibility, converting views to business at our website.