Embracing Instagram Stories as a Small Business Owner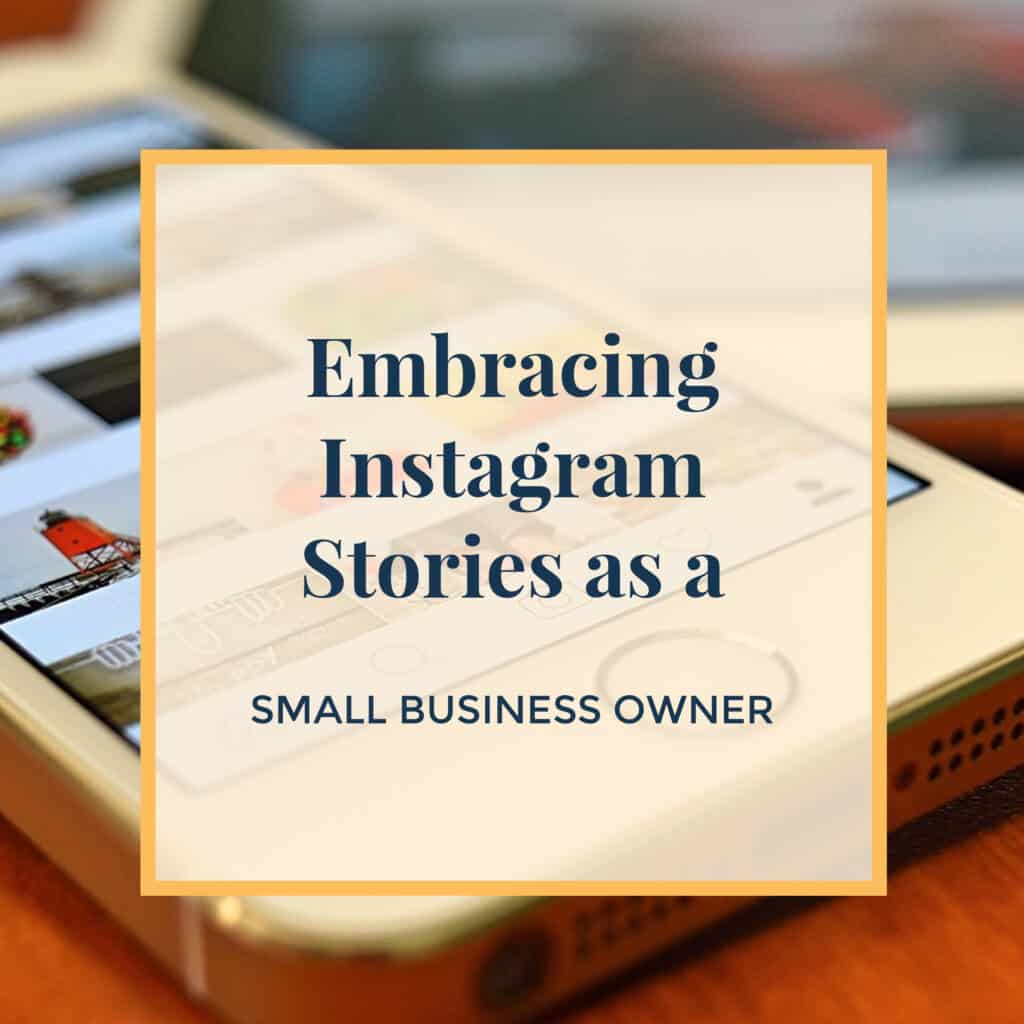 If there is one thing that I've learned doing digital marketing over the years, it's that yesterday's fad is today's "next big thing."
A perfect example is SnapChat. When SnapChat debuted a few years ago, it was treated with scorn from many marketers. Heck, even the general public looked at it with suspicion. Why on earth would you only want to take super-short, 15-second videos of yourself? And then share them? Who would watch them?
Just a few years later and SnapChat-like functionality has been integrated into countless apps and social media networks: Facebook among them. But probably the most successful SnapChat "clone" is Instagram with their Instagram Stories.
And that makes total sense. Instagram was built on the foundation of a mobile-only photo sharing social media network. It was a perfect fit for short, focused videos. In fact, Instagram Stories is so popular that it's almost become its own separate little network WITHIN Instagram. And believe me, marketers have started to take notice of the potential!
Why You Should Be On Instagram in General
The first major reason why your small business should be on Instagram is its user base. Not only has it grown over 1000% over the last few years, but Instagram is rapidly eclipsing Facebook as the social media network of choice for millennials (Facebook probably doesn't mind since they OWN Instagram.)
Another reason is that Instagram's visual focus makes it the perfect platform to promote brands. Here, the text/marketing copy is secondary to the graphics. If you want to promote your brand through logos or colors, it's a fantastic platform.
[TWEET "Instagram Stories are insanely popular! Learn how to capitalize on them!"]
Instagram Stories
But what about Instagram Stories. As a small business, can you make use of them to promote your brand? Absolutely!
Instagram Stories ads are slipped in between the other small videos in the user's Stories. The difference is that they are designed for marketing something to a user. Instagram Stories Ads should be light and fun. They are designed to be short, concentrated bursts of your brand to capture the interest of the user. Whether you are using them to promote a specific product or service, or just promoting your brand on the whole, they are one of the least intrusive digital advertising options out there.
Creating an Instagram Story
This is actually incredibly easy.
You must create Instagram Stories on your phone, not on your computer. It doesn't matter if you have an Android or an iPhone as both are equipped with the Instagram Story functionality.
All you need to do is tap on the camera icon in the top left of the app. Your camera will pop up. Tap on the circle at the bottom to take a photo or hold it to take a video. The video will record for as long as you hold down the button up to 15 seconds. You want to make sure that you get to the point of the ad quickly as people tend to skip Stories around the 4-second mark.
You can then augment your photo or video with media such as text, stickers, or other graphics. You can also put on filters, just like you would a regular Instagram post. It's genuinely super fun to customize your Stories! You should also use a geotagging location hashtag to get more engagement in your local area, as well as relevant hashtags in general. And don't worry, if you are unhappy with the way a Story turns out, you can get rid of it by opening your stories and selecting the video or photo you want to delete.
They Don't Need to Be "Ads!"
Digital marketing avenues like Instagram Stories break the mold as far as advertisements go. They don't need to be planned out in great detail with copious amounts of copy. Instead, they should seem off-the-cuff and authentic.
For example, have you ever seen an Instagram takeover? This is when a brand gives control of their Instagram account over to an employee for 24 hours to… well, do whatever they want with it! These takeovers can often create compelling narratives that people love to follow, and Instagram Stories are the heart of it. Being able to see someone "real" who is controlling a brand's social media can personalize it in a way that planned ads cannot.
If you want to capitalize on this using Instagram Stories, you don't need to have an employee takeover. Instead, you can personally use Instagram Stories throughout your day to keep your audience updated. These updates don't even need to be related to a specific product or service. It could be a short clip of you eating your lunch at your desk. It could be you "signing off" at the end of the day. Basically, it should be snapshots of you sharing your daily work routine, giving people a window into your business.
While these "slices of life" seem to be off the cuff, the reality is that a lot of planning goes into them. You don't want to share something that turns your audience off accidentally. Much like we do with traditional social media posts, we can create an editorial calendar where we have a list of ideas of short Instagram Stories to share. While we can't record and post these stories for you (after all, it has to be you on camera and mic), we can help you figure out times of highest engagement where the most people will view your stories. Even doing one Instagram Story a day can be a fantastic way to reinforce your relationship with your customers.
A 24-Hour Time Limit
Here is something that most people might see as a negative, but in reality, it's a huge positive.
Part of the beauty of Instagram Stories is their built-in shelf life. No matter what, your Story will disappear after only 24-hours. While you might think, "But I want my ad to stick around for much longer than that," it's the expiration date that makes these Stories so compelling and authentic.
There is never a backlog within your Instagram Stories because it is continually being cleared out. All content is current and up to date. It's immediate in a way that Facebook and Twitter simply aren't. In fact, those social media networks want to show you posts from days before in a non-chronological newsfeed. Instagram Stories, on the other hand, only wants to show you things that matter RIGHT NOW. And if your Instagram Stories Ads can tap into that, you will be on the path of success.Of course, Instagram Stories are only one part of creating a winning social media campaign on Instagram. If you'd like to learn how to write professional social media ads that will get clicks, I invite you to download my completely free Social Media Ad Template. Or if you'd like to give the job of crafting your social media ads to me, that works too!
Instagram Stories are rapidly becoming one of the most popular methods to share things on social media, and us marketers need to keep up. If you want to make sure that your small business has the greatest possible reach online, Instagram Stories should definitely be part of your strategy. Contact me today and we can get started building a comprehensive social media strategy that will encompass not just Instagram Stories, but all of the other networks out there!