How Automation and Outsourcing Can Grow Your Business Overnight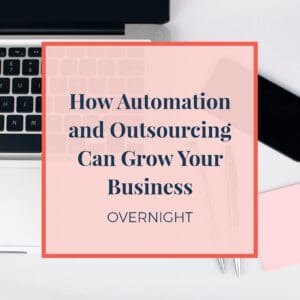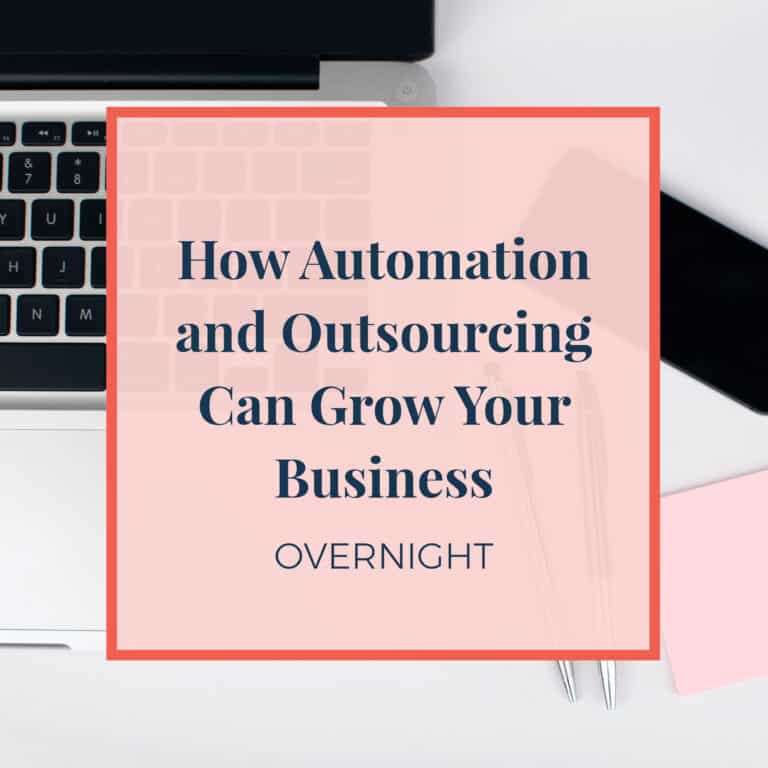 Efficiency. Productivity. Sustainability. Growth. These are important buzz words for any business, and particularly for small business owners and entrepreneurs. We've all heard it before; time is money. When the repetitive day-to-day tasks take up your valuable time, all of your effort is being funneled into sustaining your business, rather than growing it. To really grow your business, make improvements and engage new clients, you must free yourself up from those repetitive tasks that are bogging you down. Luckily, technology has made it possible to seamlessly delegate and automate your repetitive business tasks, giving you more time to focus on what you really love.
The first steps are to identify your repetitive tasks and determine what you can automate, and what you should outsource, let's get started.
Automate It
Website Login & Online Form Filling
How many members' sites do you frequent? How many logins and passwords do you need to keep track of for all of those sites? Or worse yet, maybe you're using the same password for multiple sites because it's too much trouble to track secure passwords for so many different sites. Logging into all of these websites can be an annoying and repetitive task. It's time for some automated login software. There are a variety of tools like 1Password that will save you minutes every day… which amounts to hours each month. Not only will they save you time, but also your accounts will be more secure. It's a win, win!
Email Templates
Take the time to set up email templates, they will save you an unbelievable amount of time, particularly if you find yourself agonizing over just the right way to get your message across to clients. If you find yourself at a loss for the right words, a virtual assistant with copywriting skills can help you to create the perfect email templates that capture all of the information that's necessary for the best messaging. Then, take it a step further and program your email templates into canned responses within your email client, that way you can convey the correct message with a click of your mouse.
Email Signatures
Having an automated, professional email signature isn't just a great time-saving tool for you, it's a great resource for your clients. When you add of ways people can get in touch with you into your email signature, you make it super easy for people to reach out to you. Every email client, whether desktop or web based, offers an option for customized signatures. Make it easy for your customers to do business with you by taking the few minutes it takes to set up a great looking email signature.
[Tweet "Make it easy for your customers to do business with you by creating a customized email signature."]
Outsource It
Social Networking
Managing your social media accounts is essential for building your brand, engaging your community and marketing your business. A professional virtual assistant who specializes in social media marketing will be able to handle social networking for you and will be more efficient to boot. Outsourcing this important task will free up your time, and they'll be able to implement a more comprehensive strategy and give your social media the attention that it deserves. They'll also be well versed in the latest trends, techniques, and tools to syndicate content, consolidate content, and streamline your social to reap the maximum benefits for your business. And you won't get sucked into reading your Facebook feed instead of building your social media presence.
Keeping in Touch with Customers and Clients
Email is great way to connect with your customers and potential clients, but it's an enormous time suck. A virtual assistant can create a regular newsletter or ezine to stay connected with your customers so that you remain top of mind with your network for the next time they need services or to make a purchase. A virtual assistant can also create autoresponders to front-load any email communications you would like to make and schedule them to be delivered automatically after a proper follow up period.
Blogging
Blogging isn't just for foodies and college students any more. If you are serious about taking your business to the next level, you need to blog regularly via a professional, polished business blog. Consistent blogging populates the web with your business name, the types of services you offer, and topics that appeal to your target market. Blogging gives you a great ROI because it costs next to nothing when weighed against the return on investment you'll get by putting yourself out there. However, blogging is time consuming, and even if you have time to write, you probably aren't a professional copywriter. A virtual assistant who specializes in ghost blogging knows exactly what types of content will attract your customers, and they'll populate your content with keywords to optimize your website for search engines.
[Tweet "A VA who specializes in blogging knows exactly what types of content will attract customers."]
Administrative Tasks
There are any number of repetitive administrative tasks that are too numerous to list here. Whether it's updating your website or updating spreadsheets, or reporting, if there's a task that you conduct regularly, it's suitable for outsourcing. A trusted virtual assistant will turn the work around for you while you're able to focus on other more important matters. I highly recommend getting all of your administrative tasks off your to-do list immediately, these tasks tend to take up a lot of time each week.
The key to growing your business is to increase your efficiency, by automating and outsourcing key repetitive tasks you immediately make your business more productive. Your time is too valuable to continue to be bogged down by repetitive tasks, it's time to let go of them and leverage the available technology to automate your systems and engage help virtually to build a better business now and into the future.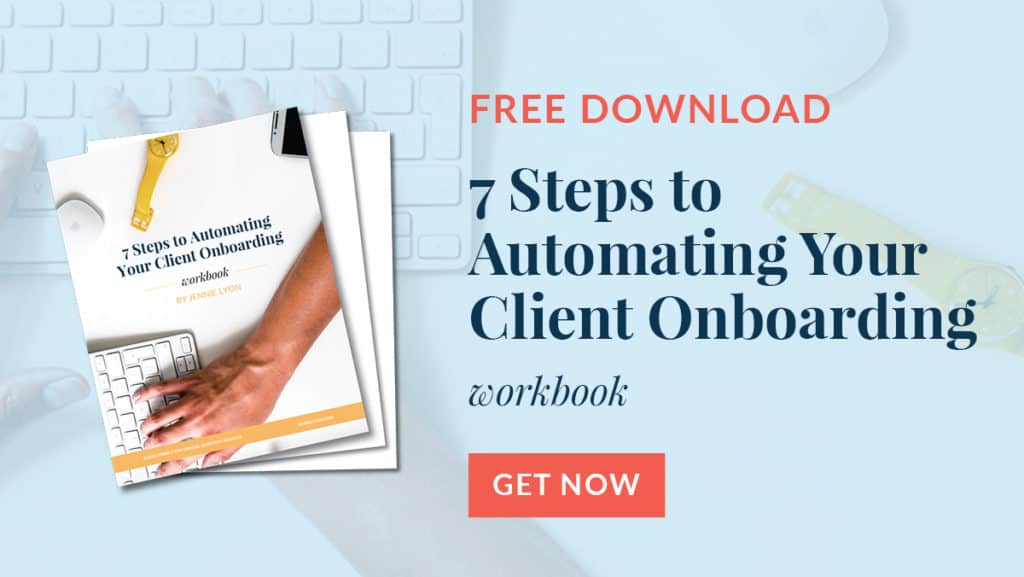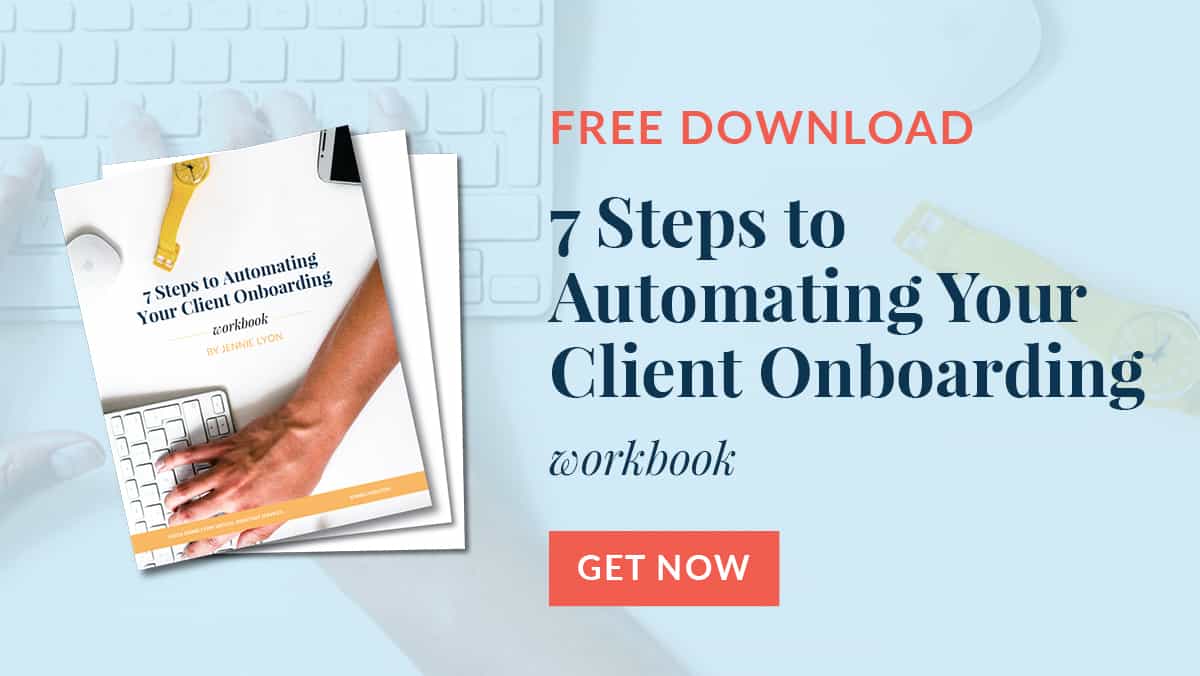 A good place to start automation is with your client onboarding. Grab this 7-step workbook to automate your client onboarding and help save your valuable time!