4 Reasons Why a Virtual Assistant is the Key to Growing Your Business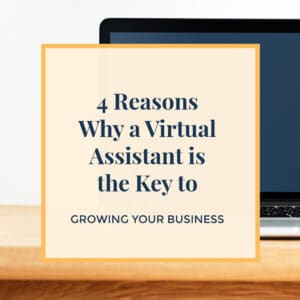 As an entrepreneur, you are your most valuable asset. You are an expert in your field, and you're great at what you do. You're a high functioning and very capable individual and it's natural that you'll need to overcome the feeling that no one else can do the work as well as you could do it yourself. At some point you'll overcome that hurdle and you'll start to realize that your time is a limited resource and your biggest asset. The time will come when finding great help will be the only way for your business to expand and thrive in a sustainable way. At that point, you have an important decision to make:
To hire an employee or to hire a virtual assistant, that is the question.
Once upon a time, the answer would clearly have been to hire an employee. However, times have certainly changed. More and more businesses have come to realize the benefits of outsourcing tasks to specialists in those areas. Here are some solid reasons to hire a virtual assistant:
1. Specialization
When you hire a virtual assistant, every component of your business can handled by a capable expert. Rather than having an in-house staff member fumble their way through a task like social media marketing, which can be so critical to your effective marketing strategy, a social media specialist would bring an accomplished skill set. By hiring a virtual assistant, you leverage a systems expert, whether it be a WordPress expert to manage your website, an Infusionsoft or Mailchimp specialist to handle your ezine, a graphic designer for your branding, or another specialist, you'll have an expert on your team rather than an employee who is a generalist. Our virtual assistant firm specializes in all of these areas and much more and provides a skill set that would be hard to find, or very expensive, in a full-time employee.
[Tweet "When you hire a virtual assistant, every component of your business can handled by an expert. "]
2. Cost-Effectiveness
Hiring in-house is much more expensive, particularly when there is only a limited amount of work to accomplish. As you grow your business, most tasks don't double into an additional full-time position. A good virtual assistant offers cost-effective, specialized administrative packages that can be scaled to suit your business needs. And you don't have the overhead costs associated with healthcare benefits, paid time-off or office equipment.
3. Limited Needs
When you hire a virtual assistant, your engagement is completely scalable and based on the specific tasks that you need fulfilled, not on a set daily, weekly, or monthly schedule. Some tasks will only arise periodically or seasonal and with outsourced help you have the ability to scale up or down very quickly.
[Tweet "Some tasks will only arise periodically & with a virtual assistant you can scale up or down."]
4. No Strings Attached
With a virtual assistant you have the benefits of an expert on your team without any of the long-term commitments of hiring a full-time employee. You can define the period of the contract, or negotiate project pricing with no commitment after the time that the project is completed. Even if the rate – hourly or project – is higher than what you would have paid an employee, you'll end up saving thousands of dollars because you aren't committed to an ongoing salary or paying out benefits.
Every company and situation is different. You might find that as your business grows you will need to build an in-house team, but even at that stage of your business growth most businesses find that a hybrid of in-house and virtual help is still the best option for today's business landscape. Times have changed and the way that we can structure our businesses for the most successful model have evolved. If you have any questions about hiring a virtual assistant please don't hesitate to contact me for a free consultation. I would love to help!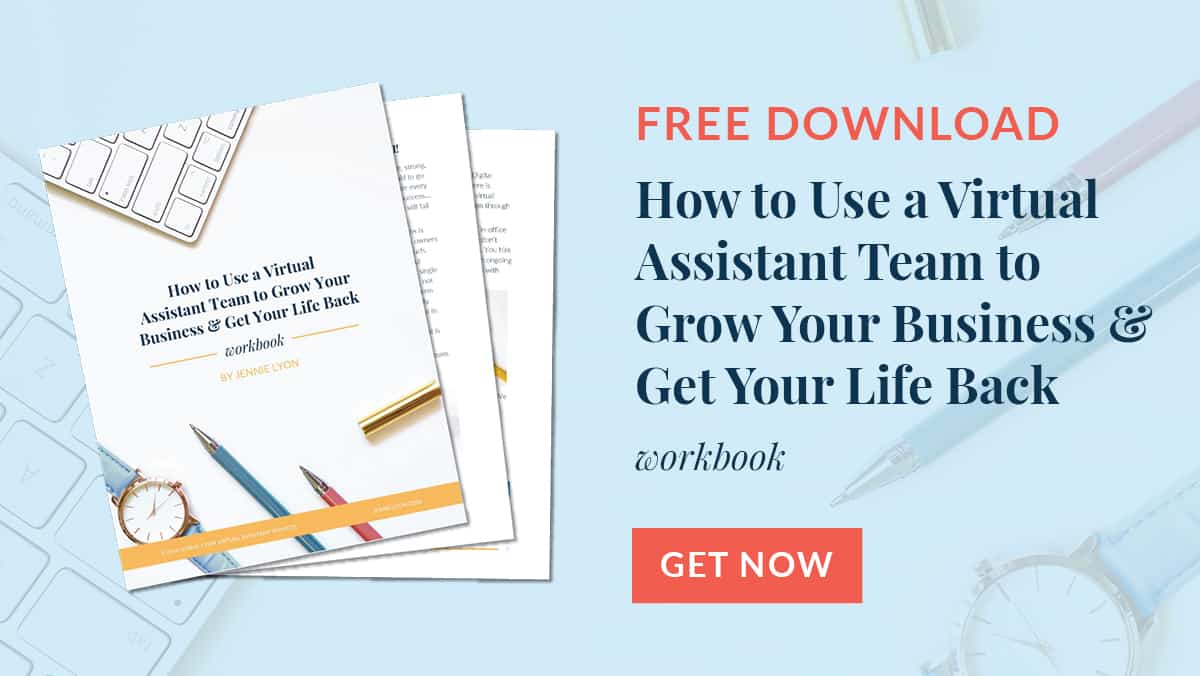 Take a look at this free download and see how I utilize a virtual assistant team. In this workbook, I will tell you exactly what you want to look for from a virtual assistant to make sure you pick the best to work at your small business.