Digital Marketing in the New Year: Your Options Explained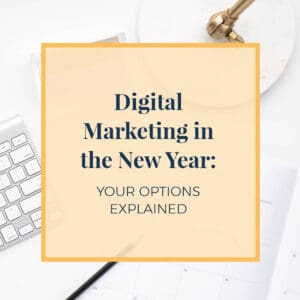 The march of technology continues onwards!
Every year, there is more and more innovation in the realm of digital marketing. With all of this changing technology comes new opportunities to get your advertising dollar to go a little further. A virtual assistant can help you take advantage of these digital marketing platforms and get the word about your business out to a wider audience using personality-infused storytelling and tested digital marketing techniques.
Social Media Marketing
Social media isn't going anywhere anytime soon. The increased engagement on platforms like Twitter means that 280 characters are more relevant than ever. Facebook has completely eliminated the little book of addresses and phone numbers that people used to keep in the drawer by the phone. And Instagram has taken our photo albums from our living room cabinets and put them online for all to see!
If you're a small business, you need to have a strong presence on all of these services. This requires savvy content curation, engaging visuals & infographics, and prompt follower engagement. The only problem is that managing your company's social media platforms can take up huge swaths of your time. So hire a virtual assistant to do it for you! They can write and curate all of your posts ahead of time and use a service like HootSuite to make sure they are posted at times of highest engagement. Social media doesn't have to feel like a constant battle to keep eyes on the screen when you have a virtual assistant doing the work behind the scenes!
[Tweet "If you're reading this post, digital marketing has worked! Manage your social media with a virtual assistant!"]
Email Marketing
Have you taken a look at your junk folder lately? Chances are that it is completely filled with SPAM messages and poorly written marketing emails. These emails just build up, and eventually, it isn't worth going through them to find the content that you want to see. You just hit "Empty" and whoosh, a nice clean junk mail folder.
For email marketing, you need to write copy and subject lines that will keep your newsletters, ezines, and email campaigns out of the junk folder and in the inbox where they belong. That means that you need someone who knows exactly how to format these messages and include valuable content to keep your clients reading and engaged. I'm savvy with many different email marketing systems and know exactly how to get your clients' eyes on your content. That's what you get when you hire an experienced virtual assistant to handle your email marketing!
Sales Pages
Building web pages can be time-consuming and frustrating work, especially if you don't have much experience with it. When you need a sales page for your products or services, a lackluster landing page can actually do the opposite and push potential clients away. That's why you should invest in a virtual assistant who knows exactly how to tell the story of your product and service in an engaging and visual way. You don't have to worry about the details, you simply need to share your vision and you will soon have an attractive, functional sales page that will really showcase the value of your business!
[Tweet "If you want to keep your emails out of the junk folder, trust your email marketing to a virtual assistant!"]
Facebook Ads
Something that has been grabbing the attention of marketers recent was Facebook's recent announcement about planned changes to the news feed. Facebook is aiming to increase engagement of their platform by reducing the number of posts you see from established media brands. This change in priorities hit Facebook hard in the stock market, causing a 4.5% dip in their stock price.
Some marketers might think this is a reason to panic, as fewer eyes on ads mean fewer clicks, but I think we will have to wait and see. As audiences got more and more used to ads in their news feeds, often for products and companies they had little interest or use for, they would disengage with that content, rendering those ads useless. With Facebook's increased emphasis on engagement, the ads that DO show up in people's news feeds are going to be far more relevant to them, increasing the chances of a click. This means that having well-written and attractive Facebook ads and posts are more important than ever. And that is certainly something a virtual assistant can help you with!
Making sure that you're on top of all of your digital marketing can make the difference between a "blah" year for sales and one of the best years yet for your company. All you need to do is invest the time, effort, and funds into these digital marketing methods and you will be all set. If you don't have the time, you can simply hire a virtual assistant to pick up the slack for you. You will have professionally managed digital marketing at a fraction of the cost of hiring a full-time employee to do it for you!
In fact, let me do you a favor, download my free workbook that walks you through partnering with a virtual assistant! If you need help getting your marketing strategy in place, collaborating with a virtual assistant can be a huge help!
If you'd like to talk about exactly what I do to revitalize your digital marketing presence this year, please feel free to schedule a free consultation today!