Follow these 8 Steps to Get a Handle on your Calendar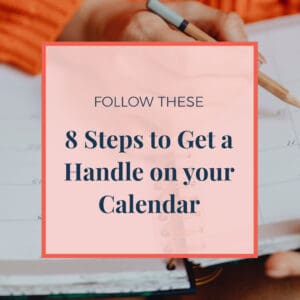 How often do you look at the clock and wonder where the day has gone? How often do you look at the back-to-back blocks of bookings in your calendar and feel overwhelmed? In this busy digital age filled with the distractions of email, social media and apps, it's easy for our days to become filled with tasks that distract from our potential productivity. Maybe your day becomes filled with administrative tasks that need to be done, but they aren't the best use of your time. You might be too accessible, and your day is filled with too many email and telephone interruptions?  Or perhaps, switching from task to task is breaking up your ability to get on a roll and tackle projects in the most strategic and efficient way possible.
If you want to increase your effectiveness, learning to manage your calendar can be one of the most important steps to building a more productive workweek. There are ways to get a handle on your calendar so that it doesn't own you, and so that you can start to live up to the true potential of your workday. Here are 8 tips to help you manage your calendar and spend your time more efficiently.
1. Create a Best-Case-Scenario Template
Take a moment and imagine your ideal week. How would you spend your time if you didn't have any interruptions? What would your schedule look like over the course of each 7 days? The exercise of evaluating your time and how you would spend it under ideal circumstances is a very valuable exercise. Consider what's important and how you could put those things first.
[Tweet "How would you spend your time if you didn't have any interruptions?"]
This process can be a pivotal step in understanding the value of time, and the limitations of the workday. It's all about prioritizing. Formulate your ideal workweek template and use it as your starting point for your weekly schedule. That way, you won't have to recreate the wheel week in and week out, and you'll have an ideal that you can aim to schedule around. Of course, you'll need to make adjustments to how you fit into that template each week, but you'll save yourself a lot of scheduling headaches by using that template as your jumping off point.
I like to create a streamlined, best-case-scenario schedule. I consolidate my calendar, using only one tool (Google Calendar) as the central place for my schedule. Then, I separate meetings and appointments from important to-do list items within my schedule, optimizing my time.
2. Establish a Routine
Use the best-case-scenario template and create a routine. I designate blocks of time for specific activities and commit to sticking to that plan. For example, I feel the most creative at the beginning of the week, so I block time of to get all of my writing done for the week on that day. If something isn't scheduled, don't let yourself go astray. Short of a real emergency, sticking to the plan that you've formed will turn into an easy routine and will allow for greater efficiency in the log run.
3. Block Time for Email
If you're currently checking email eight times a day (and let's face it, most people are) then email is probably interrupting your other tasks. Create 1-2 blocks of time for email and stick to those blocks. The same is definitely true for social media. I like to sit down first thing in the morning to go through my inbox. I immediately add any new tasks to my project management system and delete all of the junk. I repeat this process several times throughout the day (but only during the times that I have blocked for it.)
4. Group Calls & Meetings
It's more efficient to group calls and meetings together rather than having them continually breaking up your day. Whether it's an external meeting or in-office, book similar types of meetings all in a row. This will cause fewer disruptions to your desk time so that when you do get down to your own important matters, you'll have the uninterrupted opportunity to shift into a steady workflow.
5. Create Appointment Slots
Depending on the nature of your business, creating appointment slots can be a huge time saver. If you are in a line of work where you conduct appointments or consultations, create specific blocks of time that will be designated to those sessions. There are tools available that will allow someone to book an appointment in an available time-slot without you having to do the back and forth emailing with a client to determine a time that works for you both. I use vCita for as my appointment scheduling and block certain times each week for appointments.
6. Plan Your Personal Time
Finding the ever-elusive work/life balance is a priority worth fighting for. Schedule time in your calendar for your partner/spouse, family, friends, and exercise. For many people, if you don't put it in your calendar it won't get done, so make sure you designate sufficient time slots for life outside of work. I seriously schedule everything and have alerts that remind to get them done – everything from my early morning hot yoga class to my afternoon trip to the gym with my son.
7. Get Help
Managing your own calendar could be a significant waste of your precious time. A virtual assistant is an expert in calendar management, calendaring systems, and time optimization. If you feel that your calendar owns you, or that even after taking the steps outlined here you are still unable to get a handle on your calendar, a virtual assistant can take charge of your calendar for you. Outsourcing the management of your calendar to a virtual assistant can be a life changing experience.
[Tweet "Outsourcing your calendar to a virtual assistant can be a life changing experience."]
8. Value Your Time & Commit to Managing It
Let's face it; you are how you spend your time. That's where the word 'workaholic' came from. Besides your health, your time is the most valuable part of your life. When you aren't spending time the way that you want to be, or in a way that's productive, it can feel like you're squandering your life away.
Getting a handle on your calendar can mean living a better, more productive, and fulfilling life – and it can have a powerful impact on your business too!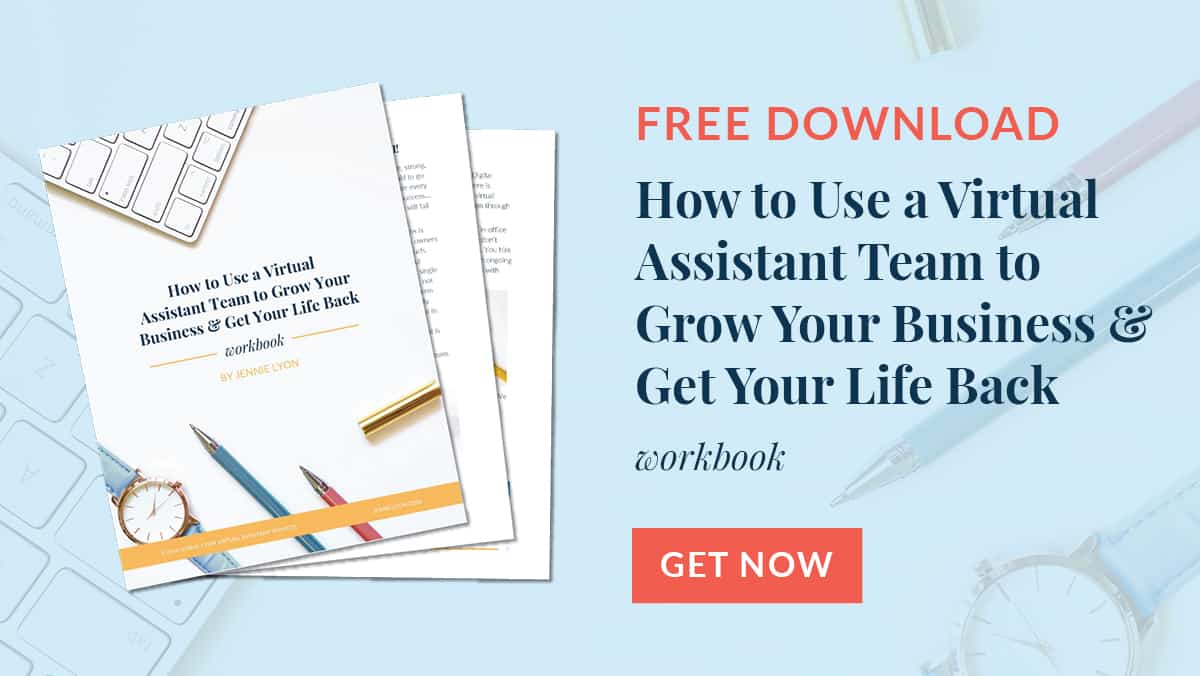 If you would like to take a step further in getting your life back, check out how a virtual assistant team can help! In this workbook, I will tell you exactly what you want to look for from a virtual assistant to make sure you pick the best to work at your small business.