Planning Ahead: How to Set a Short & Long Term Business Flow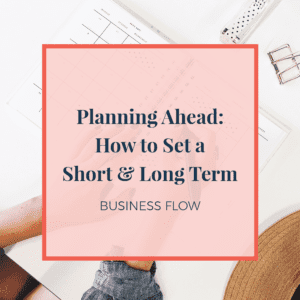 Planning ahead of time is one of the most important skills for a business owner to develop, because the success of any small business depends on how well it flows. Unfortunately, most people are only good at planning a day or two in advance, or for the very long term—setting goals for the year or beyond. It is merging the two, and sticking to a plan for the week or month where most people get tripped up in their calendaring and organization.
Successfully planning ahead and maintaining business flow becomes even more difficult around the holidays, where clients and collaborators may be going on vacation, a bunch of social events pop up, and time off with the family becomes a priority (as does prepping for all of these special events!). The keys to successful planning ahead and maintaining business flow are taking into consideration breaks from work, preparation, and organization.
[Tweet "Setting up short and long term business flows that mesh smoothly is the key to handling busy times."]
Planning Your Vacation, Time Off and Trips
Last minute may be where some of the best travel deals are, but for anyone running a business, booking time off in advance is the best plan. That way you can schedule around planned time away, and not have to take all your work with you, which defeats the point of a vacation! Knowing ahead of time when you'll need someone else to cover for you also means you can hire a virtual assistant and get them set up with your systems. That way you can have peace of mind, knowing your projects and tasks are being handled.
Prepping Your Team and Clients
Another benefit of planning ahead is that you can help your team and clients to prepare for you to be absent or in minimal contact.  Make sure that your team have all the resources and materials at their disposal in order to keep things running smoothly without your assistance. I highly recommend having a procedure manual that outlines all of the tasks that your virtual assistant will help with. If you need help creating a procedure manual, I would love to help! Set up a schedule with them to ensure that no projects fall through the cracks and get forgotten. Don't forget to inform your clients about your upcoming time off, and let them know to contact your virtual assistant if they need anything. Preparing your virtual assistant to handle client care is a great way to make sure that clients aren't met with radio silence while you're on vacation.
Getting Organized for the Holidays
Think about what you can do to make the holiday season relaxing and enjoyable for you, maximizing time spent in the company of family and friends or getting some much-deserved rest. For me, this means keeping a holiday list with me at all times, shopping ahead of time and wrapping gifts as I buy them. If you're really busy with clients leading up to the holiday season, you can always have a virtual assistant do holiday card and gift shopping for you! It is one of my favorite parts of my business!
[Tweet "Always set aside time to plan ahead, because it will save you time in the long run."]
Once you get the hang of planning for the weeks and months ahead, it becomes second nature, and you'll find yourself less tripped up by unexpected holiday events or changes in workload. Having a virtual team working smoothly to take on extra work where necessary and handle additional clients can help you maintain a consistent business flow even as your business grows. Feel free to share your tips for handling the holiday rush and balancing work with time off in the comments. We'd love to hear how others manage their calendars and organization to enjoy this time of year!