Achieve Work/Life Balance this School Year by Partnering with a Virtual Assistant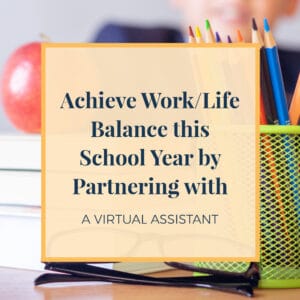 Being an entrepreneur and a parent is always a balancing act! I know this well. my business and my son both turned fifteen this summer. Yesterday was the first day of his sophomore year, so finding my work/life balance just got real!  Since most businesses start booming again in the fall (mine included), the best way to handle this change of season and workload is to alter the way you work.
If you want to be around for dinner, to help with homework, and be there to listen to your kids talk about their day at school, getting up early might be the life change you need. That way you can finish work by the end of a "standard" work day, and still spend quality time with your family. You also need to adjust your work schedule to accommodate the effort required to get your kids up, fed, and out the door each morning. Here's an example of the schedule that has worked for me for many years:
[Tweet "Waking up early is a great way to free up more quality family time in the evenings."]
5 A.M. – Wake up. Hit the gym or yoga studio. Shower and prepare yourself for the day.
7 A.M. – Wake up the kids, get breakfast ready, and pack school lunches while they get themselves ready for school.
7:30 A.M. – Kids are out the door and off to school. Make yourself a healthy breakfast, Morning fuel is the most important fuel. Time to start on the main work of the day!
8 A.M. – Check emails, scheduling, and make an action plan for the rest of the day's work. Plan to work on your most important tasks/projects first.
12 P.M. – Eat a healthy lunch. Keeping yourself fueled is the key to productivity all day long. Check email afterwards and respond to anything urgent for the day.
4 P.M. – Check email one last time to make sure nothing has fallen through the cracks. Finish for the day (if possible)! Help with homework and get dinner ready. Enjoy the rest of the evening with your family.
See those 4-hour blocks of time? One in the morning and one in the afternoon? Those are your golden hours where you can get the big, difficult tasks of the day finished. I am a huge fan of time-blocking! You should have at least 3 hours in each block where you can focus intensely on the most important work that will help grow your business. Don't check email during those hours! You need to defend those blocks of uninterrupted time from distractions and the sorts of small tasks that can eat up time and break up your day, preventing you from doing your best work. Don't forget to sprinkle a few little breaks throughout the day as well!
What is the key to keeping those blocks of time available for you to focus on the important work of running your business? Hiring a virtual assistant to do the daily recurring tasks, of course! You don't need your day interrupted by trying to do website updates, graphic design, copywriting, handling social media, or answering basic client questions. A virtual assistant can handle the smaller items on your to-do list, or bigger projects that suck your time away, so you can free up a big chunk of your day to focus on larger projects and work that requires your entrepreneurial vision and expertise.
[Tweet "Partnering with a virtual assistant can free up time for you to bond with your family in the evenings."]
Of course, every business is different and everyone has their own productive hours of the day, so your schedule may look a little different from the example above. The important thing to take away is that you need to alter your schedule to provide those uninterrupted blocks of time, however you can. By partnering with a virtual assistant to take over specific tasks, you'll be able to be more productive during the day, and have more time to spend on the "life" side of the work/life balance equation in the evening!