5 Simple Ways for Busy Entrepreneurs to Stay Focused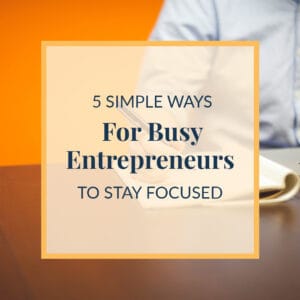 As super, busy entrepreneurs you know how important your time is. Working long hours can be hard without getting distracted. This can be especially hard if you wear many hats. Not only are you a busy entrepreneur, but you are a spouse and a parent too! As a busy entrepreneur myself, I can tell you that staying focused is essential for the growth of your business. That can be tricky if you have pets, a home phone that rings and kids running through the house. Start with these 5 simple ways to bring some peace to your workday for busy entrepreneurs finding yourself having a hard time staying focused.
Your Office Is Your Haven
It is very hard to concentrate if you are constantly being distracted. First things first, make sure that your office is in a quiet area. Minimizing distractions for busy entrepreneurs is important. Do this by turning off your new email message notifications, close your office door, silence your phone, and mute your computer speakers. Make sure that your office is comfy and reflects the person that you are.  Make it somewhere that you don't mind spending a lot of your time.
TIP: In my personal office, everything on my desk has it's spot. As soon as I am done using it, I immediately put it back. I have also chosen office supplies that are bright and colorful, they make me smile when I see them. Directly in front of my desk is my vision board – it is home to all of my visual goals, both professional and personal – they keep me motivated to work as hard as possible when I am at my desk.
Get Organized
This goes back to number 1, if your office is clean and organized, you will spend less time looking for things. Make sure that everything in your office has a place and when you are finished using it, put it back in its place. If all of your supplies have a "home" where they below when you aren't using them, making them a snap to find when need be.
TIP: I keep all of my clients notes, contracts, and paperwork in a designed file in my desk.  This way when I have a meeting with a client, I can pull out their file and add new notes and organize any paperwork. Of course, most of my clients' files are stored in the cloud, however, there are always hard-copies that need to be organized for quick access.
Get it Together
The most important part of getting things done for busy entrepreneurs is actually getting them done! Make sure that you have an efficient and organized way of keeping track of your day. All of your hard work will do zero good if you miss an important meeting or phone call because you aren't organized. Use a computer program or phone app to set up reminders that will prompt you to do particular tasks or remind you of important events.
TIP: I use an online calendar that has a pop-up feature that I have scheduled to go off 10 minutes before any meetings. I also use my iPhone religiously to keep track of my day. I have alarms programmed throughout the day reminding me to get up, work out, make dinner, run errands, and even pick my son up from school. Because seriously one time I become so engrossed in a project that I completely forgot to pick him up on time! 
Delegate It
If your spouse is going to be running errands, ask him to do a few of your errands too. Also, if you group all of your errands together you will save a ton of time in the long run. Make a list of all of the errands that you need to do and then delegate the ones that you can and group all of the rest together in one trip.
TIP: I use a voice recorder app on my iPhone to record items that I need to delegate. I use a voice recorder because for whatever reason all of these items pop into my head while driving home from dropping my son off at school. I record all of the items and then have my assistant transcribe a list from the recording. My assistant will take care of the items that she can do virtually and the rest of the items either get emailed to my husband or I bundle them for one day after school.
Get a Virtual Assistant
Need help with your never-ending to-do list?  Want to get your social media scheduled, blog post up and ezine scheduled? It's really time to hire a virtual assistant. You have heard over and over again that you need a team in place to grow your business – and a virtual assistant is the best place to start!
TIP: Even as the owner of a busy virtual assistant business, I have my own assistant. I am literally so busy that I don't have time to schedule my own social media, put up my own blog posts or send my ezine. Guess what – it has been the best decision that I ever made. It has given me more time to focus on the work that I really love!
In fact, let me do you a favor, download my free workbook. It's perfect for busy entrepreneurs to do "spring cleaning" on your workspace any time of year!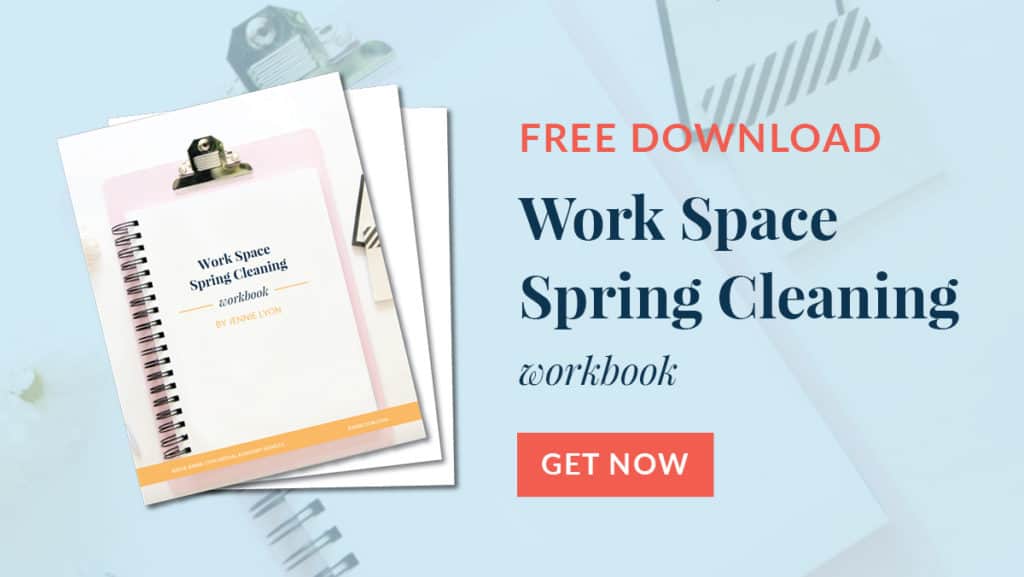 YOUR TURN: What do you find distracts you the most while you are working?