What is a Virtual Assistant and Why Do I Need One?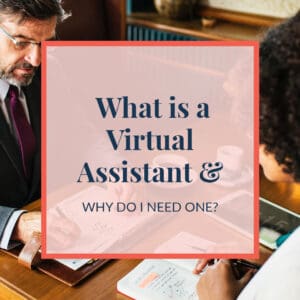 What is a Virtual Assistant?
A virtual assistant is an online assistant that works remotely and provides business owners and individuals with an assortment of services to help keep their business running smoothly. You can hire a virtual assistant to work on a specific project or you can partner with a virtual assistant on an ongoing basis.
Why Do I Need One?
The most important reason for needing a virtual assistant is to ensure that everything on your to-do list is getting done each week. If your business is disorganized, your email inbox is overflowing, your client phone calls are waiting to be returned, your desk is piled high with paperwork, your social media, blogging, and marketing are non-existent and your to-do list just grows each day – it's time to get a team in place to assist you!
Can I Afford a Virtual Assistant?
Although a virtual assistant's hourly rate is typically higher than an in-house employee, partnering with a virtual assistant saves you money in the long run. You only pay for the services that the virtual assistant provides and since virtual assistants already specialize in the type of work they specialize in, you eliminate paid training time. Unproductive time including, lunches, breaks and socializing is on the virtual assistant's dime, not yours. Also, since virtual assistants work from their own home office with their own equipment, you eliminate paying for those expenses as well as office space, administrative costs, and utilities, as well as fringe benefits such as health, dental, life insurance, and retirement accounts.
In fact, let me do you a favor, download my free workbook that walks you through partnering with a virtual assistant! If you do one thing for your business this year, get help! You can't do everything yourself.
Does hiring a virtual assistant sound like something that you and your business would benefit from? What questions can I answer for you? Let's chat!