7 Steps to Launching Your First Podcast
It's difficult to believe that many people didn't know what a podcast was only a few years ago.
While podcasts have been around for 20 years, it wasn't until the last decade that their popularity exploded. Today, they've mostly replaced radio as the primary form of audio entertainment and information.
And the best thing about podcasts is that anyone can start one. With incredibly low overhead, podcasts are an ideal form of digital marketing for small business owners looking to make the most of their marketing dollars.
That said, starting a podcast isn't easy. If you want to deliver a quality product, you can't just sit down with a cheap pair of headphones and hit record. It takes time to plan for a quality podcast, but once you have everything set up, it can be a fantastic investment for your small business!
The First Step
Before anything else, you need to ask yourself a question.
"Why do I want to do a podcast?"
Here was my personal thought process when I first decided to create Digital Marketing Made Simple.
I have been publishing a weekly blog since April of 2014. That's over 300 blogs about digital marketing! It's one of the best resources I have to reach out to clients, but I wanted more.
I knew that I could reach more people with a podcast than with a blog. Not only have podcasts become the new "radio," but they are still gaining in popularity. I wanted to be part of it, so I began to put together some ideas and develop a unique angle.
Look Through Your Existing Content
I figured out that I could effectively "merge" my blog and podcast, extending my reach. Using analytics, I went through my blog archive to see my most popular topics. Using these, I started to plan out an editorial calendar with potential ideas for the podcast. At first, I only planned a few weeks, but soon, I knew that I had a hit on my hands!
With my podcast, I can provide my followers with valuable advice about their small business, promote my services as a digital marketer, and give me a ton of content to use for social media marketing. On top of that, I can still have my weekly blog! Frankly, there has been no downside.
Well… there has been ONE downside… It takes time to put a podcast together! Time that I really don't have. That's why I use a ton of help to get mine up every single week! Hooray for my team!
Getting Your Equipment Together
Technically, all you need to start a podcast is a microphone. But, that has actually been the downfall of many a new podcaster.
While it might be tempting to record a podcast using your pair of AirPods, the quality of the recording will suffer. Today, most podcasts use professional equipment, and a small pair of headphones won't measure up.
My advice would be to invest in a consumer-grade USB microphone. It will offer much better audio quality, giving you a more polished finished product. A fantastic beginning mic is the Blue Yeti. It's super easy to use, offers a ton of options, and won't break the bank! I highly suggest adding a pop filter to your mic to prevent "plosives" like Bs and Ps. You can probably go without extras like a microphone arm at this stage of the game!
The Right Tools for Your Business
In terms of editing tools and equipment, there are a ton of options out there. If you are looking for free, check out GarageBand for Mac and Audacity for PC. These are both excellent free audio editing apps that will allow you to put a podcast together.
If you're looking for more professional editing tools with lots of post-production features, Logic Pro for Mac and Adobe Audition for PC are outstanding options. Mind you, these can be a little pricey. But if you're recording a regular podcast, they might be worth the investment.
You could also hire someone who already has access to these tools (plus knows how to use them), but we'll get into that later!
FYI, everything above will also come in handy if you decide to start doing webinars or creating online courses!
Editorial Calendar
Recording a podcast is a lot like having a weekly blog. It takes a lot of discipline to keep on track and make sure that you can hold to a regular release schedule.
The best way to make sure that you keep on track is to plan for the podcast way ahead of time. Rather than trying to develop podcast episode ideas just before you record, you want to make sure that you have a massive list of topics already down on paper. In other words, you need an editorial calendar.
But an editorial calendar is more than just a list of ideas. On my editorial calendar, I had the name of the episode, a brief description of the concept, if there are any guests, who is editing the episode, and much more information necessary for podcast production. This ensures that all of the information I need to produce an episode is in one place.
Writing up a podcast editorial calendar doesn't take as long as you might think. If you dedicate a single morning to the task, you can come up with a few months' worth of ideas. You can do this with Instagram Stories, as well. Of course, if you don't have a morning to spare, you could offload the task onto our team or a virtual assistant. I've helped many of my clients manage their podcast/blog schedules with an editorial calendar. It not only keeps them on track but also helps give them a sense of where their content is "heading."
Writing
You can handle your podcast in two ways: you can script it, or wing it.
While you might think that winging it is easier because there is no writing, you would be mistaken. If you want your podcast to have a structure and be listenable, you need to have it mapped out, regardless of if you plan on improvising the actual content. Before you start recording, you need to have detailed show notes on paper to keep you on topic throughout the podcast.
And even if you do have excellent show notes, it can still be easy to "get lost" while recording, going into tangents that won't suit your marketing aims.
Personally, I script my podcasts. Sure, there is an element of improvisation where I might go "off-script" now and then. But having the words in front of me guarantees that I hit every point I need to make. It also helps to eliminate the "ums," "ahs," and "ers" that will later need to be edited out of the episode if you're recording it off the top of your head.
Recording
You have a script, and you have your equipment. It's time to get recording!
First, make sure that you aren't recording in a room with a ton of echo. That can dramatically affect the quality of the recording, making it difficult to listen to. Some people even build a little "blanket fort" around them that will absorb all sound, but I think that's a bit overkill. Personally, I just close the door to my office, but to guarantee excellent quality sound, many people go into a small closet full of clothes or record under a blanket.
There are a ton of valuable resources on YouTube about recording techniques, and I highly suggest you check some of them out if you're planning on recording a podcast. But I can tell you a few basics. You want to keep a constant distance away from your microphone. If you turn your head away from the mic, move back, or move closer, you're going to dramatically change the quality and volume of your recording. This will mean that your editor will need to spend much more time fixing these volume issues, extending the editing period. The best way to ensure good quality audio is to give it to the editor from the start.
Editing
Editing is probably the most time-consuming and skill-intensive part of creating a podcast.
If you are winging it, there is a good chance that you will have a ton of Ums and Ahs throughout your audio. While you don't want to delete ALL of them (as that would take hours), removing a bunch of them can significantly improve the quality of your podcast. It will not only make you sound much more "certain" about what you're saying, but it will also make it shorter. You'd be surprised at how much time those little connecting words can take up!
In editing, you will also want to add theme music, sound effects, and other enhancements to make your podcast unique from others.
Finally, you will want your editor to go through the podcast and make some alterations to improve the audio quality. For example, if there is some background noise (say, an air conditioner running in the background), they should use tools like "noise removal" in their editing suite to get rid of it. Of course, the best way to remove noise is at the source, so if you're recording a podcast, don't forget to turn off the AC at the start!
If you're recording a single-person podcast, that can make for an easy editing job. But if you have a guest on, that can make things WAY more complicated. If you've never edited anything before, I would highly suggest hiring someone to do it for you, at least at first. If you want to become a podcast editor, I recommend practicing with some of your older episodes until you can produce something that sounds at least as good as an experienced podcast editor.
Marketing Support
So, you've recorded, edited, and finally posted! Job done, right? Not quite.
There are countless podcasts out there today, and the competition for ears is high! That means you need to use all of your marketing resources to promote your podcast and make sure that your followers are listening.
So, it's time to write social media posts about new episodes, feature them in Instagram Stories, publish a blog that goes alongside the podcast, and anything else that might help people find your podcast feed. The wonderful thing about a podcast is that, once posted, you can keep coming back to it as a valuable piece of content. If you lack ideas for social media posts, you can go into your back catalog and promote one of your earlier episodes!
So, What Did We Learn?
Let's review what we learned:
Podcasts are a super cost-effective way to reach out to your audience.
Before you start recording, you need to come up with an idea and unique angle for your podcast.
You need a good-quality microphone to record a podcast. Don't use cheap headphones!
Create an editorial calendar for your podcast to keep on schedule.
Writing a script for your podcast can improve its quality and minimize "ums" and "ahs."
Always record in a space with little to no echo.
Turn off the AC before you start recording.
Editing can take up a TON of time and require a lot of skill. Hiring someone to do it is smart!
Using professional editing tools can greatly improve your podcast's quality (noise reduction, for example).
Podcasts make for outstanding pieces of content to post on social media.
I firmly believe that starting a podcast is a fantastic marketing opportunity for small business owners. The overhead is low, it extends your reach, gives you stuff to post on social media, and it can be a ton of fun! If you want some more details on the steps you need to take, you can download my free Starting Your Own Podcast Workbook. Inside, I'll break down all of the steps you need to take to launch your podcast successfully!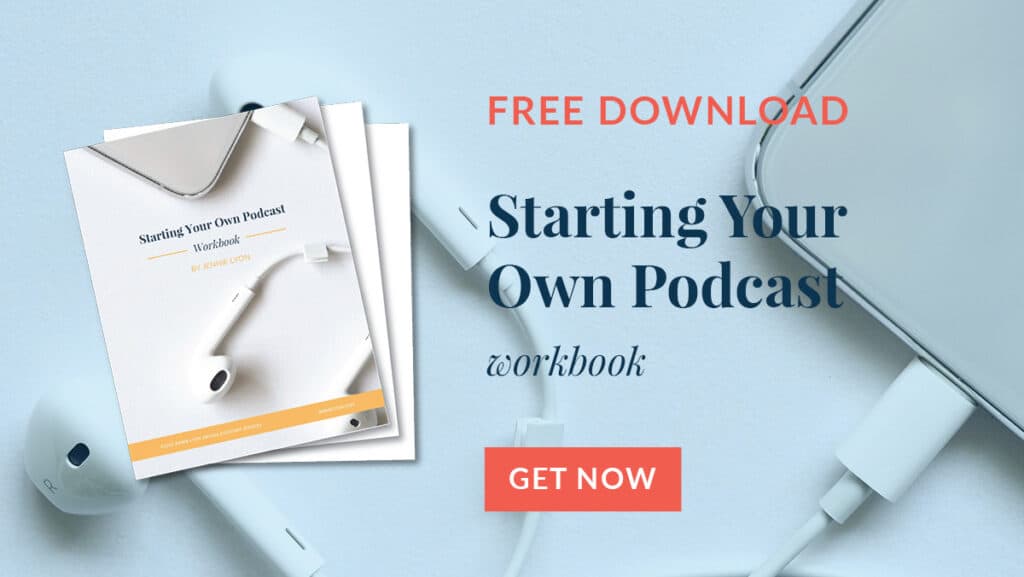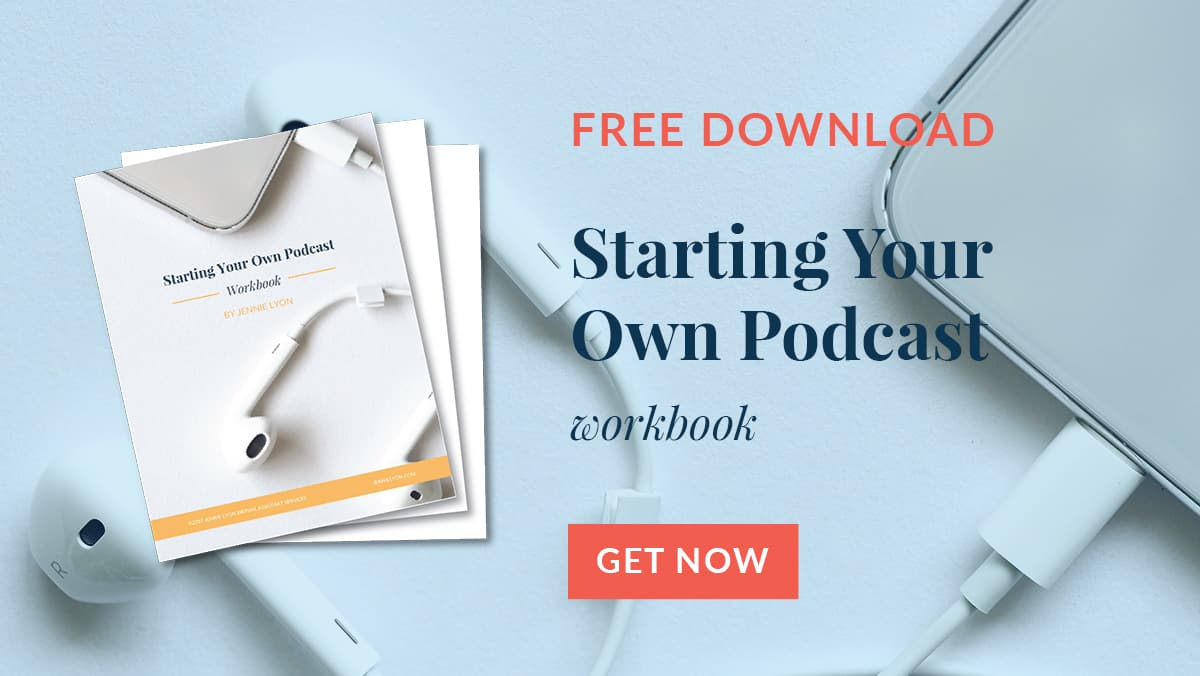 And if you'd like any help in getting started, you can contact me here for a free consultation. I'd be delighted to help you come up with an original podcast idea, then assist in its development and production. It's time to speak up!
Links For This Episode:
Rate, Review, & Subscribe on Apple Podcasts
If you like what you hear on the podcast, please consider rating and reviewing my show! Woo Hoo! Click here, scroll to the bottom, tap to rate with five stars, and select "Write a Review." I would love to hear what episodes you enjoy the most!

If you haven't done so already, please subscribe to the podcast. I'll be adding new content weekly, if you're not subscribed, there's a good chance you'll miss out. Subscribe now!