How to Create and Schedule a Year's Worth of Instagram Stories in One Morning
How often do you check out the Instagram Stories that show up at the top of your account?
As a digital marketing expert, I think that Instagram Stories are a brilliant addition to Instagram (and the other platforms like Twitter that are introducing similar features). Instagram Stories are a limited-time form of social media: short-form videos only available for 24 hours. While this might seem like a downside, it's actually a big plus! People rush to watch the Stories while available, boosting the number of eyes on your posts!
As videos tend to have a well, video component to them, many small business owners assume that they would be too much work to create, but the reality is that making an Instagram Story is super easy! The problem, of course, is scale. What if you needed to create a TON of them. Like, say, a year's worth?
But here is the thing: if you go into that apparently monumental task with the right mindset, you can do it in a single morning. Here's how!
Use Templates
Here is a little secret of social media marketing…
Creating a unique piece of content for every single post you put up is a massive amount of work. That is why the professionals use templates to help them generate the vast amounts of content they post on a regular basis.
By creating Story templates for your blogs, videos, podcasts, and other weekly pieces of content, you can simply update and schedule them every week. This strategy will save you a massive amount of time. With just a few tweaks, you can quickly change a template into a unique piece of content!
My advice would be to create several sets of Story templates in Canva, each for a different type of content. Then all you need to do is pop the newly written copy in, schedule the post, and, BAM, you're done!
Creating these templates will take an entire morning, but once you have them, you have them and you can use them over and over again. Believe me, it's much easier to sit down at the beginning of the month and update these templates and schedule the stories, then to try to do stories throughout the month.
You can also start to plan out a variety of preplanned images and captions. Doing so can save you a massive amount of time, as you won't be working from scratch whenever you want to create a Story that communicates a specific message. You can simply swap in and out image and content and have a new story set to share every single day!
Hashtag Holidays
Are you ever at a loss thinking of stuff to post? Here's one of my favorite "cheats" for coming up with social media topics:
A great free resource that I offer my audience is my Holiday #Hashtag Yearly Calendar. Inside, you will find hashtags for a variety of holidays throughout the year. Some of them are well known (Halloween), and some of them are… a little more obscure (National Shark Awareness Day)!
When planning your year's schedule for Instagram Stories, sprinkling in these holidays can give you some excellent content! Plus, you can reuse them, year after year. And in that spirit…
Reruns
I'm a massive fan of recycling your content. Whether you revisit an old blog to transform it into something new or release an older paid product as a free opt-in, reusing your old stuff is a fantastic way to get the maximum value out of it.
The same is true for Instagram Stories. If you are planning a year's worth of Stories, you will likely be able to reuse some of them without creating a feeling of "been there, done that." Creating Stories about your products and services that you can use again and again will save you a ton of time and effort.
Mind you, I would never repeat stories within the same month (or even a few months of each other). Instead, spread them throughout the year. And if you are worried about reusing Stories, you could always make some small changes to keep them fresh!
Consider Your Goals
Whenever I start to plan any marketing strategy with a client, I ask them about their goals. Often, they have a particular goal in mind. Maybe they want to double their followers or boost the number of people who go to their website or landing page. However, many clients are less sure about their goals, only knowing that they want to build their social media following, but they aren't sure how to go about it.
Your goals will directly impact the types of Stories that you are creating. For example, if you want to boost your sales, you will want Stories that drive people to your landing pages. If you are trying to build up your followers, then brand awareness should be your focus. You might want to try Stories that connect with your followers personally, or maybe create some social media ads.
I believe that you should be aiming for all of these goals, as one will help you achieve the others. But when you have a limited budget to spend, knowing exactly where you want to put your money will increase your Instagram Stories effectiveness.
How Often Do You Post?
When you are sitting down to figure out your plan for Instagram Stories, the very first thing you should do is consider the frequency you will post them.
If you were to post a story every single day, that would mean that you need to plan for 365 pieces of content. If you scale back a bit to maybe two Stories a week, that would be 104 pieces of content. Or you could go with a single story every week and go with 52 pieces of content.
Obviously, 52 Stories is considerably less work than 365. The question you need to ask yourself is, how often do you think you have to post, based on the size of your business, your social media marketing budget, and the number of your current followers. Start where you feel comfortable and then build up as your social media followers grow.
Use Effective Scheduling
When it comes to social media, scheduling is key. And it's even more important for Instagram Stories.
When you post something on social media, new posts from other people will pile on top of it over time. That means your followers will need to plow through a mess of social media to see your post, but they likely will eventually do it.
But as Instagram Stories only last 24 hours, you must get eyes on them ASAP. You need to post at times of highest engagement to ensure that you are getting your money's worth.
Unfortunately, that time of highest engagement is often when you will be in the middle of, well, working. And stopping in the middle of an important task can kill your productivity. That's why prescheduling your Instagram Stories (and all social media posts) is such a good idea.
By hiring our team or a virtual assistant to schedule everything using Later or Tailwind, you can rest assured that we will push your Instagram Stories out when most people are likely to watch them. What's better, you won't need to lift a finger!
Map Your Monthly Content
When creating a social media strategy, sometimes it pays to map out what you want to post and when.
For example, while a more "scattershot" strategy of posting where you alternate between different topics and products might work sometimes, there are others when you might want to focus on a particular subject.
Let's say that you are planning on presenting a webinar a month from now. In that case, you might want to start focusing your Instagram Stories on your webinar topic. By doing so, you can build some excitement for your upcoming online presentation! You can ask questions to see what people would like to learn more about too! It doesn't need to be every post, but shifting the balance over to what you are most excited to be focused on is a smart marketing strategy.
Ask Questions!
When it comes to social media, the name of the game is engagement.
You want your followers to see your posts and be spurred to action, either to like, click on a link, or comment. You can increase the likelihood of this if you include a call-to-action in your post.
It's the same thing when it comes to Instagram Stories, but with a potentially bigger payoff. If you ask questions or include a poll in your Stories, chances are that it will spur the person watching them to answer! If you have an engaging and attractive design to your Story, even better! Instant engagement!
So, What Did We Learn?
Let's review what we learned:
Instagram Stories are video-based social media posts that only last 24 hours.
Making a Story is surprisingly easy, but planning a year's worth of them can seem overwhelming.
By generating Story templates, you can cut down on the time needed to create Stories.
Are you looking for ideas to post about? Use holidays!
You can safely reuse Stories a few months after you've already posted them.
Determining your overall goals will help you figure out what kind of Stories you want to create.
Your goals will directly impact how many Stories you are going to post in a year.
Don't break your workflow to post Instagram Stories. Instead, preschedule them at times of highest engagement.
Map out your monthly content based on the current product or service you're focusing on.
Asking questions or posting polls in Stories is a fantastic way to boost engagement!
While Instagram Stories (and Stories on other platforms) are becoming more and more important, they are only part of a successful social media strategy. If you want to truly connect with your followers, you need to create posts that will get them engaged in your content. That's why I wrote my free Making the Most of Social Media: Workbook. Inside, I'll break down how I approach my own social media to build up my online following!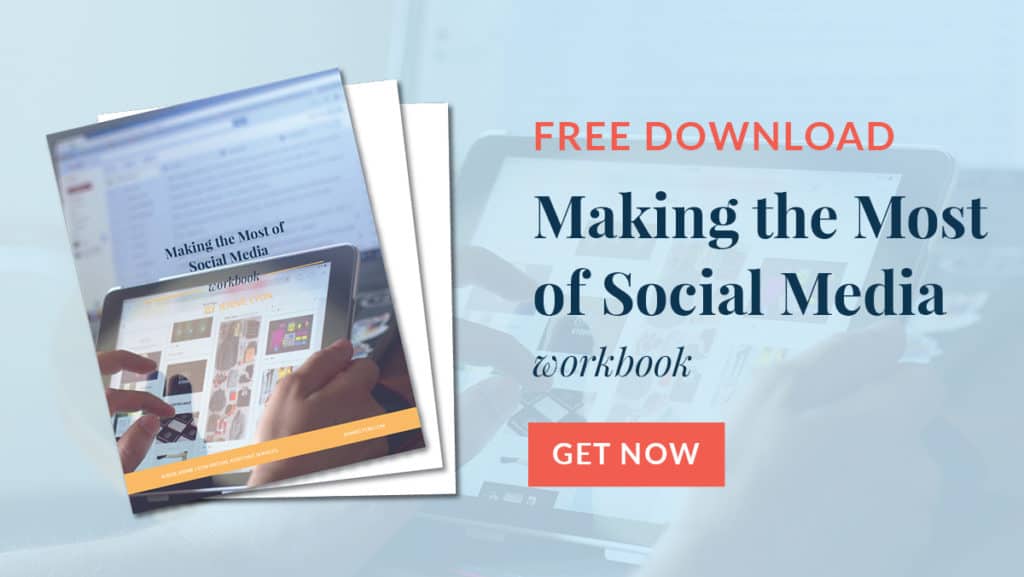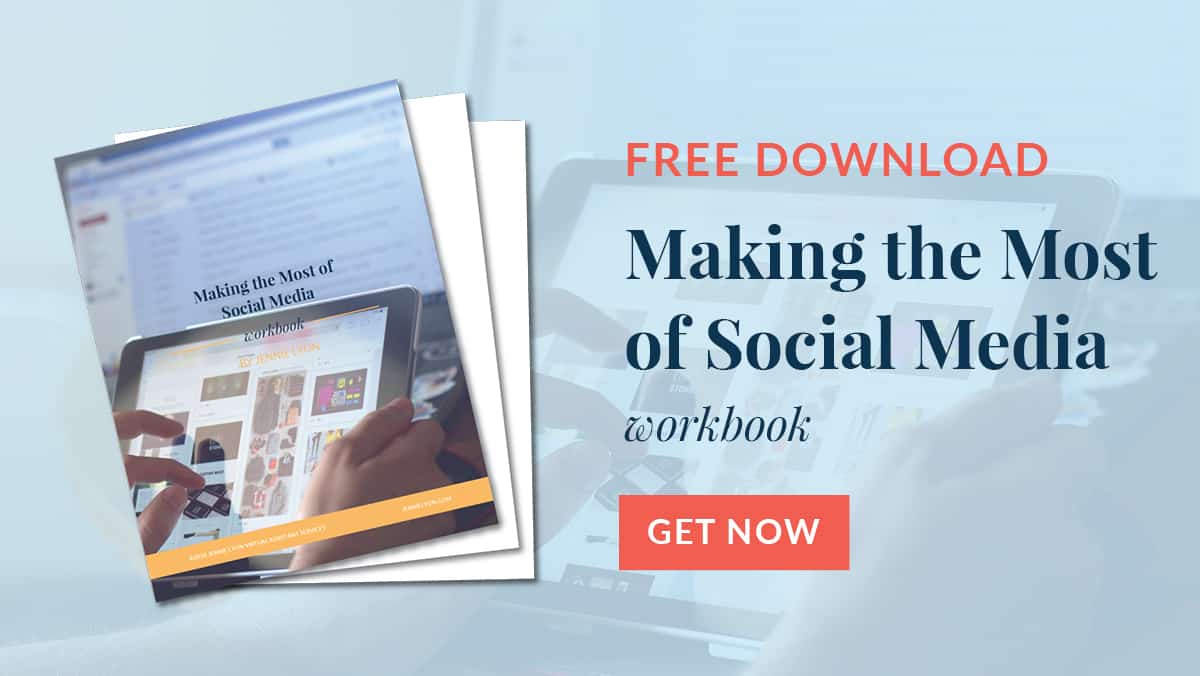 We can Help!
But even if you are making all the right moves with social media, it's still going to take up a TON of your time. That's what social media is designed to do: be a time suck. If you're already overwhelmed with work, hiring a virtual assistant to write, design, and post your social media for you can be a remarkably worthwhile investment in your business. Not only will you have a ton more time, but you can also massively boost your social media engagement!
If you'd like to learn more about how I can take the lead on your social media, please feel free to contact me here for a free consultation. Let's create a social media strategy that covers all traditional forms of social media, along with newer innovations like Instagram Stories! The sky's the limit!
Links For This Episode:
Rate, Review, & Subscribe on Apple Podcasts
If you like what you hear on the podcast, please consider rating and reviewing my show! Woo Hoo! Click here, scroll to the bottom, tap to rate with five stars, and select "Write a Review." I would love to hear what episodes you enjoy the most!
If you haven't done so already, please subscribe to the podcast. I'll be adding new content weekly, if you're not subscribed, there's a good chance you'll miss out. Subscribe now!