Try, Try Again: Why You Should Give Digital Advertising a Second Chance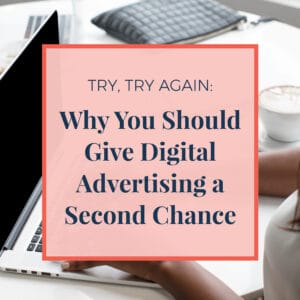 Digital advertising is easy. Effective digital advertising, that's hard.
One of the most common things I hear from many of my new clients is that they have always gotten poor results from their digital marketing efforts. It just "doesn't work" for them, so they tend to fall back on more traditional advertising methods. But here is the problem: digital marketing IS the standard form of advertising these days. Nowhere else can offer you the same ROI for your advertising dollars.
It's completely understandable why so many companies get less than their desired ROI their first time designing an online marketing campaign. Often, it's because they don't really know how to connect with their customers in a digital world. You need to communicate differently online, and many companies only learn how through trial and error. Your company, on the other hand, could take advantage of a secret weapon: a virtual assistant who already knows all of the tricks and traps of digital advertising: Facebook ads, email marketing, and social media engagement.
Facebook Ads
There is far more to Facebook Ads than meets the eye. How often do you scroll through your newsfeed, only to have your eyes passively ignore a "sponsored post". We have trained ourselves to ignore these forms of marketing because, and I am going to be completely honest here, the ads simply aren't very good. Good advertising isn't about selling you something, it's about engaging with you. Those terrible Facebook ads are often just cut and paste jobs of a company's standard marketing copy. They aren't tailored to the audience they're targeting on Facebook, nor are they really effective at getting social engagement. They're just "Buy this!"
To write an effective Facebook ad, you need to think of it more as a Facebook post, something that you want to put up on Facebook to get lots of likes from your friends. That said, your post also needs to carry with it the message of your company. It can take lots of practice to learn how to craft a short, effective Facebook ad that can maximize engagement from your customers. A professional social media virtual assistant should be an expert at it. With your input, a virtual assistant can create a Facebook ad that will be targeted to your exact audience, in tone, content, and engagement.
[Tweet "Have all of your past digital marketing efforts fallen flat? Hire a #virtualassistant to help!"]
Email Marketing
Email marketing is another area where many companies feel they aren't getting any bang for their buck. They build an email list and start to send out newsletters, ezines, coupons, and other messages to their customers, only to get little response in return. Well, there are a couple of reasons for this.
First a question: how often do you check your junk mail folder? If you do, I bet that you will see dozens, if not hundreds, of marketing emails. If you are simply sending out your marketing emails into the void, chances are that they are ending up in your customers' junk mail folder. That's especially true if the customer feels like they are getting spammed by all of your messages and clicks the dreaded "This is Junk Mail" button.
The solution to this problem is simple: less is more. Instead of bombarding your customers with email marketing, you should be very selective about the messages you send out. If you have a monthly ezine, make sure that your customers know it is coming on a regular schedule. If you are sending out advertisements, make sure that all of those emails are somewhat personalized to avoid "form letter" syndrome. And most of all, you have to devise a great subject line that won't set off an email service's spam filters.
The problem with all of this is that it can take a ton of time to write and send effective marketing emails. Instead, why not hand it off to a virtual assistant? Emails with professionally written marketing copy sent out at periods of highest engagement using tricks of the trade can really increase the chances of getting your customer's eyes on your marketing efforts. You only have to tell your virtual assistant the type of content you want along with details about any specials or coupons you want to offer and you can bet that your customers will get your newsletters and marketing email blasts right where you want them: in their inbox.
[Tweet "Why spend hours doing your own marketing when you can hire a #virtualassistant to do it for you?"]
Social Media
In years past, marketing was a lot like fishing with a humongous net. You wanted to get as many eyes as possible on your advertisement in hopes that a percentage of them would bite. To be frank, it was an incredibly inefficient method of advertising. Digital marketing tools like social media allow you to specifically target the customers that you want, increasing the chances that some of them will "bite". And one of the best ways to do this is through your social media marketing efforts.
Just like with Facebook ads, engagement is the name of the game. You want your customers to be able to connect with you online and engage. They want to literally be able to respond to your advertisement rather than simply read it. It's kind of like the difference between having a conversation and being lectured at. Which one would you prefer?
What a virtual assistant can do for you is craft social media posts that are tailored to maximize engagement with your customers and invite dialogue. They can do this with engaging content (like blogs and infographics) or simply through prompt responses to messages sent. Facebook is usually the go-to platform for social media marketing, but there are many others (Instagram is a fun one!) Please feel free to ask about them.
If your digital marketing efforts have failed in the past, don't despair. It might simply be that you weren't yet aware of all of the nuances of online engagement. The reality is that it can take an awful lot of time to learn them, not to mention the time that it can take to write dozens of social media posts, create beautiful visuals, build attractive newsletters, craft the perfect Facebook ad, and then post it all online. It's one of the reasons why you should go to an expert rather than spend your valuable time banging your head against the world of digital marketing.
In fact, let me do you a favor, download my free workbook that walks you through partnering with a virtual assistant! If you need help getting your marketing strategy in place, collaborating with a virtual assistant can be a huge help!
By contacting me today, we can get started supercharging your digital marketing efforts to connect you with more of your customers than ever. So, what do you say? Want to give digital marketing a second try?