Write Better Email Blasts with Marketing Help from Your Virtual Assistant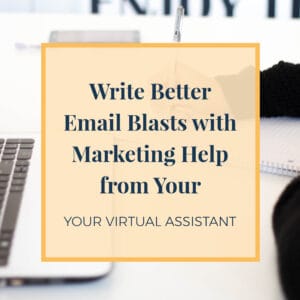 Email marketing is an exciting and complicated arena in the field of business. For the affordable amount of money that you put into it, it can deliver remarkable results, with high levels of conversion. It can also be time-consuming and confusing to create a pitch-perfect email blast campaign. After you've worked so hard to develop a fantastic email list, you want to make sure that you will only be delivering them the best marketing blasts you can.
An experienced virtual assistant can be the key to writing better email marketing blasts to send to your email list. With their copywriting skills, scheduling abilities, and marketing experience, you will never have to worry about your email marketing again. With just a few of these tips, along with some help from a Virtual Assistant, you can up your entire email blast marketing game!
Why Are You Sending It?
Why would you want to send out an email blast without a clear reason for doing so? Surprisingly, many companies do. This is one of the reasons that so many marketing emails are simply viewed as spam that goes straight into the junk folder.
If you're going to send out an email blast, you should have a very clear reason for doing so and have specific goals in mind. Are you looking to generate new leads? Are you informing your email list about a new product or service you are offering? Or is it just general marketing with the intent to engage? Without a specific "raison d'être", your email blast will lack focus and end up going straight into the trash.
[Tweet "Write better and more effective email blasts by using an experienced virtual assistant."]
Build a Email Blast Schedule
When it comes to a marketing campaign, randomness isn't the name of the game.
Instead of randomly sending out emails to your list, it can pay to develop and stick to a schedule. If you are building a multi-step campaign, for example, you need to know the ideal interval between email blasts for them to be effective. Too short an interval and your clients might feel like you are spamming them. Too long and you will lose any sense of momentum. A Virtual Assistant who specialized in email marketing knows exactly when emails should sent and at what times of day to maximize the number of people who will read it.
Utilizing an e-blast service that helps to automate your marketing emails, as well as keep track of responses and successes, can greatly assist with building a schedule. Personally, I am a big believer in Mad Mimi to take care of my email marketing needs. A Virtual Assistant can set this service up for you, as I have for many companies in the past.
Keep It Brief
Writing a super-short marketing email can actually be more difficult than writing a novel-length email.
In a long email, you have space to flesh out your thoughts, make your points, and draw in your reader. In an email blast, you don't have that luxury. If your targets open your email blast and see a ton of text, they are instantly going to put it in the deleted folder.
You want to have a short burst of text that your target can read in under a minute, explaining everything that you want to say about your product/service. You need it to end with a call-to-action that gets them clicking on whatever links you include in the email. Writing a short email that includes all of this takes practice, and that is what a Virtual Assistant can do for you. They know how to cram a ton of information into a short paragraph in a natural and readable way.
[Tweet "Creating email blasts can be time-consuming. Use a virtual assistant instead!"]
Added Value
Sending out simple marketing jargon to your email list probably won't garner a positive response. You need to give your clients something in order to pull them in. That is why adding value to your email marketing blasts is essential to engaging clients in the "conversation". You need content!
One of the most effective ways of doing this is to include a link to a weekly blog on your subject of expertise. Writing a weekly blog also gives you great material for social media posts and other kinds of digital marketing. The problem is that it can take a lot of time to write a weekly blog. Here is another area where a Virtual Assistant can come into play. We can develop an editorial calendar and do the writing for you to make sure that you have a fresh blog ready for you every week!
Email marketing blasts can be one of your most effective, not to mention cost-effective, tools to connect with your clients and make best use of your email list. To get an idea of just how effective email marketing can be, you can find 14 examples of fantastic campaigns here.
A Virtual Assistant can help you set up a fantastic email blast campaign that will get you the responses you want. If you'd like to talk about what I can do for your business and how I can revolutionize your entire email marketing strategy, please feel free to schedule a free consultation!