How a Virtual Assistant Can Help You Earn Passive Income at Your Business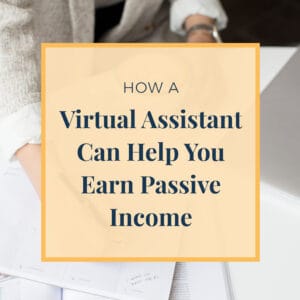 There is a simple equation that drives most entrepreneurs: Hard work + time = money. If you want your business to grow, you need to invest a ton of time and energy into it. Being an entrepreneur can be super-exhausting, especially in the early days of starting your business. There are lots of entrepreneurs out there who dream of being able to build systems that will earn them passive income without them having to raise a finger. Well, with the help of a virtual assistant, you can make that dream a reality!
[Tweet "If earning passive income is the dream, a virtual assistant can help make it a reality!"]
The Secret of Passive Income: Systems
Building effective systems is the key to creating passive income. With passive income, you want to have to do the least amount of work possible. By setting up automated systems that do most of the effort for you, you can minimize your workload and let the systems operate in the background to earn you money.
Systems aren't just for generating passive income either. By setting up effective and self-sustaining systems at your business, you can cut down on your workload, leaving you with more time to do the important things only you can do. The only issue is that creating systems can be a time-consuming process. That, of course, is where a virtual assistant can help you out.
Sell Evergreen Products
With an evergreen product, you want to make sure that its subject is applicable to every month of the year. For example, a course about Christmas tree decorations might be popular in November and December, but you aren't likely to get sales for the other ten months of the year. Evergreen products should be in demand all year.
An ebook is a remarkably useful example of an evergreen product. When most people hear, "Write a book", they think that is going to be far too much work. But here is the thing, most people who download ebooks aren't looking for a novel-length examination of its subject. They want something that goes more in-depth than a blog post, but less than a full-length book. So why not publish an ebook on your site? You could even hire a virtual assistant to ghostwrite it for you. You provide the subject, the topics you want covered, and they write the text. They can even design the cover!
One of the most popular evergreen products out there are webinars. These are essentially online seminars hosted by you where you use graphics, text, and other multimedia elements to teach your audience something. Effective webinars can take months to research, write, and set up, but a virtual assistant skilled in creating them can cut that time-intensive process down considerably.
[Tweet "By setting up systems with a virtual assistant, you can be earning passive income in no time!"]
Set Up a Sales Funnel
Setting up an effective sales funnel should be a priority for any business, but it is especially important if you want to be making passive income.
Your sales funnel should lead your customers to your services and sell them without you having to do a thing. Key components of a sales funnel can be a polished and well-written sales landing page, an automated social media campaign, email marketing campaigns, and blogs that advertise your services. All of these can take time to set up, but not if you hire a virtual assistant to do them for you.
Integrate e-Commerce into Your Website
If you want to earn passive income, you're going to need a way for your customers to buy your products. The obvious place to set up an online store would be your website, but that kind of thing is super-technical, right? It doesn't have to be. There are several online shopping carts that a virtual assistant can use to integrate an online store into your website that will offer your customers a super-smooth shopping experience.
Passive income is often the dream of entrepreneurs who want to be able to bring in money even while they sleep, but it isn't quite that easy. Setting up the systems and developing the products to earn passive income isn't exactly, well, passive. It can take real time and energy to start earning passive income, and that might not be time and energy you can afford. But I can! 
Contact me today and we can talk about how I can help you set up the systems and products that will have you earning passive income before you know it!