How Loom Can Help You Connect to Your Customers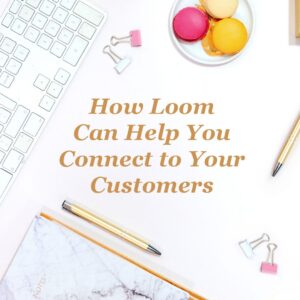 Do you remember back in the days before Google Maps when you would need to stop and ask for directions if you were lost? In my experience, getting verbal directions from a helpful person would often result in me getting MORE lost.
It wasn't their fault though. Verbal language is, well, imprecise at times. We often think we communicate our thoughts out loud clearly, only to have the person we are talking to misunderstand what we are saying completely. This is partially because, when you are talking to someone on the phone, they can't see the important non-verbal, physical side of what you are saying.
I've found this in my business. Every single day, I have clients call me to ask how to do things on their website, or how to segment their email campaigns or other business-related troubleshooting. I try to walk them through it but, because I can't see what they were seeing and they weren't sure where to go anyway, it would often lead to a confusing mess. I knew that I had to come up with a solution that would allow me to help my clients in an efficient and precise manner. That's when I stumbled upon a service that enables me to do just that: Loom
[Tweet "Want to SHOW instead of TELL your customers? Try using Loom Screen Recorder!"]
Loom
Loom is a screen and audio recording program that allows you to take videos right from your browser.
Giving directions is a snap with Loom. Not only can I provide my clients with verbal instructions, but I can also literally show them what to do on my own computer, then send them a video of the entire procedure. It's the best of both worlds!
If verbal and visual instructions still aren't enough for your client, you can also use Loom to record from your webcam while you talk. They will be viewing your video with your face in the bottom of their screen in a little bubble. If you aren't a fan of being on camera, no problem, you can just turn the feature off!
To give the client some extra context, you can also name the video whatever you'd like (ex. How to Create a Loom Video) and even add a text description. If a client has a question, they can ask it right from the comments on the video page. I will be alerted about it immediately and can respond either in text form or record another video.
How to Get Started
Although Loom is entirely free, there are a few things you need to set up first.
You can't just download and use Loom in isolation. Instead, you have to connect it to either your Google or your Slack account. Thankfully, Google accounts are free and easy to set up. All you have to do is visit gmail.com and set up a new email address. Be sure that you select an email address that you will remember and choose a secure password that can't be guessed. Once you have your Google account set up, link your Loom account to it and you are ready to go.
Once you download the Loom extension to Chrome, you will see a little gray spiral icon to the right of your address bar. If you want to record a video, you press this icon. It will turn from gray to color to let you know that the program is active. Then, you choose from a number of different recording options.
If you are working with a client, there is a chance that you might not want them to see your entire desktop screen. You might get an email in the middle of the video with confidential information, or you may wish to maintain that aspect of your privacy. Totally understandable, and Loom has you covered.
You can choose the information on your screen that you want to record. If you want to show them a single tab of your browser, you can. If you want to record a single app, you can. If you want to record your entire desktop, you can! It's super customizable!
Something that I love about using Loom is that all of my videos are saved in the cloud. If I ever need to go back and find a video I recorded a few weeks ago, I just check my saved videos and there it is!
If you find yourself continuously answering the same question over and over for various clients, Loom can provide a great solution. All you need to do is create a general purpose answer video, save it, and then you can send that URL to anyone who asks the question in the future. This can be a huge time-saver! Just record a bunch of videos all at once and you will essentially have a video FAQ library all set up and ready to go.
[Tweet "Make your directions to customers clean and clear by recording your computer screen with Loom!"]
Are There Any Downsides?
There are a few minor downsides to Loom as compared to some other paid screen-recording programs. For one thing, you aren't going to be getting a high-quality image. Although everything will be totally visible, it might be a little more blurry than you would get from HD-quality video on YouTube. That said, as these will primarily be disposable instructional videos, the quality doesn't need to be perfect. If you are creating an online presentation of some kind where you need to record your screen, you may wish to go with another, more power screen recorder.
At first, your videos will be limited to five minutes, which should be enough time to answer any questions your customers may have. But if you need a longer record time, you can either pay for the service or refer some of your clients to Loom, thus unlocking free unlimited storage.
Another potential downside of Loom is that it's restricted to the Chrome browser. If you instead use Firefox, Edge, or Safari on a regular basis, you won't be able to use Loom to record videos. Of course, just because you have to use Chrome to record videos doesn't mean that it needs to become your "daily driver" browser. You can instead start thinking of Chrome as your video recording program and continue to use Firefox without a single hiccup.
If you can't tell, I'm a pretty big fan of Loom. It provides a fantastic way for you to connect with your clients directly and answer any questions they might have about your services. I use it on a daily basis for my clients with fantastic results. Rather than trying to explain something in detail, like how to set up a project management system or fix a setting on Facebook, I can quickly show them!
In fact, every week I record a special Loom video to send to my email list, showing them in detail how to do certain technical and marketing tasks. If you want to make sure that you don't miss any of these videos, or simply want to see a great example of how you could use Loom for your business to give you an edge over your competitors, be sure to sign up!
If you have any complex questions that you would like answered, drop me a line! I can create a Loom video and fire you off the URL in no time, setting the stage for our work together in the future. Don't forget to check out the how to use Loom video here, feel free to leave me a comment on it too!