How to Create a New Subscriber Nurture Sequence
Are you the kind of person who finds it easy to make new friends? Or are you more the type that prefers to meet and chat with people online?
Either way, your skills are going to come in handy if you're creating an email nurture sequence to entice new subscribers to become paying customers!
In business, it's critical to always follow up on things. If you leave potential customers and clients to their own devices, the chances are that they will get distracted by their daily lives. To keep them as active prospects, you need to nurture the relationships.
A great way to do this is through an email nurture sequence. With several, short and simple emails, you can start to build a relationship and eventually lead your new email subscribers to become full-fledged clients!
What is a Nurture Sequence?
Put simply, an email nurture sequence is several automated emails sent to new subscribers at pre-set internals.
A nurture sequence should set the tone for all future interactions with this potential client. By speaking about their underlying problems, providing potential solutions and quick wins, while creating a personal connection with them, you can transfer a curious subscriber into someone who is paying for your products and services!
You Can't Trust Social Media Services
So, why should you be spending your time nurturing new email subscribers? Because an email list should be a crucial part of every small business' digital marketing strategy.
As a digital marketer, I always say thank goodness for social media. It offers an incredible opportunity for small businesses to extend their reach, connect with potential and existing clients, and create marketing campaigns that often far outreach limited budgets. That said, social media services aren't your best friend. They are good friends, but not your best friend!
It is an incredible resource to have thousands upon thousands of followers on your Facebook page or Instagram. But at any time, those followers can be snatched away by these companies. I learned this lesson the hard way a few weeks ago when thousands of posts on my Facebook page suddenly vanished without a trace. Anything from an error to an explicit post by a random person can cause these social media companies to crack down quickly. In other words, your followers aren't your property.
But when you have a robust email list, they are! That's why I consider my email list to be one of the most valuable assets I have for connecting with clients. I don't need to go through the filter of Facebook or Twitter to reach them. If I want to send them a message, I can send them an email whenever I want. And it doesn't just need to be a newsletter! See, your email list is your best friend!
Every small business should be working tirelessly to add new subscribers to their email list. It's one of the areas that I spend the most time in my own business and that's why I have an email list with tens of thousands of people on it. But how do you entice people into handing over their email to you?
It All Starts With a Lead Magnet
To entice people into signing up for your email list, you will likely need to offer them something of value. After all, why would they give you their email if you weren't giving them something in return? That's where lead magnets come in.
I did an entire episode about lead magnets a few weeks ago, but here's a super quick refresh. When you create valuable content and offer it for free on your audience, you can entice people to become subscribers to your email list. By doing so, you will now have their contact info and permission to send them marketing emails.
The secondary purpose of a lead magnet is to funnel new clients to your product offerings. For example, if you offer a freebie about redesigning your website, you want that freebie to be something super valuable that gives them a quick win, then they funnel into your nurture sequence, where they have the time to get to know, like and trust you! Eventually that email sequence will lead them to your website building services. In this way, lead magnets pull double duty!
But let's move onto what happens immediately after a potential client downloads your lead magnet and subscribes to your newsletter!
Welcome to the Club!
The first email you sent to your new subscriber needs to accomplish three things:
It needs to give them the link to the freebie they requested.
A "personal" introduction of yourself to them.
It needs to give them a value and a quick win!
You might think we'll that's great and all, but what's in it for me! Don't worry if the first email doesn't convert them. After all, this is only the beginning of your relationship and that's what's in it for you – building a solid relationship with your prospect. After they have some time to check out the freebie, they receive your nurture sequences with value and small wins built in, then they realize they can really benefit from working with you or purchasing your product! Viola you have a new customer!
The Structure
There are as many nurture sequences as stars in the sky (Ok, not quite, but close!)
Below is a simple example of the kind of new subscriber nurture sequence you may want to try. Of course, you should always customize it to your specific business and product offers, but it should give you an idea of what to expect:
Welcome Email (Sent Immediately): Provides them with the link they requested, introduces yourself, provides value and a quick win.
Follow-Up (3 Days Later): Ask them what they thought of the freebie. Did it inspire any ideas? Do they have any questions? You'd be delighted to answer them! Then again offer more value and another quick win.
New Offer (One Week Later): Send them another opportunity to download a freebie. This time, it could be more exclusive (a link to a webinar, perhaps or a video training.)
Testimonials (One Week Later): Again this email needs to provide value, if your emails don't people will unsubscribe. On this one you can start to sprinkle in a testimonial or two.

Stealthy Sell (One Week Later): While providing more value you can start to stealthy sell within your email. You want your prospect to purchase your products and services to convert them into paying customers but you don't want it to be super salesy. There are stealthy ways to ask for the sell that isn't in their face.
What Happens Next?
This is only an example of a short nurture sequence. I have created nurture sequences as long as 365 days for a client and it was super successful! You have to gauge your audience and what you have to offer to decide how long you want your nurture sequence to be and how often your audience should hear from you.
Get to the Call-to-Action
One of the biggest mistakes that small business owners make when sending out marketing emails is that they don't get to their call-to-action fast enough.
A CTA is you telling the reader or listener the action you want them to take. "Click Here," and "Sign Up Today" are two of the most familiar CTAs seen online, but there are countless variations.
Regarding your emails, I recommend sprinkling a few calls-to-action throughout, some explicit, some implied. For example, there should always be a CTA within your first paragraph and definitely above the fold. "Are you looking for an online course that will change everything? Well, do I have the program for you!"
You should always end the email with a super direct CTA:
"Sign up today for my groundbreaking program, and see how it will change everything for you in no time!"
The CTAs throughout the email can be a little more subtle. For example, rather than flat out asking the reader to do something, you can write an entire sentence that will be an embedded link to one of your services:
"I've always found that my other programs are great at sorting out all of my clients' problems!"
Never forget about adding your calls-to-action if you want to increase the effectiveness of your nurture sequences dramatically.
Your Emails Need to be Authentic
There are many schools of thought about the originality of your new subscriber nurture sequences. Some people believe that you can simply use a template, filling in the blank spaces like you're playing a game of Mad Libs. And to be honest, many people have been successful using this strategy.
But personally, I think customers can spot form letters and templates from a mile away. When you send something to a new subscriber or client that isn't specific to them, it can come off as inauthentic and artificial.
You should pack every message you send to your email list with feeling and emotion. Now, I'm not suggesting that you write an individual welcome email for everyone who signs up for your email list. But a heartfelt and well-written welcome message can speak volumes. It shows them a little of your personality and how you communicate. Share stories about your own struggles and how you overcame them.
The obvious solution to the "form letter" problem is either writing your own copy or hiring someone to write it for you. When you are writing your email with a specific aim in mind, it will read and convert better rather than simply dropping in random words.
Admittedly, this can be time-consuming, and time is something that most small business owners don't have in abundance. My advice would be to hire someone, like a virtual assistant, to write your entire new subscriber email sequence for you.
So, What Did We Learn?
Let's review what we learned:
Always follow an opt-in email up with a new subscriber nurture sequence.
A nurture sequence is several emails sent to new subscribers.
Never trust social media to safeguard your followers.
Building an email list is the only way to ensure you can remain in contact with your customers.
It all starts with a lead magnet.
Your first email sets the tone.
Your nurture sequence could range from 5 emails to 365. It depends on your audience!
Always get to the call-to-action ASAP/Always have a CTA at the end of an email.
Try to avoid only using templates for your emails.
Your nurture sequence needs to be authentic and engaging.
Creating an automated email nurture sequence can pay huge dividends, but why stop there? By automating your new client onboarding, you can save even more time! If you'd like to learn more, check out my free 8 Steps to Automating Your Client Onboarding: Workbook & Checklist. It will lay out exactly how you should structure your onboarding sequence and might even give you some ideas for your nurture sequence, as well!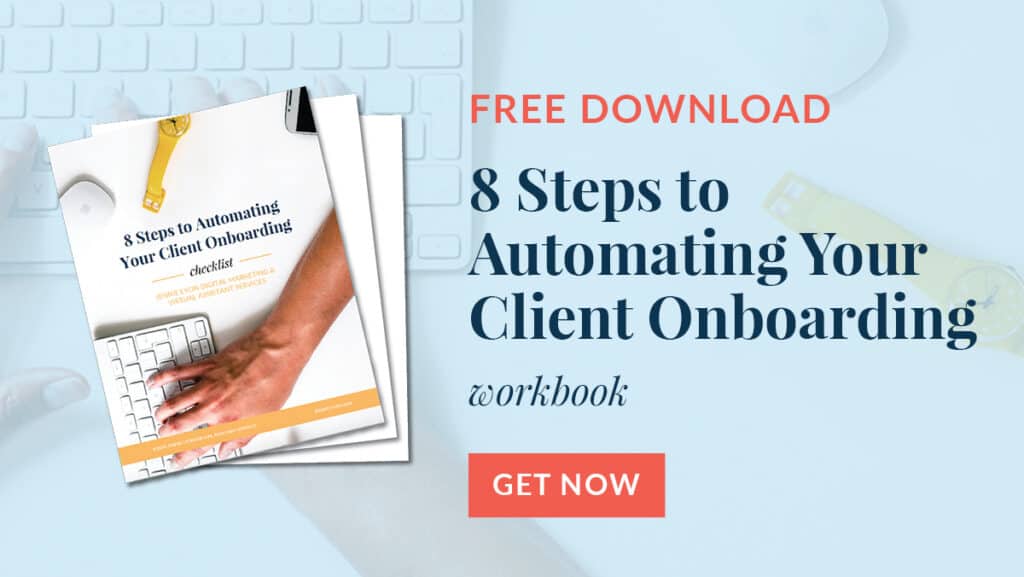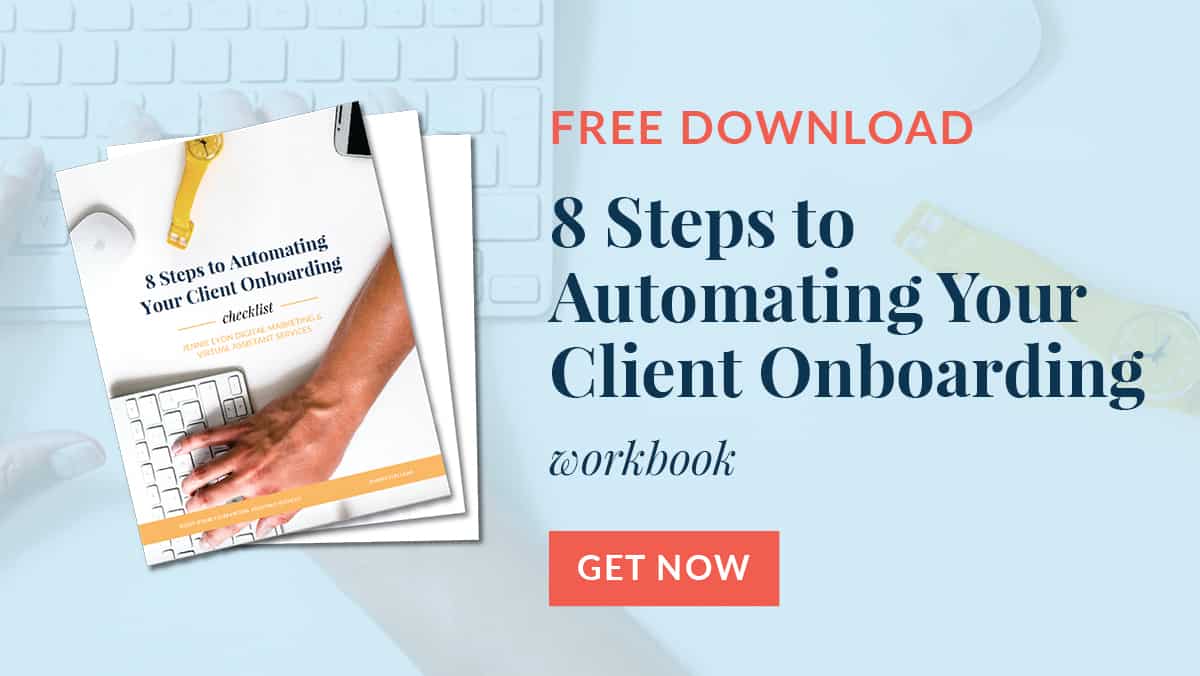 Introducing yourself to potential clients is key to building solid relationships. If you can set the tone right from the start, you can create a two-way relationship that could last for years! If you'd like to learn how I can help you create that nurture sequence and build up your email list, I invite you to contact me today for a free consultation!
Links For This Episode:
Rate, Review, & Subscribe on Apple Podcasts
If you like what you hear on the podcast, please consider rating and reviewing my show! Woo Hoo! Click here, scroll to the bottom, tap to rate with five stars, and select "Write a Review." I would love to hear what episodes you enjoy the most!If you haven't done so already, please subscribe to the podcast. I'll be adding new content weekly, if you're not subscribed, there's a good chance you'll miss out. Subscribe now!