How to Choose the Best Virtual Assistant Company for Your Business Needs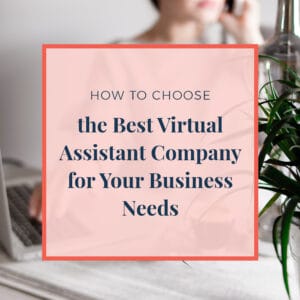 If you do a search online, you will find that there are countless Virtual Assistant companies out there, each with their own specialties and strengths. There are Virtual Assistant firms that cater to huge, multi-national corporations and ones that specialize in specific industries like finance. When you are looking for a Virtual Assistant company as a small business entrepreneur, you need to make sure that you are getting one that can handle all of your business' needs, has a solid amount of experience, and charges a reasonable price. You also want to make sure that they are flexible enough to be able to take on a variety of different tasks, always turning out the same impressive results.
If you are a busy entrepreneur who could use a hand dealing with some of the time-consuming or specialized tasks on your list, here are a few of the areas that you want to focus on while looking for the best Virtual Assistant company for your business:
Copywriting Services
Even if you have extensive experience writing copy for blogs or webpages, it can be a time-intensive job, time that you can better spend elsewhere. If you want professional and punchy copy, hiring a Virtual Assistant company with copywriting experience can be a terrific idea. Whatever copy you need written, a Virtual Assistant can provide. You, of course, always have final edit and, if you have any additional information that you want included, you just need to ask and a new draft will be in your inbox before you know it!
[Tweet "Finding the right VA service can make the difference between a headache and success!"]
Design Services
As a small business owner, you know the importance of having professional and engaging graphics on your website, in your marketing materials, and certainly the importance of a great logo. The problem is that not everyone is an artist. That's why a Virtual Assistant who offers design services can be worth their weight in gold. You won't have to worry about the hours necessary to create beautiful, and interesting graphics. All you need to do is give the Virtual Assistant an idea of what you want, and they can take it from there.
Digital Marketing Services
Online marketing is a complicated field, and is getting more complicated every day. Every new method of connecting to people is another opportunity to connect to new clients. If you have trouble finding the time to post to Twitter, update your business' Facebook account, or send out engaging email marketing campaigns, you're missing out on a remarkable marketing opportunities. An experienced Virtual Assistant can help you by constantly updating your social media channels and designing email campaigns that will convert your clients.
Administrative Services
Most small business owners and entrepreneurs can't afford extensive administrative staff, but that doesn't mean they don't need them. Having someone who can help with project management or client care will allow you to build better relationships with your customers. A great Virtual Assistant can help you build a great customer service reputation at a fraction of the cost of a full-time admin position.
Tech Services
Hiring a full-time technical staff to manage your online store, run a webinar, or redesign your website can get expensive very quickly. It's just as effective and far cheaper to hire a Virtual Assistant firm that has the technical skills necessary to maintain and expand your brand's online presence with a stunning and functional website, while also helping to integrate your digital presence over a variety of online platforms.
[Tweet "The right VA service frees up your time and helps you focus on the important parts of your business"]
If you find yourself nodding, thinking, "Yeah, that kind of work really does take up way too much of my time…", then a Virtual Assistant is the perfect, cost-effective solution. You just have to make sure that you find a Virtual Assistant firm that covers all of these bases, with professionalism and experience. One just like, say, Jennie Lyon Virtual Assistant Services! We can help you with all of these areas and much more.
In fact, let me do you a favor, download my free workbook that walks you through partnering with a virtual assistant! If you need help getting your marketing strategy in place, collaborating with a virtual assistant can be a huge help!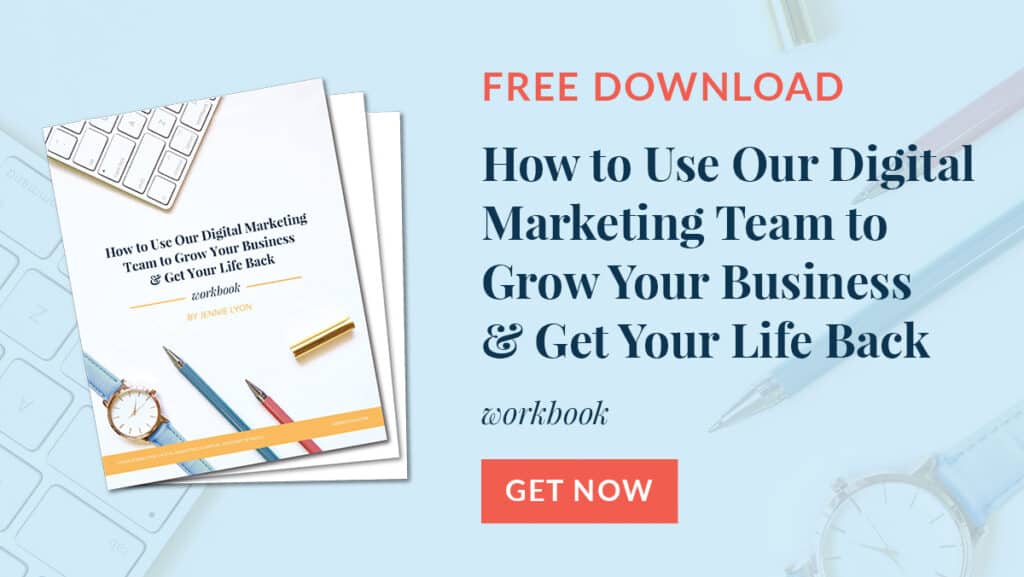 All you have to do is book a free consultation to discover how I can revolutionize your company's efficiency and help you grow your company to the heights of success!