The Best Remote Work Tips and Tools + Free Workflow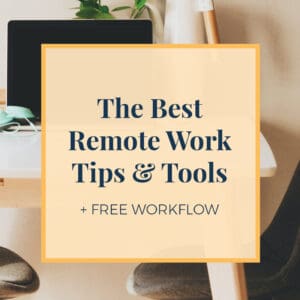 Are you experiencing remote work for the first time in your professional life?
Maybe you've heard, there have recently been some significant changes in the way the average American does their job. With physical distancing rules in place, many small business storefronts needed to close for health reasons. And even though some of them are opening back up, it will still be months until things are close to normal.
Moreover, some of the big changes will likely stick around indefinitely: working from home, for example. Before COVID-19, only 1-2% of people worked remotely. Now, businesses all over the country have sent their employees home to work, averaging about 50% of the workforce. If you own a small business, you are likely in the same boat.
This shift can be a massive struggle for folks who miss the daily routine of heading to work in the morning, then returning home at night. What they need is some additional structure built into their day. Along with tools that will keep them productive at the strange and bizarre working environment of the kitchen table!
Well, if you're looking for some remote working advice, you've come to the right place! I have 20 years of experience working from home! I'm going to share what I've learned with you in hopes that you can jumpstart your productivity. This way your business will come out the other side of this crisis stronger than ever.
What Most Small Businesses Are Doing
Having talked with dozens of new and old clients in the last few months, I've come to realize that small businesses are doing one of three things:
Group one chooses to stick with the status quo, hoping things will get back to normal before they get too deep in the red. This worries me, as I don't feel it's the best move for dealing with a pandemic.
Group two freezes up, uncertain of what steps to take. So rather than move forward to keep their business thriving, they hunker down. Totally understandable, but again this worries me as they put years and years into building up their business and brand, only to put it on hold.
The third group is the ones that I admire. They're pivoting their business online to take advantage of the "new normal." But doing that can be easier said than done.
Pivot to Online
The small businesses that will be primed for success after COVID-19 are the ones who are putting the focus of their business online. In the absence of a physical storefront, they are looking to create new forms of revenue. This includes online courses, webinars, partnerships with other businesses, and more.
Moreover, they are taking steps to build up the digital storefront of their business. It may have been years since you had a website update or a revamp of your social media. Right now is the perfect time to get audits done for both to figure out what's out of date and how you can catch up with 2020.
Primarily, small businesses need to keep themselves in the top of mind of their clients. It can prove difficult right now, especially when everyone is distracted, stressed, and anxious. But it's possible! Why not send them a newsletter, giving them free valuable tips they can actually use during COVID-19. Maybe give away some free content to teach them new skills, or entertain or distract them. That way, when the crisis is over, you will be the first business they think of when they need your service.
[TWEET "Feeling like your productivity has cratered since you started working from home? Here are some tips and tricks that I use daily!"]
Working from Home
You need to recognize that working from home isn't like working from an office. You think that it's going to be slow mornings, lounging around in your PJs. But take it from me, that's a big mistake (I know from experience)!
To be productive while you're working remotely, you need a particular set of tools and services. Here are some examples:
One thing that you may want to invest in is a fantastic office chair. Trust me, sitting in an uncomfortable seat for hours does a real number on your back. An office chair with proper back support is well worth the investment, even if you expect to head back to your physical location after the crisis has passed.
Facing Anxiety
Something that's getting in the way of personal productivity right now is the incredible level of anxiety throughout the nation. This crisis could last months longer, and it might not even be the last time we need to practice physical distancing in 2020. This kind of anxiety and stress can kill productivity and make it tough to get out of bed in the morning.
I have two big tips for fighting against this kind of anxiety. The first is physical activity. Even if we have to keep about six feet from each other, we can still leave the house and head outside. That means going out for a daily walk is an option. Just a simple stroll outside to get some exercise will do wonders for your stress level.
The second is to create a routine for your day. We underestimate how the habit of "Get up, get a shower, eat breakfast, brush teeth, commute to the office" puts you in the right frame of mind for working. You need to replicate this routine, but for your home. Get up at the same time every morning and figure out a schedule that works for you, then stick with it. It will give you a sense of control over your day, reducing anxiety and boosting productivity.
[TWEET "Working from home is a big adjustment. Learn some ways to boost your productivity and keep focused during this crisis!"]
Moving forward
Here is the thing: no one really knows what to do right now. Even those of us who have worked from home for years are scrambling, trying to find a "new normal." For example, I used to be able to depend on peace and quiet at home while I worked. Now, I have a house full of noisy family members, distracting me from my daily tasks. But I've slowly found a new way of working that keeps me productive and focused, and you can too. That's why I've created this free How to Pivot Your Business Online in 6 Easy Steps Workflow, full of tips and tricks to help you adjust! Give it a download!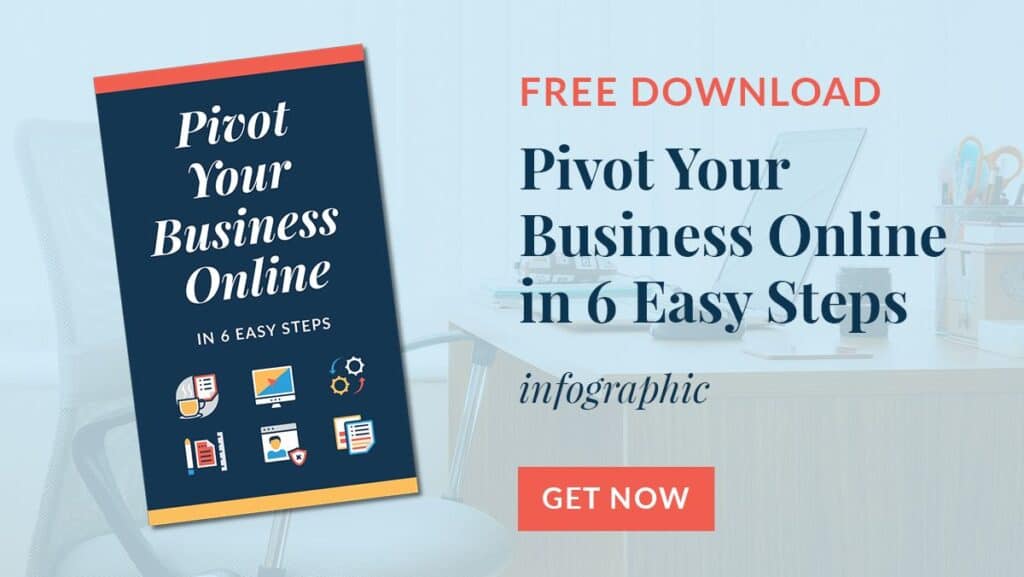 And if you're still having trouble finding your footing, maybe you simply need a little help. I've been working with my clients to help them adjust to working from home. Giving me many of their repetitive and distracting tasks has been a game-changer for them. For example, social media is a trap at the best of times, but especially when you're working from home. So leave it to me, and I'll get everything written and scheduled for you! Need a project management system to help keep your day focused? I can set that up for you! Whatever your request, I will likely be able to help. So, contact me today, and we can create a "stay-at-home" routine that works for you!