Time Management for Entrepreneurs: 4 Do's and Don't's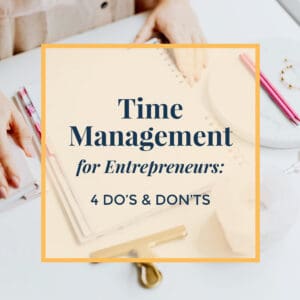 All entrepreneurs are busy—pretty much all the time. That part is not likely to change. The essence of effective time management is maximize results with the time you put in—in other words, working smarter and not harder. These tips on time management for entrepreneurs will help you do just that.
Do
Remember the 80/20 principle, which says that, on average, 20% of a business' clients make up 80% of their sales. While mundane tasks like keeping up the books and ordering office supplies need to get done, the 80/20 rule says it's smarter and more cost effective to outsource these tasks to someone like a virtual assistant. An assistant can complete non-revenue generating tasks efficiently and inexpensively, freeing up valuable time and attention to spend on your 20% clients.
[Tweet "Finding more time for high-revenue generating work will help skyrocket your productivity."]

Keep delegating all the mundane tasks you can—housekeeping, grocery shopping, checking voicemails—that cost little to outsource but pay off big. While you may not think you can afford to hire someone to vacuum or screen emails, consider the 80/20 rule again and ask yourself: if the highest paying 20% of my clients generates 80% of my income, how much do I earn per hour on these clients? When you realize how much your top 20% bring in, you'll feel more willing and able to pay for someone else to do these everyday tasks. Finding more time for the high-revenue generating work will help skyrocket your productivity.
Don't
Outsource everything. While it's tempting to hand over "big", highly skilled work like marketing or sales to a consultant, you're better off partnering with an assistant on the less impactful work first and honing the bigger skills. There are two reasons for this. First, it's simply more cost effective to outsource work that costs less money to execute. Second, by learning the skills yourself you're investing in your business and professional development, which will maximize your chances of success—now and in the long run.
Burn yourself out. We all need breaks, vacations, and marathons of bad TV (or, if not TV, whatever guilty pleasure helps you switch your brain off and rest). Overwork leads to mistakes, decreased morale, and health problems. Make sure you take time off to live life outside of work.
[Tweet "Remember the 80/20 principle: 20% of your clients make up 80% of your revenue."]
Need more time management tips? Here are 5 more!
Sometimes it takes more than just time managment to get everything in order, it may take a team. Learn how I can help you manage your time and get your life back in this free workbook.