5 Amazing Benefits to Working with Our Virtual Assistant Team
What is the secret to finding and working with a virtual assistant team?
Simple: you need to connect with the right people. Trust me, I know this from personal experience!
Years ago, I was a "lone wolf" virtual assistant. If my clients needed social media written, blogs edited, sales funnels designed, or email newsletters sent, it would be me behind the computer. While my business was thriving, I certainly wasn't. The stress was starting to get to me. And even worse, because I was doing EVERYTHING myself, I was limiting my business's growth. I couldn't take on new clients because I didn't have the time and resources.
All of that changed when I hired my first virtual assistant. And yes, I know that it's insane I didn't hire one sooner. I AM a virtual assistant, after all, so why wouldn't I take my own medicine?
Today, I look back at and think, "Was I nuts? Was I just being stubborn?" Maybe I was both! But today, I've seen the light. I KNOW the fantastic benefits of working with a virtual assistant team because I have one who works directly for me. And that means that, when you hire me, they are working for you too!
Here are some of the things you get when working with the Jennie Lyon Virtual Assistant team!
Extensive Experience, Education & Training
When you are hiring a virtual assistant online, it can be tricky to determine if they truly specialize in their field (that is, until they deliver some content so you can judge for yourself).
I know for a fact that I am highly skilled in a variety of areas, but I also know that there are areas where specialists have the edge. If I want my virtual assistant business to deliver the best quality content possible, I literally can't do everything myself. That's why I go out of my way to hire the best.
To assemble my virtual assistant team, I had several areas I wanted to focus on…
Anyone can write copy online (which is why there is so much BAD copy out there), but it takes a professional to write something that converts customers. If it doesn't read naturally on the page, the copy will set off alarm bells to readers that something is a little "off." Same when it comes to writing scripts for podcasts, webinars, YouTube videos, or other spoken-word projects. You need that kind of copy to sound natural when spoken aloud, not stiff and awkward.
When hiring a copywriter, you should hire based on a wide range of qualifications. They all need writing skills, of course, but they should all have specialties as well. For example, one of my primary copywriters is a former actor and playwright. That makes them an expert in writing copy that sounds natural when spoken aloud. It also helps them replicate a client's "voice" in their copy. Another of my copywriters has a background as a reporter. This experience lends their copy a more formal style that translates very well to whitepapers and other professional documents.
Have you ever opened up Photoshop on your computer, just to fool around and have fun?
While this can be a great time, the average person only knows how to use about 10% of the features in Photoshop and other graphic editors. If you want professional graphics created for your business, you need someone who can utilize the software to its full potential.
When it comes to hiring graphic designers, it doesn't only boil down to seeing what they have in their portfolio. Graphic designers need to be able to deliver professional-quality content with a tight turnaround. You don't have time to wait upwards of two weeks to a month for your new logo, social media graphics or a slidedeck, after all. That's why every graphic designer should be able to rapidly deliver incredible graphics without compromising on quality.
Some people think that handling a company's social media would be a cakewalk. After all, most people spend hours on their own social media accounts every day.
But there is a big difference between browsing your friends' feeds and needing to write and post content at regular intervals throughout the day for a business. The trick about digital marketing is that you need to utilize these "recreational" tools (Facebook, Instagram, YouTube) in a professional way, connecting with those who are browsing for fun. That can be surprisingly difficult, especially if you are aiming for organic engagement.
When it comes to digital marketing, I have extensive experience from the earliest days of the internet. There is a certain knack when it comes to digital marketing, and it's something that I look for in my digital marketing team. When I hire someone to help me run Facebook ads, for example, I'm looking for a certain mindset and enthusiasm about engaging with people and customers. That mindset translates into more traffic for my clients.
One Point of Contact
So, this is just a taste of the people I have on my team. Of course, I have a website designer, funnel expert, and my own assistant. I bet you're asking, "So, if I work with Jennie, would I need to communicate with all of them? Because that sounds like a heck of a lot of work."
The answer is, nope! They are MY team, which means they support me and the work that I do with you, I am the only point of contact that you need. When we schedule a call, I will go into detail about what you want from your digital marketing. Be ready for a lot of questions! With my experience in all of these areas, I can then translate your ideas into concrete directives for my team members.
Can Handle Repetitive Tasks
As a small business owner myself, I know how quickly your day can get out of hand.
Whether it be writing a weekly blog or email, writing your monthly social media, or updating your website, there is always something to do. It's like being on a treadmill! These small, repetitive tasks never stop, but they are all essential parts of keeping your business running.
When you're operating a small business, these tasks usually fall on your shoulders, draining your energy and eating up hours of your day. That's a big problem if you have more important tasks on your to-do list (which as a small business owner, you should be focusing on that one thing that only you can do!) When most people are quitting around 5 o'clock, you're still going, hoping that you can finish all your work by bedtime.
In my mind, the best benefit of working with a virtual assistant team is that you can offload these repetitive tasks onto them. Instantly, you will free up hours of your week. The trick is to ensure that you're hiring someone you know can handle these tasks, executing them efficiently and on-time.
For example, if you have a weekly blog, you need it a few days early to review it. If it's a few days late, your entire schedule would need to shift, which is hardly ideal. We always deliver our clients' blogs on-time, giving you ample time to provide feedback.
Can Handle One-Off Projects
On the other hand, sometimes it's the big projects that can devour your time. This leaves you scrambling to quit work at a sane hour.
I know countless small business owners who decided to put together their own webinar. Only to quit halfway through because of the crazy amount of work needed to finish it. When it comes to a webinar, it isn't as simple as just doing a little research, throwing together some slides, and winging the audio while you're live with your audience.
First, Research.
You need to make sure that everything is accurate. One mistake or incorrect fact could damage your reputation as an expert. And seeing as you are putting your webinar on to position yourself as an expert, well…
Second, the script.
Winging it is a skill that some people have, but not many. Just because you know your subject inside and out doesn't mean you won't forget a key fact or get lost in the topic. By writing a script, you will have something in front of you that keeps you on track. This will also guarantee the webinar's length, as advertised).
Third, graphics.
Throwing together something in Paint 3D isn't going to cut it when it comes to webinars nowadays. Your slides need to look as professional as Apple's during one of their product launches. So, hiring a virtual assistant with professional graphic design skills just makes sense.
Fourth, practice makes perfect.
Dozens of my clients have used me as a sounding board to practice their presentations. With my experienced ear, I can help them perfect their delivery and make sure that they feel comfortable presenting "in front" of their audience.
And fifth, tech support. Like all things technical, webinars can occasionally go off the rails. The last thing you want is for that to happen when you're in the middle of presenting your content. By hiring a virtual assistant experienced in tech support, they can handle everything in the background, so you don't need to worry about anything but sharing your expertise with your audience!
A webinar is just one example of a massive project that can take up weeks of your life. But with a virtual assistant team behind you (and effective project management), your webinar can be completed in a fraction of that time, with more polish than you could achieve alone!
So, What Did We Learn?
Let's review what we learned:
When it comes to hiring a virtual assistant, you need to find the right one or better yet a one-stop shop like us!
You want someone or a team with extensive education and training in specialized fields, not a generalist.
Copywriters come in many different types. Some focus on a conversational style, some on formal business writing. With our team, we can write on any subject, we have the experience!
A virtual assistant graphic designer needs to deliver a quick turnaround.
When working with a virtual assistant team, you want one point of contact.
Virtual assistants excel at repetitive tasks, and it's a great way to get more time in your workday immediately.
Virtual assistants can also excel at expansive projects (if they have the right skill set).
Don't underestimate the amount of work that goes into a complex task like a webinar, project launch, online course etc.
Honestly, the biggest headache with hiring a virtual assistant is finding the right person (or team). But once you have them in your corner, you might be astonished at the number of things you can accomplish! To get a better idea of just how useful we can be, I invite you to download my free Workbook: How to Use a Virtual Team to Grow Your Business and Get Your Life Back!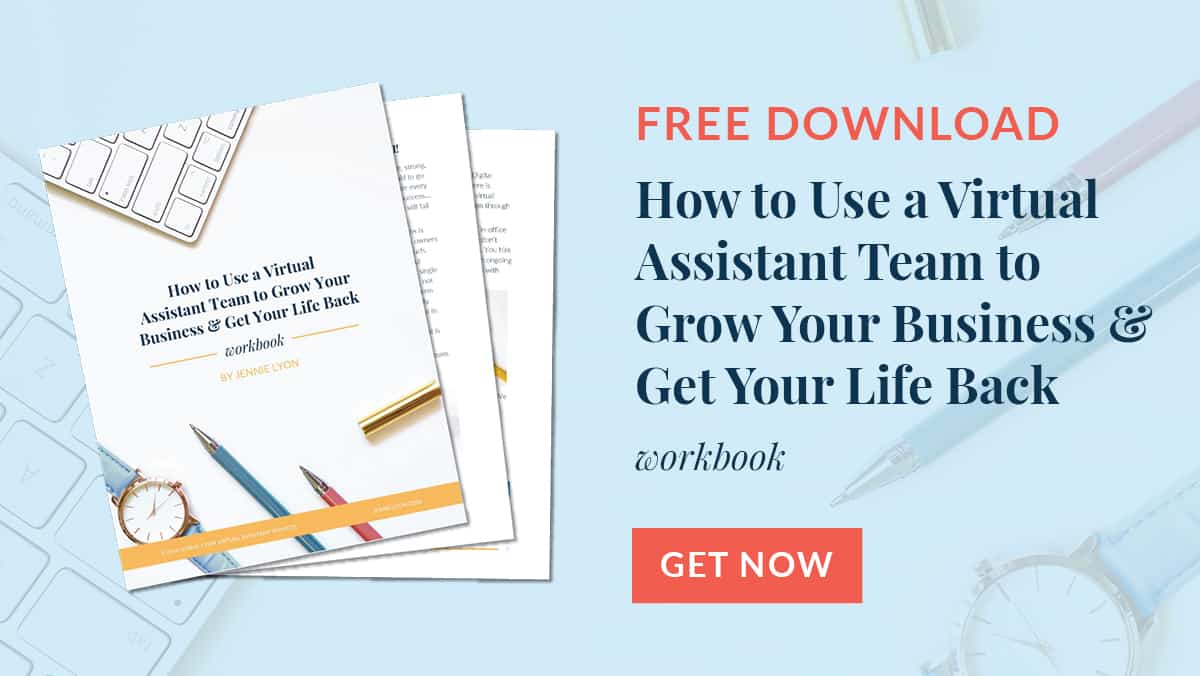 But if you already believe that my team and I are the right fit, please feel free to contact me here for a free consultation. I can't wait to work with you to make your business a massive success in the upcoming year!
Links For This Episode:
Rate, Review, & Subscribe on Apple Podcasts
If you like what you hear on the podcast, please consider rating and reviewing my show! Woo Hoo! Click here, scroll to the bottom, tap to rate with five stars, and select "Write a Review." I would love to hear what episodes you enjoy the most!If you haven't done so already, please subscribe to the podcast. I'll be adding new content weekly, if you're not subscribed, there's a good chance you'll miss out. Subscribe now!