5 Online Tools a Virtual Assistant Should Be Using to Manage Your Business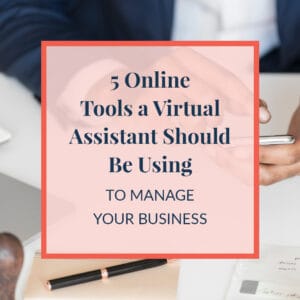 It's fairly simple to start working with a virtual assistant. I start by having an in-depth consultation with my prospective clients to give me an idea of the areas they need assistance with. This initial consultation also gives me enough time to decide if I think working with the client would be a good fit for both parties.
Once the contracts have been signed and we are ready to start working together, there are several systems that I use to keep my client and their projects organized. I've outlined some of these systems, all of which are essential for a job well done. If you are considering hiring a virtual assistant, I highly recommend that you ask them what systems they have in place to organize all 5 of these areas of your business.
#1: Project Management
Your virtual assistant needs to be a skilled project manager and have a good project management system in place. A project management system is especially essential if your virtual assistant will work with you on more than one ongoing projects. A solid system will allow you and your virtual assistant to update tasks, create discussions, share ideas and see work progress without the need for too many emails each day.
[Tweet "A virtual assistant should use a solid project management system to keep you updated."]
#2: Document Sharing
If your virtual assistant will be working on projects that you will also need immediate access to at all times, a document sharing system is a must. You can designate folders for particular projects and allow other team members (such as graphic designers) to access them as well. Because documents will be stored in the cloud, they can be accessed anywhere at anytime.
#3: Client Relations
Some of my clients ask me to answer incoming calls and call clients throughout the day and many of them have calls to my extension forwarded directly to my cellphone. Because some of my clients prefer callers to think I am an in-house employee, I use an app on my phone that makes it look like I am calling from my client's business number. Either way, your virtual assistant present themselves professionally; incoming calls to your virtual assistant's home phone, where a child may answer or a family voicemail system could pick up the call won't work–it's not professional. I recommend calling your prospective virtual assistant's phone number several times before committing to work with them to ensure that the phone is answered professionally, even during off-hours in case one of your clients was to call during those times.
#4: Password and Credit Card Protection
Most of my clients give me all of the passwords to their online accounts and many also give me their credit card and banking information. I place orders for my clients, file their taxes, and pay their bills, so having this information is essential to the management of their business. However, I never keep client's passwords or credit card numbers laying around my office or stored on my computer. I use a super secure, encrypted, double-password-protected cloud service to store this information, so my client's information is always secure. Before taking on a virtual assistant, ask what secure system they use to protect client information and then do your research–read reviews and the websites of whatever systems or software they will use. If possible, test it out, too. You can never be too careful with personal and financial information.
[Tweet "Your virtual assistant should use a secure cloud service for your personal information."]
#5: Time Tracking
If your virtual assistant isn't automatically tracking their time, how do you know you are paying them accordingly? I use a time tracking system that tracks my work on every project to the minute. This way I never over- or under-bill my clients for the time I spend working for them. This system also integrates with my project management and invoicing system to ensure that everything is being completed in a timely manner and that my clients are always invoiced on time.
YOUR TURN: What other online tool do you think is necessary for a virtual assistant to properly manage your business?