11 Ways a Virtual Assistant Can Manage Your Website and Blog for You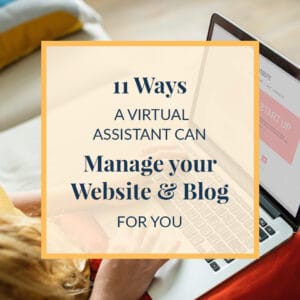 As a busy small business owner or self-employed entrepreneur, managing your website and blog can seem like too much to deal with. You have all of these amazing ideas and the best of intentions for sharing them with your community, but doing so keeps falling to the bottom of your to-do list each week. Between finding the time to write your blog post, post it with an amazing photo, and schedule your week's social media, it can all seem overwhelming. On top of that, there's putting your blog posts into an e-zine format to go out to your mailing list and many other daunting website tasks that never seem to get completed.
As a virtual assistant, I manage all aspects of my client's websites including everything from copy and plugin updates to optimizing blog posts, writing social media posts, and creating and sending out a fantastic e-zine newsletter each week. The best part is that once I have worked with my client to determine how they want me to manage their website and blog, I never have to bother them again with the details. They can focus on other work, knowing that everything on their website will be updated in a timely manner; I always have their blog post, social media, and e-zine scheduled on time.
Here is a peek at some of the other ways I can manage your website and blog:
copy, images, format and plugin updates
backing up your site
generating blog post ideas
writing and scheduling social media posts
article submissions
optimizing blog posts
moderating blog comments
polishing your blog post
website analytics
creating a weekly e-zine newsletter
creating custom pages for your blog
In fact, let me do you a favor, download my free workbook that walks you through partnering with a virtual assistant! If you do one thing for your business this year, collaborate with a virtual assistant. It is business and life changing!