How Giving Thanks Can Open New Doors for Your Business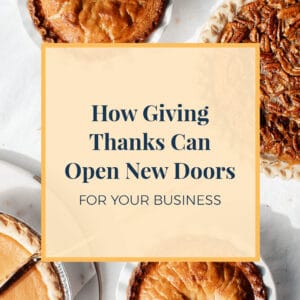 There are some holidays that seem almost custom-made to give you the perfect excuse to reach out to former and current clients, telling them how much you appreciated their business. There is Christmas, of course. Valentine's Day is another popular occasion. And then, there is the November holiday that is coming up fast, Thanksgiving.
Thanksgiving is the time of year where we gather with family and friends to give thanks for all of the wonderful things in our lives. For the small business owner or entrepreneur, Thanksgiving also gives you an ideal opportunity to be thankful for your business, including your clients. Learn how giving thanks can open new doors for your business.

Client Care
Showing your customers what they mean to you is what client care is all about. Although Thanksgiving gives you the perfect opportunity, this should be something that you do all year round. Timely responses to emails and telephone calls, responsive customer service for any problems your customers might have, these are necessities for any small business. They can also be incredibly time-consuming.
A virtual assistant can offer you help with all of your client care needs. Need someone to keep your email inbox organized and up-to-date? Hire a virtual assistant! Need someone to make prospect calls, offer customer service or technical support, and handle inbound/outbound sales? Hire a virtual assistant! A professional virtual assistant can offer you all of the advantages of a secretary without the financial burden of a full-time salary, vacation time, or training.
[Tweet "Give thanks for your clients this Thanksgiving by reaching out to them with a seasonal message!"]
Ezines
A fantastic way to keep in contact with your clients throughout the year is to send out a monthly ezine. An ezine can do many things for your business. One, you can write a personal introduction to "speak" directly to your clients. Two, an ezine is a fantastic vehicle for content marketing. You can attach any blogs, infographics, or another kind of content to the ezine, bringing it to your customer's attention. A regular ezine can really establish you as a leader in your industry. You can even keep them informed about new products or monthly specials that you are offering.
For November, sending out a Thanksgiving ezine with a grateful message to all of your clients can be a great way to show them what they mean to you. Don't have time to design an ezine, write the personal message, or create content like a blog? Simply hire a virtual assistant to do it all for you using a service like Mad Mimi or MailChimp. A virtual assistant can design an attractive ezine for you that can be updated with new content every month and sent out to everyone on your email list.
Email Marketing
One excellent way to show your customers how thankful you are for them is to offer them deals or specials on your products and services. Thanksgiving Day specials or sales can be e-blasted out with a well-written and engaging email campaign. You get to show your customers how grateful you are for them by offering them the opportunity to save money. This is a great way to open new doors for your business.

That said, there are a lot of different components to an email campaign. You need to write the copy, design the layouts, and schedule the emails. At this time of year, you might not have the time to get it all done by Thanksgiving. No problem there though, just hire a virtual assistant to do it. They can construct the entire email campaign and, after you approve of the content, can send it out at optimal times to increase engagement and the likelihood that your customers will actually read the email.
[Tweet "Thanksgiving is the perfect time to let all of your clients know how much they mean to you!"]
Social Media Management
One of the most popular methods of reaching out to a company today is through their social media platforms. Tweets and Facebook messages will usually get you in contact with a company or business fast, without the inconvenience of having to call. Social media also offers you the opportunity to reach out to your clients, inviting them to engage in online conversation, through both private messages and comment posts. A great way to show your customers/clients that you care is to share something they post on social media!
The issue here is that managing your social media can feel like a full-time job. The beauty of social media (instant contact with a business) is also its weakness. If you run a small business, you probably just don't have the time to have your workflow interrupted by countless notifications on your phone every day. So, get a Virtual Assistant to do it for you! A virtual assistant can do the same job as a full-time social media manager for a fraction of the cost. A great virtual assistant can keep you in close digital contact with your customers, offering them your well wishes at this very thankful time of year.

Thanksgiving is about more than just turkey, football, and passing out on the couch. It's about showing those you care about how much they mean to you. This applies to your family, your friends, and your clients. As a small business owner, letting your clients know how much you appreciate them can pay huge dividends. People remember small, but meaningful gestures. Just a quick and meaningful "How have you been?" email to an old client can result in future business. 
In fact, let me do you a favor, download my free workbook that walks you through partnering with a virtual assistant! If you need help getting your marketing strategy in place, collaborating with a virtual assistant can be a huge help!
If you need help finding the time to reach out to your clients for Thanksgiving, please contact me today. Together, we can craft a perfect message that will show your loyal customers how thankful you are that they trust you with their business! Open new doors for your business by being thankful!