How to Grow Your Business With Systems and a Team
Sometimes, I wonder how I manage to get through my daily to-do list in my business.
Not to brag, but believe me, my to-do list can get a little crazy at times. I'm working with dozens of different clients who work in several industries. It takes a lot to keep everything straight (which is why I live by my project management system), I use Teamwork and it is my lifeline! I couldn't work without it! It helps me keep every project organized and ensures that I never miss a detail or a deadline.
So keeping things organized is the easy part! Getting it all done on time and perfectly, that's a bit more work! That's why I have a team! It took me many years to realize the benefits of hiring a virtual assistant (the irony is not lost on me). But once I did, everything changed for my business. I could suddenly take on WAY more high-level tasks rather than needing to worry about all of the little details.
With my virtual team, I could set up systems and automated processes so parts of my business would simply take care of themselves in the background. You can't imagine how many headaches this strategy has prevented in the last few years. By partnering with a virtual assistant team, I scaled my business and made way more money!
So, if YOU want to scale YOUR business and make more money, I recommend that you do the same thing! Here's how!
Deciding to Hire on a Virtual Team
Back when I was a one-woman band, I was taking care of every aspect of my business. And seeing as I was a virtual assistant, that meant I was taking care of multiple aspects of my clients' businesses as well.
Eventually, this led me to anxiety and stress overload. So, trust me, whenever I am in a consultation call with a small business owner telling me how stressed out they are, I get it!
When I decided to hire on a virtual team, I needed to be strategic about who to bring on. I needed some specialists — people who could turn out the highest quality work in record time. Basically, I wanted to work with more people who were like me.
And were they tough to find? You bet they were. There are SO many people out there who advertise themselves as virtual assistants, but I was looking for team members who could fill in as me when necessary.
My First Hires
My first hire was to bring on a genuine admin assistant. I needed someone who could coordinate every aspect of my business using a project management system. Someone who could help me stay on top of emails and ensure that projects are moving on schedule. The second I found the right person, they instantly lightened the load on my shoulders.
Next up, I needed a professional copyeditor. There are many people out there who can handle writing an occasional social media post, but I needed someone who could ensure that every piece of copy that I put out is polished to perfection!
Finally, I needed a graphic designer. I get tons and tons of requests for graphic design, everything from webinar slidedecks, weekly newsletters, magazine ads, social media graphics and business logos. Moreover, I needed someone who could deliver quickly when I was overloaded. Once I found that person, the design part of my business underwent a massive upgrade!
Today, my virtual team looks very different than it did back then. There are way more moving pieces, but I firmly believe that the "trinity" of admin, copy, and design are the pillars of building any small business into a success!
The "Hiring" Process
Many people find hiring a new employee one of the most stressful things about being a small business owner. Thankfully, hiring a virtual team member is a LITTLE less stressful, but the selection process is just as important.
You do NOT want to hire the first virtual assistant that you come across online. I am fully aware of how jam-packed my field is with hopeful virtual assistants. On your first Google search for a virtual assistant, you're going to get hits from around the world. So, how do you sift through them to find the right one for you?
What Do You Need in a Virtual Assistant?
First, you need to know what you want the virtual assistant to do? Have a ton of social media to write every week? Need help with growing your social media accounts or running Facebook ads! You need a virtual assistant who specializes in all aspects of social media marketing? Are you drowning in emails, have overdue projects or need help getting organized? An administrative virtual assistant is perfect for you! Do you need help polishing your webinar slidedeck, sending out a beautiful newsletter or designing the perfect advertisement, you might need a graphic designer. The list of possibilities go on and on!
Next, you want to see samples of their work. Can they direct you to a social media feed that they manage? How about a website they designed? You need to SEE that they can do what you need!
Finally, make sure to do an in-depth consultation with your potential virtual assistant. If you still aren't sure how to start working with a virtual team or what services would give you the biggest return on your investment. Check out my new webinar 7 Powerful Ways to Kickstart Your Digital Marketing: How to Create a Marketing Strategy and Use a Virtual Assistant Team to Implement It!
In my free masterclass you'll learn:
How to research your target audience, create your customer avatar & analyze your competition
The best short-term and long-term digital marketing solutions for your business.
How to audit your online presence, create a digital marketing strategy, and launch it with a virtual assistant team
If you've been thinking about creating a profitable online business that gives you the freedom to do what you love, but aren't sure where to start, this webinar is for you!
Or maybe you know you need a digtial marketing strategy to grow your online bueinsss but lack the necessary skills, time or know how, this might be right up your alley.
Dealing with Growing Expenses
So, you might be thinking that all of this sounds fantastic, but you can't afford it.
I know where you're coming from. Back when I was resistant to the idea of hiring a virtual assistant, I always used my budget as an excuse. It was tough to see how I could afford to bring on some additional help. But then I realized something: my virtual assistant would NOT be a full-time employee.
Instead, I could hire them for the work that I needed done and nothing else. If I was running behind on my personal social media, I could hire them to take care of it for me. Did I need help getting my weekly blog and newsletter out, I could hire them to help with that! When you start thinking about a virtual assistant in that way, the idea becomes way more affordable!
Delegation
You also need to realize how delegating work allows you to serve your clients better. Right now, you're dividing all of your efforts. When you bring on some additional help, you can focus everything on the critical tasks. Hiring a virtual assistant will instantly improve your business' client care because you're going to have more time and energy to do it. That's a significant win!
Finally, you need to shift your focus off the short-term and start thinking long term. The old phrase, "it takes money to make money" is true! If you want to expand your business, break into new markets, revamp your products and services, or find new clients, you are going to need the extra help to do it. We only have so much personal bandwidth in a day. By hiring on a virtual team, you will get more time and energy, allowing you to double your business. Just like I did!
So, What Did We Learn?
Let's review what we learned:
Small business owners take on way too much on their shoulders.
Finding the right VA or virtual team can be tricky, as there are so many out there.
Your first virtual hire should be an administrative assistant.
If you do a lot of writing, your next hire should be a virtual copywriter.
If you post a lot of social media, you should hire a virtual graphic designer.
Always ask for samples of a VA's work.
Check their reputation online before hiring.
It takes money to make money.
You don't need to pay a virtual assistant for full or part-time benefits!
You can double the size of your business when you bring on virtual team members!
These are just a few ideas on how you can use a virtual assistant to grow your business, take back your valuable time, and revamp your digital marketing's strategy. But if you'd like to take a deep dive and learn all of the secrets I use to connect with new potential customers every day, I have you covered! In my upcoming masterclass, 7 Powerful Ways to Kickstart Your Digital Marketing, I'll show you how to maximize the impact of your digital outreach. By focusing on just a few key marketing areas, you could change everything for your small business! These strategies worked for me, and they will for you too!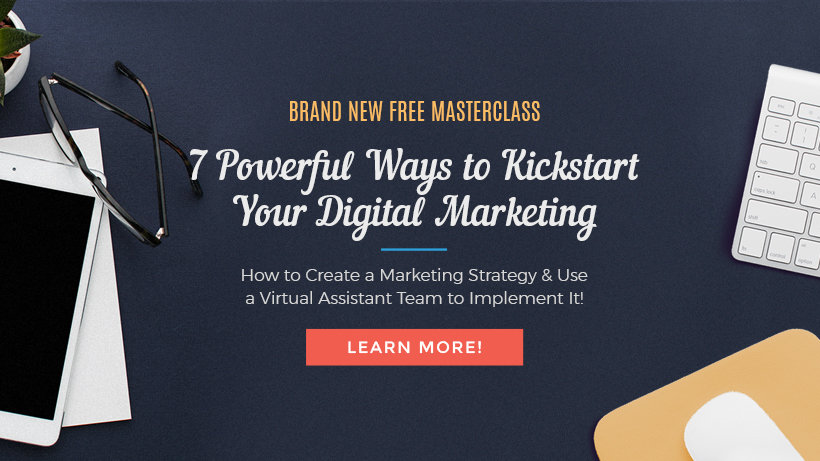 And if you've heard anything here that makes you curious about what I can add to your business, I would love to talk! You can contact me here for a free consultation where we can talk about how a virtual assistant or team could best fit into your small business and push it to the next level!
Links For This Episode:
Rate, Review, & Subscribe on Apple Podcasts
If you like what you hear on the podcast, please consider rating and reviewing my show! Woo Hoo! Click here, scroll to the bottom, tap to rate with five stars, and select "Write a Review." I would love to hear what episodes you enjoy the most!
If you haven't done so already, please subscribe to the podcast. I'll be adding new content weekly, if you're not subscribed, there's a good chance you'll miss out. Subscribe now!