How To Make Your ICA The Center Of The Story & Lead Them On A Journey To YOU ! + Free Download
The most common mistake I see small business owners make in their sales and marketing efforts is to cast themselves, company or product as the center of the story. But the truth is, if you want customers to buy from you, you must tell a story in which they are the star of the story, not you!
Make Your Client the Center of the Story
When it comes to any big-budget film, the hero is the star of the story. The one who takes action to overcome difficulties in order to achieve something they desire. 9 times out of 10, the hero encounters some form of guidance (you) as they move through their journey. In the end, the story is about your ideal client and no one else. It's the same in marketing, your ideal client should be front and center.
Now, if you're selling or marketing your product, course, workshop, etc., chances are you have a story where your company or your services are hogging the spotlight.
"We recently saved X company thousands of dollars by…"
"Our products and services have helped…"
"Our unmatched level of expertise has…"
Sound familiar? With the majority of businesses taking this sort of approach, you'd be forgiven for thinking it was the most effective way to land and keep customers. But the truth is you're wasting your time. By making yourself the star of the show, you're turning your customer into an insignificant extra!
Not Seeing the Growth You'd Hoped For?
As a result, you're not seeing the growth you'd hoped for. No matter how much time, money, or effort you invest into your business, no matter how long you spend obsessing over your next move, it seems like you're going backward. You don't feel seen, your message goes unheard, and you're worried that maybe this was all a huge mistake.

As an entrepreneur at the beginning of their business journey, single-handedly playing all of the roles your business needs to thrive is exhausting (not to mention isolating), and when these efforts are seemingly going to waste, it can be disheartening.

I get it. When I first started, I felt like no matter how many times I posted or how many different ways I would advertise myself, it was like I was speaking to an empty room. It was only when I decided to switch things up and start making my clients the center of my marketing story that I finally began to see the results I was striving for. Since then, I have shared this experience with countless small business owners who were just like me and helped them attract their ICA with raving success. I can help you too.
Identify Your ICA
Ever heard the quote, "When you market to everyone, you market to no one"? Well, it has a point!
Picture this: You've spent hours and hours creating a program, workshop, or post that perfectly captures all of the greatness you and your business have to offer, but instead of customers banging down your door to get in on it, you're met with the not-so-sweet sound of crickets (we've all been there). Sound familiar? If this sorry scenario is playing out in your marketing efforts regularly, chances are you need to go back and do some work around identifying your Ideal Client Avatar.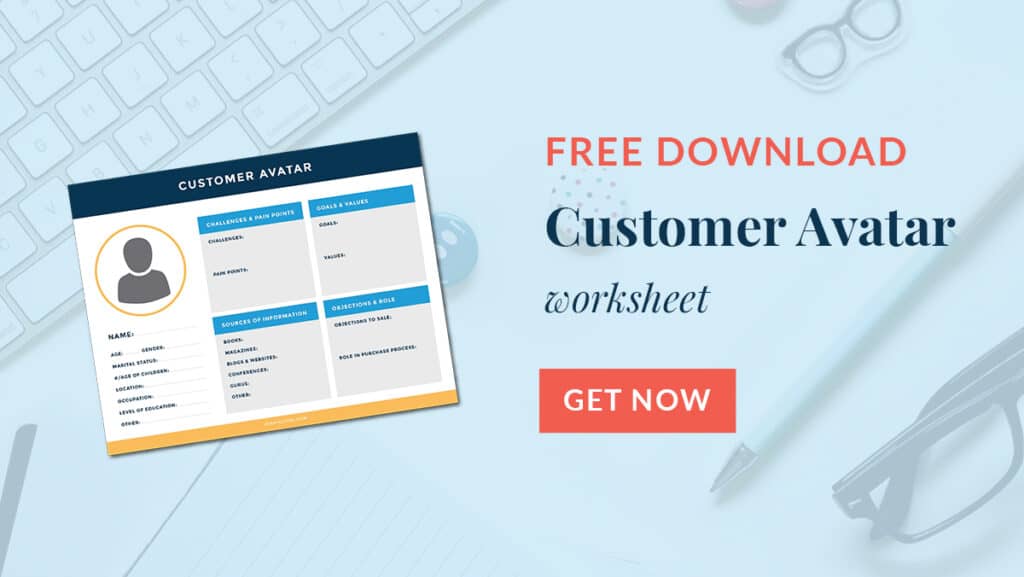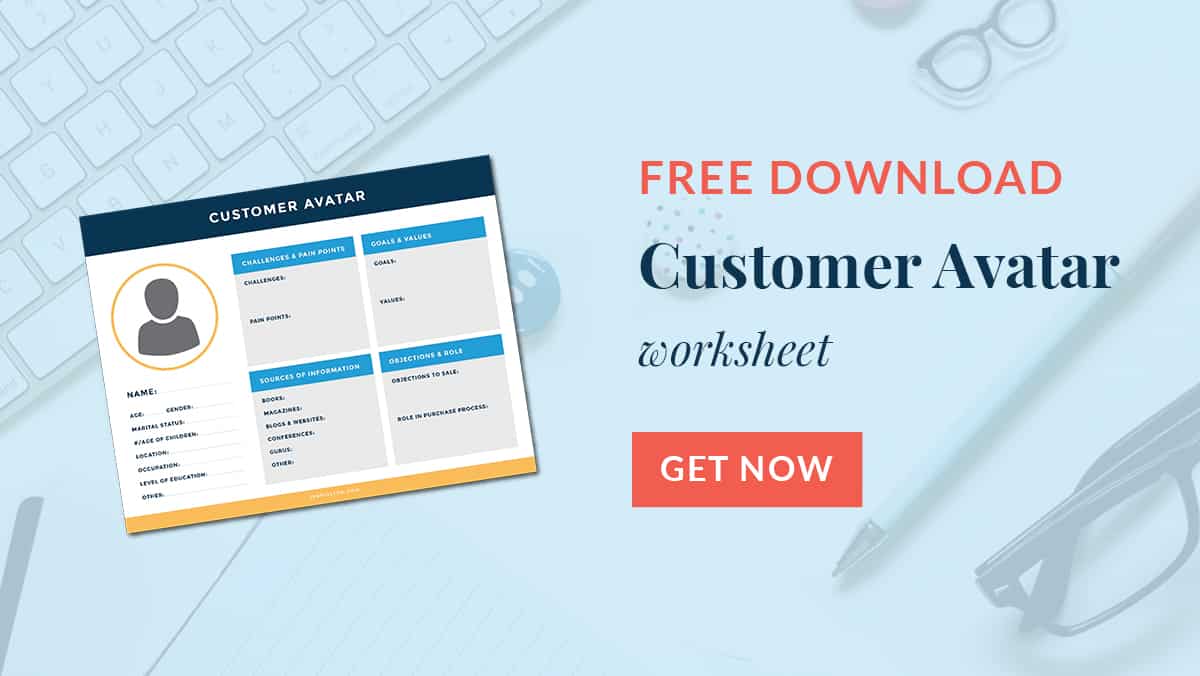 If you don't know who you're speaking to or the type of person you're trying to attract with your content, then what are you doing? You're firing shots in the dark, hoping at least one of your marketing strategies hits the mark. I'm guessing you don't need me to tell you that this doesn't feel too good, and it certainly doesn't help your business expand to what you know it could be.
So what do you do? Well, first, let's agree to stop firing those shots in the dark and instead take time to figure out who your ICA is.
Your ICA is the archetype of ONE ideal person who experiences all of the hardships, pains, and problems that only your product, service, or program can help fix. But how do you find them? You can start by diving into what they want. What they are afraid of. How they think. Most importantly, what they need.
Get To Know Your ICA
Before you make your ICA the center of your story, it can help to place yourself in their shoes. Doing so will help you see and understand the problems they face (the exact problems you are trying to fix) from their perspective.
One of my favorite ways to do this is to sit down with a notebook and pen. I break my ideal client into two different components and write down every detail (big or small) that comes to mind:
Their pain points, symptoms, struggles. This is what they type into the google search bar when looking for a solution to their problem.
Their personality, values, habits, aspirations, and life experiences. This is who they really are, what their story is all about.
When you take time to understand your ICA's unique needs, wants, and preferences and use this to shape your marketing efforts, you build a level of trust and rapport with your audience that will prove invaluable in the long run.
Tell Their Story
Consider your own life. You wake up with things to do, goals to achieve, people to see. You are the main character in your day. Well, the same is true for your customers! When you boast about how great you and your company are, they tune out. Why? Well, they have no reason to be interested in your story because it is not THEIRS.
Look at it this way, how many times have you read something and thought, "OMG, they are telling MY story!" You feel seen and are instantly connected to the person who seems to be speaking to ONLY YOU.
Chances are, the stranger you now feel bonded to has used some form of storytelling framework. An approach like this can stir up emotions in your ICA. This makes your business relevant in their lives. Inspiring them (as the center of their own story) to take action.
Sounds simple? Trust me, it is! One of the easiest (and most effective) ways of using a framework like this to attract your ICA is to spin your own life experiences in a way that will resonate with them. Make them say to themselves, "See, they get it. I can trust them".
Step Into A Supporting Role
Your marketing efforts should be focused on how you and your company can meet the demands and needs of your audience. Not on all of the wonderful things you have to offer. A customer-centric marketing strategy (one that holds the customer at the center of everything they do) maximizes opportunities for you to connect with your ICA and position yourself as someone who wants to support them – not someone who just wants their money.
Remember, great companies don't care about portraying themselves as their customers' hero; instead, they care about empowering them to be their own.
So What Did We Learn?
If you don't know who your ICA is, you're wasting your time. Getting crystal clear on the type of person you're trying to attract is key. When you publish any kind of content is the fastest way to build a thriving business.
The customer should always be the star of the show. If you want customers to buy from you, you must tell a story in which they are the center of the story! Don't make it all about you!
Success is found in the supporting role. Focusing on how you can meet the demands and needs of your audience, not on all of the wonderful things you have to offer, will bring you success.
Utilizing the above practices will allow you to create a marketing strategy that both increases customer satisfaction and encourages prospective clients to come to you. Sounds daunting? Well, good news, I'm here to help!
After a quick call to discuss your journey thus far, we can work together to develop strategies that will bring your ICA to YOU. No more aimless searching for clients, just consistent, fulfilling opportunities to do what you love.
Schedule your free consultation with me today.

Links for this episode:
Schedule a Consultation
Free Resources
Discover Your ICA
Rate, Review, & Subscribe on Apple Podcasts
If you like what you hear on the podcast, please consider rating and reviewing my show! Woo Hoo! Click here, scroll to the bottom, tap to rate with five stars, and select "Write a Review." I would love to hear what episodes you enjoy the most!
If you haven't done so already, please subscribe to the podcast. I'll be adding new content weekly, if you're not subscribed, there's a good chance you'll miss out. Subscribe now!