How to Super-Charge Your Email List By Offering a Fantastic Lead Magnet!
When you see a "sign up for my newsletter" on a website, do you click "Yes?"
I would put money on your answer being "No, of course not!" And I understand why. We are conditioned to HATE email. Every time you check your email, you likely have dozens of messages sitting in your inbox telling you that "Won a free cruise" or "Your Outlook Email is About to Be Cancelled!" Spam has ruined email, plain and simple. So, why on earth would anyone want to give their email out to a random website?
With all of that in mind, when I talk to clients about what marketing technique usually gives them the best return on their investment, they are often shocked to discover that it's email marketing.
An Email List is Your Most Valuable Asset
A targeted and high-quality email list is one of the most valuable assets that a business can have. It enables all kinds of email marketing, allowing you to reach out to already existing or potentially interested customers. These can range from digital newsletters to new product announcements to nurturing sequences to marketing campaigns.
An email list isn't something you can buy off the internet (Well, you can, but please don't, as it can be dangerous)! An email list is something that a small business needs to develop itself. You want a list full of people who are genuinely interested in what you have to offer and excited to hear and buy from you!
The question is, how do you punch through the internalized reluctance of a potential customer to share their email address and get them to sign up for your email list? The answer is simple: Fantastic lead magnets!
Lead Magnets: The Unsung Hero of Email Lists
Put simply, a lead magnet is an incentive. As I mentioned, thanks to copious amounts of spam and unwanted emails, people are more reluctant than ever to share their email address with anyone. So, you have to sweeten the pot! A lot!
Lead magnets (also known as opt-ins or freebie downloads) can be just about anything. Fromebooks to checklists to exclusive coupons to workbooks! The trick is that your lead magnet needs to not only align with your core message but that it entices people into actually "trading" their email for it. I always ask my clients what is that one question that you get asked over and over again by your customers or prospects – that's your lead magnet!
Free Content Worth Sharing
For your lead magnet to be effective, you need to ensure that the free content you are sharing is actually "worth" their email address. Your lead magnet should be so good, that they can't believe it's free! We want it to trigger in them, wow, if this is free, imagine what her paid stuff looks like!
Creating top-notch content for your lead magnet is one reason why so many companies hire our team or a virtual assistant for the job. If the "free content" someone signs up for turns out not to be worth it, that new subscriber is going to be hitting that unsubscribe button before you know it. Worse still, they will feel "betrayed" that they gave you their email address, further reducing the likelihood that they will do business with you in the future.
Where Can I Offer My Lead Magnet?
Your Homepage Above the Fold
Well, the primary place is on your website's homepage, above the fold.
If you don't already have a modern, well-branded website for your small business, then your digital marketing efforts are being sabotaged before you even start. Almost every kind of digital marketing is designed to lead potential customers to your website or landing pages. An amazing website is the foundation of your business. Just like a house, you wouldn't start framing the walls out until you have a solid foundation in place. The same goes for your marketing!
That's why putting your lead magnet somewhere prominent on your homepage is the perfect place for it. The very first thing most visitors do when they visit your website is scroll down your homepage. You want them to see your lead magnet and instantly be intrigued. That's why you need someone writing web copy that provides them with story driven, personality infused copy. It should include a call-to-action that spurs them to click. Oh, and it should probably have the word "free" somewhere in it!
Pop-ups
Pop-ups have come a long way since the early days of the internet.
Back in the 90s, a brand-new window would often appear on your screen and start playing a video or music or have loud & flashing graphics. They disrupted your browsing experience and annoyed users, which is why pop-ups got such a bad name. Even worse, they could multiply like bunnies, rapidly eating up your screen real estate and computer power!
Today, you can use unobtrusive pop-ups on your website to entice viewers to sign up for your email list. Your pop-up could simply be a small in-browser window at the bottom right-hand corner of your homepage. You can also use exit intent pop-ups that appear before a viewer is about to leave your website. They were about to leave the site anyway, so exit intent pop-ups don't disrupt the customer's browsing experience.
These pop-ups should be carefully worded and beautifully designed to match the overall branding of your website. The last thing you want is to disrupt their user experience, like the pop-ups of old. Instead, you want your lead magnet pop-up to be an organic part of the overall experience. This balance can be tricky to pull off, especially if you've never written copy before. That's where I come in!
Social Media
When a client asks me the difference between social media and email marketing from a marketing perspective, I explain it like this…
When someone goes onto Facebook or Twitter and checks your profile, they are "checking out your display window." Just as you window shop when you hit the shopping mall, potential customers are interested in your "digital storefront display" to see whether your offer is attractive to them. They are initiating contact.
But when you have someone's email address, you can "visit" them, giving you a greater measure of control over the experience. With an email list, even if your customers leave your social media channel, you can still contact them because you have their email. Having someone's email is much more valuable than having them as a follower on social media (although that is also important).
That said, you can leverage social media to grow your email list. By utilizing social media ads, you can bring people to your website or into your sales funnel putting your offer of free content in front of them. With Facebook (or other social media) ads, you can target specific demographics and locations, allowing you to pick the exact audience you want to connect with. You can also add a free lead magnet right in your social media cover and bio!
In Your Blog
If you are trying to entice people into signing up for your email list by using valuable content, where would be a good place to ask them for it? How about… in your content!
Blog posts are a handy form of free content, but they are rarely used as a lead magnet. That is because a) there is a public perception that blog posts should be free, and b) they are much more useful for content marketing purposes and building SEO. That doesn't mean you can't use them to build your email list, though.
If someone reads and enjoys one of your blog posts, they are likely going to want more. If you offer them a free lead magnet right at the end of the blog that supports the subject they were reading about (or better yet, a pop up), there is a good chance that they will sign up for it.
I ALWAYS include links to some of my lead magnets at the end of my blogs. For example, if I wrote a post about social media marketing, I would include my lead magnets that gives the reader 15 free visual quotes to use on their social media channels (It's one of my most popular)! By building lead magnet opportunities into your blog posts, you can prove to your customers that exchanging their email for further content will be well worth it. The blog "primes the pump" for them to want more information, and the lead magnet closes the deal.
Be WORTHY of Their Email
So, you have their email address. Now you're well on your way to building a robust email list that you can use to spam your customers day and night, right?
HOLD IT!
Remember everything I said about why people hate giving their email addresses away to people on the internet? There is a reason why all marketing emails are required to have that little "unsubscribe" link at the very bottom.
My job as a digital marketer is to do everything I can to keep their cursor away from that link as possible. One way I do this is by creating compelling content in my clients' emails (and my own). I never spam my customers, because I realize that their email address is precious. Abusing it would be a betrayal of the agreement I have with them. They gave me their email address so I can provide them with valuable and free content. If I start hounding them every day about spending money, they will instantly click off. That isn't to say that you shouldn't email them regularly.
But I Don't Want to Annoy My Audience
I hear time and time again from my clients that they are afraid that if they send an email every week, their audience will get tired of them. They won't if you're offering fantastic valuable content! The opposite will be true! In fact, any time that my newsletter gets a tad delayed and doesn't go out at it's regular time, I will get an email from someone asking if I'm sending it out! Haha.
That's why creating an email marketing strategy is vitally important. Getting people to sign up for your email list by offering a free lead magnet is only the beginning. Now, you need to prove yourself worthy of that email every single time you send them a message!
So, What Did We Learn?
Let's review what we learned:
Getting people to give you their email address is complicated due to concerns about spam and scams.
To build your email list, you need to provide an incentive: a free, valuable lead magnet.
A lead magnet can be just about anything. But, it needs to align with your core offer and needs to give your audience a quick win.
Your free lead magnet needs to be so good that your audience will think – wow, if her free content is this good, her paid offerings must be amazing!
The primary place to advertise your lead magnet is on your website's homepage. Above the fold!
In the 90s, pop-ups were a menace! Remember all those blinking lights!
Unobtrusive pop-ups can be very useful in advertising your lead magnets – think inside your existing content!
While social media is vital for digital marketing, email marketing is arguably MORE important. The ROI is much higher!
A weekly blog can be a great way to advertise your lead magnets and again you're offering your audience more free, valuable content.
NEVER spam your customers. You must always prove worthy of their email address.
Free Resources
So, you're sold on the idea of offering a free lead magnet on your website. Now what? Well, you need to create one, and this is where things can get tricky. A lead magnet must be of the same high quality as everything else you offer, otherwise it could hurt your brand. If you need a little help figuring out an ideal lead magnet for your small business, you can download MY free lead magnet: How to Identify Your Core Lead Magnet Workbook! Inside, you will get my insight into how to create a lead magnet that perfectly aligns with your core offer!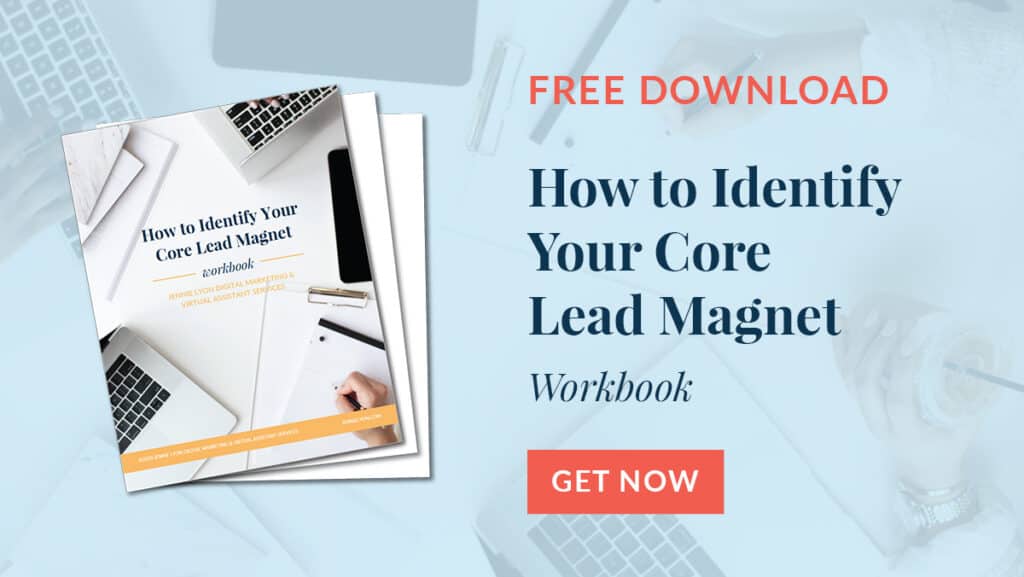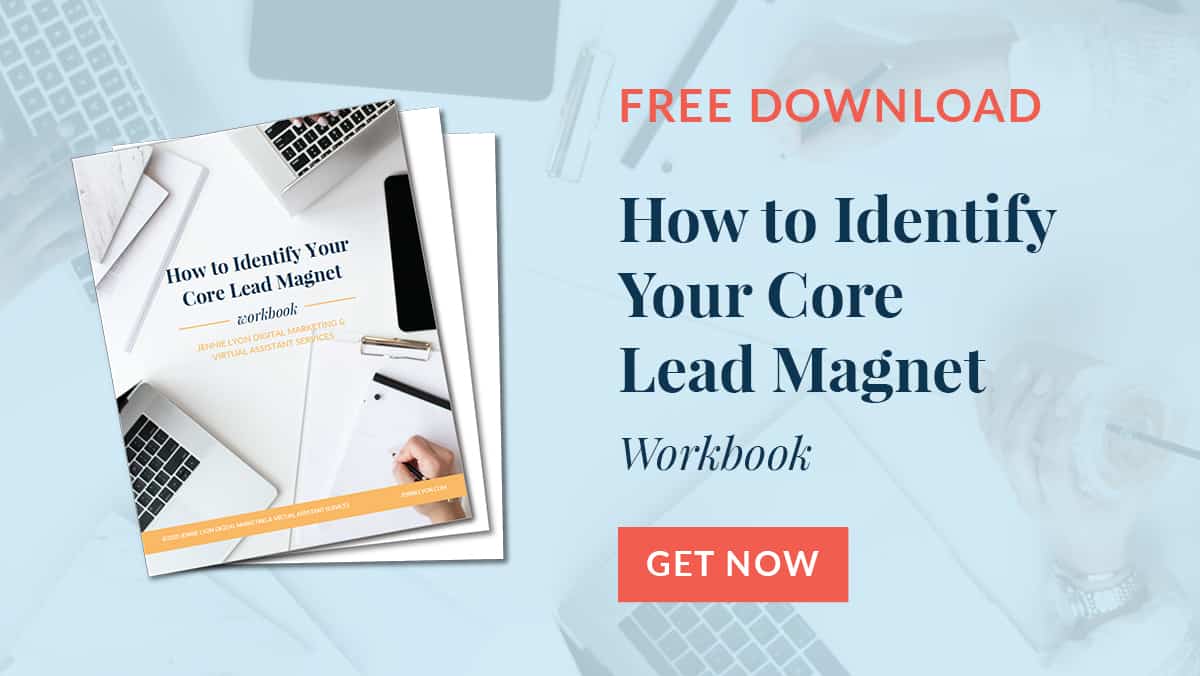 As a digital marketing expert/virtual assistant, I've created lead magnets and email campaigns for hundreds of my clients. I know exactly how to create a lead magnet that will grow your email list and make it into one of your most valuable resources. It all started with my own list that almost doubles every year! Please feel free to contact me today. We can get started creating lead magnets that will draw in your ideal audience and generate new leads!
Links For This Episode:
Rate, Review, & Subscribe on Apple Podcasts
If you like what you hear on the podcast, please consider rating and reviewing my show! Woo Hoo! Click here, scroll to the bottom, tap to rate with five stars, and select "Write a Review." I would love to hear what episodes you enjoy the most!
If you haven't done so already, please subscribe to the podcast. I'll be adding new content weekly, if you're not subscribed, there's a good chance you'll miss out. Subscribe now!