How to Use a Virtual Assistant to Launch Your Webinar
Everyone needs a helping hand, now and then. A webinar launch is no different.
No matter what business you work in, you can't do everything yourself. Sometimes, you need to bring in specialists who have experience, skills, and knowledge you don't currently possess.
Many small business owners might want to hire an accountant/bookkeeper to take care of their finances and taxes, so they don't need to deal with all of those numbers. If you can't answer the phone all day, perhaps hiring a receptionist could be a good idea. And if you don't have time to write content for your business, like blog posts, social media, and email marketing, then hiring a virtual assistant can free up a ton of your time!
Another situation where you might want to hire an expert is if you are hosting your own webinar. Most of us have attended a webinar, but do you know the incredible amount of work that goes on behind the scenes to make sure they go off without a hitch?
Well, I do, because I'm usually the one who is doing it ALL behind the scenes! For greeting your attendees, managing the chat, doing on-the-fly tech support, posting live links, fielding questions, and more, you NEED to have someone taking care of all the other aspects of the webinar so you can focus on your presentation.
Believe me; you do NOT want to do a live webinar alone. I repeat, seriously, don't try to do a webinar alone!
The First Steps for a Webinar
Creating a webinar can be a remarkably involved process. It goes far beyond just coming up with a few slides and calling it a day. This part of creating a webinar is where hiring a virtual assistant can really shine!
Research
First, you need to do the research. If you're an expert in your field, you likely have most of this information already on hand, but there might be some specifics that you want to confirm for the webinar. It can also be tough to keep all this information straight, which is why you should be using a project management tool. I've done this kind of research for dozens of small business owners, ensuring they have everything they need to put the webinar together.
Script
After you've completed your research, you need to come up with a script. Trying to wing a webinar off the top of your head is a bad idea. If you have everything you want to say down on paper, you can be sure that you won't miss any essential points. It's also important that you keep your script lively and entertaining to keep them engaged. You don't want anyone falling asleep in the middle of your presentation or worse jumping off it!
There are two ways you can go about a script. One, you can use detailed bullet points to act as a guide throughout the webinar and keep you on track. Or two, you could write out a full script with everything that you want to say. Personally, I prefer the second option, but it all comes down to preference. Writing a script can take a few hours of your time, so it might be easier if you hire a writer to come up with a first draft, and then you can check it over, make corrections, and give it your personal stamp.
Visual Component
Every webinar needs to have a visual component such as a slidedeck where your participants can see the information on their screens at home. This part can require some design chops. The last thing you want is your webinar slides to look like they were creating in Microsoft Paint, circa 1997.
Finally, you need to make sure that all of these aspects (and more) are fully integrated into the presentation. For example, you want your script to be synced with your slides, so you always have the information you need right in front of you. You want all webinar links to be live and tested, so your participants can quickly get to your product offerings and landing pages.
All of this can be a ton of work, and I've written extensively about it in the past. If you have any questions about how to create a webinar from scratch, I'd be delighted to answer them! But for now, let's pretend that the webinar content is complete, and you're on the verge of presenting it online.
Time for Prep!
Everyone knows the old joke: How do you get to Carnegie Hall? Practice, man. Practice. Well, that advice is right on the nose.
If you want your webinar to go off without a hitch, you need to do some practice runs first. Think of it a little bit like a play! You need to rehearse to learn the structure of the webinar before you can present it.
Many of my clients haven't previously used webinar presentation platforms like GoToWebinar, Demio, Zoom Webinar, or Webinar Jam. Before anything else, you should get familiar with these platforms and choose one that is going to work best for you.
Rehearsal Time
Up next, you want to do a tech rehearsal. Ensure that the lighting in your office is excellent so you will look fantastic on a webcam. Do a mic check to confirm that everyone can hear you. (FYI, if you are using a not-so-great quality webcam and microphone, I would suggest upgrading before you present.)
The first time someone runs through a webinar, it tends to be incredibly stiff. They get lost in their script, their voice sounds wooden, there isn't any emotion, and it just doesn't feel personal. That's why I love coaching my clients while they do some runs of the webinar. Generally, I recommend several runs of the webinar or a minimum of three times. By the time we go live, you will be much more relaxed and feel that you can handle the presentation like a pro. Then once the webinar is launched and you've delivered it a few times, we can pick the best recording and use it to create an evergreen webinar funnel!
How a Virtual Assistant Can Help with the Presentation
So, it's time to present! Nervous? Don't worry, because I'm going to be behind-the-scenes the entire time, making sure that everything goes perfectly!
On the day of the webinar, I always "arrive" 30 minutes early to help my client get ready, make sure that the mic levels are good, camera position and lighting is on point, and lots of other little checks. Doing all of this beforehand can save you a massive headache when the webinar starts up.
Before you start with the presentation, I usually greet your audience. I take care of any tech issues, the kick-off questions, and product FAQs. Adding the "buy now" links at the end of the webinar is something I will do. I will make sure that your call-to-action is in the chatbox, ready for people to click! I will also post live links during the webinar, as some clients have workbooks that go along with their presentation. That can be an incredibly valuable bonus for your attendees!
Behind the Scenes
As a virtual assistant, I oversee the entire experience of the webinar. It's my responsibility to make sure it is properly recorded (for future content). I'm also available for tech support during the presentation, handling all audio and slide issues without you having to think about it. I always monitor all support emails before (or worse, during) the webinar. It never fails that someone can't find the link to join or has other pertinent questions.
Another responsibility I often take on is to monitor when the buyers are coming in so that my client can welcome them in real-time! The client should never be doing this themselves, as it can be very distracting. The number of times I've seen a presenter lose their train of thought because they were multitasking…
So, what am I doing in the chat while you present? Well, I monitor it to greet people as they pop in! I handle all tech questions that are asked. There will often be questions during the webinar about the content you're presenting. I can usually answer these questions by referencing your slides and script, meaning that you won't need to interrupt your train of thought.
Emergency Hotline
I'm also there for you directly when something goes wrong by having a live line to you through Skype, Zoom, or another chat program of some sort. This chat is for emergencies only. For example, if no one can hear you, or if your slides aren't working, or if you can't see the questions during the live Q&A at the end of the presentation. That sort of thing. I can also provide you with the names and home states of the buyers so you can give them a seamless shout out at the end of the presentation (First names only, though, don't want to give too much personal information).
And this is only a taste of what I handle for my clients while they present their webinar. I come up with hashtags, registration links, and send live links for people who can't get into the webinar working online. I provide attendees with the resources mentioned during the webinars, links to the purchase page, and make sure that your CTAs are prominent in all of the copy that accompanies your webinar.
Post-Webinar
Annnnnnnd… It's over! Hooray! Woo Hoo!
Ah, but hold on, because my job isn't finished yet!
After the webinar, I redirect the live registration pages (where attendees signed up for the webinar) to your sales page. I update any webinar social media ads or promo graphics to now promote the products and services the webinar was selling. Basically, I make sure that everyone who attended knows precisely where to go to take advantage of everything you were telling them in your presentation.
Another thing that I love doing is a 30-minute debrief with my client after the webinar is complete. We go through what worked, what didn't, what needs to be changed or tweaked next time, and much more. This feedback is a critical step towards becoming even more comfortable presenting webinars, making the next one go even smoother!
So, What Did We Learn?
Let's review what we learned:
Trying to do a webinar alone is a BAD idea!
A virtual assistant experience in tech support can be a lifesaver in a webinar.
Creating a webinar is a ton of work, including research, writing, graphic design, and tech integration.
Practice, man. Practice.
Do a tech rehearsal before the actual webinar to ensure your cam, mic, and other tech is working correctly.
Have your virtual assistant do pre-show checks to save you headaches later.
Be sure to have an emergency connection with your virtual assistant in case something goes really wrong.
Have your virtual assistant take care of everything in the chat so you can focus on the presentation.
Make sure all of your social media and website graphics change over to the product/service the webinar was focusing on.
Do a 30-minute debrief with your virtual assistant to make sure your next webinar goes even better!
Hiring a VA for the Tech
Ok, there is a LOT of information we just went over there. Speaking as a small business owner myself, I would NEVER do everything myself in a webinar. I'd simply get overloaded and distracted from what I am trying to do: share my knowledge and experience with those watching. That's why hiring a virtual assistant to take care of all the technical stuff is such a great idea (and one that I've used myself many times).
If you would like some more information about making sure your webinar is a huge success, I suggest you download my free opt-in: The Ultimate Step-by-Step Webinar Checklist for Your Virtual Assistant. I also have another free download that will help you plan a super successful webinar launch: The Ultimate Webinar Launch Planner: Workbook.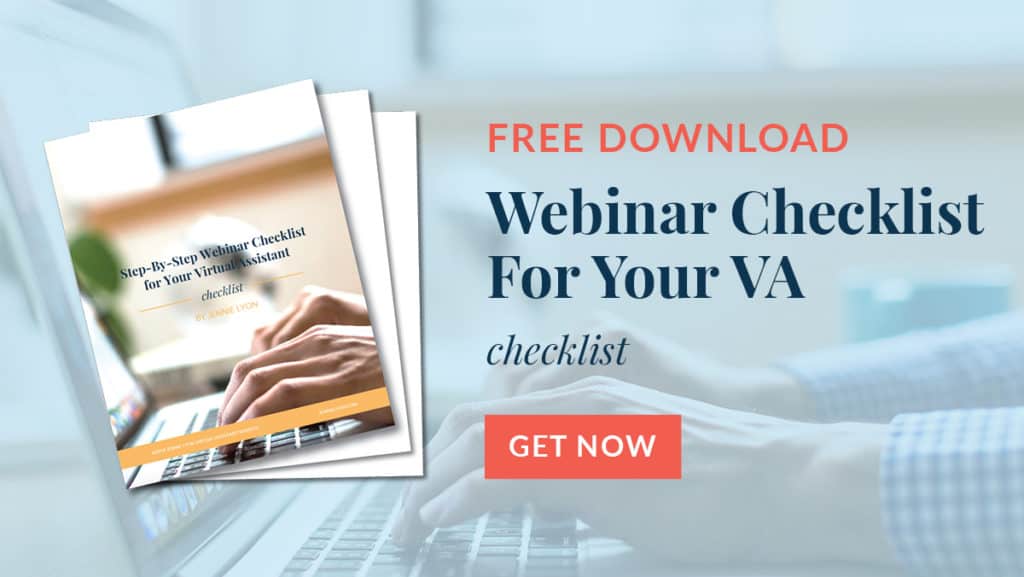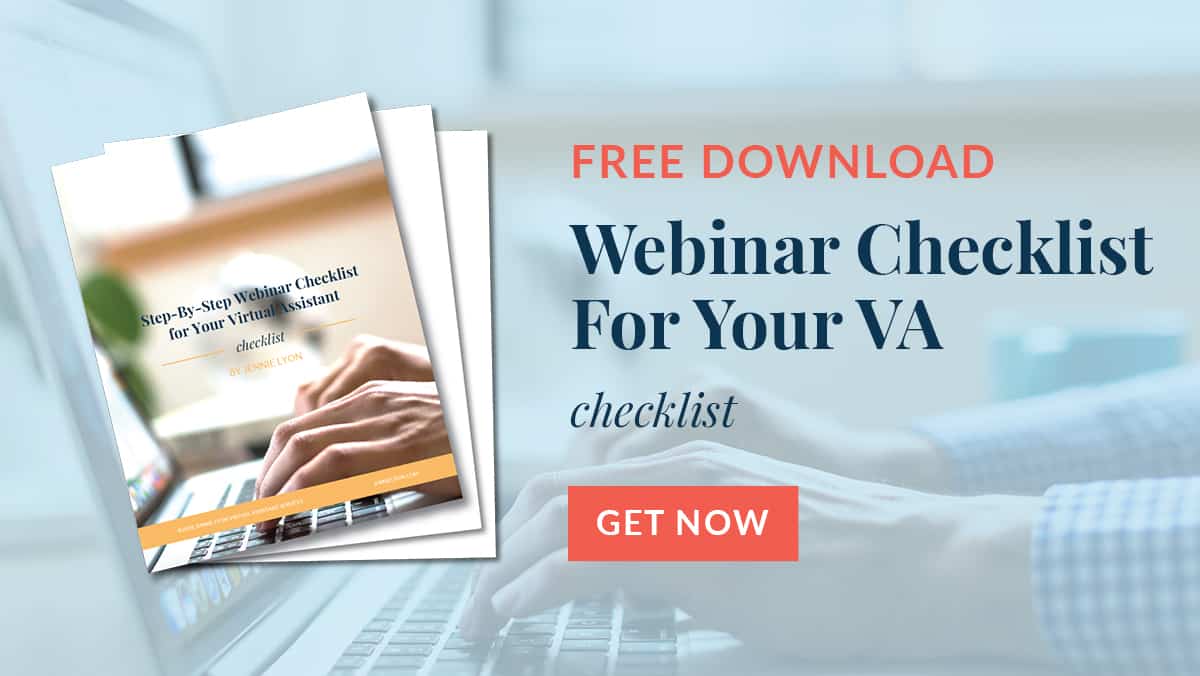 So, do you want to do a webinar now? If this episode inspired you, I'd be delighted to help! If you have any questions, please feel free to reach out!
You can contact me today for a free consultation, and I'll walk you through all of the steps. Together, we will create a webinar that will get you new leads, build your client base, and better position you as an expert online! 
Links For This Episode:
Rate, Review, & Subscribe on Apple Podcasts
If you like what you hear on the podcast, please consider rating and reviewing my show! Woo Hoo! Click here, scroll to the bottom, tap to rate with five stars, and select "Write a Review." I would love to hear what episodes you enjoy the most!
If you haven't done so already, please subscribe to the podcast. I'll be adding new content weekly, if you're not subscribed, there's a good chance you'll miss out. Subscribe now!