Need a Vacation? Our Virtual Assistant Team to the Rescue!
It's July! Are you ready for a vacation?
Over the last year and a half, many people have been putting off going on vacation. They might have been worried about money, or they simply didn't have anywhere to go, given the pandemic restrictions. But now that things are opening up across the country, and the future is looking bright, countless small business owners are deciding to take well-deserved vacations!
Well, at least they are in an ideal world. Many entrepreneurs worry about what will happen if they take a week, or two, more weeks off. Heck, some are even worried about taking a single weekend off! When you're the boss with everything on your shoulders, taking a break can sometimes feel irresponsible, if not impossible.
Believe me; I know exactly how you feel! When you run your own small business, it can consume all of your time and energy. If you aren't careful, letting go can be difficult. However, even the most hard-working entrepreneurs need time to relax. Even if you love your business and clients, non-stop work will eventually lead to burnout. 
Hire a Virtual Team
So, how can you manage to go on vacation while being sure your business will hum along without you? Simply! All you need to do is find a virtual team (like ours!) who can keep your business running smoothly in your absence!
As a virtual entrepreneur myself, I've found that assembling a virtual team you trust is the best way to keep your business moving forward while you are taking some well-deserved time off! The trick is building that level of trust. You obviously don't want to turn your business over to a virtual assistant or team who hasn't proven themselves. That would be a bad idea even for an hour, let alone a week or two!
So, how do you go about building your virtual assistant team?
Start Small
Whenever I'm trying out a new virtual assistant, I always have a few smaller tasks so I can see what they've got.
With that in mind, you can begin by outsourcing one or two recurring tasks. Choose those that aren't vitally important to the function of your business. Seeing how an assistant handles social media or email marketing can reveal whether they understand your business or not. And if they can take on more critical responsibilities.
Copywriting is another area where you might want to give the reins over to your assistant for a little while. Seeing the quality of their writing, especially when it comes to a weekly blog or script for your podcast or video, can be eye-opening. If they deliver what you asked for (or surpass it), then that's a good sign that they have the experience and skill to take on more critical tasks.
As you become more comfortable passing off time-consuming work to your team, you'll be better able to determine what needs to be put in order before you can take time away from your (home) office!
The Benefits of a Virtual Team vs. Single Assistant
Way back when I first started Jennie Lyon Virtual Assistant Services, it was just me. I took care of everything, and while that was a good start for my business, it wasn't sustainable.
Eventually (WAY later than it should have), I concluded that I couldn't handle everything myself. There were aspects of my business that I could hand off to other people without compromising my professionalism and (to be super honest) my perfectionism.
Once I hired a team of virtual assistants, everything started to change for my business. Suddenly, I could afford to take some time off. Because I had a team behind me to handle things behind the scenes. I used to work through colds, cases of flu, and of course the weekends. Now, I have people I trust to take care of the business while I take care of myself. 
How I've Built My Busines
The way I've built my business demonstrates the benefits of having multiple specialists working together. Today, we offer a full range of virtual assistance, from administration to content creation to technical support. I have graphic design specialists, dedicated copywriters, digital marketing experts, web design and tech people, social media mavens, and project managers who all work seamlessly to take care of dozens of clients at a time.
It would be nearly impossible for one person to master all of these areas. But a team of expert virtual assistants working together can offer the highest quality of work across the board! If you'd like some more ideas about how you can use a virtual team in your small business, check out my free download, How to Use Our Digital Marketing Team to Grow Your Business and Get Your Life Back.
Our clients pay based on the time spent in total or by the project. It's incredibly affordable compared to hiring several specialists at a time. Why get a generalist to do all sorts of tasks for you when a team can do each task better for a comparable budget? Not to mention, you only work with me. So you don't have to balance managing a team on top of everything else, I do that!
Preparing for Your Trip
While I believe that a capable virtual assistant team can handle things for your business while you're on vacation, there are still a ton of things that you should address before you head to the beach.
For example, you want all of your clients to know that you're going on vacation. That is when having a comprehensive email list can come in handy. Simply send out a quick message to everyone on the list telling them that you'll be unavailable for a few days, but your virtual assistant will have everything covered while you're away. Or better yet, your clients don't even have to know that you are relaxing on the beach! Either way, you can feel reassured that your clients needs will be handled if something comes up during your vacation.
For example, one of my long time (more than a decade!) clients went on a week-long camping trip last week. She was completely off the grid and wasn't able to check in on her business. That's okay! Everything went as planned and her marketing and her business was running smoothly in the background, because I had my finger on the pulse the entire time! She came back from her vacation, rested, enjoyed her time with family and told me she could have never done it with me. Hooray!
A virtual assistant team can help you launch bigger projects too! Or simply get all of the smaller marketing tasks off your to-do list so you can focus on the big picture stuff. Either way, you can clear your to-do list entirely before you get on the plane. Phew! Leaving you worry-free while you head to your relaxing vacation!
The Effectiveness of Automating your Business' Online Presence
One of the most time-consuming aspects of running a modern small business is keeping up with all the different parts of your web presence. Most entrepreneurs find having a virtual assistant team on top of this makes a big difference for their productivity! Outsourcing the effort of automating your social media or email marketing takes a lot off your plate.
When you have the right virtual team handling your online presence and client care, you'll be ready to clear your calendar and hit the beach, campsite, or whatever other destination will help you relax.
Post-Vacation
Does this sound familiar? You have an incredibly relaxing vacation and feel better than you've felt in months (maybe years). You sit down for your first day back at work, and within about an hour, you're as stressed as you were before you left.
Unfortunately, this can be almost unavoidable. No matter how much help you have from a virtual team, you are still the boss, and there are some things that only you can do. When you get back, you might find yourself staring at an ever-growing to-do list, wondering how you're going to get through everything before your next vacation!
Again, a virtual assistant team can help by taking on not only the small tasks off your list, but by helping you create a digital marketing strategy that is going to convert. We are a full service boutique digital marketing agency specializing in marketing strategies designed to maximize ROI! Our process is unique in that we offer customized digital marketing strategies to help build and promote your business, attract your ideal client and create services that sell. It's amazing how much you can get done by hiring a virtual assistant for only two hours a week!
So, What Did We Learn?
Let's review what we learned:
The last year+ has been tough for many small business owners and entrepreneurs! You deserve a vacation!
Taking time off can be difficult for a small business owner, especially one who runs every aspect of their business.
A trusted virtual assistant team can take care of your business while you're taking well-deserved time off.
When hiring a virtual assistant team, start small with minor tasks to make sure they're up for the big stuff.
Unless of course you need help with a big project, then by all means find a virtual team (like ours!). That can really help you map out your entire project and get it launched in no time!
Giving over your social media or weekly blog to a virtual assistant can be an excellent "test" of how good they are at their job.
When you have a virtual team working together, their range of experience can take care of almost every aspect of your business. Sometimes this means we are our clients marketing team down the virtual hall, other times that means we fill the gaps in your business where you need us!
Automating aspects of your business can help take the pressure off.
The post-vacation rush can ruin all of that wonderful relaxing you did during your time off.
Keep your virtual assistant team ongoing, even after your vacation. I'm here to tell you, it will free up so much time in your business and your head that your business will make it to the next level in no time!
Free Resources
The process of getting ready for a vacation is a whole production unto itself. You need to book tickets, find accommodations, research the location, make plans for what you're going to do on your trip, figure out transportation, and (worst of all) pack! And that's just for your personal life! Thankfully, when it comes to your small business, I have you covered with my free Pre-Vacation Checklist for Small Business Owners, specifically made for entrepreneurs! It's the same one that I use whenever I am planning for a vacation!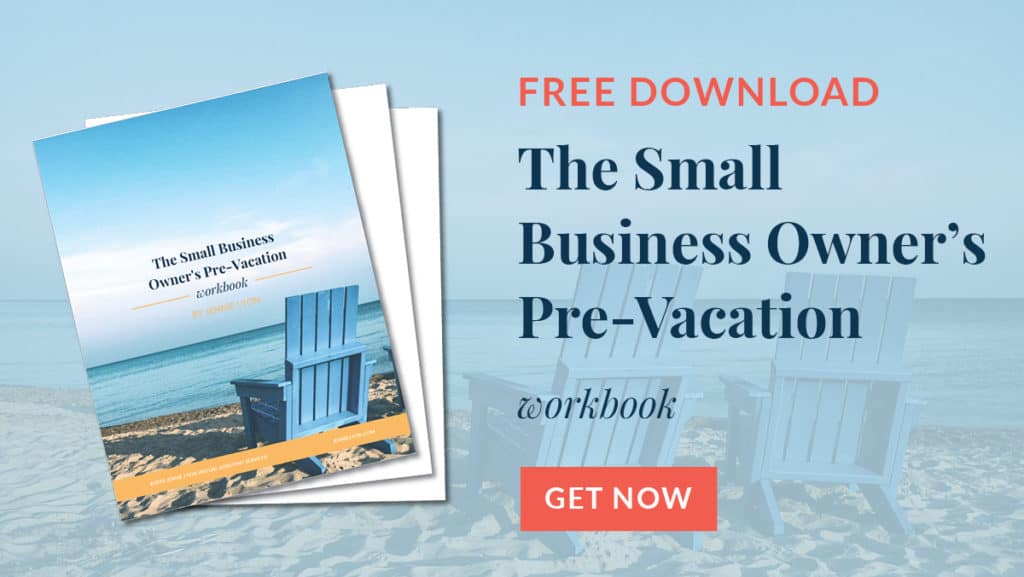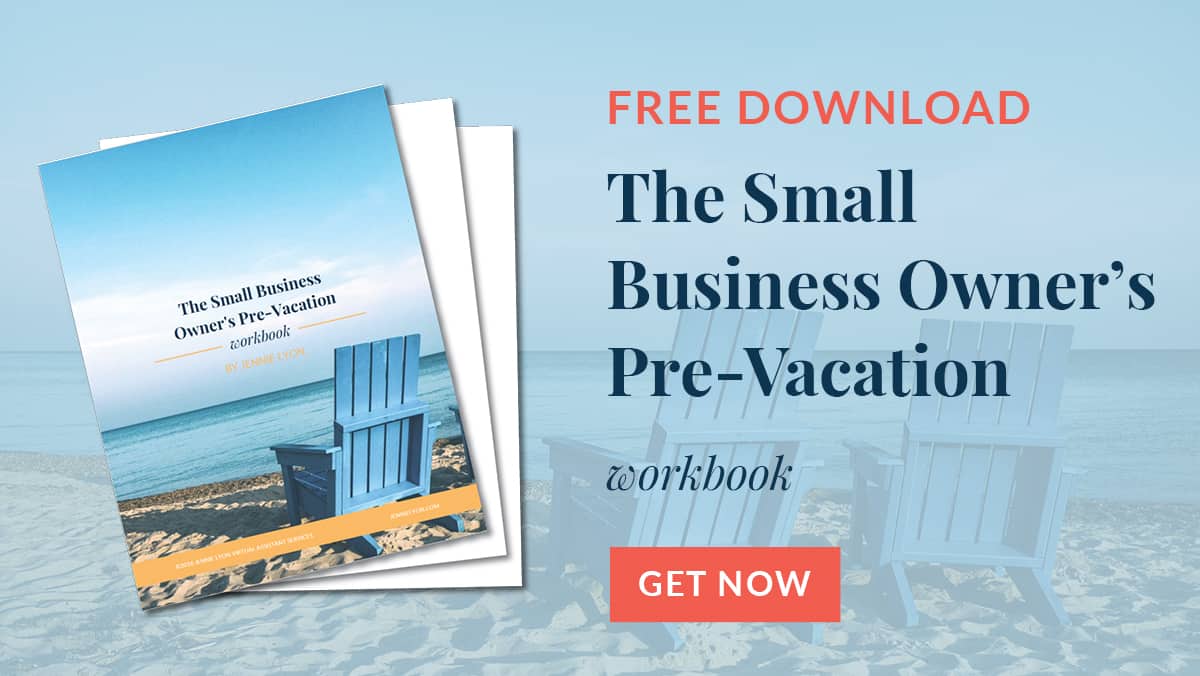 Small business owners are only human (as much as I wish otherwise sometimes). We NEED time off. And after the previous year, some of us desperately need a break to recharge our batteries. You CAN take time off; you only need some short-term help to get you through without you needing to check your phone every five minutes! If you'd like to chat about what my virtual team can do to help you go on vacation, please feel free to schedule a free consultation. I love hearing from other entrepreneurs who are ready to take care of their business by taking care of themselves!
Links For This Episode:
Rate, Review, & Subscribe on Apple Podcasts
If you like what you hear on the podcast, please consider rating and reviewing my show! Woo Hoo! Click here, scroll to the bottom, tap to rate with five stars, and select "Write a Review." I would love to hear what episodes you enjoy the most!

If you haven't done so already, please subscribe to the podcast. I'll be adding new content weekly, if you're not subscribed, there's a good chance you'll miss out. Subscribe now!