Can You Try Virtual Assistant Services on a Trial Basis?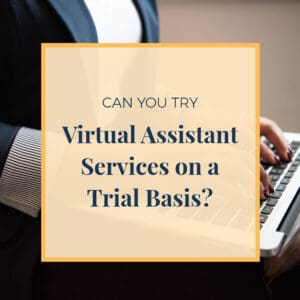 As a small business owner, do you ever worry about getting locked into a contract when you need to outsource work? It's a reasonable concern! There are many companies out there who look at small businesses like cows to be milked dry. To be frank, that isn't good for your small business OR for the Virtual Assistant industry as a whole.
Thankfully, with most reputable Virtual Assistant firms, you don't have to worry about signing long-term contracts with them, locking you into their business and services. You can simply contract them for the period of time that you specify, and that can act as your own personal trial period!
Short-Term Contracts
With the flexibility that Virtual Assistants offer, you have the freedom to try out their services to see if they will be a good match for you and your company. Say that you need copy written for your website, but you don't want to pay a company to rewrite the entire site before you know if you like their work. You can hire a Virtual Assistant to rewrite one page of the site, then check out their work to see if you approve. If you do, you can hire them to complete the rest of web copy. It is this kind of flexibility that can make an experience Virtual Assistant priceless for a small business budget.
No Training Period
A huge monetary drain on companies of all sizes are the costs of hiring and training a new employee. Best case scenario, a new employee works out perfectly after a reasonable training period, pulling their weight and being worth every dime you spend on them. Worst case scenario, they go through a lengthy and necessary training period that ends with you realizing that they just aren't going to work out. Then, once you let them go, you will have to start the whole process over again.
That isn't a problem that you will have with a Virtual Assistant. By hiring an established and experienced Virtual Assistant firm, you know that they are already trained and ready to take on whatever you hand to them. Not only that, if a Virtual Assistant doesn't work out, you don't have to worry about the headache of firing them. You simply don't choose to continuing using their services. A Virtual Assistant can be a fantastic way to augment your small business' staff without having to worry about hiring a new employee.
Pick the Services You Want
No two small businesses are the same. As an entrepreneur, you know that your business is, in many ways, an extension of yourself, your perspective, and your drive to succeed. By that logic, you can't just put the needs of your small business into a box. Businesses grow, they change, and their needs change as well.
One of the biggest advantages of hiring a Virtual Assistant is that you can choose the services that you want. You aren't buying an "All in One" solution that you'll never actually use. You're picking and choosing the services that you want and need, and that suits you and your business.
This gives you a tremendous advantage if your business starts to expand and you think that you might need a little extra help. You can simply add another service to your Virtual Assistant package. Let's say that you want to try to expand your email marketing outreach. You can simply contact your Virtual Assistant company and have them add that service for you.
No Firm Minimum Contract
Firm minimum contacts can be seen as a trap for small businesses. Most small businesses have a limited amount of capital to work with, and a firm minimum contract can consume that capital fast. But you don't have to worry about that with a reputable and professional Virtual Assistant firm.
With a great Virtual Assistant business, you are only buying the services that you need. If you need an editorial calendar created, that's what you are paying for. Or if you want four blogs written in a month, they will be in your inbox before you know it. If you hire a Virtual Assistant to design a new logo for your company, guess what? That is the only thing you are going to have to pay for!
Of course, not every Virtual Assistant business out there will offer you the flexibility that I am talking about above. Some might try to lock you into a long-term contract, guaranteeing that you will be paying for their services even if they aren't living up to your expectations. Personally, as a small business owner myself, I think that is ridiculous. At Jennie Lyon Virtual Assistant Services, you will literally get everything that you pay for. If you want to give our services a try, that's no problem at all! Simply contact me for a free consultation and we can talk about how I can give you a hand, in the short term. If it works out and you wish to expand our working relationship by hiring more services, that would be wonderful! I hope to hear from you soon!