9 Stages of Launching a Successful Webinar + Free Workbook
When was the last time you attended an in-person seminar or event? I'm going to take a wild guess and say it was sometime before March 2020! Personally, I don't much miss them because a much more powerful, targeted, and accessible tool has taken their place. A successful webinar!
For years, remote seminars and events were a staple in the business world. The problem was that they were expensive and somewhat inconvenient affairs. Though potentially informative to certain people, they usually only attracted limited audiences.
Using real-time video software like Zoom or my favorite Demio, small business owners and entrepreneurs can give much more cost-effective workshops, masterclasses aka webinars directly to their target audience without needing to leave their homes. A webinar offers your clients a real-time connection to you; they actually hear you speak and can respond through chat. With the option for anyone in the world to register for and log into your webinar, you can reach many, many more people and actually get to engage with them in real time. In my opinion, it's one of most interactive digital marketing tools out there today!
The Struggles with Launching a Webinar
Funny enough, a webinar was a much harder sell only a few years ago.
Of course, now we are ALL familiar with using video software (some more than others), so the technological bar of entry is dramatically lower. But even with people being much more ready to sign up for a webinar, that doesn't make them easy to put on. Launching a webinar is one thing, launching a successful webinar is something else.
A webinar should be a polished combination of writing, graphic design, technical presentation, and of course engaging with your audience in a meaningful way that gets them to take that next logical step in working with you. Your slidedeck should look professionally designed, your script should be tight and engaging, and the overall tech experience needs to work flawlessly. If just one of these aspects goes wrong, that will directly impact the quality of the webinar in the eyes of your attendees.
Keeping all of these aspects in mind, building a great webinar takes a ton of time. I know that many of my small business clients are simply too busy to handle every little task involved with launching a great webinar. This area is where our virtual team of assistants can be worth their weight in gold (but are far more affordable!)
Hiring a virtual assistant who has experience launching webinars will make the entire experience much simpler and far more polished. They know the steps you need to take to build an engaging presentation that will get your clients talking! I've created countless webinars for my clients, working closely with them so the script matches their voice, the slides match their branding, and the tech side of things goes off without a hitch!
The Steps Needed to Launch a Successful Webinar
While webinars can vary in complexity, I believe that there are nine simple steps for planning a successful webinar. I go into more details with these steps in my Ultimate Webinar Checklist, but this should give you a solid overview of the process I go through with my clients when designing a webinar:
Stage One – Pre-Webinar – 8 Weeks Out
This step is where you do your foundational work to get the webinar started.
The very first thing you should do is pick a date. This date can be a bit flexible at this stage, as you haven't announced anything yet! It will simply give you a point to aim towards. If things get out of hand at work, you can always move it (or hand more of the planning over to a virtual assistant).
Next, you need to determine your topic. You likely already have one in mind, but it's important to go through every aspect of it. This includes the subtopics you need to cover, the products or services that your webinar will be teasing, and, possibly most importantly, the title. A great webinar title will do wonders at bringing in your clients. A boring one will do the exact opposite. I can help you brainstorm title ideas that fully encapsulate your topic and excite your audience! You need a topic that is really going to hook them and tell the exactly what small win they will get by attending your webinar.
The next step of pre-planning involves selecting your speakers and host. If you're planning on being the only person in the webinar, then congratulations! You have found your speakers and host! If you are planning a series of webinars with various professional speakers, you need to nail down their schedules to make sure that they are available. Be sure to get everything down on paper. Because if someone were to pull out at the last minute, you're the one holding the bag.
Finally, you want to set your goals for the webinar. Do you want to boost the sales of your products and services? Better position you as an expert in your field? Want to build up your audience? Or a combination of all three? You need to know your goals to achieve them!
You also want to decide if you want your webinar to be live, or evergreen? I recently did a podcast on this topic! Check out episode 47!
Stage Two – Pre-Webinar – 5 Weeks Out
You've done all of the planning stages, so now it's time to sign people up!
You want to create an online registration page where people can come to book a slot at your webinar. This page should include information such as a description of what you will be presenting (again, you want to hook them immediately with the small wins they will get if they attend the webinar), social engagement opportunity to get the word out, the time and date of the webinar, sign-in information, a registration form for your clients, and the bios and headshots of you or your featured speakers.
If you don't have experience in web design, your virtual assistant can help get all of this information on a sales landing page on your website. You need to make sure it's integrated seamlessly with your email marketing system so your guests receive reminders and of course your follow up sequence. Even more importantly, if you're going to be doing a webinar that requires an upfront payment to register, you'll need to set up members-only access to it. My favorite tool for this is MemberPress, which works with existing or new WordPress websites. I can help you set this plug-in up in the backend of your website.
This is also the point you need to determine the platform for your webinar. There are many different webinar platforms out there, each with its own strengths. A virtual assistant should know all of them, so ask their opinion to find the best one for you. Hint: If you plan to make your webinar evergreen at some point (which I definitely think you should, consider Demio, it's my favorite webinar platform and works for both live and recorded webinars).
Stage Three – Pre-Webinar – 4 Weeks Out
This is where things get exciting: time to start building the actual content of your webinar!
With the help of your virtual assistant, create an outline of precisely what you want to cover, then write the first draft of your webinar slidedeck (Your slides). You don't need to worry about graphics yet (although they should be in the back of your mind). This is simply the stage where you want to get all of your ideas down on paper. Once all of your thoughts are in your slide deck, you can begin creating the overall presentation. PS: I have created so many webinar scripts, slidedecks, email sequences etc. I have an amazing template workflow for each of these, so if you need help, reach out, we'd love to work with you!
If you hired a virtual assistant with graphic design expertise, here is where you want to set them into action. They can take the slides and build them into a cohesive presentation with your brand. Again, there is definitely a solid formula that works really well for a webinar presentation. By the end, your slides should tell a complete story, even without your narration.
Speaking about narration, writing a script can be a fantastic idea for a webinar. Not only will it ensure that you hit all of the points in your presentation, but it will also help calm your nerves. Sometimes, stage fright can hit if you have never really given a presentation before. Having your script right in front of you can be an excellent safety net.
You also want to be getting the word out there about your webinar. Promote it through social media channels, social media ads, blog posts, and email campaigns to your current database. PS. You should definitely have a lead magnet that is building your email list for you! Your promotion work should continue until the day of the webinar. And if you don't have time, a virtual assistant can take care of your entire webinar social media strategy.
Stage Four – Pre-Webinar – 2 Weeks Out
It's time to upload your webinar deck into your platform of choice.
Again, this is something that your virtual assistant will have the skills to do, so you won't have to worry about it in the slightest. Hiring a virtual assistant to run the technical side of your webinar will ensure that, if something goes slightly wrong, you can still keep going with your presentation while they take care of things behind the scenes. I do the tech for all of my clients' webinars, and they always tell me it's one of the best parts of working with me. I handle the slides, chat, hand out worksheets, present quizzes/polls, and even take notes on questions that the audience. At the end of every webinar, I debrief my client and give them feedback on what worked really well and where they can improve for next time. 
Stage Five – Pre-Webinar – 1 Week Out
It's starting to get close, so it's time to practice!
You want to do a dry run of your webinar to ensure that all of the pieces are there. You need to do a test of all audio and video, along with your slide progression. In show business, they call this a dress rehearsal! And please, please, please don't wait until the day of the webinar to set up your equipment. Several years ago, a client decided to order a new webcam and didn't hook it up until the morning of the webinar. The webcam wasn't compatible with her computer. Luckily she was able to use the webcam she had, but it could have been a huge disaster!
While you could do this with just your tech person in the "audience," it might help if you invite one or two people you trust to watch your presentation. That can give you an outside perspective and get you used to the idea that there will be people listening (and possibly watching) you during the webinar. They are amazing for feedback too!
Stage Six – Pre-Webinar – 1 Day Out
With only one day to go, you should be continuing the promotion of the webinar to try and land a few more attendees. You will also want to send a reminder email to everyone who has already signed up through your registration page. The last thing you want is for someone to forget and miss out!
Stage Seven – The Day of the Webinar
OK, it's the big day! Let's do this!
A few hours before the presentation, send out another reminder email to maximize attendance. You can then do some last-minute social media promotion to get some others in under the wire. Also, send out another email reminder 15 minutes before the webinar starts and a final one when it actually starts. 
Ask your speakers and your virtual assistant to join you on the webinar a half-hour before it begins. That will ensure everyone is there for the start time and that there aren't any tech issues. Do a sound check using your mic; make sure that you can hear what's going on through your headphones. And make sure the lighting is suitable for your webcam (if you will be on video).
Finally, you are ready to go. You should be in a quiet room that you can host in. Always use a wired internet connection (rather than Wi-Fi) to ensure no wireless internet problems during the webinar.
Stage Eight – Presenting the Webinar
This is all you! Believe me; it will go faster than you believe!
You want to make sure that your virtual assistant is recording the webinar for on-demand download purposes later. An existing webinar is a great evergreen lead magnet for getting people to sign up for your email marketing list or promote your business! During the presentation, your virtual assistant can also live-tweet, answer questions, and gather questions to answer live at the end (not to mention handle tech problems if things go wrong). 
Stage Nine – Post-Webinar
It's all over! To finish up, your virtual assistant can adjust the copy on the landing page with the on-demand status of the webinar, put it into a viewable file, and then upload it. Sending a follow-up email sequence to all attendees and those that didn't attend with the recording is a great way to get those that didn't take your call to action on the webinar to do so now. You can also remind them of any bonuses they will receive if they sign up by a certain time. You should also have an onboarding email sequence ready to go for anyone who does purchase during your webinar!
So, What Did We Learn?
Let's review what we learned:
Webinars are one of the best digital marketing tools available today!
A webinar should be a perfect mix of writing, graphic design, engagement, and technical presentation.
Creating a webinar is super time-intensive. Hiring a virtual assistant to help can be a massive time-saver.
The first step of creating a webinar involves picking a date, a topic, speakers, and a goal. 
The second step involves getting people to register for it.
In the third step, you want to get all of your thoughts down on paper, organize them into slides and a script, and get a graphic designed to polish your slide deck.
Always get someone else to do the technical support for your webinar, as your hands will be full with the presentation.
Be sure to do a "dress rehearsal" before the actual day of the webinar.
Run tests for all of your tech (mic, headphones, webcam) the morning of the webinar.
Always record the webinar to use as a lead magnet in the future!
Free Resources
If you go through these nine stages with your virtual assistant, I promise your first webinar will go off without a hitch! It can seem like a lot of work, but it will be a snap with a virtual assistant's help.
So, are you ready to get started on planning yours? Check out my free download, The Ultimate Step-by-Step Webinar Checklist for Your Virtual Assistant, to ensure that you don't miss a single step on the way to webinar success. Or, if you want to jump into the early stages of planning a webinar, my free workbook, The Ultimate Webinar Launch Planner, could help!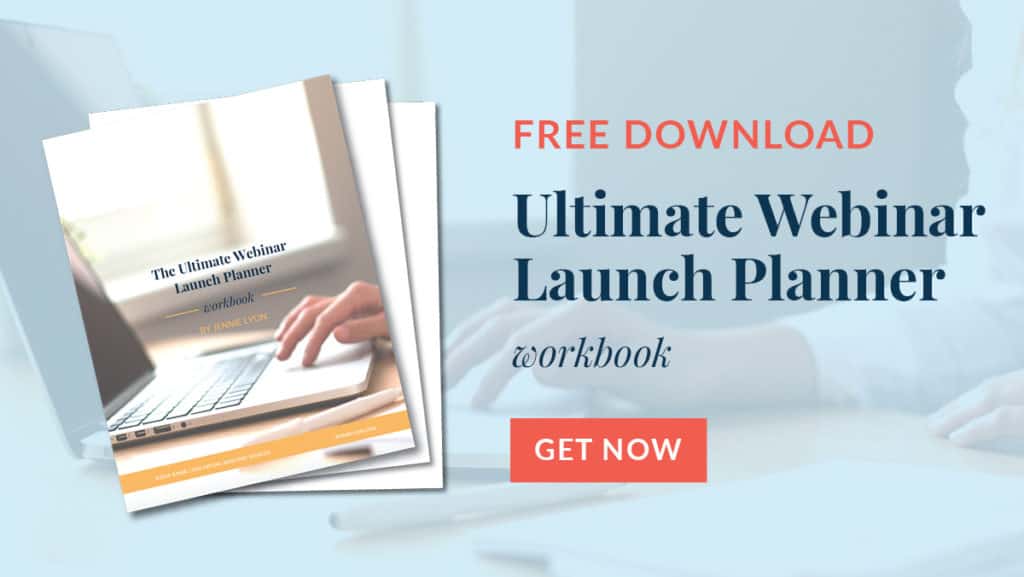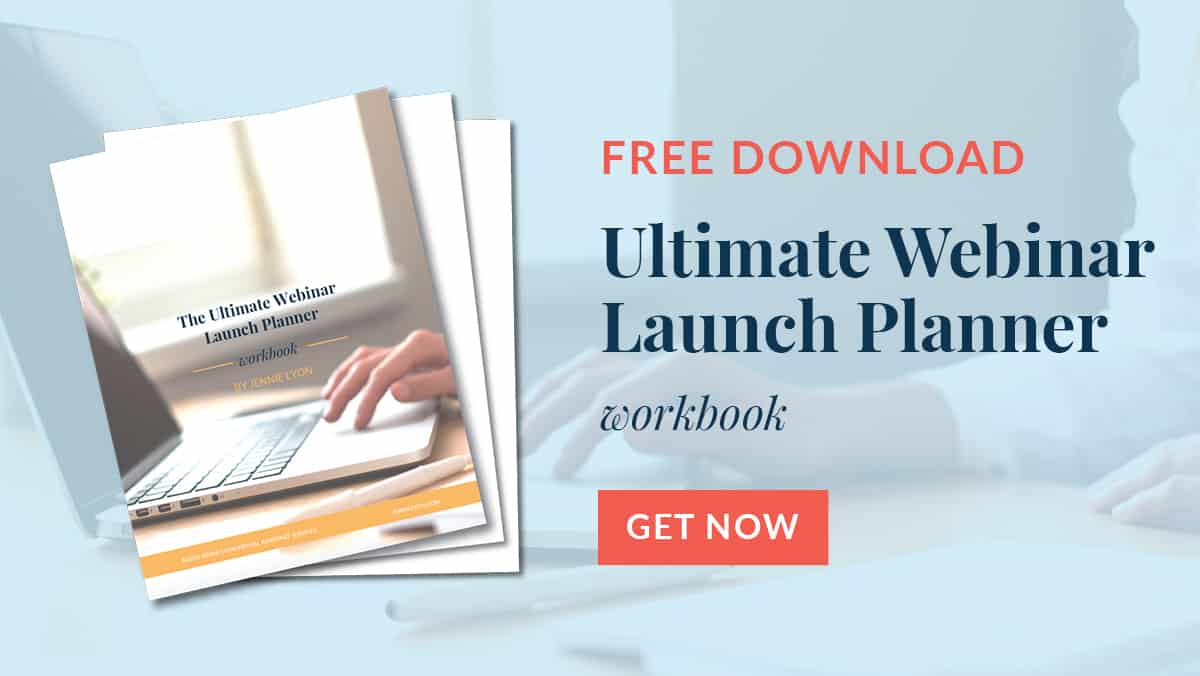 If there are other aspects of a webinar project that you need to get assistance with, please schedule a free consultation with me. I'm sure that my team here at Jennie Lyon Virtual Assistant Services can make your launch a success!
Links For This Episode:
Rate, Review, & Subscribe on Apple Podcasts
If you like what you hear on the podcast, please consider rating and reviewing my show! Woo Hoo! Click here, scroll to the bottom, tap to rate with five stars, and select "Write a Review." I would love to hear what episodes you enjoy the most!
If you haven't done so already, please subscribe to the podcast. I'll be adding new content weekly, if you're not subscribed, there's a good chance you'll miss out. Subscribe now!