Stuck at 1k Email Subscribers? 5 Steps To Fix It! (+Free Download)
A Solid Core Lead Magnet
Picture this: You've spent hours and hours creating a core lead magnet that isn't converting. Or it's converting, but at a glacial pace. Either way, you're stuck at 1,000 followers, or the people in your email list aren't converting into paying customers. Let's chat about how to fix that! In this episode of Digital Marketing Made Simple, we'll unlock the mystery behind your email list growth strategy and teach you how to entice mountains of new subscribers to your list!
Today's Blog Overview
Today we're going to unpack email subscriber growth strategies and find the best solutions for your business. You can click on the links below to quickly jump to any section that you'd like to learn more about:
Do You Know Who Your Ideal Client Avatar (ICA) Is?
One of the main reasons that I see core lead magnets not convert is they aren't speaking to your ONE ideal client.
I've said it once and must say it to my clients almost every day. If you're trying to market to everyone, you're essentially marketing to no one.
If you don't know who you're speaking to or the type of person you're trying to attract with your content, you're firing shots in the dark, hoping at least one of your marketing strategies hits the mark.
I'm guessing you don't need me to tell you that this doesn't feel too good, and it certainly doesn't help your business expand to what you know it could be.
So what do you do? Well, first, let's agree to stop firing those shots in the dark and instead take time to figure out who your ICA is.
Your ICA is the archetype of ONE ideal person who experiences all of the hardships, pains, and problems that only your product, service, or program can help fix. Before you start to write or REwrite your core lead magnet, ask yourself, "what does my ICA need to understand or believe in order to need your paid service/program/product? You want to create your core lead magnet around that!
Forbes did a great article I'd recommend on how to discover your ICA. If you're still unsure of who exactly your ICA is, grab my ICA worksheet here.
What is a Core Lead Magnet?
A lead magnet is something of value that you offer for free in exchange for someone's email address. It's something so irresistible that people can't wait to engage with your business. It's also the first step towards warming up your audience for future sales. You really want someone to have a WOW response when they receive your lead magnet. You want them to think, "I can't believe this is free – working with Jennie must be amazing!"
Your core lead magnet can be a quiz, workbook, checklist, video series – whatever will move your client from where they are today to one step toward their goal. And remember, it has to look amazing too – design matters!
You'll guide them to where they want to be (your paid services!) through your nurture sequence.
If you're still struggling with identifying your core lead magnet, click here to grab my workbook that will walk you through it.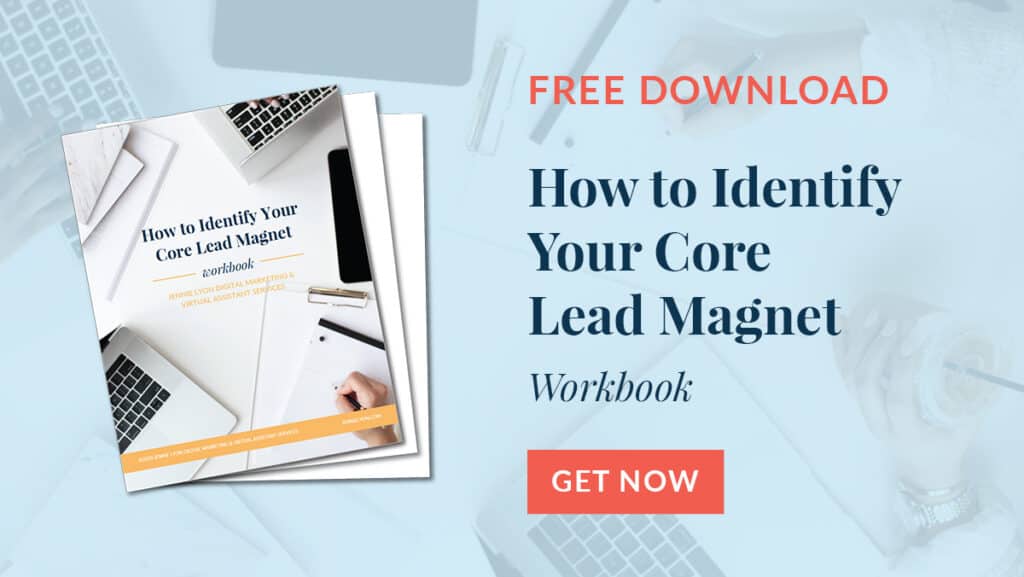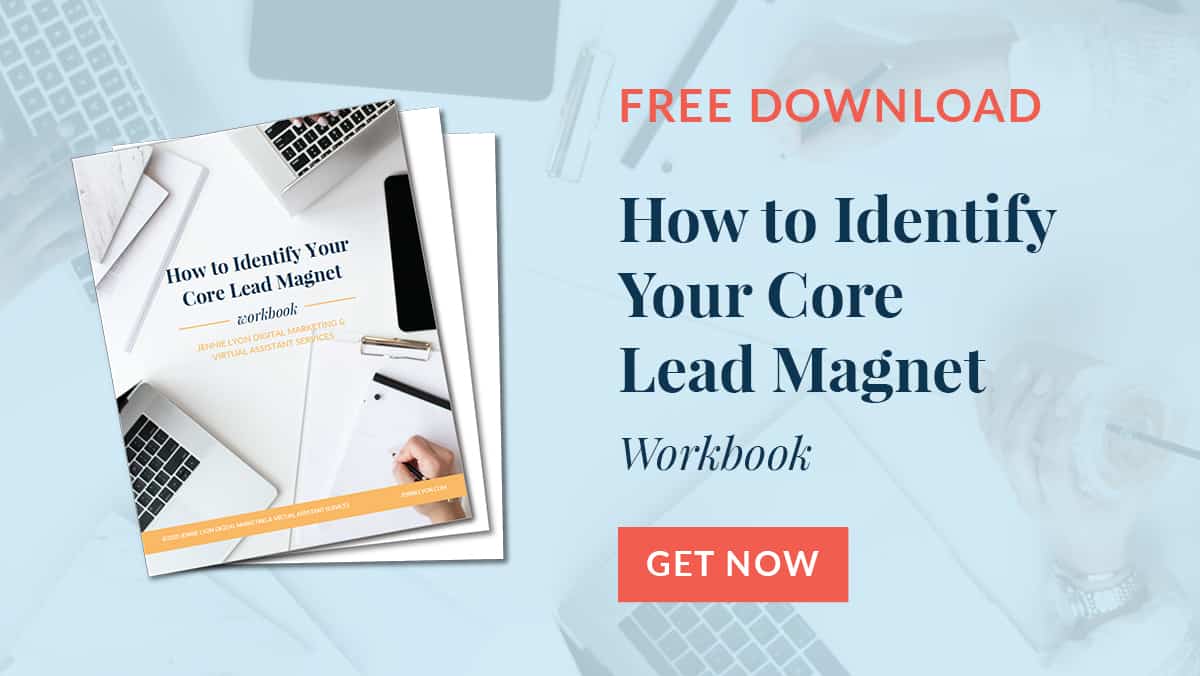 Add Your Core Lead Magnet to Your Website
There are so many places you can promote your core lead magnet, but as a foundational part of your business, start with your website home page.
Make sure the lead magnet on your website not only looks beautiful but tells your audience exactly what they'll be receiving. NEVER ever have your lead magnet simply say, "Sign up for my newsletter."
Instead, try something like: How Are you Finding Email Subscribers? Grab my workbook to discover seven strategies to bring in more leads with the lead magnet you already have!
You want the copy and design of your core lead magnet on the website to be beautiful, above the fold, and tell them exactly what they should learn once they leave their email address and receive the download.
And don't miss a chance to WOW your audience with your thank you page strategy! It moves them to the natural next step of working with you. Even if the thank you page is simple and tells them to check their inbox to grab the freebie, it moves them to that next step (and includes a way for them to get back to your website – since we always want people to stay on the website as long as possible!)
Now It's Time to Nurture those Leads
Once you get these new peeps on your email list, it's time to nurture the heck out of them!
When someone joins your list, you want to continue to offer them content that extends the value of your freebie, gives them more quick, small wins, and moves them closer to working with you in a paid capacity.
Most people will need time to get to know you better, and through your content and quick wins, they'll start to like and trust you too! And through your nurture sequence, you'll start to see conversions!
There is a science and art to writing nurture sequences that convert, so if you're struggling with that piece of the puzzle, please reach out. I'd love to help!
How Will People Find My Lead Magnet
Now that you know EXACTLY who your ICA is, you've created or updated your lead magnet to speak specifically to them, designed it beautifully, and set it up on your website – how will people find it?
You can, of course, share your lead magnet everywhere! In your social media, your blog, your email signature, Facebook lives, Instagram Stories, TikTok, Reels, etc., but there are other ways to get people quickly to your lead magnet. Here are 2 of my favorites:
#1: Paid Social Media Ads

Targeted ads will be one of the quickest ways to grow your email list. You can target your ideal client using social media advertising tools like Meta (Facebook) Business Manager. And while this isn't the right fit for a lot of people (I don't want to pay for advertising!? Or I have no idea how to set up and manage Facebook ads), you can ask for help. Hint. Hint.
#2: Use Collaborations!
Building collaborations with other businesses to expose yourself to new audiences and let those new subscribers discover you are a great place to start!
The key is to find collaboration partners that are complementary, not competitive. Then, once you find those partners that have your ideal client in their audience, look at ways to partner.
Talk shop with them on your podcast, then be a guest on theirs! Shoot a series of short videos where you both highlight tips that work for each of your audiences and post different versions on each other's platforms.
My Weekly Challenge For You
Flesh out your ICA. Grab my worksheet and really dial in on who your ICA is.
Map out your core lead magnet. Grab my free workbook and work through the questions to finalize what lead magnet your ICA can't pass up!
If you get stuck, schedule a free 15-minute call with me, and let's chat about where you are in growing your email list and make a plan to get your way beyond that 1,000 subscribers!
So What Did We Learn?
Your ICA is the archetype of ONE ideal person who experiences all of the hardships, pains, and problems that only your product, service, or program can help fix (guide them to the solution)
A lead magnet is something of value that you offer for free in exchange for someone's email address.
NEVER ever have your lead magnet simply say, "Sign up for my newsletter" – it needs to be enticing
Give your subscribers quick, small wins to move them closer to working with you in a paid capacity.
A great way to get your lead magnet in front of prospective subscribers is through collaborations with other businesses!
If there is one thing I absolutely love, it's helping my clients grow their email list. We've helped clients double their email list year after year. We're happy to help you take your email marketing to the next level. Set up a free 15-minute call with me anytime. I'd love to help you grow your subscriber list!
Links for this episode:
Rate, Review, & Subscribe on Apple Podcasts
If you like what you hear on the podcast, please consider rating and reviewing my show! Woo Hoo! Click here, scroll to the bottom, tap to rate with five stars, and select "Write a Review." I would love to hear what episodes you enjoy the most!
If you haven't done so already, please subscribe to the podcast. I'll be adding new content weekly, if you're not subscribed, there's a good chance you'll miss out. Subscribe now!