Taking a Vacation? Get Your Virtual Team in Place First + Free Pre-Vacation Checklist!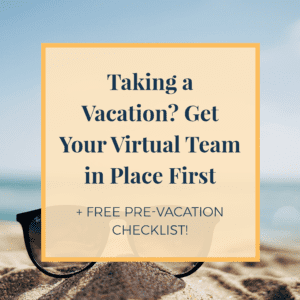 Everyone loves a summer vacation, but taking one can seem impossible for busy entrepreneurs! When you run your own small business, it can consume all of your time and energy if you aren't careful, and letting go can be difficult. Trust me when I say that I understand! However, even passionate entrepreneurs need time to relax, and that means finding a team who can keep your business running smoothly in your absence. When you have a virtual team that you trust, it makes taking time off much less stressful. The trick to developing that trust is getting used to working with a virtual team before you plan your vacation.
Start small
Try outsourcing one or two recurring tasks that aren't vitally important to the function of your business. Seeing how a virtual team handles basic social media or administrative tasks can reveal whether they understand your business and are capable of taking on more critical responsibilities. As you become more comfortable passing off time-consuming work to your team, you'll be better able to determine what needs to be put in order before you can take time away from the (home) office! When you're ready, try using my Pre-Vacation Checklist for Small Business Owners, specifically made for entrepreneurs! It's available for free download at the bottom of this article.
The benefits of a virtual team vs. a single assistant
My team here at Jennie Lyon Virtual Assistant Services really demonstrates the benefits of having multiple specialists working together. We offer a full range of virtual assistance, from administration to content creation to technical services. I have graphic design specialists, dedicated copywriters, marketing experts, web design and tech people, social media mavens, project managers, and administrators who all work seamlessly to take care of dozens of clients at a time.
It would be nearly impossible for one person to master all of these areas. But a team of expert virtual assistants working together can offer the highest quality of work across the board! Our clients pay based on the time spent in total or by the project. It's incredibly affordable compared to hiring a number of specialists individually. Why get a generalist to do all sorts of tasks for you when a team can do each task better for a comparable budget?
The effectiveness of automating your business' online presence
One of the most time consuming aspects of running a modern small business is keeping up with all the different parts of your web presence. Most entrepreneurs find having a virtual team on top of this makes a big difference for their productivity! Outsourcing the effort of automating your social media or email marketing takes a lot off your plate.
When you have the right virtual team handling your business' online presence and client care, you'll be ready to clear your calendar and hit the beach! Or the campsite, or whatever other destination will help you relax. In case of emergencies while you're away, I always recommend having a service like Grasshopper set up. This way you can receive any critical phone calls on your mobile device. But don't check your email or try and work while you're on vacation. Leave it all in your teams' hands and come back properly rested.
Ready to prepare for time off? Download my Pre-Vacation Checklist for Small Business Owners below: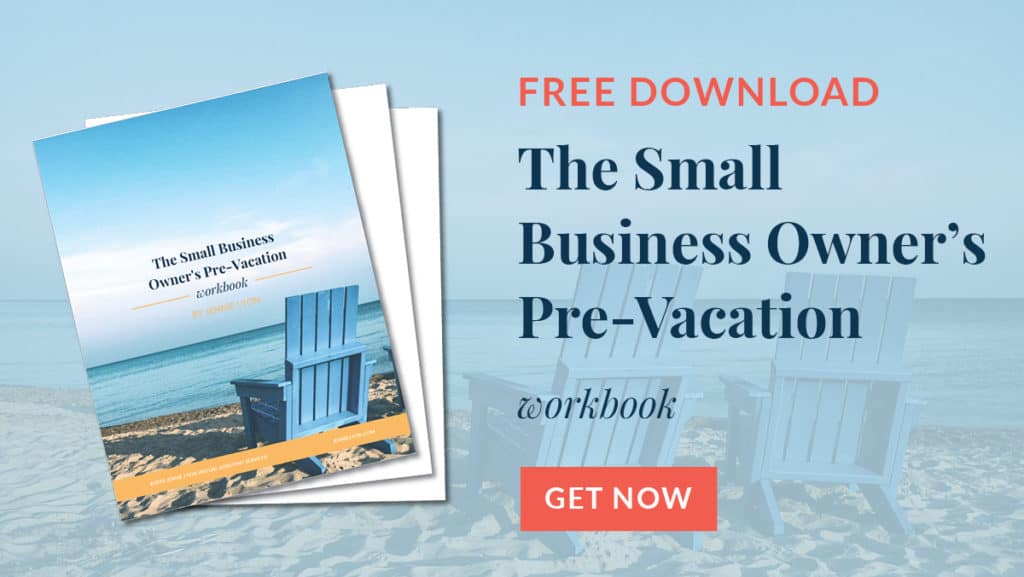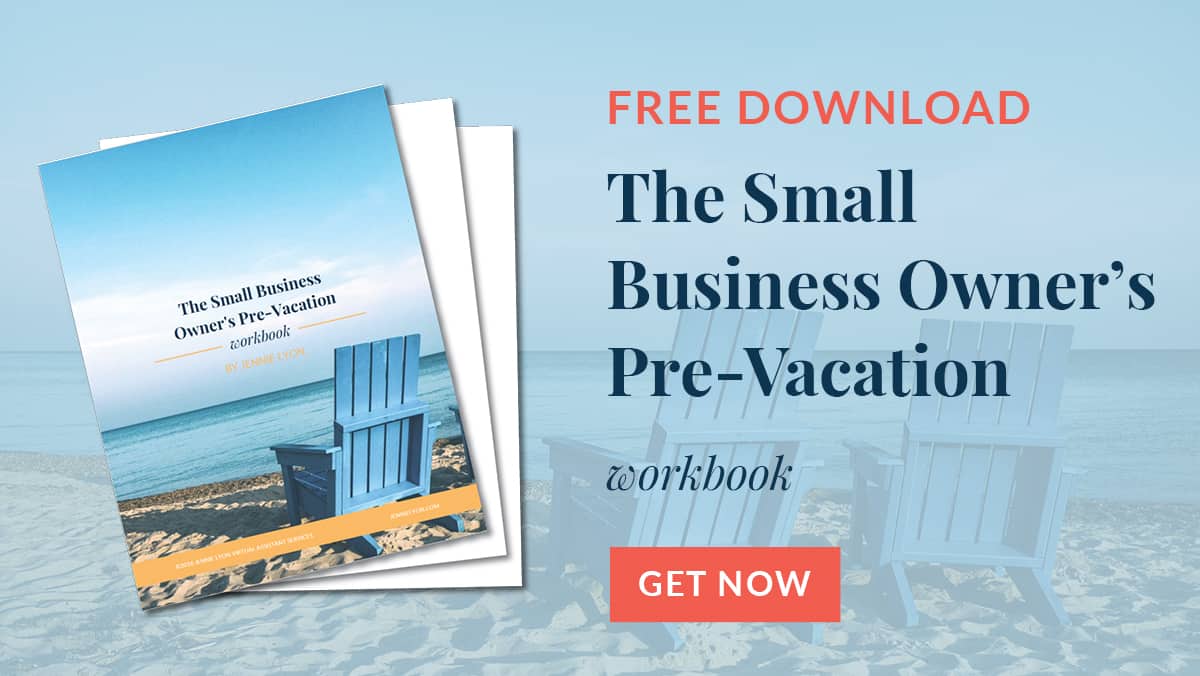 If you'd like to chat about what my virtual team can do for your business, schedule a free consultation. I love hearing from other entrepreneurs who are ready to take care of their business by taking care of themselves!