10 Easy Ways to Write Instagram Captions that Win Customers
How much time are you focusing on Instagram for your business?
Small businesses are always looking to make the most of their marketing dollars. Generally, their budgets aren't huge, so they need to make the biggest impact possible for the lowest investment. That's why you should be on Instagram! It's one of the most effective, budget-friendly, and hottest platforms right now!
Instagram will reach 112.5 million U.S. users this year! That's a 5.4% increase over 2019! It's the fastest-growing social media platform, with 37% of American adults using it. And the gender mix is pretty fantastic, with 52% of women and 48% of men using it. It's true! It's the ONLY social media network that my husband even uses. He told me he had been looking for a pair of boots as a gift for my birthday. But he wasn't sure if he wanted to get me knee-high boots or booties, so he kept checking out different brands and styles. He then popped into Instagram to catch up and started to get retargeting ads for one of the pairs of boots that he had been looking it (and with a discount code too!) See, it works! He found the perfect birthday gift, and I have cute boots! Win-Win! Haha!
It gets better; 63% of users log in at least once a day and spend, on average, 28 minutes on the platform. 62% of people say they have become more interested in a brand or product after seeing it in stories. Advertising reach is 849.3 million users – so if you aren't on Instagram, it's time to get on!
It's a big part of the future of small business marketing. But even if you are on Instagram, your posts might not be having the full impact on your audience that you want. Thankfully, there are a ton of ways how you can boost engagement with your posts by learning to write Instagram captions that are engaging! 
#1: Hook, Why & CTA
Hooks, WHY and calls-to-action might be the most misunderstood concepts in the marketing field.
Put simply; a HOOK is using the right words at the beginning of your Instagram caption to grab your audience's attention and stop them dead in their tracks. You want to hook them like a fish and then reel them in.
The WHY will provide your audience with what they need to know, such as why you do what you do, a helpful tutorial, or important information they need to hear.
A CALL TO ACTION (CTA) is when you ask the viewer to do something. Answer a question, click a link, send you a DM, etc. It creates the engagement part of the post.
For example, look at these two Instagram posts.
Do you have a Pinterest account for your business? If not, you might be missing out! 🤭 An engaged and passionate audience can do wonders for your website traffic. Find out how to get the most out of Pinterest with my top tips! Check the LINK IN the BIO to get started. ⁠
While the above post is a fine one (it does have a WHY and a CALL TO ACTION). It's missing the HOOK!
Check out this example on how to write Instagram captions that nail the HOOK, WHY, AND CTA.
HOOK:
Can I share a secret with you?
WHY: If your business isn't on Pinterest, you might be missing out big time! Pinterest returns the highest engagement with the most passionate audience. What does this mean? It can easily become your website's #1 traffic referrer! 🤭
CTA: If you are already nailing it on Pinterest, double-tap to let me know!
CTA: Have a question about getting started with Pinterest? Fire away!
Whether you are doing this with Instagram or Instagram Stories, you'll only have a few seconds to get your point across. So always lead with your hook, pack with your why, and end with your call to action. Get their attention, let them know the benefits, and seal the deal with the call to action when you write Instagram captions.
#2: Write As You Talk
Advertising jargon can sometimes sound like another language.
When you're crafting a message to your customers, you need it to sound natural. You don't want copywriting that reads as if a computer wrote it! Instead, try to write the way that you talk.
Try this trick. After you write your copy, try saying it out loud. If you are tripping over words and having a tough time getting the message out, it's probably written in an unnatural way. You want it to sound authentic when you write Instagram captions. After all, that is what social media is all about! Speaking of authenticity…
#3: Be Authentic
One trap when it comes to marketing is that customers can instantly smell out inauthenticity. If a brand posts something on Instagram that doesn't accurately reflect its values, it won't have any real impact on the customer. In fact, it can do more harm than good.
On the other hand, if you post something that genuinely reaches out to your clients with your unique voice, that will catch their attention. This is why you always want to share relevant content that is aligned with your values and industry.
[TWEET "Having trouble writing engaging captions for your Instagram posts? Try some of these tips!"]
#4: Make the Sale, but Don't Be Salesy
I've thought a lot about the difference between "marketing" and "advertising." In short, people hate advertising, but they don't mind marketing.
If you're hitting your customers with cliches and salesy copy in your Instagram captions, they aren't going to engage with you. So, avoid being blatant about your marketing. Instead, put the focus on the viewer. Provide them with a solution to their problems rather than trying to "close the sale."
#5: Show Up
If you want to build a passionate following on social media, especially on a platform like Instagram, you'll need to show up every day and post content, and engage.
This is especially true with Instagram Stories. Remember, your stories are going to disappear within 24 hours, meaning you need to replace them with new stories regularly. If you aren't posting a story (or SEVERAL) every single day, then you are missing the entire point of the platform!
#6: Brand It
Don't forget to brand your content. Now that doesn't mean you need to have your business name or logo on your posts. It does mean that your Instagram feed and stories should have a cohesive look and feel that resonates with your brand. Look at your website and then look at your Instagram feed. Do they match and have the same color scheme? Or does it look like someone else entirely owns your Instagram feed? If so, it's time to think about your branding when creating content.
#7: Create Stickers
Speaking of branding, stickers can be an excellent way to make your Instagram stories way more exciting!
Stickers are little graphics that you put on top of stories to express your personality and values. They could range from hashtag stickers to countdown timers to question stickers.
I'd be delighted to lend you some graphic design expertise and create some brand-specific stickers for you to use in your stories. This will give you something unique to differentiate you from your competitors' posts!
#8: Make it Interactive
Stickers can also be a great way to create interactive engagement. For example, if you create a question sticker, this provides your audience an opportunity to give you direct feedback.
My advice when it comes to interactive elements would be to keep it simple. Don't ask too much of your audience when all they want to do is to check out Instagram to see what people are up to. A simple question or another interactive element when you write your Instagram captions, will do the trick nicely!
#9: Partner with Brands
I have a thing for buddy cop movies. "One is a straight shooter who follows the rules. One is a loose cannon with a passion for justice. Together, they are stronger than they would be alone!"
That same sentiment goes for partnerships with brands as well. If you join together with another brand for a giveaway or cross-promotion, it can do wonders to build your numbers. The key is to find another business that complements but does not compete with your own. But once you find one, a few Instagram posts a week on both of your accounts could connect you with new clients on both sides! And a joint giveaway or cross-promotion can grow your numbers and your email list! Win, win.
[TWEET "Connecting with your customers is the name of the game on Instagram. Supercharge your posts by writing more engaging Instagram captions!"]
#10: Celebrate the Silly
Many take Instagram WAY too seriously. Yes, it's a very effective digital marketing method, but it's also supposed to be fun. And in that spirit, you should celebrate silliness every now and then!
One of the best ways is to use unexpected and fun hashtags, especially on the holidays. If you want some ideas, I have a super fun download, the Holiday #Hashtag Yearly Calendar. Inside, you'll find hashtags celebrating the lesser-known holidays, like July 14th's #sharkawarenessday! Give your audience a dose of silliness, and they will give you their attention!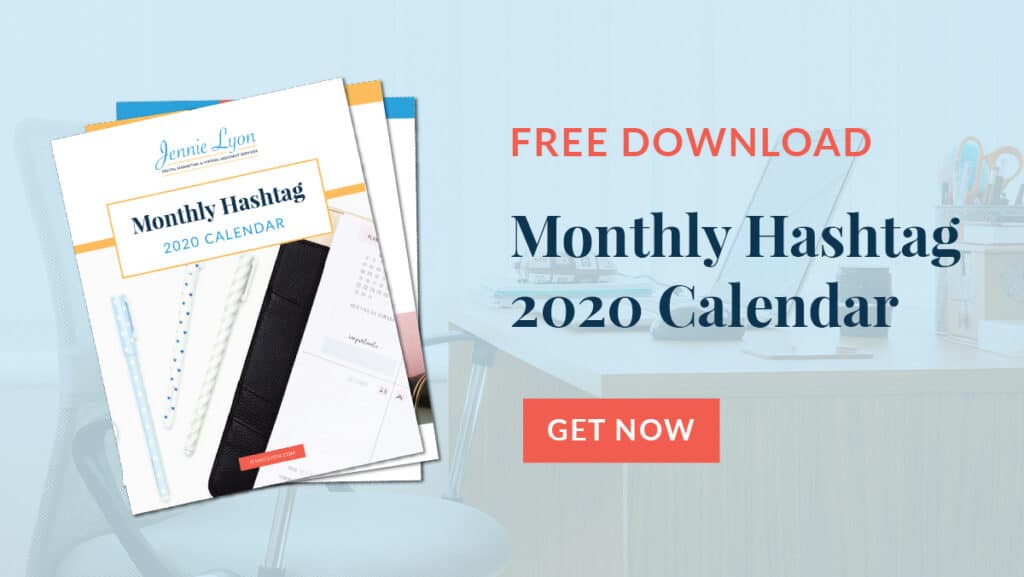 The big struggle that many small businesses have with Instagram and Instagram Stories is consistency. If you aren't constantly updating your account with content, your posts will get buried after just a few minutes. Even worse, you must post Instagram Stories daily, as they will disappear every 24 hours.
If you can't keep up, it could be an excellent idea to hire us! We can write engaging Instagram captions, graphics, and posts and engage you on Instagram for you! Contact me today if you want to boost your digital marketing efforts on Instagram and other social media platforms. Together, we will connect you with more online potential customers than ever!
Rate, Review, & Subscribe on Apple Podcasts
If you like what you hear on the podcast, please consider rating and reviewing my show! Woo Hoo! Click here, scroll to the bottom, tap to rate with five stars, and select "Write a Review." I would love to hear what episodes you enjoy the most!
If you haven't done so already, please subscribe to the podcast. I'll be adding new content weekly; if you're not subscribed, there's a good chance you'll miss out. Subscribe now!