How to Create a Month's Worth of Social Media in 1 Day
Do you ever feel like there aren't enough hours in the day?
That's usually what I hear from most small business owners. They start the day ready to blow through their to-do lists, but still have half the list left at the end of hours. That's usually because their time gets used up by small, time-consuming tasks like creating and scheduling social media as part of their digital marketing strategy.
Personally, I write/design/schedule a month's worth of social media content on Saturday or Sunday morning. I've developed a system over the years where I get up early and have it all done by the time my husband and son wake up for the day. It generally takes me about five to six hours a week.
Do you want to have that same level of productivity when it comes to your social media? Here's how you can schedule a month's worth of social media in a single day:
1. Are You in the Social Media Mindset?
Part of being productive is being in the right mindset. If you aren't in the mood to write and schedule a month's worth of social media right now, do it another time. After all, you have tons of other things you can spend your day on, so it isn't like you're being lazy.
Your audience can tell if your posts on Twitter, Facebook, and Instagram are uninspired and "forced." If you are in a social media mindset when writing your posts, on the other hand, it will show through in your content.
2. How Many Times Will You Post in a Week?
How many times you post a week depends on your social media goals and the platforms that you use to connect with your audience.
I recommend being consistent with your posting schedule as your followers need to know what to expect and when. Always post at least 1x daily on Facebook & Instagram, weekly on Pinterest and LinkedIn, and several times a day on Twitter. You don't have to use every single platform, only the ones that are going to work for your target audience.
[TWEET "Writing & scheduling social media can feel like it takes forever. But I can teach you how to get it all done within 24 hours!"]
3. Pick Your Topics
Your subject matter is just as crucial as your posting schedule. To make things much easier, I suggest choosing social media monthly topics, about six to twelve of them. I tend to keep the topics the same each month, so they're easy to remember:
About Me
Why I Do What I Do
Fun Facts About Me (Sharing wisdom)
Benefits of Working with Me
Marketing Tips (Stats)
Showcase a Service/Product
Inspiration
My Family (Eben, Jayson, or the dogs)
Adventure (Something fun for the weekend)
Monthly holidays. (Use holiday-related hashtags, as it's an easy way to fill a day)
Upcoming Special Events
Upcoming Vacations (Share where you're going or if you're doing anything fun for the weekend like a farmer's market, beach, or an adventure)
Current or Upcoming Promos
Birthdays and Anniversaries (Team members, employees, family, friends, business anniversary, partner anniversary, etc.)
4. Break it Down
Once you have your topics, you can break everything down into a posting schedule.
I focus on scheduling a week at a time and in order, putting down all of the holidays, vacation, events, and special stuff first to see how much more content I need to write.
This technique makes it much simpler to make sure that you have all of your platforms covered with posts, that you've responded to comments and messages, engaged with X amount of people/accounts, and recorded stats.
5. Write the Content (This Is Where We Come In!)
Writing the actual posts usually takes up the most time – primarily because it doesn't just involve writing the posts. Think about what the content is communicating to your audience and the best way to grab their attention. Think about creating a unique brand experience. What does your brand do? What experiences can you create on social media around your brand?
Writing eye-catching captions has a kind of formula that includes components like Hooks, Whys, and CTAs. I wrote all about it in my previous post on writing compelling Instagram captions!
On Instagram (and other sites that include this functionality), I make sure to include at least one story a day. You should never forget Instagram Stories when creating content. I get way more interaction with stories than the grid itself.
To write content, you need things to write about. That's why I suggest repurposing your content. I'm horrible about this one and need to remember for myself. But you can easily pull things out of older blog content to use for social media.
Once you have the main body of the content written, make sure that people will see it. Many people use the same hashtags repeatedly, but that's not how you grow your audience. Instead, do some thinking and include the best hashtags for each post. You should also note the best times to post, based on the analytical data in Later.
To save you some time here, we can create caption templates for you if you want to DIY your social media content.
6. Graphics/Images
I do this step after writing the content, as it's easier to grab photos and design graphics once I know what I'm doing.
When thinking about graphics for social media posts, there is a color scheme that I follow (and recommend to people) to make sure the grid looks fantastic. It's a rotation of colors, such as pink, blue, yellow, green, etc., then repeat. To help with this, I subscribe to a couple of different photo sites so I can easily find images by color. That is key and makes it so much easier to find what you need quickly.
Another way I save time is to create graphic templates in Canva or Photoshop for the types of graphics that I want to use over and over again (client testimonial, client spotlight, etc.) By doing this, it's super easy to create brand-new graphics in minutes, then drop them in Later.
Of course, if you don't have any graphic design experience, you could always hire us to create your images – even if you write the copy yourself!
7. Scheduling
After all of the work creating your social media content, this is the easy part.
I schedule everything at once, going day by day to confirm all of the pertinent information is in every single post. Don't forget to make sure every post has a CTA attached to it. Managing to schedule a month's worth of social media in one day seems like a lot but in the long run can save you a ton of time.
8. Engaging With Your Audience
Audience engagement is the most crucial part of social media. In fact, it's the entire point!
I always like to think of social media as a virtual cocktail party. You want to mingle with your target audience, check things out, listen in on conversations, and then pop in your comments, suggestions, and feedback. Social media without engagement really doesn't make sense.
9. Review & Reevaluate
At the end of the month, it's essential to check out your analytics. When were the best times to post? Figure out what type of content did well, then create more of that. If any content sucked, kill it and try a few new things. Over time, you will start to see patterns of what works and what doesn't. If you take this data to adjust your social media strategy each month, you'll soon become an expert!
[TWEET "Imagine getting all of your social media marketing finished in just one day. It's possible, and I'm going to teach you how!"]
10. Advertise
The power of social media goes beyond just posts. If you want to make the most out of it, you're going to want to take advantage of social media advertising.
While Facebook Ads and other forms of advertising on social media follow a similar structure to general marketing posts, there are some important distinctions. You can learn more about them in this post about the power of social media ads.
Now, I know all of this sounds like an incredible amount of work, but you can honestly get it all done in a single day, especially when you have some dedicated tools at your disposal. That's why I've created this free Weekly Social Media To-Do List.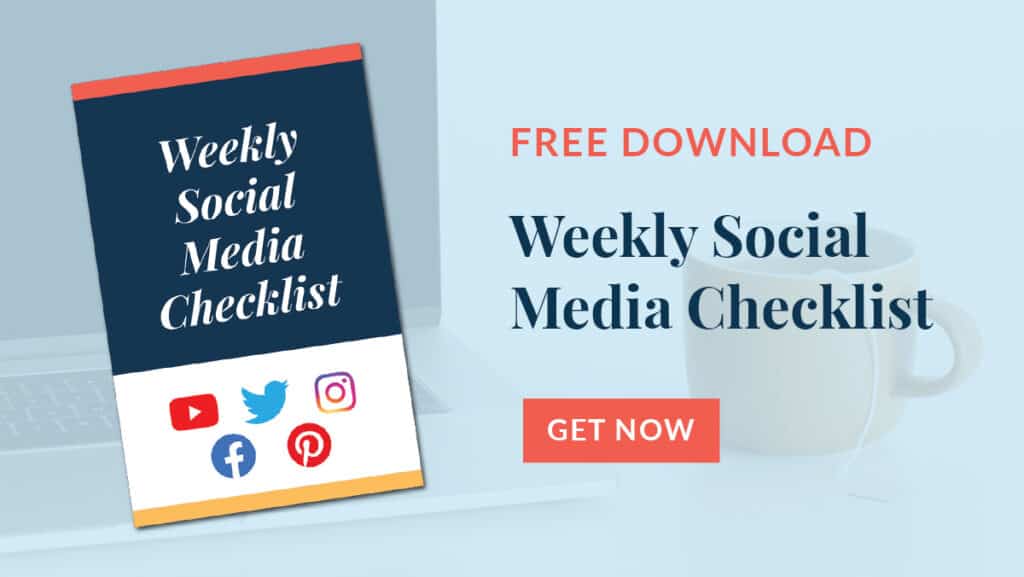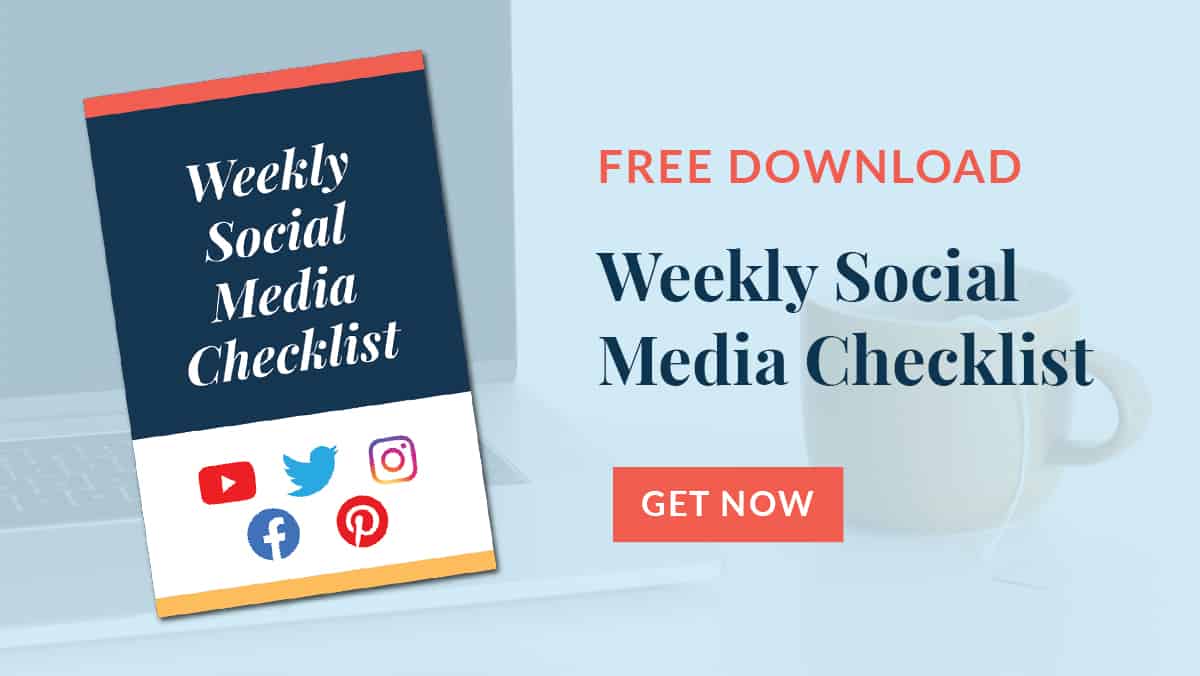 It includes every step along the way to creating powerful and effective social media posts on Facebook, Twitter, Instagram, and more! 

Of course, if you'd rather get all of your social media off your plate entirely, I can help with that too! Contact me today, and we can talk about tailoring a social media marketing strategy specifically for your small business.
Links For This Episode:
Rate, Review, & Subscribe on Apple Podcasts
If you like what you hear on the podcast, please consider rating and reviewing my show! Woo Hoo! Click here, scroll to the bottom, tap to rate with five stars, and select "Write a Review." I would love to hear what episodes you enjoy the most!
If you haven't done so already, please subscribe to the podcast. I'll be adding new content weekly, if you're not subscribed, there's a good chance you'll miss out. Subscribe now!