Are There Parts of Your Business That Are Falling Through the Cracks?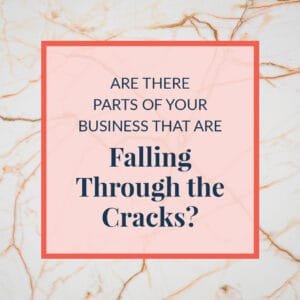 As a busy business owner, you know deep down inside that you can't do it all. If you don't have a team in place to support you and your business, there are areas of your business that are falling through the cracks. Ask yourself:
Are your emails and voice-mails being answered in a timely, professional manner?
Are your blog posts and articles being submitted to the appropriate sites and social media platforms?
Are you missing appointments, double booking yourself, or having a hard time with scheduling, period?
Are updates being made to your website quickly, and are you staying connected with your online community?
If you answered no to any of these questions, then yes there are vital areas of your business that are being neglected. Having a support team in place is essential for the health of your business.
[Tweet "You can't do it all as a business owner, and that is OK – a support team can help you!"]
Having a virtual assistant on hand to support and manage your team is also essential. As a virtual assistant, I always focus on the areas of my clients' business that are being overlooked first. For example: Maybe you are writing amazing blog posts that aren't getting any traffic. There is a reason for this: you need someone to get your articles in front of your target audience and there are steps I take to ensure that this happens every week. A virtual assistant can also handle client relations; if you aren't responding to email and voice-mail inquiries in a timely manner, you are missing out on major opportunities that could be taking your business to the next level. In today's business, social media is key; if you aren't building and interacting with your social network, then your business isn't going to hit it's full potential. I am well-versed in social media marketing and platforms and make sure my clients maintain fresh social relationships. Finally, missing appointments or double booking makes you look unprofessional and hurts your bottom line.
[Tweet "A virtual assistant can alert you to opportunities that could take your business to the next level."]
Fortunately, a virtual assistant and support team can breathe life into your business and catch the balls you're dropping.
In fact, let me do you a favor, download my free workbook that walks you through writing your own business plan! If you do one thing for your business before the end of the year, create your business plan!