5 Easy Ways to Market Your Small Business with Facebook
I've talked a lot about using Facebook to advertise your business! However, it's been a while since I followed up.
The global pandemic has reshaped the business world, and we were all forced to adapt or flounder. Despite the effect COVID-19 had on the worldwide economy, it's not shocking to learn that Facebook use has continued to grow since 2019. Its user base has grown more than 12% to over 2.8 billion users monthly in the past two years! That's roughly 59% of the world's social media users. Over half on one site.
That's insane!
And do you know what two-thirds of them are doing every week? They're visiting the pages of local businesses!
So, if you've been listening to me for the past several years, you started curating your business' Facebook presence to take advantage of that massive growth. Or maybe you haven't cracked the algorithm yet. If that's the case, then let's have a look at how easy it is to digitally market your small business using all the affordable tools one of the world's most popular social media platforms has to offer you.
#1: Making Good Use of Facebook Ads
Not too long ago, I've spent a lot of time talking about ways to optimize your Facebook ads by considering particular strategies. First and foremost, you need to consider your ideal client avatar. That means examining the kind of people that might be interested in what you're selling. And it goes beyond the simple demographics like age range, lifestyle, geographic location, and such. You also need to consider their aspirations, where they spend their time online, their hobbies.
You also need to determine your goal, as Facebook ads offer several objectives. Depending on what you want to accomplish, you can select from several options within three categories:
awareness for helping people notice your business;
consideration, which gets people to connect with your business;
and conversion to straight-up make clients for your business.
Building the Ads
Once they've clicked through, they need a fantastic landing page catered to the specific deal that keeps them focused and helps you guarantee a sale!
Or not.
After you've figured that out, you start to build your ads to the right specifications with attractive graphics to catch the eye, videos that people HAVE to stop to watch, dazzling copy using great headlines, and a limited-time offer to drive that click-through rate (CTR).
Thankfully, if your ad isn't performing, Facebook's in-house analytical tools have only improved over the past few years. They offer great statistics to help you figure out what needs to change to help your ads work their magic.
If you haven't looked into Facebook advertising, I cannot recommend it enough! It's a practical, versatile, and economical tool for any small business to capitalize. As long as you have a clear goal in mind, you can set a price to fit your budget that should hit the right market you're looking for and still generate an excellent ROI. And of course, I know that most people don't have the time or the desire to learn to do Facebook advertising, so please reach out! We run tons of Facebook ads for our clients and I'd love to chat about your objectives and help you create a great campaign!
I've also created a helpful free workbook on How to Write Your Own Facebook Ads to get you started, so don't hesitate to pick it up!
#2: Build a Connection that Lasts Forever
You may think you're okay with a business Facebook page, complete with all the pertinent information folks need to know about what you do and what you have to offer. If you have an ad running, you may feel you're guaranteed success! Unfortunately, that won't be the case.
To build recognition and trust for your brand, you need to engage with your audience. Remember it's called "social media" for a reason, you have to be social! Engagement is when people comment or like your post, giving you an opportunity to interact with them directly. That engagement helps drive the algorithm, as popular posts are hoisted to the top of the feed where casual viewers with a connection to your business page are likely to see them.
The more people that see your post, the more they come to your Facebook page, and the more likely they'll click through to buy what you're selling. 78% of Americans browsing the site discover new products via Facebook because the algorithm drives them to those stores. That's a massive chunk of the user base that can stop into your small business' digital storefront!
What's more, because of the previously mentioned awareness and consideration objectives in Facebook Ads, you don't have to wait for people to find your business. You can take your message to them and encourage them to interact with you.
People can also message you directly, beyond commenting on posts. This accessibility to near-immediate responses from a business increases trust in a brand. People love prompt customer service. If your team isn't big enough to manage that, try working with someone (wink! wink!) who can offer a digital marketing and Facebook expert to help out!
#3: Staying Consistent is Key
Now, with your posts, engagement, and ads, consistency is essential on any social media platform. You'll find followers on Facebook tend to stay interested when you post and engage with them on a regular basis. They like the routine, to know that every time they stop by your business' page, they'll see something new. That can range from products and services to exciting news within your industry or a lovely uplifting message that suits your brand – whatever it is, as long as you're regular with a bran-filled diet, you'll see the results.
As for your ads, you need to give them time to breathe. I've said as much before: if you try to change too much too soon, you'll skew the analytics. It's best to let them run their course for a bit, even if they're not performing so that any changes you make for the next round will have a solid control case for you to compare. Then you can see what is working for you or not. Even better, Facebook's A/B Testing feature allows you to run simultaneous ads to contrast! It's great for seeing the results of a strategy and what happens if you apply changes. Plus, it takes your budget into account, dividing it across two simultaneous campaigns. It's a bit more of an investment but worth the data it returns for you.
Consistency vs. Frequency
Finally, in both instances, when I talk about consistency, I don't mean frequency! Temper your desire to go too much too soon, or else you'll burn out yourself and your audience. While people will want to engage with your business and its meaningful content and informative ads, they won't want to see it all every day unless you're a massively popular household brand. You'll need quality over quantity here. To help maintain a steady pace with meaningful content, check out my free Weekly Social Media Checklist. It has straightforward, actionable tasks that give you a clear view of what you need to set up on Facebook (and other platforms) to succeed.
Again, if social media isn't at the top of your "oh my gosh, I'm so excited to do this today! list" consider reaching out, I'd love to chat about putting together a social media package for you! We can collaborate on your content or keep you totally out of the mix, either way, you'll have an amazing social media presence.
#4: Be Part of a Facebook Community
One thing that Facebook offers over other social media sites is its groups. Here, like-minded folks can get together and share in their passion for anything and coordinate events. It can help your business, for free, in a couple of ways.
First, you can create your own group! We create many Facebook groups for our clients that bring together fans of their work or people who have purchased an online course, or done a free challenge. It gives them a place to reach out to their clients/prospects regularly and where their clients can have a safe space to share what they have in common with others, build relationships and ask questions. It also lets business owners reward their most dedicated followers with deals, exclusive opportunities, direct access, and more to help increase love for their brand and possibilities of work together in the future.
#5: It's All About Results!
I've shared the social media success of several of my clients, one of my favorites is Bear Creek Felting's Facebook marketing success. We've been working on their ad campaigns for several years and are still going strong. They are investing more in their strategy these days and looking at the past 6 months, they have spent $8,402. Does that mean a greater ROI for them? It sure does! They've reached more than 220,000 people on Facebook, engaged with over 6,000 of them, leading to 17,098 clicks. From that interest, they have secured 624 sales, which may seem small by comparison to the number of eyes that seem to be on them.
But, when you consider those 624 sales have generated almost $42,000 in revenue for them, it doesn't seem so bad. That's a net of about $33,000. Not too shabby, I'd say, for just one portion of their marketing machine. You can start pulling similar numbers by being strategic with your application of Facebook's advertising and engagement tools. You don't need to start with significant investments like the above! Remember, they originally invested about $365 into a month-long campaign and earned almost $4,000 from it! We can do the same for you!
So, What Did We Learn?
Let's review what we learned:
1. Facebook has only increased in usage and popularity over the past couple of years.
2. The Facebook ad features are more powerful than ever, offering a great ROI with a well-planned strategy. The key is you need a strategy, you can't just slap up an ad, add a budget and let it roll, there needs to be a strategy there.
3. Building a connection with your ICA helps raise brand awareness and trust in your business. You can use Facebook in a variety of ways to build a connection with your audience from ads, posts, to groups!
4. The better your engagement and brand awareness, the more likely your business will be seen by other users.
5. Consistency is key.
6. Posting regular, quality content and staying on top of responses will keep people coming back to your Facebook page. Beyond consistency being key, offering value is what will keep them coming back for more.
7. Letting your ad campaigns run for a while gives you better data to analyze, increasing effectiveness for the next round. We can also do split tests to gain more data quickly!
8. You don't want to post too much too soon or share ads at too high a frequency. Otherwise you'll exhaust your audience and yourself.
9. Facebook Groups aren't just for the casual user – a business can leverage one to create a community or join a community that can nurture their growth!
10. Several of our clients have been using Facebook as part of their digital marketing strategy and it has paid off beautifully for them. We'd love to help you too!
Free Resources
Love it or hate it. Facebook seems like it's here to stay for the foreseeable future, and the masses are checking into it daily. There's no reason why you can't take your business there right now. It's free to join! The pricing structure for its ads is so flexible and even working with a team like ours is flexible and doesn't lock you into any long term contracts. And you'll be able to interact with your customers, get a feel for what they like about your work, and even create or join a community that brings people like yourself together!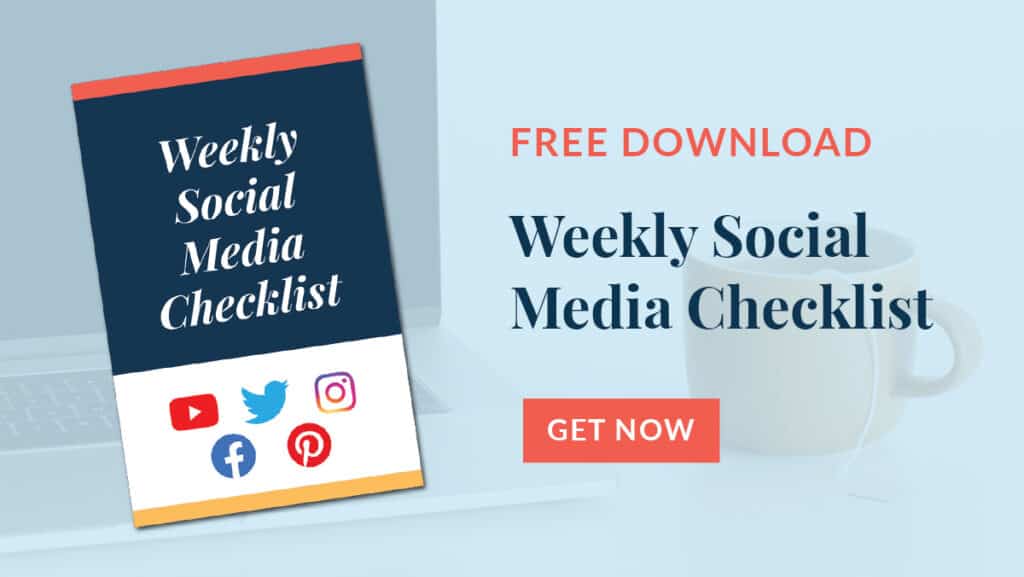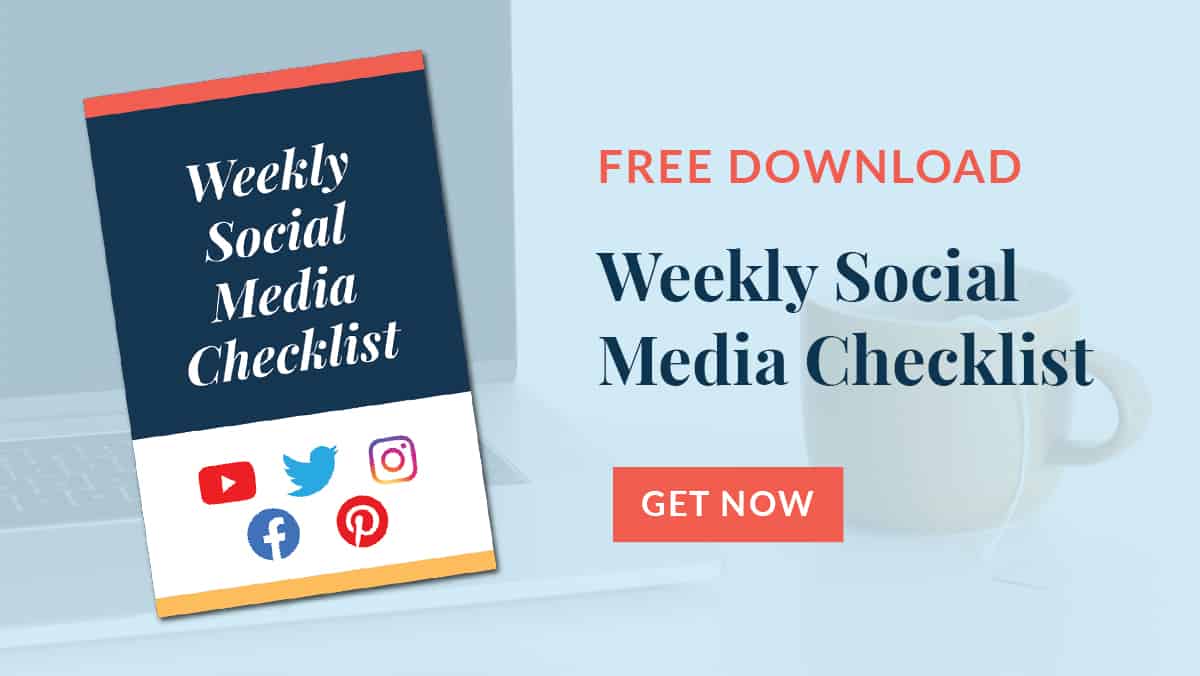 I know it can seem like a lot to manage, though! Building a social media schedule, running a campaign, creating content and posting regularly, and responding to each client interaction – before you know it, you won't have time to scroll through casually at your leisure! There won't be time to laugh at the funny cat videos or see what your cousin, who is backpacking across Nepal, is up to now! If you want to stay focused on running your business and enjoying the sharing, connecting experience Facebook can offer, then get in touch with my team and me. I'd be delighted to give you a free consultation to help you learn more about what Facebook has to offer your small business in terms of ROI and growth!
Links For This Episode:
WORKBOOK: How to Write Your Own Facebook Ads
CHECKLIST: Weekly Social Media Checklist
Rate, Review, & Subscribe on Apple Podcasts
If you like what you hear on the podcast, please consider rating and reviewing my show! Woo Hoo! Click here, scroll to the bottom, tap to rate with five stars, and select "Write a Review." I would love to hear what episodes you enjoy the most!
If you haven't done so already, please subscribe to the podcast. I'll be adding new content weekly, if you're not subscribed, there's a good chance you'll miss out. Subscribe now!