8 Steps to Automating Your Client Onboarding + Free Workbook!
When growing your business, probably the most vital component, second to, say, your product or service, is your clients. Where would you be without them? Home alone with a great coaching program you've rehearsed to yourself in the mirror countless times, that's where! However, the process of getting and onboarding clients is a big undertaking, requiring savvy marketing and outreach to draw them to you.
But let's say you've done that part (as if you've been listening to my advice throughout my many, many blogs!) Clients are coming to you consistently. Great!
So, now what?
Well, if you're going to develop a regular relationship with these lovely people, you're going to have to onboard them! Does that mean personally interacting with each and every one of them? If you want the best results for your brand, it sure does! Do you need to collect every piece of information from them by hand? Ideally, no, thank you! While it doesn't always go according to plan, a great onboarding system needs to run smoothly to set you and the client up for success.
To focus as much of your energy on the client, I recommend automating most of the process. It gets all the small details taken care of so you can get to work for your client immediately! To help you design your method, I want to share how I optimize my client onboarding, so let's take a look! P.S. I have a great client onboarding workbook that walks you through this entire process!
#1: Get To Know Your Client
Scheduling a free consultation is the best way to get your foot in the proverbial door. This first point of contact lets you get to know each other a lot better. You can hear their challenges, assess their goals and expectations, and possibly come up with a plan of action. Alternatively, it provides the opportunity to get to know each other a little bit! You want clients that are a good fit and vice versa. Everyone won't be a perfect fit, and that's okay!
When it comes to scheduling your calls with prospects, use a scheduling system, my favorite is vCita. A scheduling system provides a professional interface that seamlessly syncs with online calendars, sends automated reminders to your prospective clients, and allows two-way communication all in one place that is integrated seamlessly into my website. You want prospects and clients to be able to schedule a call with you when it works best for them and it keeps you out of the middle! See for yourself on my consultation page!
#2: Keep in Touch!
You can't foster a relationship with prospective clients if you don't follow up with them! While they'll certainly benefit from your service, it's easy for them to forget that fact unless you gently remind them. Don't let yourself get tripped up and miss out on a great business opportunity because of miscommunication and a lack of follow-through. I'm sure you've heard before that you have to touch people 8x before they will potentially become a customer!
As this is, in my opinion, a crucial phase in your onboarding process, I like to create a list that clearly lays out my ideal follow-up sequence. Then I build a template for each item on the list, from my "Thank you for meeting with me!" email to the "Have you had time to look over my proposal?" message and even my reports and audits. Having these templates all set up and ready to go means you only need to plug in a few crucial details in a fraction of the time it takes to write a whole new piece for every client. That means you can follow up right away after your consultation and make sure the onboarding process continues in an efficient and timely fashion!
#3: Digital Documents Are a Must!
Electronic documentation is a staple in the workplace. Gone are the days of faxing or mailing across the city (or even the country) to get the legalities out of the way. Making the process instantaneous and accessible is crucial for getting your new clients to do the work you assign to them! Nothing kills a business relationship like a clunky interaction and technical fuss and difficulties.
I have a staple contract template I use for all my clients that you can use yourself. It's clear, to the point, and I get it to them via DocuSign. This tool is one of the most well-known systems for getting e-signatures for a good reason. It's secure and intuitive for you and your clients. Once the legalities are out of the way, you can get into the fun stuff!
#4: Build an Attractive Welcome Kit
Welcome Kits are a great way to showcase what you're capable of to your new client. Not only does it contain all the crucial information and policies they should know for dealing with you and your business but giving it a clear, attractive design displays your level of professionalism. With a welcome kit, like the one I use, you have a complete reference document that delivers answers to most frequently asked questions. This way, you can focus on clarifying the work that needs to be done instead of responding to dozens of emails from each client seeking insight into your process.
#5: Don't Chase Your Clients for Payment
There's nothing worse than asking someone to pay you. I mean, you go to a shop, sure, you expect to pay for something, so it's only natural to waltz up to the cashier and slap down the plastic when you treat yourself. But in other lines of work, people are paying for your time, and it always seems to surprise them when that time runs out! So, rather than hounding them, automate the process!
The internet is your oyster when invoicing programs that can fit your budget, but Harvest is the best for my money. It integrates with my project management system, tracking time for each task and billing directly to that client's account. It allows me to create detailed, clean, professional invoices that integrate whatever payment options I've selected, from PayPal to checks! Once they have the invoice in hand, it's easy for clients to process payment.
#6: The Kick Off Call
Once your new client has completed the contract, paid their invoice and completed their intake form, it's time to schedule your kick off call. This is where you will dig deep into their short and long term goals. You'll see their business strengths and areas for improvement. All of this information will be super important to get your project started in the right direction. Remember those first 90 days of a relationship will set the tone for your business relationship.
#7: Make Project Management Simple
If you have a team of at least several clients with various projects, you need a system to manage them. Project management can make or break your business. When there are so many different requests and updates coming at you every day, you need a system you understand and can clearly communicate through and set up to be relatively foolproof.
Here, too, you have so many programs to choose from. When I first started my business, Asana was my go-to. I have since switched to Teamwork as it offers greater functionality for my growing business, but I have many clients still using the former because of how well it works for tracking projects. Depending on the scope of your business, you'll likely be using a system like this every single day. So, I recommend you do the research and find one that works for how your brain organizes. Then, all you need to do is plug in the project details and check boxes as you finish them off!
#8: Keep Track of Progress!
Losing track of time while you're buried in a project is so easy as a small business owner. Before you know it, you've either invested way too much into what should have been a brief project, fiddling with details, or had too many cooks in the kitchen with your team, quickly racking up a hefty bill. In either scenario, it's essential if you have a business that charges based on a project or by the hour.
As I mentioned, Harvest works with my project management software (Teamwork) to track time with each task I tackle or assign. That provides a guideline as I start to see how long certain items take, which then holds me accountable. Working automated time tracking into your business will serve your clients, but also yourself. If they're happy, you're happy, and you can help establish a healthy work-life balance by giving each project the proper amount of time and setting accurate, achievable deadlines.
So, What Did We Learn?
Let's review what we learned:
1. Automating the client onboarding system removes a lot of hassle for you and your prospects.
2. A seamless, easy-to-use system for clients to schedule their consultations and other calls is helpful for starting the process.
3. Creating templates you can quickly fill and send off for following up ensures clients don't fall through the cracks.
4. Using digital documentation and e-signature software gets the legalities out of the way as easily as possible.
5. Having an amazing welcome kit can "wow" clients and answers all the frequently asked questions so you don't have to!
6. Getting software that simplifies billing removes a lot of the fuss from the invoicing process.
7. Project management software is also essential to keeping track of your client's projects and helps you mind each task with less hassle.
8. Having billing and project management systems that help track the process of your work keeps you on task and accountable.
Free Resources
Onboarding new clients, while a necessary evil, can be a lot less evil than it seems. But setting aside the time to plan and implement a solid set of automations, you'll save yourself a bundle of time in the future. What's more, you'll know each prospect and client is getting the same treatment, regardless of how busy you are at a given moment. Ideally, both of you will have a healthier, fluid experience when developing a new working relationship.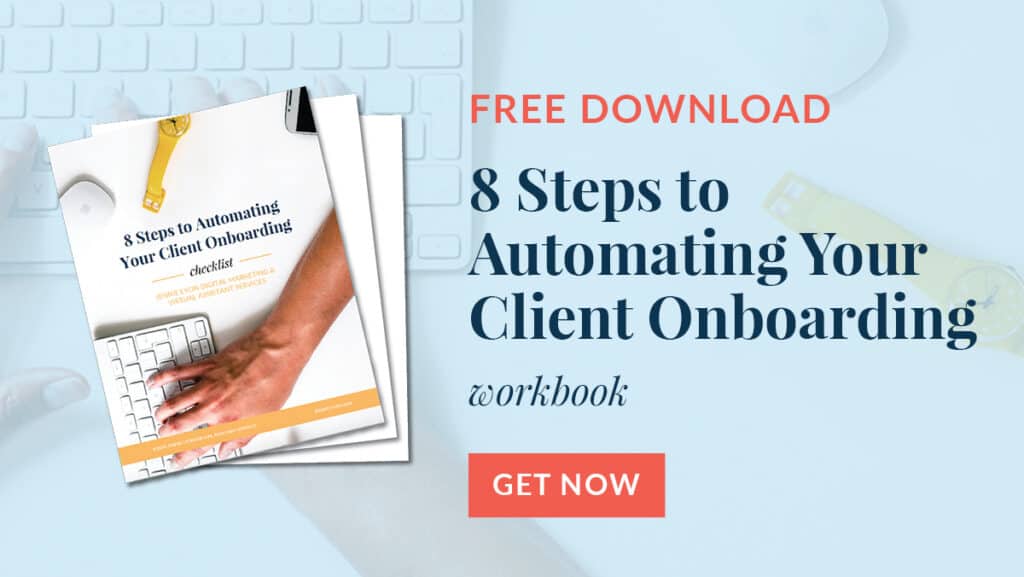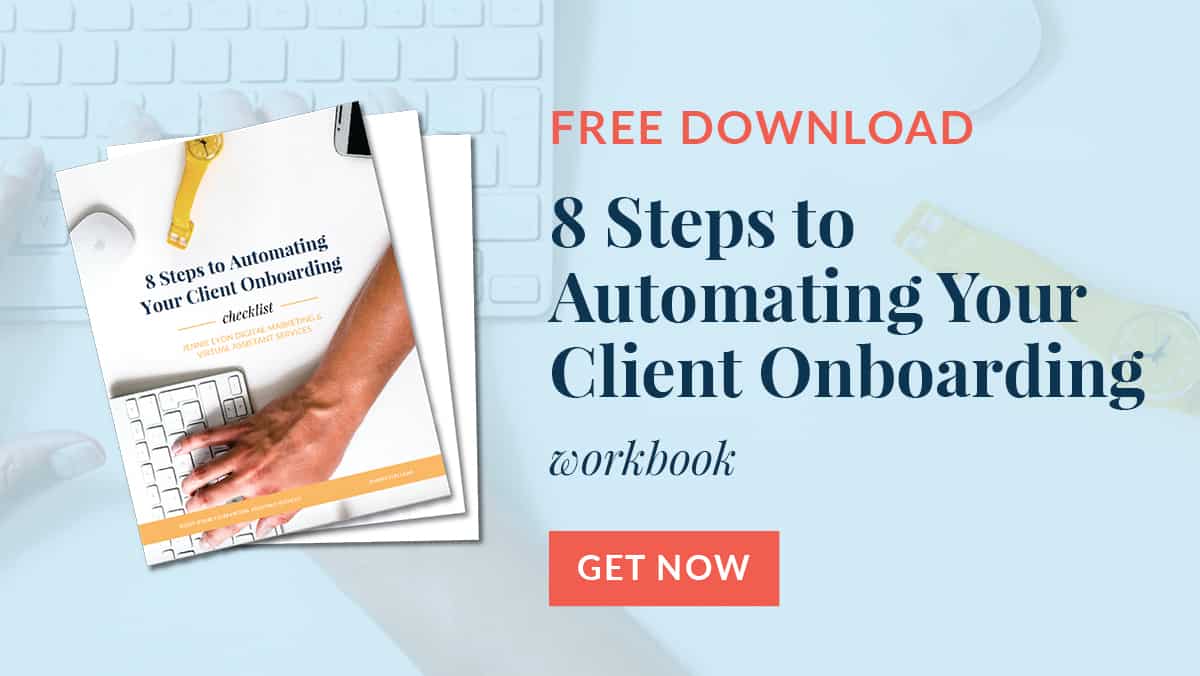 If you aren't using it already, I recommend you check out my free workbook, 8 Steps to Automating Your Client Onboarding! With that in hand, you can set yourself up for success easily. If you need a further hand with getting everything implemented, reach out! I'd be delighted to give you a free consultation! Though it requires a bit of work upfront, onboarding automation will provide you with so much more freedom in how you run your small business.
Links For This Episode:
WORKBOOK: 8 Steps to Automating Your Client Onboarding!
GOODIES IN STORE: Small Business Owners: New Client Welcome Kit
Rate, Review, & Subscribe on Apple Podcasts
If you like what you hear on the podcast, please consider rating and reviewing my show! Woo Hoo! Click here, scroll to the bottom, tap to rate with five stars, and select "Write a Review." I would love to hear what episodes you enjoy the most!
If you haven't done so already, please subscribe to the podcast. I'll be adding new content weekly, if you're not subscribed, there's a good chance you'll miss out. Subscribe now!