The Simple Digital Marketing Strategy Pillars for Business Growth
The marketing game has come a long way since its humble beginnings. Did you know that researchers and historians have found evidence of people using sales branding back in ancient Rome? I mean, it was joked about in Disney's Hercules, the idea of using the titular hero to market products, but to know it was actually already in practice is neat if a bit crazy to think about! At any rate, commercial marketing as we know it came about later in the 19th century, evolving to what it is today – an inescapable part of growing your business. Now, knowing that you need a marketing strategy and enacting a digital marketing strategy are two different matters.
As a digital marketing expert with more than 20 years of experience helping entrepreneurs thrive in the competitive business world, it's my job to make it seem effortless. Which it can be, with proper know-how and planning!
I want to show you how a straightforward baby's first digital marketing strategy will look and what to include in it. That way, you won't be intimidated by implementing one, whether entirely on your own or with a bit of help. As I said, I have more than 20 years of experience working with digital marketing. Still, I too had to figure it all out before I started advising people professionally (but I'll keep how long THAT took to myself, else I risk dating myself…!) So, let me help you avoid some of the start-up paralysis by laying out the pillars used to build a solid digital marketing strategy platform.
#1 Content to Share
Before you start casting about online to snare your ideal client avatar (ICA), you need something with which to catch them! (Don't worry, I'm not about to dive back into fishing metaphors!) What you need is content. Ideally, quality content that can showcase your expertise, provide social proof from stats that support your business, and is enjoyable to listen to, watch, or read. Here are some of my favorite forms of content generation I recommend to my clients.
Blogging
The bread and butter of digital marketing, blogs provide evergreen content that brings new eyes to your website and business as long as they're around. My most popular blog's bring in new viewers year after year after year.. And I wrote it back in <year>! But it has information in it that the people need. They're low maintenance, cheap to produce, and you can make them as long or as short as you need, depending on your time, energy, and resources. All that matters is that they're interesting. Furthermore, they are a fantastic way to incorporate affiliate linking, possibly generating passive income for you with every click! They are also easy content to share through your social media channels and easy to re-use in other marketing tools, like webinars, opt-in lead magnets, or even an e-book! But the best part about blogging, though, is they're easy to source out. You can hire a virtual assistant to do the writing and posting for you, leaving you to focus on running your business while it grows from this marketing tool.
Podcasting
Podcasts exploded in popularity not simply because people like to hear themselves talk passionately about what excites them, but they are excellent marketing tools. No matter how niche your podcast is, someone out there will listen to it, so why not start one? While they're a bit more of a time and financial investment than blogs, the barrier to entry is really, really low (which is why you can't throw a rock around the internet without hitting a podcast!) Plus, if you're already blogging, you can do what I do and use your written content as the platform speaking points for a solo podcast.
Though, if you prefer, there are various other podcast formats you can look into as well (they just get a bit more complicated the more people you start to add into the mix.) And, like blogs, they're easy to share, take up such little bandwidth on your website, and appeal to a broad audience that doesn't always have time to read your excellent content when they're constantly on the go! Stay relevant, grow an audience, wherever people are listening!
Video
In my recent blog, I went into how vital videos are to your business marketing model these days. People love swiping through stories on Instagram and Facebook. They spend hours streaming videos from product unboxing to how-to's to epic fails on YouTube. And a snappy little video ad will often catch someone scrolling through social media. Now, if you haven't noticed, I'm working in a pattern here from easiest to more challenging. But, despite that, making your own videos is not that hard! Really!
Are you reading this on your phone or laptop? Great! You're ready to hit record and make some quality content for your business! With a bit of time and research, you can find affordable ways to create engaging, professional-looking videos to share with your growing client base, building brand awareness, and maybe having fun with it, too! Over time, as it helps business boom, perhaps you will afford an improved camera or a ring light to make your content pop more!

Regardless, there are many possibilities that you can start working on right now. Like the aforementioned product showcase videos or some behind-the-scenes workings of your business, or even staff shoutouts and interviews. There's also what I do; record your podcast for easy, accessible video content! It's a great way to connect with your ICA and makes excellent evergreen content to share and re-use in webinars, online courses, or opt-ins.
Lead Magnets
Oh boy, do I love a good lead magnet. Have you been building your mailing list? Throw a lead magnet in there! They are so great for converting a casual subscriber to a dedicated customer by virtue of you giving them somethings super valuable for nothing more than their email address. You haven't started your mailing list yet? Well, throw a lead magnet out there! They also work for getting people to subscribe to your site's list. A good lead magnet is an enticing bit of free content. It can be a brief webinar, a helpful checklist, a handy how-to guide – really anything derived from your product or services.
These freebies get people interested in what you have to offer, generally making them want to come back for more. And while creating a lead magnet isn't necessarily more complicated than producing a video, podcast, or blog, I dropped this at the end for a good reason. You see, when you create all the previous forms of content, you can re-use them as lead magnets! When you do that, your ROI virtually doubles as you get more bang for your buck (and time!)
#2 Build a Clear Schedule
Now that you know the content you need to create, you can move on to the next phase: planning a release schedule. The key to my business success was consistency. I saw business boom once I figured out that I needed to get my quality content onto a regular, frequent schedule. But it's simply too much to wing it and post whenever you think of it. That's a surefire way to get overwhelmed and quit the whole digital marketing enterprise altogether. Instead, make an editorial calendar for your blogs, videos, podcasts, emails, and social media posts. It gives you something tangible to follow, holding you accountable, and takes a load off since you can plan ahead.
But how often do you share your content? SPOILERS: I have an answer for that!
Posting
When you're just getting your digital marketing machine up and running, I recommend posting a new blog, video, or podcast episode once a week. Once you pick a day for posting, it's then essential you stick to it. It builds expectation and trust in your brand.
If your content is dependable, it sates their interest every week. But leaves them wondering what you'll come up with next. It also provides you with plenty of regular content to share on social media. Which I think you should be posting three times weekly at least. Consistent, frequent posting is proven to grow your social presence exponentially, which will drive eyes to your business. Once there, people will check out the regular content and stick around to invest in whatever product or service you offer. Finally, as you start to build a mailing list, you'll want to create a newsletter.
Once a week, you'll send this out to share news and new content from your business. You can even include industry insights or trends. This proves you're keeping up with your market, maintaining relevancy, and building further trust in the eyes of your clients. Plus, when you have something interesting to share in a regular newsletter, people are much more likely to stay subscribed, holding out for a good deal or a hot new product that you have to share. To give you a little extra boost, let me pass along a free template I've been using for clients and myself for years; my 3-Month Content Calendar
#3 Don't Overlook Your SEO!
SEO. Three letters. One acronym; a term that is so intimidating to many entrepreneurs. Search engine optimization, however, is critical for business success. It lets you keep ahead of search algorithms, ensuring that when people look up, say, Ancient Rome (to bring it full circle), they find your store for bespoke Roman amphora replicas you craft in your backyard pottery studio. Figuring out what keywords draw eyes to your business will allow you to thrive.
That also applies to the content you're creating! Catchy headlines, trending topics, and buzzworthy keywords in your blogs, as well as your video and podcast descriptions, factor into those search engine results. That's why generating all that content matters so much. It gives your site more relevancy and, therefore, more opportunities to appear at the top of someone's Google search.
If that sounds like a lot, check out my free Small Business SEO Checklist to help you audit your site and its content. You may also want to consider working with a digital marketing specialist like me, who will refresh your website so you are at the top of everyone's search suggestions and can make a great first impression.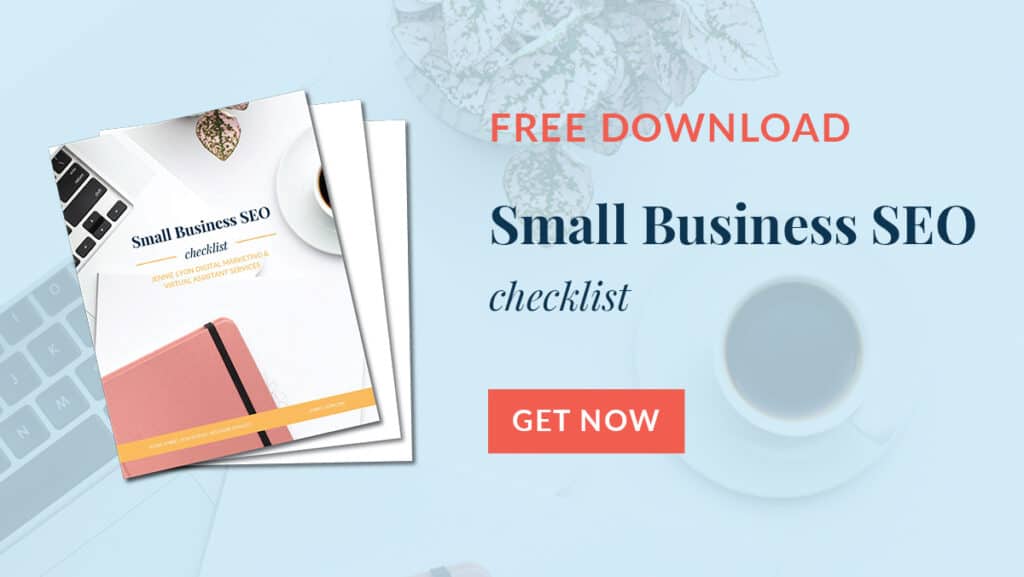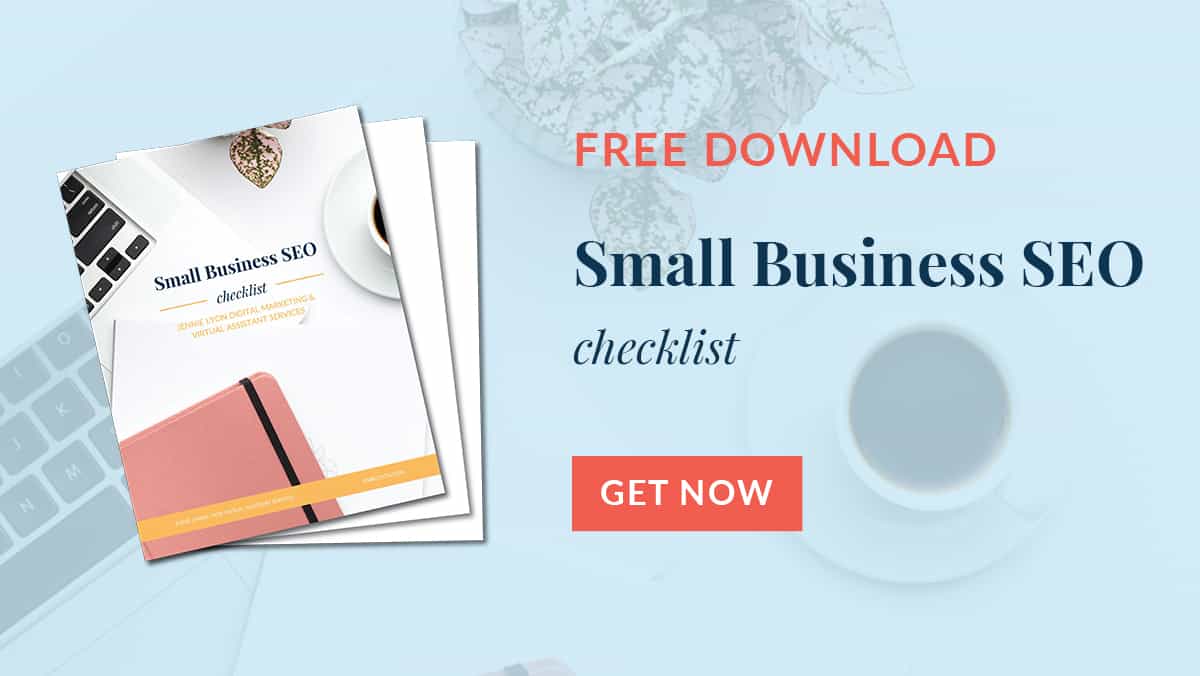 So, What Did We Learn?
Let's review what we learned:
1. To kick off your marketing strategy, you need content to share!
2. Blogs are one of the most accessible forms of digital content to produce.
3. Taking your expertise on the air with podcasts opens you to broader markets.
4. People like a good video, and there are plenty of affordable ways you can produce one!
5. Once you know the content you want to create, you need to plan it out.
6. Creating a schedule helps you avoid burnout, since you can plan out what you want to create and when it will be posted, well in advance.
7. SEO may be intimidating, but harnessing it gives your business a better chance to succeed in the long run.
Free Resources
So, that's all it takes. It's easy. You're ready to run a successful marketing campaign all on your own. With enough thought and time invested, you can generate blogs, record podcasts, make videos, and craft enticing lead magnets to get people interested in your business. Then, schedule it all and boost your SEO to ensure people find your website whenever they type in the critical keywords that represent your entire brand. You can be a one-person marketing machine AND entrepreneur, right?
Okay, so maybe I make it sound like a breeze. But that's because I've been doing it for so long and have an incredible team of virtual assistants working with me. I could not have built my business on my own, and you don't have to either! If you're not a marketing expert, all of these seemingly simple pillars can be daunting to take on yourself. But with people like me around, you don't have to! Please, get in touch. I'd be delighted to give you a free consultation. Then I can implement a winning strategy for you, and you'll honestly be able to say, "Gosh. That was easy!"
Links For This Episode:
TEMPLATE: 3-Month Content Calendar
CHECKLIST: Small Business SEO Checklist
Rate, Review, & Subscribe on Apple Podcasts
If you like what you hear on the podcast, please consider rating and reviewing my show! Woo Hoo! Click here, scroll to the bottom, tap to rate with five stars, and select "Write a Review." I would love to hear what episodes you enjoy the most!
If you haven't done so already, please subscribe to the podcast. I'll be adding new content weekly, if you're not subscribed, there's a good chance you'll miss out. Subscribe now!