5 Surprising Ways a Graphic Designer Can Boost Your Business
Do you have any art hanging in your home?
From the time when you're a teenager, putting up posters of bands and movies, to when you're an adult, putting up paintings, we all love being surrounded by lovely visuals!
That's certainly true in digital marketing. Every ad (even ones that are 95% text) uses graphic design to make them attractive to the eye. That's the whole reason why we have different kinds of fonts! As a copywriter, believe me, Times New Roman can get a bit boring after a while…
Most small business owners obviously can't afford a full-time graphic designer, but that doesn't mean you don't need one. Everything you turn out, from your branding and website to social media posts and emails, requires a visual touch. Thankfully, a virtual assistant with graphic design skills can step in and save the day whenever you need something to look pretty, striking, or even "business-like."
Here are some of the ways that our graphic design team can boost your business!
Business Collateral
Every business, no matter how small, needs business collateral, starting with a great logo!
A logo is a lot like your business' signature. At a single glance, even if there is no text to accompany it, a great logo will instantly communicate your brand to onlookers. A fantastic logo can generate buzz and create a lasting impression. If I asked you to name some of the greatest logos in history, chances are that you'd be able to give me dozens of examples off the top of your head.
Assuming you designed your own logo and have no graphic design skills, it could probably use a few tweaks to make it more streamlined and professional. If you don't have a logo yet, that could be something you want to talk with us about! We can get to know your business and design you a logo that accurately reflects what you're all about!
Once you have your logo, it should go on just about all of your business collateral, including your business cards, website header, social media accounts, email newsletter header, and, well, everything else! A great logo can tie all aspects of your business into a cohesive brand that will show up everywhere that you do!
Beautify Your Content
Ok, you have a fantastic logo you can put at the top of everything you create. But what does the rest of your content look like?
As a graphic designer, I always ask my new clients to send me all of the content they already have created so I can get a feel for their style. I will be 100% honest here: a lot of it is great but some of it might need a little work… But that's ok! Some small businesses may have worked with a graphic designer and branding expert, but most of those small business owners created that content themselves, and they are NOT graphic artists. Usually, my clients will have us beautify their content!
Webinar Design
As an example, let's talk about a webinar. When designing a webinar, you need all of your talking points and a clear and engaging script, of course. It's going to be the webinar's visual component that engages your attendees. It's all about the slidedeck! After all, that slidedeck will be what they're looking at the entire time you're talking. If it seems like someone created it in PowerPoint in about 15 minutes, that's not going to reflect well on you, no matter how much work you put into your script. And a good slidedeck will keep your audience engaged while a boring one might send them to multitask, or worse, leave the webinar all together.
A graphic designer can go through your script and translate it into a beautiful slidedeck that will impress your attendees and help them follow along with your content. And if you need some help with your webinar script, well, we have copywriters who can do that for you too! There are so many ways our team can help you deliver an incredible webinar!
These graphic design services aren't limited to webinars, of course. Beautiful design should show up in all of your content. If you have an online course, then every piece of it should look professionally designed. If you have a membership site, it should have the same level of professional design polish as your main website. The same goes for all of your sales landing pages, your social media, emails etc. Your content can be amazing, but if it looks boring, people will likely skip it!
Lead Magnets
Lead magnets fall into the subcategory of "content," but I wanted to draw specific attention to them.
Your lead magnets are your #1 way to get people to sign up for your email list. Without a valuable and actionable freebie leading the way, people rarely voluntarily sign up for an email newsletter. They need a form of enticement, and valuable content is the gold standard!
Here is the thing: your free content needs to be up to the same standards as your paid products and services. If someone was to compare one of your products and one of your lead magnets, side by side, they should be hard-pressed to tell the difference. That means you need a professional graphic designer working on your lead magnets to give them the same level of polish as your products.
In a world of 280 character limits, a picture is worth a thousand words!
When you're trying to grab folks' attention on social media, you're competing with countless posts, with countless new ones every second. If you're sticking purely with text in your posts, or grabbing images that don't engage your audience immediately they will likely blend into the constantly updating background. But when you add in an amazing visual component, it breaks up someone's newsfeed. This attracting their eyes to the thing that is "different." This is especially true with social media ads.
Of course, this works slightly differently for social networks primarily based around images. With Instagram, you don't see all of the text until you click on an image. That means your visuals need to be eye-catching enough for someone to entice someone to click and engage. It has to hook them immediately and pull them in to want to read the content.
No matter what social network you are posting on, having attractive visuals is a must. A graphic designer can create visual templates that you can customize whenever you want to post something. Alternatively, if you need something specific, they can also work with you to create a visual that will communicate your story at a glance. That's the power of using graphics in social media.
Video Editing
Video is rapidly becoming one of the most effective ways small business owners can connect with their customers. The effects of the pandemic have meant that most business owners are getting less (if any) facetime with their clients. So having video being part of your overall marketing strategy can be an excellent way to simulate some one-on-one time. It's an increasingly important part of social media advertising.
Of course, incorporating video into your marketing requires some video editing skills. Not all graphic designers have these abilities, but we sure do! All you need to do is record your video and send the raw file to us. We will edit it into a polished product that includes your logo, music and other visual components. You can then post it to Facebook, Instagram, YouTube, or Instagram Stories!
So, What Did We Learn?
Let's review what we learned:
Visuals are a hugely important part of digital marketing.
You don't need an in-house graphic designer to have professional, polished visuals for your small business. Just hire our team!
Your business' logo should encapsulate everything about your brand.
Your logo can then show up on all of your business collateral.
The more polished the visuals on your content, the more professional they will appear.
An attractive and engaging slidedeck is a key component of any webinar (and online course, membership site, etc.)
The visual polish on your lead magnets should be the same as your paid products.
Adding images is a great way to get by Twitter character limits to communicate a complex message.
Having a visual component to your social media posts can attract the eye in a newsfeed.
Video is becoming more and more important in digital marketing, which means you need a pro editor!
If your small business's visuals are a little dated or lacking, hiring our team or an experienced graphic designer is an easy way to boost everything from your website to your social media. If you want to get a jumpstart on that, I offer a free pack of 15 social media graphics on my website. Using them, you can add that special something to your social media posts to see firsthand what graphic design can do!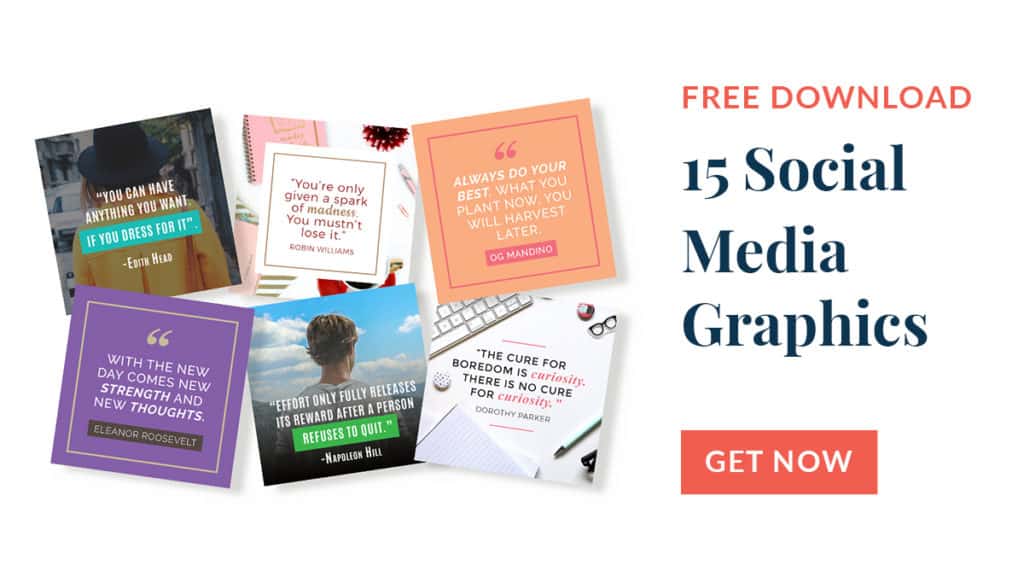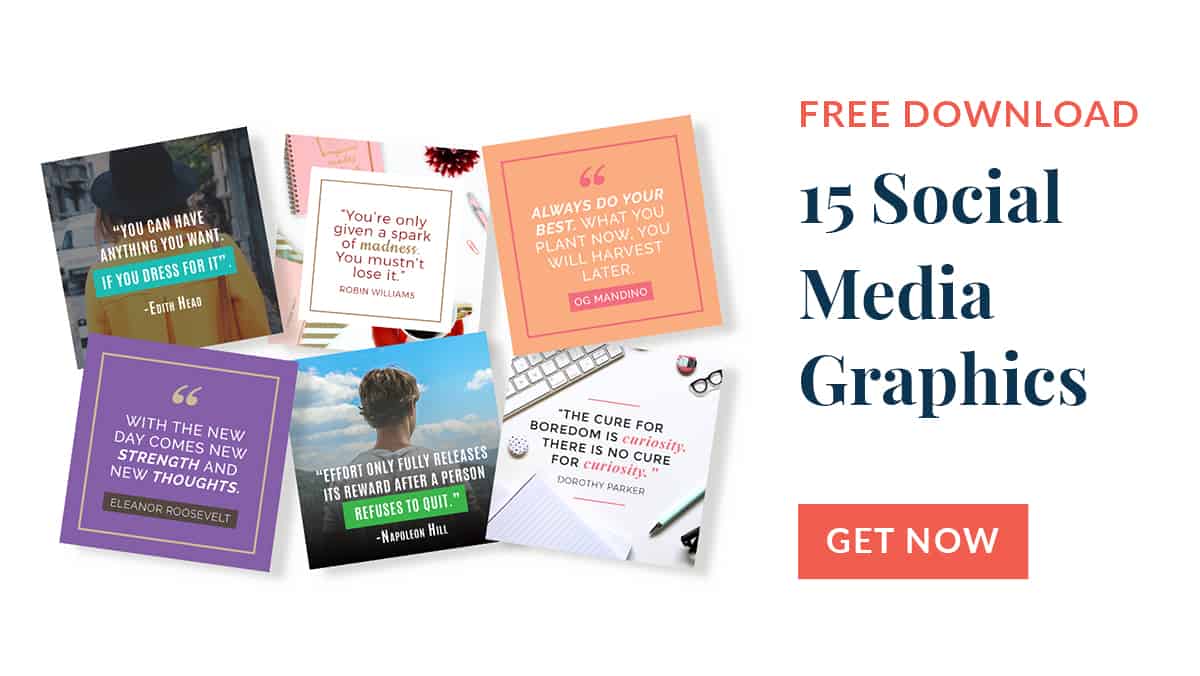 Or if you'd prefer to jump in with both feet, I invite you to contact me here for a free consultation. Let's get together and talk about how we can revitalize your business and supercharge your content and social media using graphic design!
Links For This Episode:
Rate, Review, & Subscribe on Apple Podcasts
If you like what you hear on the podcast, please consider rating and reviewing my show! Woo Hoo! Click here, scroll to the bottom, tap to rate with five stars, and select "Write a Review." I would love to hear what episodes you enjoy the most!
If you haven't done so already, please subscribe to the podcast. I'll be adding new content weekly, if you're not subscribed, there's a good chance you'll miss out. Subscribe now!