5 Ways a Virtual Assistant Can Fill Your Webinar
Do you ever worry that no one will show up at your webinar?
Don't worry; it's a super common fear. Performers, speakers, politicians, and others who do public speaking always worry that, after weeks of preparation, that there will be no one in their audience. It's the same for small business owners who decide to put together their very first webinar.
But that doesn't need to happen. With adequate webinar launch planning, a digital marketing strategy that includes content marketing, email marketing, and social media marketing and advertising, you can fill your webinars with prospective clients, just waiting to be converted. And here is how our team of digital marketing virtual assistants can help!
You've Got to Have a Plan
The planning phase of a webinar might be the most important part.
One of the reasons why many first-time webinar presenters find themselves in over their heads is because they didn't do enough in the prep/planning stage. Believe me, a lot more needs to go into it than just doing a little research!
First, what kind of webinar do you want to present? There are two types you may want to consider: a live webinar or an automated one.
Live or Automated?
A live webinar is precisely that. You sign people up for a specific time, give them a link, and then present the webinar live to them. If you want to pull off this kind of webinar, you need to do a TON of prep. Your slides need to be flawless. Your script needs to be polished. You should also have someone working tech in the background. You also might have to worry about "stage fright" if you've never done a live presentation before.
An automated webinar is, in many ways, quite a bit simpler. HOWEVER, I never recommend starting with an automated webinar. You really need the live component for many reasons. First, it's great practice! After you've presented your webinar a few times, you'll have the content nailed down! Especially since your audience will be able to ask questions which might dictate changes to the webinar content or flow. And once you get your webinar to the point where it's converting at a very high rate live, you can then automate the process.
You can edit your audio exactly as you'd like, "perfecting" your presentation. And not all webinars do really well automated. You're going to lose that certain spontaneity that comes with a live webinar, connecting you with your participants. And if your webinar is one where your audience needs to engage a lot or tends to ask a lot of questions, automation isn't going to convert as well for you. There are ways to have a Q&A with an automated webinar via a chat functionality, but it isn't the same experience.
Pick a Webinar Topic that Converts
No matter which kind of webinar you pick, choosing a great topic will be vital. You're going to be facing some tough competition out there, and the title/topic of your webinar is going to set you apart.
Your topic should tie perfectly into your already-existing products and services. After all, the reason you want to do a webinar is to convert your participants to paying customers. Even if you are an expert on your topic, do research to ensure that you have documented information to back up everything you've said in the webinar. Researching other webinars done by your competition should also be a part of your overall prep so you can avoid mistakes and learn what works.
Integration for the Win!
Webinars are fully integrated presentations that cover all of these aspects. Putting them together requires some technical expertise, which is something that many small business owners lack, so definitely reach out to a professional for assistance for the best webinar experience.
The Script
First, your script. Unless you plan on winging it (which I definitely don't recommend), it can pay to have a detailed script written to keep you on track. This script needs to be created alongside your slidedeck to ensure that you will hit all of your points in the presentation part of the webinar. Hiring our team to write your script will keep everything sounding natural!
The Slidedeck
Second, your slidedeck. This is just as important as your script, okay, more important. Unless you will be on camera for the entirety of the webinar (some people prefer this, some people prefer a combination), your audience will be looking at your slides the entire time. They need to include an abbreviated version of the information you're speaking about while also being visually appealing. Hiring a professional graphic designer to create your slides is a fantastic idea. Our team specializes in graphic design for webinars, so we have a formula that we follow that ensures your audience will stay engaged! P.S. You should have about one slide per minute of your presentation.
You Need the Right Equipment
The equipment you use for your webinar is also going to determine its quality. Since audio and video is such a vital part of a webinar, I highly suggest investing in a decent quality microphone, such as the Blue Yeti. You also need to have a crystal clear camera, if you're computer isn't equipped with one.
Finally, the tech platform you use to hold the webinar needs to be super reliable. If you're thinking of automating your webinar in the future, I highly recommend Demio, but there are a ton of different ones out there. If you have any questions about choosing a platform for your webinar, I'd be delighted to go through your options with you!
Registration & Marketing Strategy
If you want people to attend your webinar, then people will need to know about it!
Creating a comprehensive digital marketing campaign for your upcoming webinar is a perfect job for our digital marketing team.
Social Media & Email Marketing
Your first stop should be social media. Informing your already-existing followers of your upcoming webinar is a great way to hook previous customers and those on the fence about your services. A webinar is a low-pressure way to give them a chance to see what you can do. If you want to inform your loyal customers that you are doing a webinar (and you absolutely should), be sure to fire off a message to your email list!
If you don't already have a list of raving fans, then, I highly recommend you start building one before you start building your webinar! This way you have a list that is already being nurtured by you and would love to join one of your webinars. It's the quickest way to fill a webinar as well!
Facebook Ads
You might also wish to reach a wider audience by using Facebook and other social media ads. With an effective ad campaign, you can get the word out to your exact target audience and send them to a dedicated landing page for your webinar. Best of all, social media ads tend to show a fantastic ROI as compared to other forms of advertising. Hiring a virtual assistant that specializes in social media ads to write and design your ads it quickly becomes the key to filling up your webinar!
Pre-Webinar Onboarding Sequence
After you get someone registered, you will need to get them up-to-speed about everything they need to get online with you. That's the job of a pre-webinar onboarding sequence. Immediately after someone registers, you should automatically send an email to them with all of the webinar details. I would recommend sending another automatic email out the day before the webinar to remind them. Then one hour before the presentation, that email should be sent containing the link to participate. And finally, an email should be sent to them as the webinar is starting (a few minutes before)!
Taking these steps can significantly improve your webinar attendance. So it pays to hire a virtual assistant to create and schedule them for you.
Live Webinar
If it wasn't obvious, I personally prefer live webinars. There is simply no replacing the engagement that comes with doing it live. Your participants become "part" of something, rather than just listening to your webinar half-heartedly in the background. If you are speaking to them live, their engagement with the material will go through the roof.
Have Tech Support On Hand
However, there is always the possibility that something could go wrong. That's why a live webinar requires that you have someone working on tech support behind the scenes. After all, you're presenting the material. If you suddenly needed to stop to help one of the participants with their audio, that would disrupt the flow of the webinar and prevent engagement. It's much better to have someone like a virtual assistant working behind the scenes to handle these problems so you can keep moving ahead with the content.
Moreover, a virtual assistant can help with other tech-related issues, like recording the webinar for future replays, managing the chat, and sending out links. Trying to do all this yourself is borderline impossible when you're trying to engage with your participants.
Another way a virtual assistant can help is to gather questions from the participants for a Q&A session immediately after the formal presentation. This engagement strategy will keep your audience active throughout the webinar and create some personal connection between you and the participants. If you help someone with their problem in the webinar, they will be much more likely to let you help them through your products and services!
Post Webinar Sequence
You want to make sure that you send out an automated post-webinar email sequence to everyone who attended. Here, you can put a spotlight on some of the products and services you spoke about in the webinar and offer them even more solutions to their problems. The webinar should have "primed" them to be receptive to your services. So these emails should seal the deal and convert them, if they didn't convert live on the webinar! You could also ask the participants for feedback about your presentation, giving you lots to work with the next time you create a new webinar!
Even better, once written, you can set up that email campaign to be automatically sent out after anyone downloads the recorded webinar!
A Webinar is the Gift that Keeps Giving
In my opinion, a professional, polished webinar is the gift that keeps on giving.
You want to make sure that your technical support assistant records the entire webinar. That way, you can replay it after the initial presentation. A webinar can make for a fabulous lead magnet or download to build your email list.
So, What Did We Learn?
Let's review what we learned:
There are two types of webinars: live and automated
A live webinar can offer you high levels of engagement with your audience.
An automated webinar can be edited and polished before your audience consumes it.
You need a topic and subject that will inspire conversions. Make sure your webinar topic speaks directly to your ICA (ideal client avatar).
There are four parts of a webinar: your strategy, content, equipment, and marketing.
Filling a webinar requires a robust digital marketing strategy, including email marketing, social media marketing, content marketing and advertising.
Have an automated pre-webinar onboarding sequence prepared that's automatically sent to those who register.
Having someone doing tech support behind the scenes is key to a smooth webinar.
A post-webinar Q&A is a great way to boost engagement with participants.
Always record your webinars and include the replay as part of your post-webinar email sequence. Then convert your webinar into a fantastic lead magnet for your website!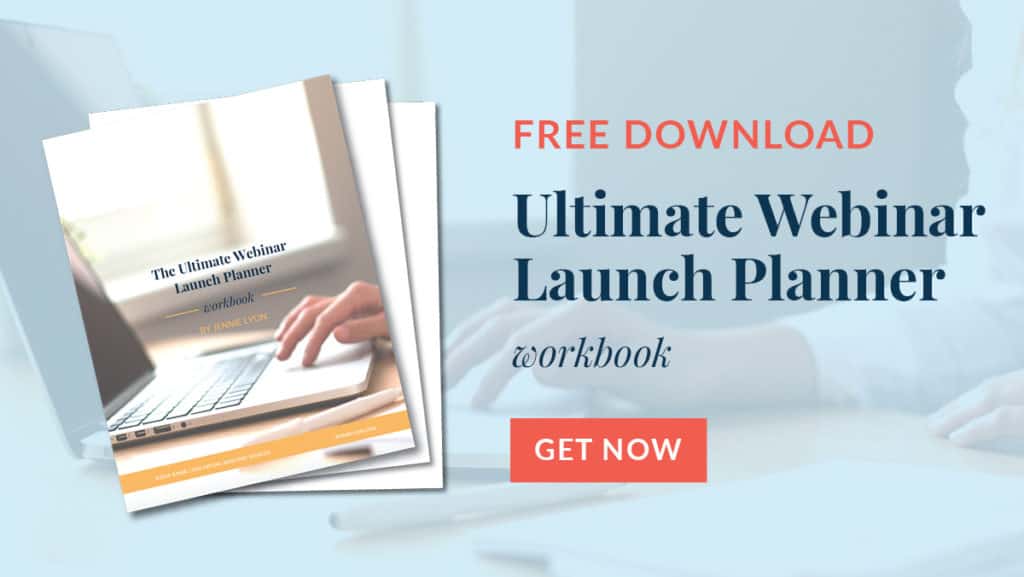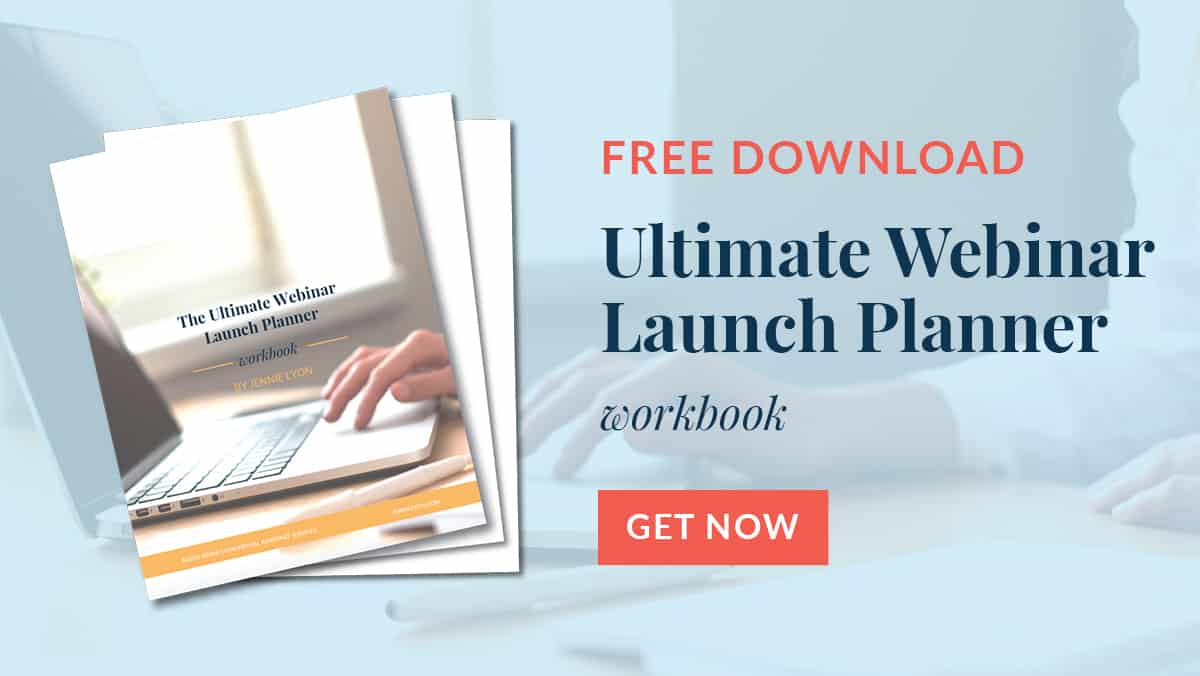 Webinar Resources
All of this is just touching upon everything that goes into creating a webinar and filling it with interested potential clients. If you want to learn more, you can check out my free download, The Ultimate Webinar Launch Planner: Workbook. Inside, I will break down everything you need to create a fantastic webinar. And if you're working with a virtual assistant to create your webinar, I invite you to check out my free Ultimate Step-by-Step Webinar Checklist for Your Virtual Assistant! It's the same document I use to keep me on track when I'm doing tech support for my clients' webinars.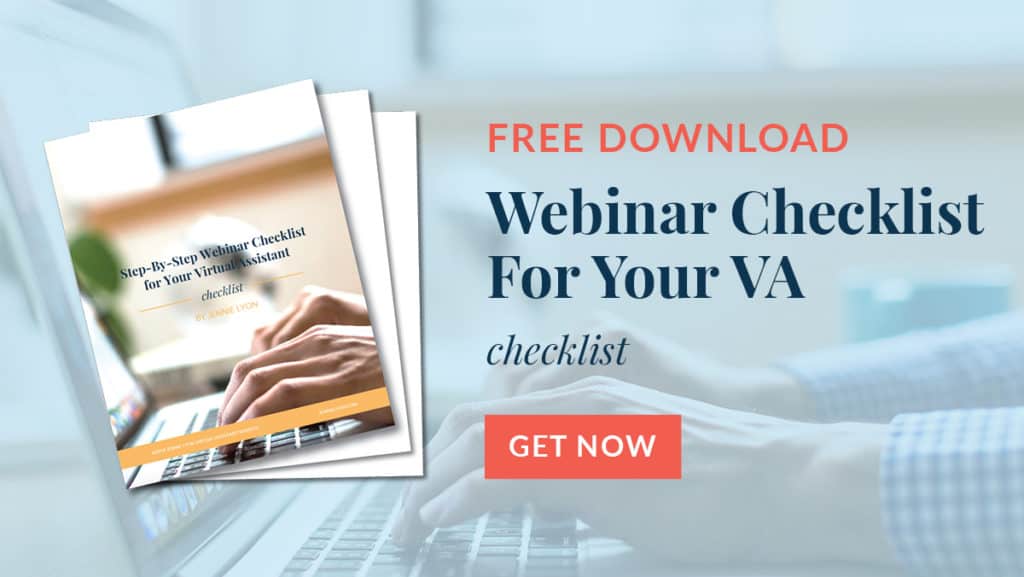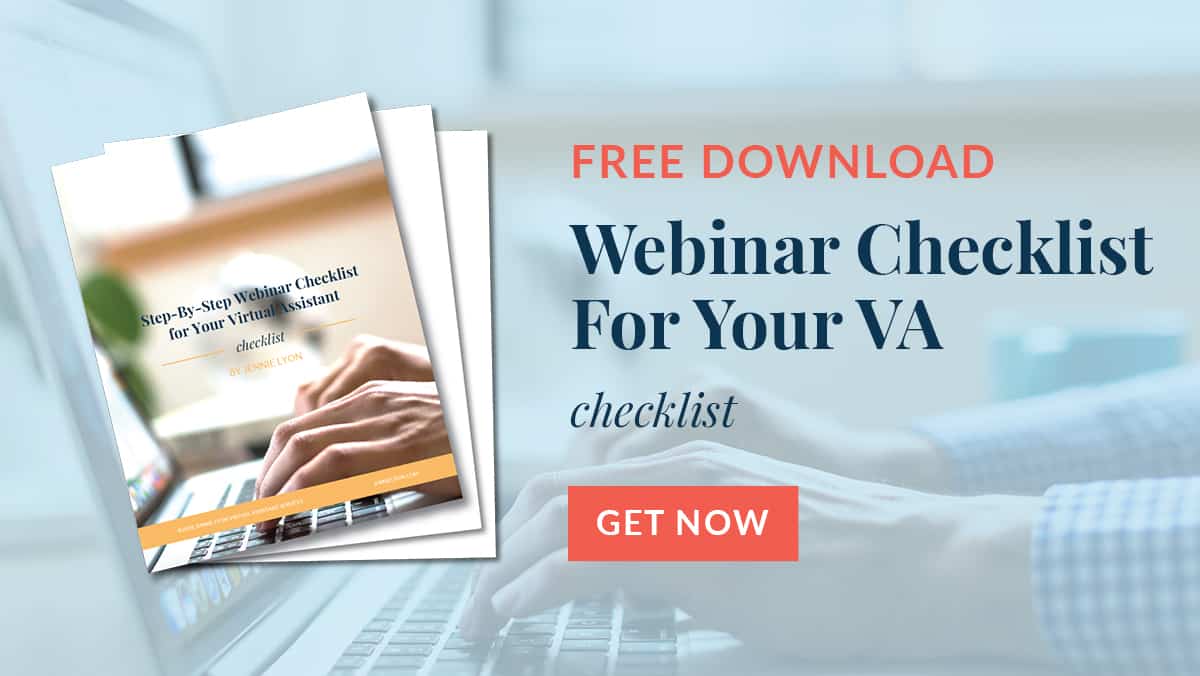 Webinars are one of my favorite ways to connect with potential clients. I highly encourage all of my clients to give them a try. If you'd like to learn more about how I can help you put together your first webinar (or make your next one go a little smoother), I invite you to contact me here for a free consultation. Let's put together a webinar launch strategy that will convert participants into new clients and give you a piece of content that can live on long after the webinar is over bringing in new clients like clockwork!
Links For This Episode:
Rate, Review, & Subscribe on Apple Podcasts
If you like what you hear on the podcast, please consider rating and reviewing my show! Woo Hoo! Click here, scroll to the bottom, tap to rate with five stars, and select "Write a Review." I would love to hear what episodes you enjoy the most!
If you haven't done so already, please subscribe to the podcast. I'll be adding new content weekly, if you're not subscribed, there's a good chance you'll miss out. Subscribe now!