Best Steps to Automating Your Client Onboarding + New Checklist
How much time does it take you to onboarding for a new client? In short, a lot!
If you know me, you know that I LOVE meeting new people. And that especially goes for new clients! When I have the opportunity to work with someone for the first time, I get super excited. I want to get to know them, their business, and their dreams and goals for the future. It's one of my favorite parts of my job and I'm sure that you feel the same way when you land a new client of your own!
Do you know what most people are not a fan of, though? New client onboarding. It can be very time-consuming and feels like a million different steps! Ideally, your new client onboarding system should run smoothly. Leaving clients feeling taken care of, but in the messiness of real life, that doesn't always happen. Dozen of documents need to be prepared to be signed.
There is also a ton of stuff that has to be completed before you can even start working with them. Other than the work agreement, you should be sending them a welcome kit full of onboarding emails with information on what it's like to work with you as well as instructions on things they need to do before you can even get started (client intake forms, sharing of passwords, scheduling of the kick-off call etc.) It's all worth it, but frankly, if the system isn't automated you are going to feel overwhelmed.
A positive onboarding experience confirms to your clients that they made the right choice in deciding to work with you. This helps with retention as well!
Make it a Positive Experience
Basically, you want to create a seamless client experience from the very first touchpoint to the very end (when you wrap up their project)!
How you onboard new clients will set the tone for your ongoing relationship with them.
Automation is Key
Several years ago, I transitioned over to automating my new client onboarding process. Now, I simply trigger a sequence of events to happen when someone becomes a new client and I don't have to do a thing. It's a massive time saver!
Of course, you still need to give new clients your personal time and attention. There's no replacement for that! However, if you can set up a series of basic procedures to provide your clients with the information they need and documents you need back, it frees up your time to give the best possible client experience and get your business working for them straight away.
Over the years, I've refined my automated client onboarding into a 7-step process. If you'd like to see what I mean, I invite you to download my client onboarding checklist. You can download and follow along with this blog, video or podcast (it's a fillable form) or print out and check it off at your desk.
My Eight Steps
As I said, there are the eight steps I use for new client onboarding. This system works very well for my client onboarding needs, but yours might be a little different. Do whatever you need to customize it to your business needs. In that spirit, here we go!
Step #1: Where is All Begins, Offer a Consultation
For most of my clients, my first point of contact is a phone consultation. This not only gives me a chance to talk "in-person" with the potential client, but I can provide them with a feel for my personality, discover more about their goals and needs, and also explain to them what it looks like to work together, while setting up expectations. You should never skip the phone consultation, as it forms the very foundation of your relationship.
To save yourself a ton of time with scheduling that initial consultation, I highly recommend using a scheduling software that will plug right into your website. Prospective clients can pick a date and time that works best for them, fill out any initial intake questions you have, and get reminders without you doing a thing. It is a fantastic point of first contact that gives your business that extra level of professionalism. I love using it to automatically schedule free consultation calls.
I use vCita as my scheduling system and I love it! It seamlessly syncs with my online calendar, sends professional reminders to prospects of their upcoming consultation, allows me to communicate directly with prospects and clients through the user interface, and integrates wonderfully into my website. This system saves me the headache of having to schedule phone calls myself (there's no back and forth!), and also makes it much easier for the potential client. They simply put in the best times for them to have the meeting, and we're off to the races!
They like you, they really like you!
So, you prepped and nailed the consultation and the prospect says they are ready to work together. Now what? You do a happy dance of course! Then, it's time to welcome them to your team!
Step #2: Wow Them with Your Welcome Kit
A welcome kit is the best way to welcome a new client to your team. I like to break my welcome kit into several short nurturing emails that walks them through the process of working together! You want to give them information slowly and selectively. If you ask for too much information at once or ask them to complete too many tasks at a time, they can get overwhelmed. Give them step-by-step and bite-sized instructions that clearly outline exactly what you need from them.
A comprehensive welcome kit should look something like this:
The Welcome Email (email #1)
Your first correspondence with your new client has to be amazing! You want to thank them for choosing you, welcome them and let them know how excited you are to work with them! You want to outline what the onboarding process is going to look like. They should be made aware that they will receive the work agreement via Docusign and an invoice from your invoicing software.
After you send the welcome email, you should send your work agreement to your new client which leads to step 3.
Step #3: Send a Document for e-Signature
Once a client is ready to sign on the dotted line, you need a simple system for getting all the fine print and legalities out of the way.
My top choice for getting e-signatures is DocuSign, probably the most popular and trustworthy option for online businesses. It allows instant reviewing and signing of proposals and contracts, without all the fuss and technical difficulties involved with sending PDFs back and forth. If you are looking for a great contract template to use in your business, here is the one that I use with all of my clients.
I have all of my different types of work agreements and proposals set up in Docusign. All I have to do is add their email address and name to the appropriate one and hit send! What's great about using a system like DocuSign is that you can monitor their progress with signing. That's not possible when you're sending them a document by mail or a PDF.
Step #4: You Want to Get Paid
If you haven't got an automated invoicing system set up, and you're still fiddling with hand-made templates that you send attached to emails, with no live links to automatic payment options, you really need to get on that!
There are so many invoicing programs available out there, and you can use whichever suits your business needs and your budget. My favorite, hands-down, is Harvest. It integrates with my project management system and allows me to accept payments via credit card, PayPal, bank transfer, and check.
Another part of automating your invoicing system is designing clean-looking, professionally branded invoices. These should be customized to your business and include links to payment options for your clients that will leave them with a good impression.
The Managing Expectations Email (email #2)
Once you've welcomed your new client, send the work agreement and invoice, it's time to give them a little more information via the managing expectations email. This email should break down what to expect when working with you, how and when to contact you. Make sure each step is super clear to avoid any questions or confusion.
Step #5: Follow Up with Slow Go's
If somewhere in your client onboarding process, your new client falls off the radar, it's time to act super fast! If you don't, you chance that you will lose the prospect. You want to jump on a follow up email sequence to cement your business relationship with them. Many clients will get caught up at the onboarding stage. It's the point at which most entrepreneurs get derailed, and miscommunications happen, so make sure you act quickly to get them back on track to finishing up the onboarding process so you can get to the fun part, actually working together!
The Final Steps Email (email #3)
This email will give your new client the final steps to working together. For instance, this should include your intake process (this should be an online form that they can easily fill out and submit to you), how to share information with you (hello, Dropbox or Google Drive), and the option to schedule a kickoff meeting (automated through your scheduling system of course!)
Step #6: The Kick-Off Call
The client has signed, paid and filled out their intake form – oh yeah! You did your happy dance, now it's time to get to work!
Those first 90 days of a relationship will set the tone for your business relationship. You want to dig deep into their business strengths, areas for improvement, and their short and long term goals. All of this information will be super important to get your project started in the right direction. Therefore, make sure to prep and nail it during your kick off call!
Step #7: Project Management & Communication is Key
When starting a new project with your client you want to ensure that nothing falls through the cracks and that every project is finished promptly. This is where a project management system is key. By creating Projects and Tasks, you will keep your client onboarding process straight, along with every other project that you do for your client. Due dates? Easy. Collaboration? It's no problem!
I use Teamwork Project Management, and I love it so much! There are a ton of alternatives out there, including Asana and Trello. So check out a couple of different project management systems! Pick one that is going to work well for you, your business and your clients.
Step #8: Track Your Progress & Stay In Touch
For every business that bills clients on a project or hourly basis, accurate time tracking is essential.
I use Harvest as my time tracking system because it is so easy to use. Customize it to track multiple projects and tasks for various clients and it integrates with Teamwork. As stated above, it is also a robust invoicing system, making it a win-win in my book!
Customer Onboarding is Essential
Customer onboarding is an essential part of growing your business. Take the time to set up a client onboarding process that is going to build a lasting relationship with your clients while helping you gather the information you need to make working together an amazing experience.
I hope you found this information helpful for creating your own automated client onboarding system. Remember to grab my new Client Onboarding Checklist.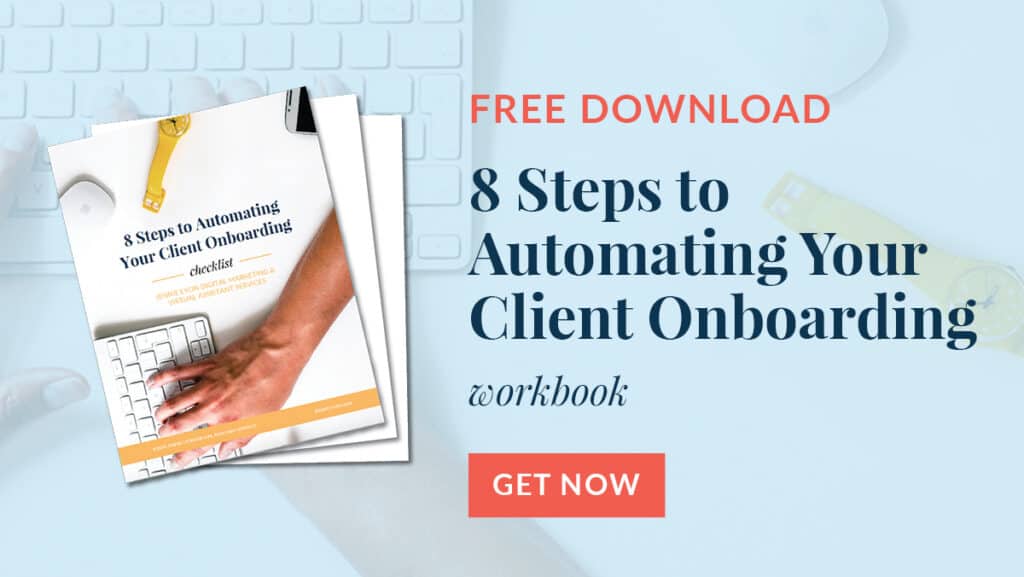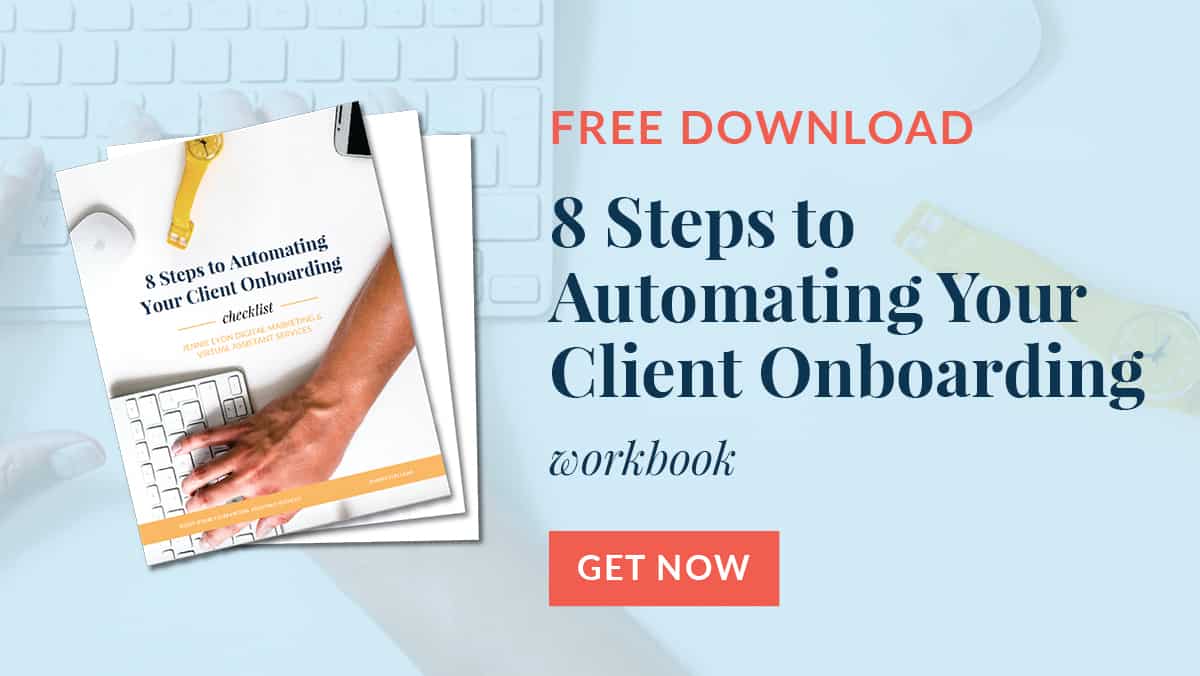 Of course, if you don't have the time to overhaul your onboarding, we can get your business set up with all of these tools and automate the process for you!
If you're ready to get started, I invite you to contact me today for a free consultation. Remember if reading the blog isn't for you, you can listen to this content on the Digital Marketing Made Simple episode at the top of this blog or watch the video on YouTube.If you like what you hear, I invite you to join my Digital Marketing Made Simple Podcast Community on Facebook to participate in the conversation and share your thoughts. I'm super excited about how everything has been going with the podcast, so I'd love you to check it out!
Links For This Episode:
Rate, Review, & Subscribe on Apple Podcasts
If you like what you hear on the podcast, please consider rating and reviewing my show! Woo Hoo! Click here, scroll to the bottom, tap to rate with five stars, and select "Write a Review." I would love to hear what episodes you enjoy the most!
If you haven't done so already, please subscribe to the podcast. New content is added weekly, if you're not subscribed, there's a good chance you'll miss out. Subscribe now!