How to Create a 3-Month Content Marketing Calendar in 1 Hour (Free Template!)
Want to know an online business secret?
Content equals growth!
It's true! Content creation has been the core of everything I've done with my businesses for the past 20 years. However, when I took my content creation to the next level that is when my business really took off.
Take my green lifestyle blog, Sweet Greens. Haha! Are you thinking, What? She has a green lifestyle blog too? Sweet Greens was born of my passion for environmental causes and green products. It started as a simple blog (I thought it would be a fun way to document the fun eco-friendly projects I was doing with Eben, my son, but soon became something much more.
My content attracted sponsors and large companies interested in partnering with me on their green initiatives, leading to rapid growth! I was writing for big names like Target, Cascadian Farms, Applegate Farms, and Stonyfield Farms. After writing copy of these brands for a few years, I knew that content creation would be at the very heart of my digital marketing business. But I had no idea how true that would be!
I've been releasing content every single week for… You know what, I don't even know for how long! Over ten years? I truly believe that consistently providing valuable FREE content is one of the reasons I'm where I am today.
Let me put all this another way: When it comes to growing a business, consistency is key! The same is true when it comes to your content creation.
How Consistency Matters
To see how consistent content creation can genuinely make a difference for your business, let's take a peek at my business.
In terms of weekly content creation, I create a weekly blog, video, podcast, newsletter, and social media content, all released on Tuesdays. I know it sounds like a lot! And you don't have to do it all! You can choose one type of content to put out each week. If you are great at writing, a weekly blog is for you! Love being on camera? You'll shine in a video. Great live? Try a podcast!
I create all three because I've received requests for different types of content for years and decided, why not give it a try! Since we put this plan into action, we've gotten an incredible response. The day of and after I publish my content, my calendar fills up with curious, potential clients! Like clockwork!
It doesn't really matter what form of content you provide. Some people blog, some people do YouTube videos, and others create regular podcasts. Pick the medium that works best for you and your personality and do it! But make sure you are consistent.
If you don't show up every week, your audience isn't going to show up!
If you don't show up every week, your audience isn't going to show up every week. Over my years of working with clients, I've seen people come on board, incredibly excited about creating consistent content for their business. But then, they get busy. I get it! Life happens! Their first thought is that the content isn't that important and it drops off. They tell me that they just don't have time to do it, and I tell them that I don't think it's a good idea. Wink. Wink. The entire point of offering valuable and free content is to establish yourself as a leader in your niche and how does that happen. Consistency.
Inevitably, I get a panicked email or phone call from those clients a few weeks later, telling me, "People stopped calling my business. What happened?" What happened is that you stopped creating valuable free content!
Content keeps you top of mind. I hear over and over that my newsletters, for example, are a fantastic tool for many of my clients and prospects. Rather than delete them, they achieve them. When they want to add a new product or service to their business, like a webinar, they simply search through my old newsletters for tips and tricks! And if I'm lucky enough, they call me to help them launch their new idea!
Now, I've started to hear how valuable my library of videos and podcasts are. Blushing over here! But you get the point, I have a ton of free valuable content all over the place.
Don't Forget Your Opt-Ins
Another place where consistent content creation has made a significant difference for me is through my opt-ins. I did a BIG push on opt-ins last year, creating new ones and revamping many of my older ones.
Oh, FYI, recycling your old content is always a fantastic idea. More on that later!
With these opt-ins, I've been doubling my email list every year. To replicate this success, all you need to do is provide your ICA with free and valuable content they can download. Create a fantastic opt-in that you would be proud to sell, and then offer it for free! All they need to do in return is give you their email address! Personally, It's the deal of the century!
What's remarkable is that there is a direct correlation between the rapidly expanding size of my email list and the growth of my company. My income, my clients, my team, everything has gotten bigger in the last few years! Think about it this way:
Consistent Content Creation -> Rapid Email List Growth -> More Customers -> More Money!
But this takes time. It isn't something that's only going to take you a couple of months. Behind every successful business are years and years of hard work.
And believe me, creating content IS hard work. It's tough to create consistent content because it's time-consuming. And one of the biggest time-sinks that my clients have is figuring out what to write about.
They will sit down, look at a blank Google Doc, and instantly feel defeated. How can they combat this? Easy: By creating a 3-month content calendar. And it only takes a single hour to do! With this strategy that I'm going to teach you, you will always have topics right in front of you that will give you a starting point to write that weekly content.
Even better, it's made even easier with my free content calendar template! Which you can grab it here.
In fact, maybe you want to pause, grab the content calendar and come back over here to start filling it out! If you are out and about or working out while listening, pay close attention and download it a bit later).
The goal is to schedule a bit of time to actually get this done! If you don't have the time to sit down and fill out your 3-month content calendar now, jump over to your calendar and schedule in some time this week! You really need to do it this week, or you are going to forget! So, go ahead, I'll wait!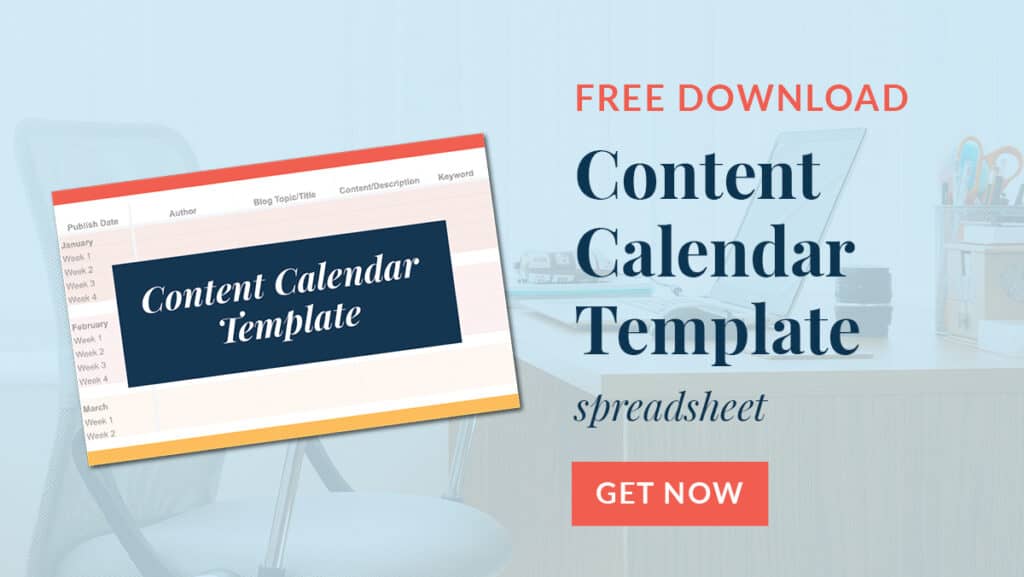 Here's how you should go about it:
#1: Write it Down
This step is essentially a brain dump.
At first, don't worry about coming up with coherent content titles or topics. Instead, just write down all of the stuff in your head. By using this strategy, you can rapidly narrow everything down the beginning of the 12 topics (3-months) on your content calendar.
What kind of ideas do I have floating around my head for content? What questions does your ICA (Ideal Customer Avatar) ask you on a regular basis? I keep a notepad on my desk and as I'm working I'll jot down stray thoughts that I have throughout the day on my phone. If I see an interesting article that could inspire new content, I'll just add it to my Evernote. I mull over questions my clients ask me. I take a look at the content I've created in the last year to figure out places where I can expand on my content or offer new advice.
Coming up with themes is another fantastic way to organize your thoughts. For example, September is coming up, so I've been working on a ton of "back to school" content for my clients for August. (Even though Back to School is going to look a lot different this year!) When the fall arrives, that content will likely shift into topics about the upcoming holidays. Let themes help you create some great ideas for your content!
Social media is a great place to find content topics!
Finally, a terrific place to come up with general ideas for topics is your social media. Jump over to your favorite channel, and can pour through all of your posts for the last month or two to see which ones were the most popular. A high level of engagement likely means that your ICA wants to see more examples of that type of content.
To check out what I mean, I invite you to take a look at my Instagram. There, you'll see specific examples of the types of posts that get the most engagement and how they impact my future content creation. I wrote a post earlier this month on how I NEED an organized workspace or I can't concentrate! I also included a link to one of my most popular checklists on the easiest way to organize your workspace! It's reach is 4x higher than ANY of my other content that month.
Trust me; if you post something that goes viral, you need to consider creating more content on that topic the following week to capitalize on its success!
#2: Who's Your (ICA) Ideal Customer Avatar?
Who is your ideal customer avatar?
One thing that most people don't do when thinking about topics is thinking about their ICA. This "avatar" should be your ideal customer. To create it, all you need to do is look at your ICAs' demographic data. By doing this, you can narrow down who you are talking to in your content.
Figuring out your customer avatar is 100% necessary to figure out the tone of your writing. If you are running a law firm, you might want a more formal tone to connect with your clients. A green-living blog like Sweet Greens, you might want a much more fun, educational tone. If you need help finding your ICA, I have a free template! Of course, I do! You can grab it here.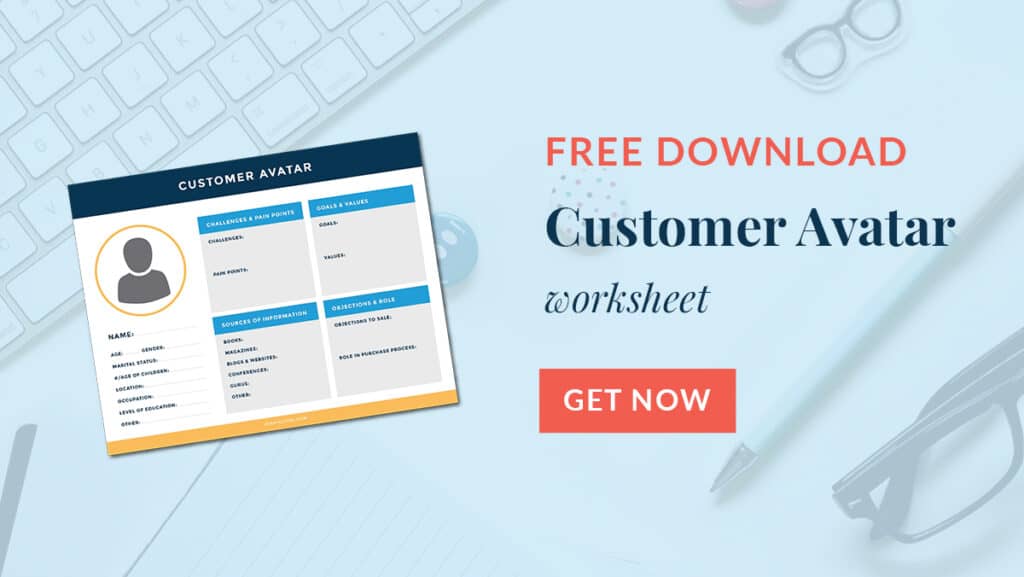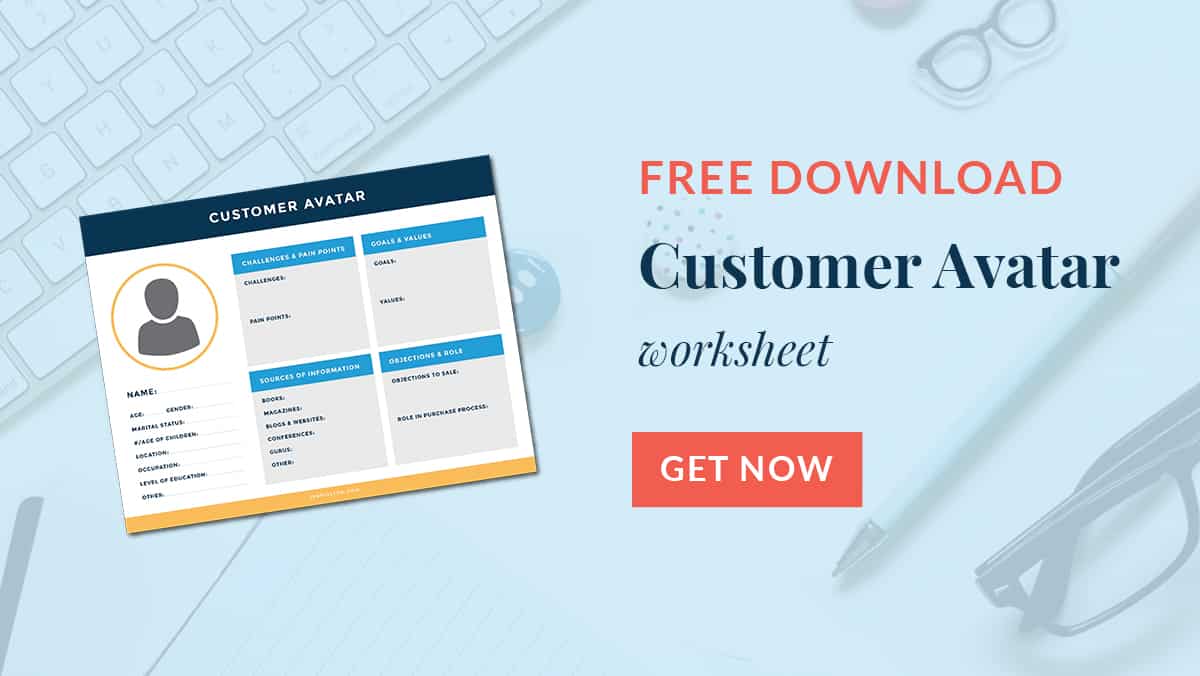 #3: Using the 3-Month Content Calendar Template
Now that you have all of your rough ideas down on paper, it's time to put them into a useful form! I highly recommend that you download the free content calendar template here.
As you can see, the template lays out everything that you need to know to write fantastic weekly content. There are four tabs on the content calendar, one for each quarter. Make sure you're on the right one before you start.
3-Month Content Calendar Breakdown
Publish Date: You can see that all months are color-coded so you can quickly reference where you are in the year. FYI, that this template is editable, so you can add and subtract "Week 5" from the months, as they can vary from year to year.
Author: This column is to keep track of who is creating your content. If you're the sole writer, put down your name. If you have a guest host, put down their name. Or if you're using a copywriter like me, put down their name. This strategy will help you keep your content creator workload straight.
The meat of your content calendar
Topic/Title: This section is fairly obvious! When you're first filling out this template, it might be useful to put a general topic in this section to give your template some structure. Afterward, you can refine those topics into an attention-grabbing title that will get people excited.
Content/Description: Here, you can put a one-sentence description of each piece of content. That will remind you of what you want to talk about when you eventually sit down to write it. This can also be helpful when creating your meta-description.
Keywords: If you want to maximize the number of people who consume your content, follow some SEO best practices. This includes using specific keywords through your content. FYI, you do NOT want to "spam" these keywords and pack them into every sentence, as that can make a paragraph sound unnatural. Instead, put them into your content where they naturally make sense.
Offer/CTA: EVERY piece of content should include a free download! Let me say that again, EVERY piece of content should include a free download! Think about this as the reason WHY you are creating the content, to grow your email list!
ICA (Ideal Customer Avatar): We just talked about this! This section is where you want to put the information about your ICA, so you know who you are creating that week's content for.
Hashtags: Social media is a key part of getting the word out about your content. To get it to the right people, you should have some hashtags in mind. You can list them here for easy reference.
Don't forget social media!
Social Media Posts: It can pay to write a few social media posts about each piece of content in this column. It could save you even more time in the future!
Completed: This is fairly basic. If you finish a topic, write "Yes" in this column or add a checkmark. I might also recommend selecting the entire row and picking the "strikethrough" option in formatting to clarify which topics you've already completed.
Approved: If the content requires approval by you (if someone else wrote it, for example), you want to write "Yes" or add a checkmark here.
#4: Recycle Old Content
If you're new to the podcast, then you might not know this about me: I'm a big believer in recycling.
Believer? HA! I meant fanatic!
One of the best resources that I offer people, both current and potential clients alike, is my humongous back catalog of content. The trick is that things are continually moving in the digital marketing and virtual assistant business. Every couple of years, I go into my back catalog and do a little renovating/recycling! Once I find some super old and out-of-date content, I'll put down their names into the "Topic/Title" section of the content calendar template and put their URLs into the "Content/Description" section for quick reference.
Reuse what you have!
A great example of how to recycle old content is by reusing opening and closing paragraphs. The opening paragraph of your content is an introduction to the theme, sort of a thesis statement. The closing paragraph sums everything up that the reader just absorbed. Imagine an out-of-date piece of content about Instagram, written in 2015. Useless, right? Nah! You can recycle it! All you have to do is delete the middle sections (the 2015 content) and replace it with content from the current year. Yes, you will still have to come up with fresh material for the middle, but already having the opening and closing written will save you a ton of time!
Let's say that you have written a blog a month, every month for the past six years. That's 72 blogs; not a bad amount of content! Imagine the time you could save on writing new content if you were to recycle some of them into brand-new pieces of content every few years.
#5: Create Binge-Worthy Content
Here is my question: If bingeable content works so well for Netflix, why aren't you doing the same thing with your business' content? It's not only about choosing good topics but picking topics that people want to consume.
How do you draw them in? Personally, I'm a big believer that all marketing needs to tell a story. Everything, from a blog to a social media post to an email newsletter, should have a beginning (HOOK), middle (BENEFITS), and end (CALL TO ACTION).
But it needs to go further than that. Like most forms of story, your content should always have themes and conflicts attached to them. A solid theme will give your content a through-line for your customers to latch onto. And a great conflict will allow you to create a problem that needs solving. These strategies will help you create content that your customers will want to consume and then move onto your other content and deeper and deeper into your funnel. When creating your content calendar, keep this concept in mind!
What Did We Learn?
So, let's sum up everything that we just talked about.
First, consistency is key!
Second, opt-ins will grow your list, which will help you get your free valuable content to even more people.
Third, don't let great ideas escape you, get them down on paper (or your phone!)
Fourth, KNOW up with your ICA (ideal customer avatar).
Fifth, use the free content calendar template to organize your thoughts
Sixth, take a look at recycling your old content.
Sixth, keep storytelling in mind to create binge-worthy content.
Finally, you don't want to forget to get the free content calendar template download! You can find it here. Or the ICA template, you can grab it here.
If there was anything in this podcast that stimulated some ideas, I'm sure that my audience would love to hear about them (I sure would)! So, I invite you to join my Digital Marketing Made Simple Podcast Community on Facebook! Thank you, and I look forward to seeing you in the next episode of Digital Marketing Made Simple!
Rate, Review, & Subscribe on Apple Podcasts
If you like what you hear on the podcast, please consider rating and reviewing my show! Woo Hoo! Click here, scroll to the bottom, tap to rate with five stars, and select "Write a Review." I would love to hear what episodes you enjoy the most!
If you haven't done so already, please subscribe to the podcast. I'll be adding new content weekly, if you're not subscribed, there's a good chance you'll miss out. Subscribe now!