9 Ways I Can Save you Time and Money this Week!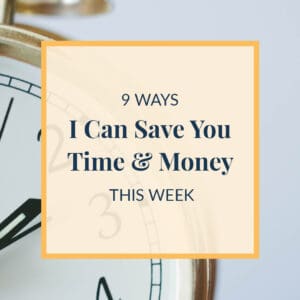 If you are like most small business owners, coaches, and entrepreneurs, you want to focus the majority of your time building your business. Yet, you may be finding that you are spending an exorbitant amount of time prioritizing emails, writing and scheduling blog posts, doing research, sending your ezine, managing your social media, updating your website and the list goes on and on. If you find that you are getting sucked into these tasks and they are taking away from you really building your business – it's time to get a team in place. The first team member that I would suggest that you hire is a virtual assistant, someone who can get those tedious daily tasks off of your list allowing you more time to focus on what you love. Read on for a quick rundown of 8 ways I can save you time and money today.
1. Client Relations
Some of my clients request that I check all of their emails and voicemails and then respond and follow up according. Others do not want to be taken out of their email and voicemail loop – so I will delete the junk, answer certain questions, and then flag emails and phone calls that my client needs to respond to and let them know if any are more important than others. If your inbox is overflowing and your voicemails are not being returned, you need great client relations to show your clients that you care. Taking these types of tasks off of your plate will help save you time and money.
2. Administrative Services
Most of my clients will have me handle all of their administration tasks from calendar management, document creation, research and travel arrangements. Administrative tasks can take up a lot of your day, you need great administration services to keep your business organized – allowing you more time to focus on what you love.
3. Content Creation
Some of my clients will write their own blog posts, and I only have to format, edit, add photos and links. Other clients will have me research and write their blog posts from scratch – this is where I really shine! I can write on a variety of topics to create fresh content for your website. I also moderate and reply to all comments that are left on each blog post too. I am now offering content creation packages, so if you are looking to take blog post writing off of your list, give me a call.
4. Social Media
All of my clients have me manage their social media accounts – which includes everything from writing and scheduling posts that engage their community, to interacting with individuals and building the number of followers on their accounts. I am also offering social media packages now.
5. Marketing
I help my clients get their products and services in front of their target audience. I use everything from press releases, social media and blogger outreach to direct mailings and email broadcasts. Also, if you have an amazing IFO on your website, you should have a sales funnel in place. This is another area that I always set up for my clients – it keeps you top of mind – all great businesses should have one. Another amazing marketing tool is the ezine, if you aren't sending one out weekly – you should, it's a great way to stay in touch with your audience. I am super familiar with most email marketing systems.
8. Shopping Carts
What good is having a website if you aren't able to accept payment for your services – I help all of my clients will all aspects of their shopping cart. Even if you are just looking to sell your eBook or other informational packages, I can help you get started making money off your website.
9. WordPress + Squarespace
I have extensive experience in setting up web hosting, installing themes and plugins, integrating social media, email marketing, shopping carts and creating pages, blogs and website maintenance. If you need help updating your WordPress or Squarespace website, I would love to help.
In fact, let me do you a favor, download my free workbook that walks you through partnering with a virtual assistant. If you do one thing for your business this year, get help! You can't do everything yourself, and collaborating with a virtual assistant WILL have a huge impact on your business and help you save you time and money!