5 Steps to Creating a Focused, Inspiring, Energizing Work Space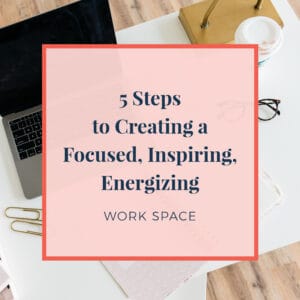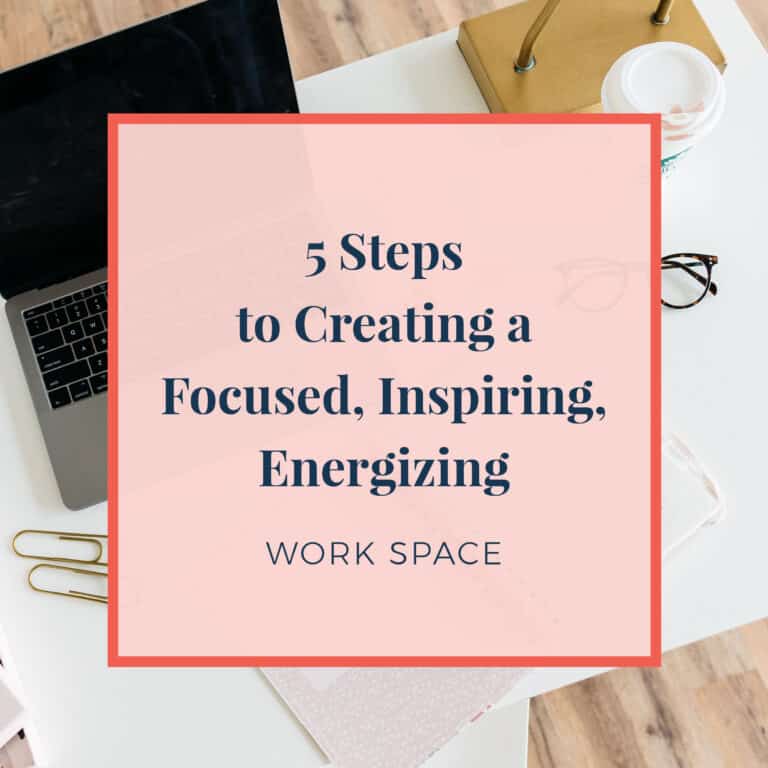 Whether you work from a small office, co-working space, or home, having an inspiring work space is important for entrepreneurs. I mean, part of why we start our own small businesses is to follow our passions and escape the gray, dreary cubicle life, right? Your work space should get you energized and excited to get down to business each day! I know that for me, coming into my home office and seeing everything from favorite photos to slick branding collateral sitting neatly in its place makes me want to do my best work and get my business out there!
[Tweet "Spring is the perfect time to update your work space. Get energized and inspired with a few changes."]
Having an organized place from which to do your work can boost your productivity, but what about your creativity? For entrepreneurs, having inspiration and creative ideas to apply to your projects is really important. Your work space should reflect this. It should inspire you, without distracting you. After all, being able to focus and apply all of that creative energy is what takes your business from dreams to amazing reality!
Today I've got a couple of suggestions for refreshing your work space in order to make you fall in love with your business all over again. Of course, before you start overhauling your office, it's a good idea to get things clean and organized first! To that end, I'm offering a free download of my Work Space Spring Cleaning Checklist, to help you get your space spruced up. Read the article and get the download at the end.
Give yourself more options
Entrepreneurs often work long hours, and that can take its toll on our bodies and minds. Besides taking regular breaks throughout the day to get up, stretch, and maybe walk around for a few minutes, you can also outfit your work space differently. Changing your position a few times throughout the day can combat fatigue and keep you energized.
Instead of sitting in a desk chair all day, I will sometimes add a balance cushion to mine, to help prevent slumping posture. You can also sub out your chair for a large, inflatable exercise ball for part of the day. If you want to really mix things up, add a higher work surface or get a convertible standing desk.
Install better lighting
If you're in a co-working space or office, this might not always be an option. However, your desk lamp is probably something you can change, or at least the lightbulb in it! Having good, warm lighting can help a lot. I find it far more pleasant and really boosts my mood compared to typical office overhead fluorescents. Make sure the room you work in is bright enough to prevent eye strain, too! That will definitely help on days when working long hours isn't optional.
Color-coordinate your office supplies
Toss those ratty old beige file folders and stained or faded binders. Update your necessary office supplies to high quality ones that will last you a long time. Pick them out in a color scheme that matches your business branding palette. Maybe have a bit of DIY fun and spray paint or otherwise decorate your stapler, tape dispenser, and other desk items for even more pops of color! Get some nice colored pens or markers, too. Make your administrative tasks a little more fun.
Hang a beautiful print or some photographs
A well-designed logo captures the essence of your business, and seeing it hang on the wall or propped on a shelf makes it tangible. Even a small print, placed somewhere you will see it every day when you work, lets you know that you're building something real and amazing.
Alternatively, get photographs from one of your events printed professionally, and place them on a photo collage board. Seeing evidence of your success can boost the feeling of pride you get from doing good work!
Keep an inspiration journal
A small, nicely bound journal that you reserve only for ideas and inspirations should have a home in the top drawer of your desk, or somewhere else close to hand. That way if you have a stroke of inspiration while working on something else, you can quickly jot it down. Then, on a day when you're feeling stuck, you can take it out and read some of what you've previously written. I find these sorts of unrelated but inspiring ideas can kickstart my creativity when it's lacking, allowing me to return to the task at hand with fresh eyes and to approach it differently.
[Tweet "Your work space should reflect the way you feel when accomplishing big things!"]
What other strategies do you swear by for making an inspiring, energizing work space? I'd love to hear about them, so please feel free to leave a comment! When you're ready to get started with your office clean-up and reorganization, try using my Work Space Spring Cleaning Checklist.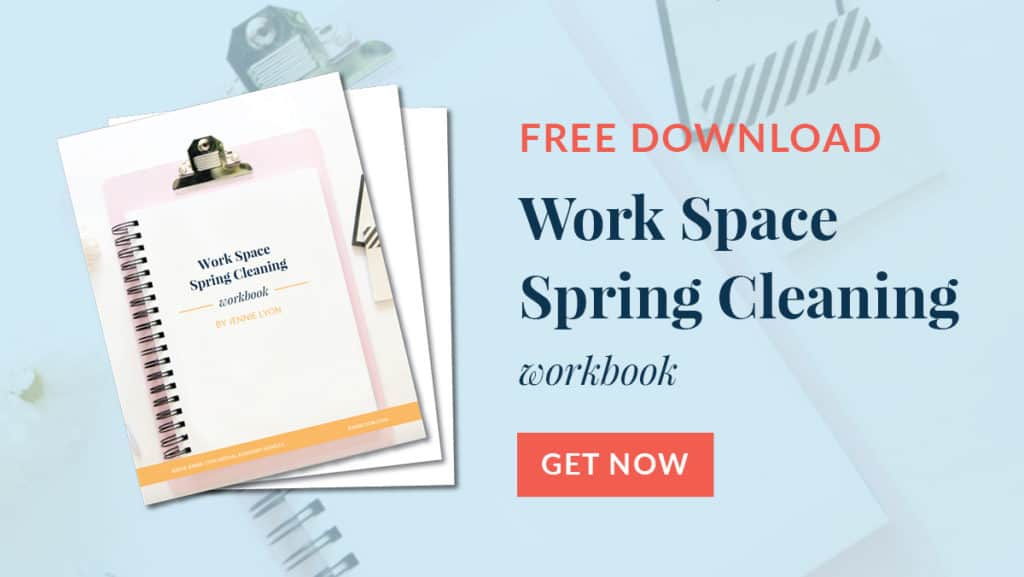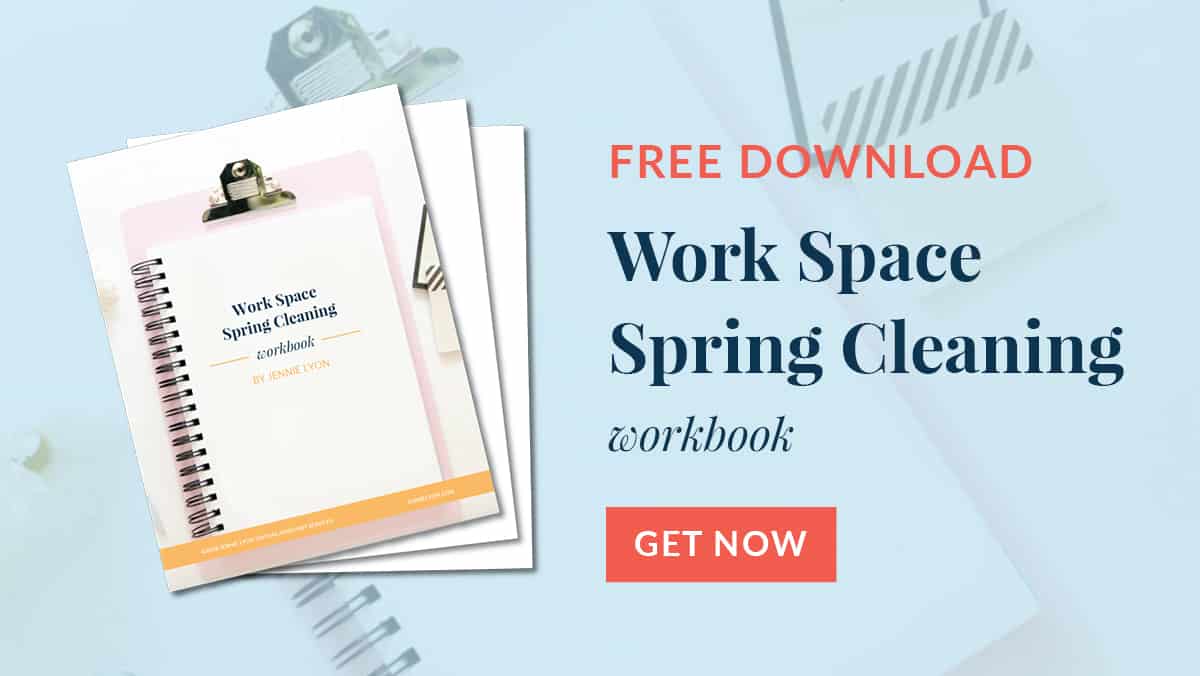 Of course, sometimes even the best work space isn't enough to keep you energized and inspired. When running a small business, it's easy to get bogged down in the daily admin and other repetitive work that sucks out creativity. Luckily, you can hire a virtual assistant to take some of that off your hands! Get your energy and focus back: schedule a free consultation with me and lighten that workload.