How to Complete A Website Audit (Workbook)
2020 has been quite a year! I mean it's already September! How did that happen? Since the new year is right around the corner, I've been thinking a lot about my marketing strategy and where I want to see my business in the new year.
So with that being said, my first stop is always my website. Several times a year, I take a good look at my website, the services offered, the messaging, design, and everything else that makes for an excellent user experience. If things have broken, I need to get them fixed. If some copy doesn't flow or needs a punch up, I need to rewrite it. You might have noticed that I've recently revamped all of my services with new copy and pages. It just goes part and parcel with owning a website.
If you missed your website "spring cleaning" this year, don't worry, because there is still time! I call doing this a Website Audit, where I go through every aspect of my website (or a client's website) to find what's working, what isn't, and where I can improve everything for my clients!
Why Do a Website Audit?
Many small business owners invest a tremendous amount of time and money into their website. They instinctively know how important it is, so they either learn how to create their own, or they spend big bucks hiring someone to build it for them.
And at the end of it, well, they think, "That's it! Done!" But here's the problem: your website is NEVER done.
New features, plugins, design choices, and more come out every year. If you built your website only a few years ago, there is a good chance that the design looks dated today. For example, is it mobile optimized? Does it have multimedia components, like video?
In a website audit, you can go through your entire site with a critical eye, notice places where things don't quite flow correctly, and make corrections and updates where necessary. By doing a website audit every year, you will be able to avoid the headache of needing to do a massive update every five years or so.
What Does Your Website Do?
There are dozens of reasons you should make sure that your website puts your best foot forward online, but one of the main ones is branding.
Think of your website as the storefront to your business. Your brand should always speak volumes about who you are and what you value. When your customers and clients see your colors, logo, and products, they should instantly associate you with positive feelings, either born from experience or your digital marketing efforts. Either way, just as a well designed storefront window, you need your website to grab that visitor and pull them in!
When it comes to your website, branding is key. The quality of your site will have a significant impact on how visitors perceive your brand. A website audit will show you your website's entire experience, from point A (your homepage or landing page) to point Z (the purchase or completed your CTA).
Parts of a Website Audit
A comprehensive website audit should consist of two parts: the Frontend and the Backend.
The Frontend is what everyone will see when they visit your website. That includes graphic design and copywriting of the individual pages, and interactive elements. It's the user experience part of the site, making it imperative that it looks and feels fantastic.
The other part is the Backend, and it's necessary to make the Frontend work properly. The Backend is everything that goes on behind the scenes, including security, SEO, plugins, an updated interface, and more. Chances are that you will be less familiar with the backend part of the audit, but you can always hire someone to do it for you!
Frontend of a Website Audit
Before diving deep into your frontend audit, you'll want to do a quick tour.
From the homepage, click around your site, checking out pages to see if they flow into each other logically. Don't deeply analyze everything; just try to take in the general user experience. After you're done, you will have a sense of just how much needs to change for the refresh.
Now, you can dig into the specifics of the usability of your website.
Homepage
If you created your website more than five years ago, your homepage is probably in reasonably decent shape with a sufficiently modern design. That said, there's probably lots of room for improvement.
First, take a look at the very top of the homepage. It's the first thing that your customers are going to see when they go to your website. What kind of impression does it make? A positive one? Does it make them want to know more? Could it use more calls-to-action?
There are dozens of components of your brand, but one of the most important on your website will be your logo. When you're starting your website audit, ask yourself how your logo looks in the upper-left corner of the page? Even if you are happy with your logo design, could it be a bit bigger to grab more attention? Or could an entirely new logo be the branding jumpstart your small business needs?
Read through all of the copy on your homepage. How much is there? If there is too much, or you structure it into massive paragraphs, the average person isn't going to read it. On the flip side of the coin, having too little will result in them thinking that you don't offer the solutions they need. Either way, they're going to click off and look for your competitor's site instead.
There is a happy medium when it comes to homepage webcopy, so it might be a good idea to experiment until you find that sweet spot. Or you could hire me, and I could take care of it for you!
Finally, you want to make sure that you have calls-to-action for your most important lead magnets/opt-ins placed prominently on the homepage. For a great example of this, take a look at mine! Your opt-ins will move people into your funnels, allowing you to see what your audience is genuinely interested in. If your audience is like ours, that will depend on where they are with their business and what help they need from us to continue growing.
About Page
A good About Page humanizes you, helping your audience know more about you and your business.
Bare minimum, it should have a photo of you (a good quality one too, not a blurry iPhone photo), a comprehensive biography telling them how you created the business, your credentials, and details about your business.
You might also want to include information about your other team members (if any), and links to any other businesses you run. For example, Sweet Greens is my website for organic living, something that's very important to me. So putting a prominent mention on my About Page not only will funnel people to that site, but also reveal a lot more about me!
Services
Your Services section is where you will be providing your visitors with the list of what you offer.
The problem with some businesses is that they offer dozens of products or services, potentially making this section a mess to navigate. My advice would be to ensure that each service or product has a dedicated page, each following the same template to make sure they all look like they belong to the same website.
One great way to show your visitors what you offer quickly is by using bullet points. Mix that in with some effectively written copy and CTAs, and you'll have a Services section that will convert!
Blog
If you've been keeping up with your content marketing over the years, you probably have a massive catalog of blogs on your website. And that's a great thing! The more free content you offer, the better! But over time, your blog page can start to get a bit, well, cluttered! But that's what a website audit is for!
First, you want to make sure that all of the links to your blogs still work. This part can be a little time consuming, depending on how many blogs you have, but well worth it. A "Page Not Found" message might as well be a huge, red light flashing at users, telling them to look elsewhere for a company that maintains their site.
Next, how is the organization of your blogs? If you'd have a few years' worth, then the older ones are probably buried under tons of other content. Those old blogs are still useful, so be sure to offer users a way to access them. On my site, for example, I have a search bar at the top. All someone needs to do is type in a keyword, something like "Digital Marketing," and a ton of blogs will pop up, all offering users valuable info.
Finally, how dated are your blogs? A blog you wrote about back in 2013 could be hopelessly outdated today, offering inaccurate information to your users. Going through these old blogs and updating them with new information will ensure that everything on your website is accurate. It also presents you with opportunities to post those old blogs as "new" content on your social media.
Your blogs will also provide you with a window into exactly what your visitors view on your site. You should be using analytics to measure engagement with specific blogs. If one is doing better than the others, you might want to consider building it into an opt-in that could help you build your email list.
Contact
You don't want your contact page to have too much information on it. Instead, offer the bare minimum, including a call-to-action, contact information, and maybe even a Google Map plugin to show them your business' physical location. For your contact page, "clean and simple" are the operative words.
Backend of a Website Audit
The backend part of the Website Audit might be the most confusing for those who don't regularly pay attention to how their website works. But without it, your website might just run into some downtime, something you want to avoid at all costs!
Here are some things you may want to take a look at: First, security. Is your website secure and safe for people to visit? If you don't have an SSL certificate, it can't be accessed securely. Since Google considers SSL when it comes to website rankings and SEO, this is a must.
Speaking of that, you want to do a comprehensive check on the SEO on your site. There are free plugins, including the Yost plugin for WordPress, that can do this automatically for you. It's definitely worth a download. You might also want to check out my podcast/blog about 5 tips that will boost you in the search results!
Have you been updating your security over time? Generally, most people have their site set up so security updates will download and install automatically, but it's remarkable how many people have this option turned off. Turn it on immediately!
Similarly, if you have any plugins on your website, you want to make sure they are updated automatically. Older plugins could have security holes in them, making it easy for hackers to get a foothold on your site, possibly leading your visitors to malicious websites.
These are just a few of the things you want to check out when doing your Backend Audit. Personally, I've found that hiring a pro to go through everything with a fine-tooth comb is usually an excellent investment!
The Importance of Maintenance
Do you know a big difference between a car and a website? It would never occur to you not to maintain your vehicle. If something breaks, then you take it into the auto shop. You even do periodic checks to make sure that it's safe and functional. I've always been surprised by how many people don't do the same for their website.
Like all things, websites break down. Plugins get out of date, links break, security can be compromised. Even after you do your website audit and fix things up, they won't last forever. This isn't necessarily saying it will be as catastrophic as your entire site going down.
It might be as minor as your "Contact Us" page not working. Or a broken link in your "Blog" section. Maybe your customers can't put items into their cart in your e-commerce store. Heck, it could be just a misspelling in your webcopy. Over time, these things can add up until your website isn't doing the job you designed it to do.
With monthly website maintenance, your website and features will be much less likely to go down due to technical reasons. The absolute last thing you want when a potential client is searching for your website is for them to see a page that says, "404 Website Not Found."
So, What Did We Learn?
Let's review what we learned:
You should do website audits every year (or if you can more often!)
Websites are a key part of your branding. Think of your website as the "storefront window" of your business.
There are two parts of a website audit: the Frontend and the Backend.
The Frontend is all about what the user sees. The Backend is what's going on in the background to make the site function.
When doing a Frontend audit, review all of the pages with an eye on the user experience.
The usual pillars of a website are the homepage, about page, services page, blog, and contact page.
Perhaps get an outside eye to look at your site for you, as you might be too close to it.
Blogs should be updated regularly to boost SEO and keep your site looking like it's well maintained.
The Backend is just as crucial as the Frontend, as it takes care of security, SEO, plugins, etc.
Regular website maintenance is a smart idea if you want to keep your site running year-round with no downtime.
So, if all of this sounds like a lot of work, it is! Website audits can take a few hours to get a comprehensive view of everything you need to do to improve the user experience. If you want a little assistance, I have a free download that will walk you through the process, A to Z. It's called the Ultimate Website Audit Workbook, and you can download it for free here!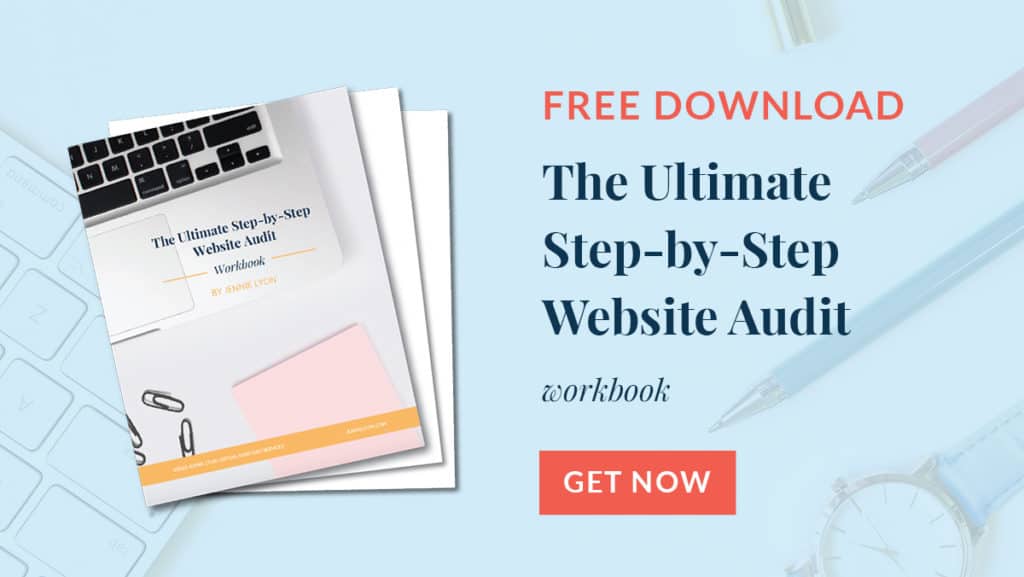 Of course, sometimes, you might be a little too close to your website to see the flaws. If that's the case, getting a trained outside eye is always a plus! Website audits are one of the most popular services we offer, so if you'd like some help breaking down your website, please feel free to contact me today for a free consultation! I hope you found this podcast on punching up your digital presence with a website audit helpful! Don't forget to download my Ultimate Step-by-Step Website Audit Workbook.
Rate, Review, & Subscribe on Apple Podcasts
If you like what you hear on the podcast, please consider rating and reviewing my show! Woo Hoo! Click here, scroll to the bottom, tap to rate with five stars, and select "Write a Review." I would love to hear what episodes you enjoy the most!
If you haven't done so already, please subscribe to the podcast. I'll be adding new content weekly, if you're not subscribed, there's a good chance you'll miss out. Subscribe now!