Instagram, Pinterest and LinkedIn, Oh My! How to Choose the Best Social Media Platforms for Your Business
How many social media channels do you have for your small business?
Many small business owners think they need to post EVERYWHERE on social media. They spend dozens of hours crafting platform-specific posts, commenting, and trying to engage with their audience. And while I applaud their commitment, I am here to tell you that might not be the best use of your time.
As a small business owner, you have a limited amount of hours in the day. You can only do so much, and social media is one of the biggest time-sucks ever. That means, if you are planning on getting the most out of your social media, you should only be spending your time on the platforms where your target audience is actually hanging out!
Do a Social Media Audit
The first step of redefining your social media marketing strategy is to do a social media audit.
This process involves going through your entire social media presence to determine what's working, what isn't, and how you can fix it. It can be a bit of an involved process (especially if you aren't a social media expert), but well worth it to start getting the most out of your social media efforts.
With an audit, you need to get a clearer picture of your social media efforts. Are your posts resonating with your audience? How many new followers have you gotten over the last few months? Are you growing, or has your online presence stagnated? In your audit, you want to pick out all relevant information from your accounts, including your follower counts, likes, posts, comments, groups, and branding consistency.
After you've evaluated your social media channels' performance, you can start to take steps to choose which platforms are the best for your business. And if you don't know where to get started, you could always hire me to do your audit for you!
Define Your Target Audience
Some small business owners try to cast the biggest net possible when it comes to marketing. They think that if they connect with everyone, they can pull in the most customers. And while this might be a feasible strategy if you have an unlimited digital marketing budget and don't care about your ROI, most small businesses are working with a slightly tighter wallet!
That's why you need to define your target audience ASAP. If you have an ideal customer avatar (ICA) for your business (and you absolutely should), then that is an excellent place to start. Who is your perfect customer? What do they want? Where do they live? What demographics do they belong to? All of this information will not only help you define your products and services, but will also help you retarget your social media aims to the folks most receptive to your message. Plus, it will be super useful information for your social media ads!
Start Creating Content and Blogs
Once you have your ICA nailed down, it's time to start creating relevant content to post to your social media channels. And if you're struggling with you ICA, grab my ICA workbook, it will help get you started!
I'm a believer in having weekly content on your website. Not only does it give you a constant stream of new content you can post to social media, but it also helps keep your website active to boost your search engine results. It's a key part of a healthy SEO strategy, but that's a different story.
Blogs, of course, aren't the only kind of content that you can create to boost your social media. Webinars are fantastic pieces of content that also deliver a tremendous ROI. You can promote them on social media for weeks ahead of time, giving you lots to post about while building up excitement. Then, even after the webinar is over, you can use a recording of it as a great piece of content for free opt-ins for your email list and newsletter.
Speaking of opt-ins, they are also an excellent piece of content to promote on your social media. If your opt-ins are the same level of quality as your paid products (and they should be), it will give potential customers a taste of what you can offer them and drive them to your landing pages on your website. Promoting them on social media can increase engagement and help you build your email list (there are reasons why doing this might be even more important than building up your social media followers).
Focus on a Few Key Channels
Let's take a look at some of the big social media channels:
I tend to think of Facebook, Instagram, and Twitter as the big three. These are the social media channels that most everyone uses in one fashion or another. As such, I think it's a very good idea to have a presence on all of these channels.
LinkedIn is a fantastic platform for professionals looking to connect with other professionals. If your small business is entirely based around "you," then having a fleshed-out personal LinkedIn account can be a great way to communicate your credentials and give you credibility in your field. You can also post your content on LinkedIn, an effective strategy to get blogs and other kinds of content out to your ICA. However, LinkedIn's reach is limited as compared to other social media channels, as many people still only think of it as a way to get a job. But if your personal brand and professional brand are inseparable, LinkedIn might be a great option.
Video has become a much bigger component of social media nowadays, thanks to the rise of Instagram Stories. If you've been doing short-form video on Instagram, you might want to consider moving that content over to YouTube. There, you can build a following and, if you get enough of them, maybe even monetize your channel. However, this strategy requires a TON of work and definitely isn't where you want to focus your energies if you are working with limited funds.
Pinterest is an interesting and controversial option, as some people don't even consider it a social media network. It's a fantastic place to find new content, which is why it's often classified as a search engine. That said, folks on Pinterest are always on the lookout for new things, so if you have a robust content marketing strategy, Pinterest can be a fantastic option for getting your stuff "out there."
Now, I personally think that MySpace is a highly underrated social media… Nah, I'm just kidding! This isn't 2007!
Measure Your Results
So, you've completed your audit, created new content, and refocused on a few key channels. Now what? Well, it's time to measure your results!
Unfortunately, you can't rush this step. You need to let your new strategy play out over a few weeks (or even months) to get valuable data. You can, of course, tweak your strategy as you go, but you should stay the course on the whole.
It takes time to measure your results because social media is all about the long game. As I said last week, unless you release a piece of content that goes viral, you aren't going to get a sudden rush of followers or subscribers pounding on your door. Your growth on social media will likely be a slow and steady process.
In my own experience, it takes time to build up your following. Last year, I started to put a concentrated effort into Instagram with more posts and Stories. It felt slow going in the moment, but I saw absolutely incredible growth by the end of the year. It reminded me of how important it is to measure your results as you go without becoming discouraged. Trust me, if you put the right strategy into action, you will see growth!
Tweak Your Strategy
Of course, that doesn't mean things can't be improved!
There is no such thing as a perfect social media strategy. World events, platform changes, upgrades, and other factors can all upturn your best-laid plans, necessitating some tweaks.
For example, Pinterest recently announced that they are creating Story Pins. These new pins act very similarly to Instagram Stories. If you want to get the most out of Pinterest, you will need to adjust your strategy to incorporate this new feature.
So, What Did We Learn?
Let's review what we learned:
As a small business owner, you have limited time and limited funds. Focus them on where they can make a difference!
A social media audit can show you your current strengths and weaknesses on various platforms.
When figuring out where to put your resources, you need to know your ideal customer avatar.
Creating new content is a key part of growing your social media following on various platforms.
Content can include blogs, webinars, and opt-ins.
Everyone should be on the "big three" platforms: Facebook, Instagram, and Twitter.
Other platforms might make sense, depending on your business' focus.
To grow your presence, you constantly need to measure your results.
Don't expect instant growth. Social media is a long game.
Always be ready to tweak your social media marketing strategy as new information and features are introduced.
No matter what social media platforms you are on, it can always pay to simplify things. Some fantastic ways are to create templates and use automation to save you time.
One way I help my clients with their social media is by creating graphic templates they can use on their social media platforms. These are graphics that are specifically designed with their branding. All they need to do is put down their message in the template and post. You can get a taste of this with these 15 free social media graphics. Another way I help clients keep track is with our Holiday #Hashtag Yearly Calendar. This resource gives them a "cheatsheet" of tons of perfect hashtags for holidays and other occasions in the year.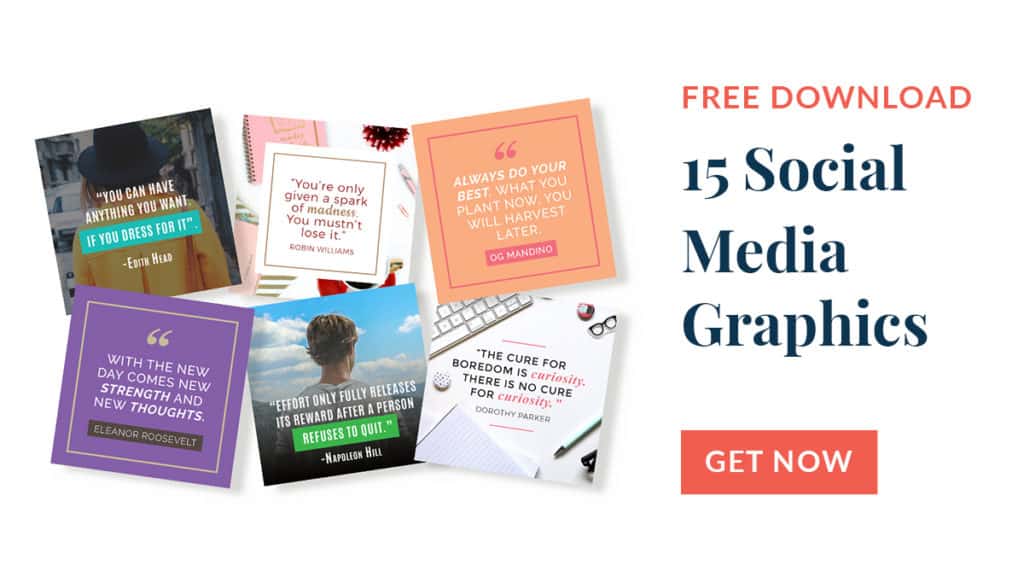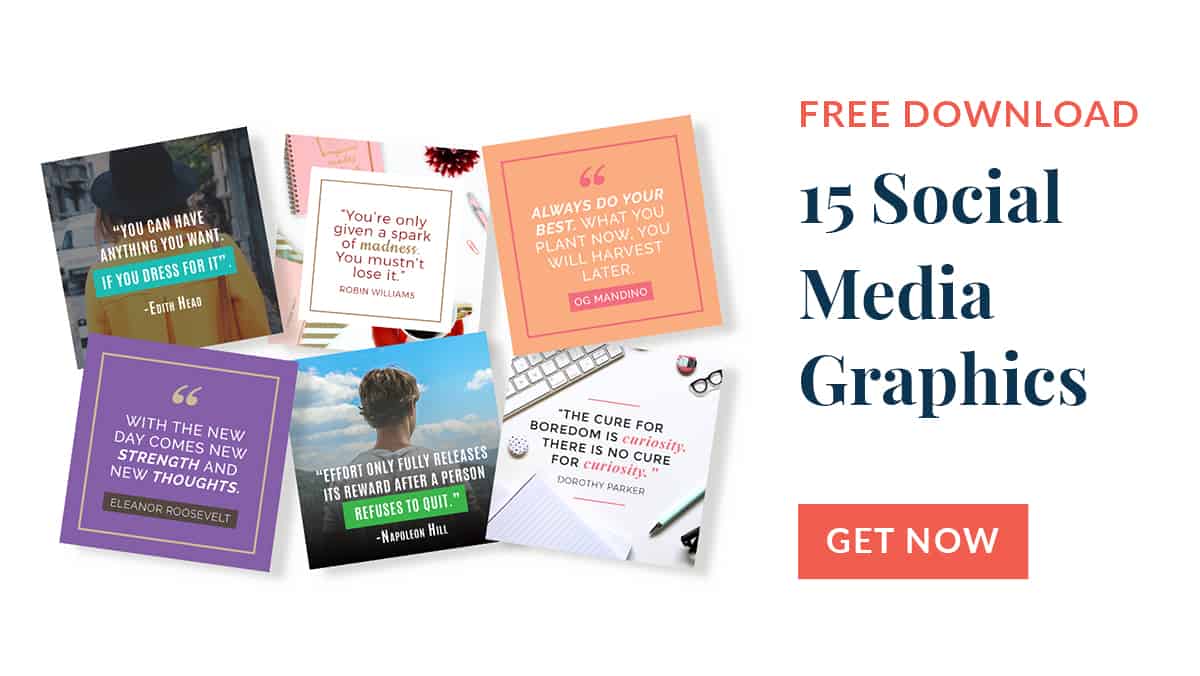 Of course, if you'd rather get all of your social media off your to-do list, you could always trust it into the hands of an expert! Contact me here for a free consultation, and we can rework all of your social media to effectively target your ICA and make sure you're getting the most out of your marketing dollar!
Links For This Episode:
Rate, Review, & Subscribe on Apple Podcasts
If you like what you hear on the podcast, please consider rating and reviewing my show! Woo Hoo! Click here, scroll to the bottom, tap to rate with five stars, and select "Write a Review." I would love to hear what episodes you enjoy the most!
If you haven't done so already, please subscribe to the podcast. I'll be adding new content weekly, if you're not subscribed, there's a good chance you'll miss out. Subscribe now!