How to Use Pinterest to Drive Traffic and Sales + Workbook
When you hear "social media," you probably think of Facebook, Instagram, or YouTube. But there are other social media networks out there that can also offer incredible value to a small business owner. For example, Pinterest!
In the world of social media, I think that Pinterest is MAJORLY underrated. It's simply a fantastic place to spend your time online. Unlike Facebook or Twitter, it's free of much of the "drama" that's traditionally associated with social media. You can simply log into Pinterest and take a look around for some great content!
But the real magic of Pinterest for a small business comes in its potential for social media marketing! For example, a while back, I started a Pinterest account for one of my clients (ECOlunchbox, check them out, they're amazing), and it rapidly became their biggest web referrer. Why? Because it's a discovery platform! That means that folks are on Pinterest every day, looking for new and interesting content, photos, recipes, and ideas.
So, if you are curious how our digital marketing team can use Pinterest to drive your small business' traffic and sales, stay tuned!
What is Pinterest?
The first thing you need to know is that Pinterest is a little different from most other social media networks. So Pinterest is more of a search engine, but with amazing marketing potential.
On Facebook, the content you are posting is mostly about you. It's your status, personal comments about what's going on in your life, that kind of thing. On Pinterest, the name of the game is content. You don't have a timeline. Instead, you have "boards" that you "pin" content to like a scrapbook. All posts are usually an image (with text overlay) accompanied by a caption. The key is to make sure your image has text that is going to grab people and reel them in.
You can create many boards around your various interests. Let's say that you are a Real Estate Agent. Well, one of your boards could be examples of beautiful properties. Or, if you are a personal coach, you could have an entire board for inspirational quotes.
Your First Steps
If you want to get the most out of Pinterest for your business, you need to create a business account. Unlike personal Pinterest accounts, business ones have access to several new features, including ads and analytics.
If you wish to save some time (as signing up for social media networks can eat up your day), you could hire our team or a virtual assistant to create your account and fill it out with your business' name, location, website, and other professional info, including a professionally written description with keywords!
Once your account is in place, we can start to create and optimize boards that complement your business. Anything you find online, you can add to a board. This makes Pinterest an ideal place to post content from your website, including your weekly blog, podcast, webinars, and free opt-ins. Mind you, you're going to need a great-looking visual component to go with the post, as Pinterest is primarily a visual platform. Then we can set up Tailwind and get pinning!
Different Types of Pins
If you're only familiar with the basic version of Pinterest, then you likely don't know about Rich Pins.
Whenever you see a pin that appears larger than usual on a board, that is a rich pin. They contain extra information than you would usually find when you click on a pin. So, they basically tell a pinner what your piece of content is about! So you want to think of rich pins as ad copy for your post. The primary goal of rich pins should be to make pinners care about your page and earn their click! Rich pins are only available to business users and are free, but they can require a little bit more footwork to put into place than normal pins.
There are four types of rich pins available: products, articles, apps, and recipes.
Not every pin can become a rich pin, however. To share content from your website in the rich pin format, your website will need to be validated by Pinterest. To enable the feature, you first must put a metatag in the <head> section of your website's index.html file.
If you suddenly got a headache hearing that last sentence, don't worry, it isn't as difficult as it sounds. And if you have no idea how HTML works, I could simply do it for you!
Story Pins for the Win!
Something else you may want to check out are Story Pins. Instagram Stories have taken off in the world of social media marketing, and now many other social media networks are catching up! With Story Pins, instead of a single piece of media, you get a series of videos, images, or text that tell a story. And unlike Stories on Instagram, there is no 24-hour lifespan of a story pin. Once it is posted to a board, that's where it stays.
Choosing the content that you pin in your boards (or in group boards) is one of the ways you can get more organic traffic to your website. I would highly suggest that you create pins to resources, such as your blog or freebies. For example, in my "Blog Love" board, you will find pins connecting you with fantastic resources for small business owners, including many of my own blogs. When my followers click on one of the pins to my blogs, it will take them straight to my website!
Give some examples – let's link to some big/good ones. Maybe we can use some from our clients
Grow Your Reach
Like with all other social media networks, the key to success on Pinterest is to grow your reach.
At first, you are going to have few followers. But as you post content and engage with others, you will likely start to make connections that bring people to your boards. My advice would be to connect with as many people as you can right from the start. These could be your friends, family, and even your competitors in your industry.
If you want to continue growth on Pinterest, you will need to make sure that you include relevant keywords in your board names. This is one of the reasons why many people describe Pinterest as a search engine. If you want success on it, you need to follow some good SEO practices. Double down by including those same keywords in your pin descriptions. The more organically placed keywords you can use, the easier it will be for people to find your content and become one of your followers.
Join Groups
Another way to grow your reach on Pinterest is to join group boards. This will enable you to join a community of people who are all interested in the game thing. If your content fits perfectly into the group board, you could score some followers when they discover it! You should be pinning every day to ensure that you're getting the maximum benefit out of the platform.
Unfortunately, daily posts (no matter what the platform) can take up a ton of your time. That's why I use a scheduling tool like Tailwind. I can set up all of my pins ahead of time so I don't need to worry about taking time out of my busy schedule. I can do the same for you!
Advertising
Another place where Pinterest shines is with advertising. It's huge!
Pinterest ads are very similar to other kinds of pins except that, because they are sponsored, they will show up more often in search results.
There are lots of different types of "ads" that you can create on Pinterest. You can choose to promote one of your already-existing pins to get more exposure. You could create a brand-new pin tailored to a specific marketing message (if you're promoting a webinar, for example, and want to bring people to your new landing page). There are also various kinds of pins, including standard ones, carousel ads, videos, shops, and more.
It isn't just the reach of Pinterest ads that are insane, they also have a much longer lifespan than Instagram or Facebook posts. 30% of Pinterest users click on pins and shop on the platform, so if you are selling a product (like an online course or coaching program), it could be the perfect place to advertise your services!
Be Patient!
Something that kind of drives me nuts about many folks who offer digital marketing advice on the internet is that they promise they will change your social media numbers overnight.
Here is the truth: It's a long game. You're building a following, piece by piece. Unless you create a piece of viral content (which is possible), followers won't be flocking to you in a torrent.
Engage, Engage, Engage
How you build your social media is by creating a fantastic presence online: Engage with your followers, post awesome content, share interesting stuff. Avoid "black hat" SEO and social media marketing methods like buying followers. Trust me on this, buying followers is the fast lane to disaster. Yeah, they boost your numbers at first, but if a social network does a purge of fake accounts, your follower numbers will suddenly drop dramatically without warning. But if you are building your followers organically, your social media accounts will always maintain consistent numbers.
So, What Did We Learn?
Let's review what we learned:
Pinterest is an underutilized social media platform for small business digital marketing.
Many of my clients have been hugely successful using Pinterest to advertise their business.
Pinterest is a discovery platform that has content posted in "pins."
You need to create a Pinterest business profile to take advantage of business-related features.
Rich pins are larger pins that also contain extra information taken from your website.
Rich pins need to be approved by Pinterest before posting (you need to put a metatag on your website for this to work).
Posting pins with resources is a fantastic way to drive organic traffic to your website.
Growing your reach on Pinterest requires you to engage, include relevant keywords, and join group boards.
Using a program like Tailwind to pre-schedule your posts can save you a ton of time.
Pinterest is a remarkably effective advertising platform as well!
When many of my clients first try to get into Pinterest, they quickly find themselves a little in over their heads. It is VERY different from other social media networks, and it can require some adjustments to the way you present your content to get the most out of it. If you want a head start, I invite you to download my free Pinterest Tips, Tactics, Topics & The Best Times to Post: Infographic. It's kind of like a cheatsheet for Pinterest!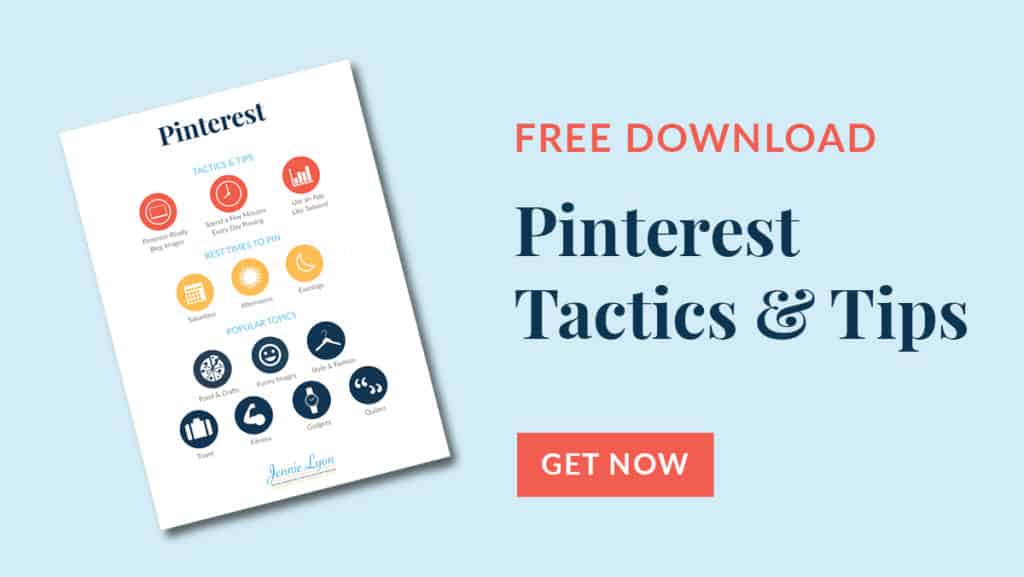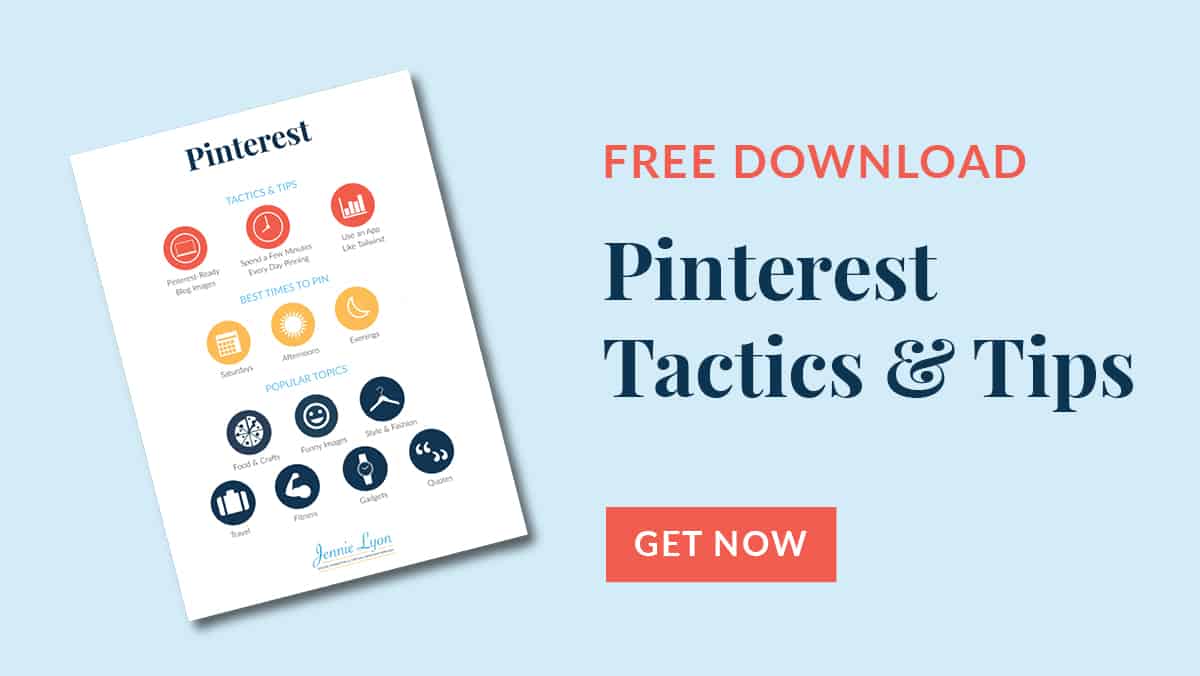 But if you'd rather hit the ground running when it comes to Pinterest, it might be worth hiring me to create and take care of your account for you! Contact me here for a free consultation, and we can get started talking about how you can get the most out of Pinterest and all of your other social media accounts!
Links For This Episode:
Tailwind (ask Jennie for affiliate link)
Rate, Review, & Subscribe on Apple Podcasts
If you like what you hear on the podcast, please consider rating and reviewing my show! Woo Hoo! Click here, scroll to the bottom, tap to rate with five stars, and select "Write a Review." I would love to hear what episodes you enjoy the most!
If you haven't done so already, please subscribe to the podcast. I'll be adding new content weekly, if you're not subscribed, there's a good chance you'll miss out. Subscribe now!