Myths & Misconceptions: Is Social Media Necessary for My Online Business?
Hey there, friends! Today, we're diving into a topic near and dear to my heart – social media and the myths and misconceptions surrounding it. It's hard to imagine a world without it now, as social media has transformed how we connect and share information in our personal lives and reshaped the landscape of online business. By seamlessly fitting it into your digital marketing strategy, social media is a game-changer for achieving online success. So, let's delve deeper to help you unlock its incredible potential and debunk some myths and misconceptions.
Overview:
Debunking Common Social Media Misconceptions
Before diving headfirst into posting, reels, and resharing, let's address some myths and misconceptions. I've heard it all – from people thinking social media isn't necessary for business growth to believing it doesn't provide a return on investment. If it's not clear by now, social media is not just a trend; it's a necessity for businesses today. As of 2023, roughly 4.9 billion people are using it actively across various platforms, which are a lot of eyes to see what your business does. It offers unparalleled access to your target audience, allowing easy direct and indirect conversations. The numbers are there that putting in a bit of work to establish a solid social media presence can significantly boost your brand visibility and reach.
While it might not always be easy to measure the ROI in direct revenue, it's been proven time and time again that businesses effectively using social media experience growth in customer engagement, brand loyalty, and their overall online reputation. Stats from Instagram show that 90% of their user base is following at least one brand (which could be yours!), with 76% of scrollers buying something they saw through social media. Plus, the power of direct customer interaction through social media can lead to increased customer satisfaction and retention, ultimately driving sales.
Traditional Marketing vs. Social Media Marketing
Some folks believe that traditional marketing methods are more effective than social media marketing. But let me tell you, times have changed. Traditional methods like print ads or TV commercials can't compete with the vast audience accessible through social media channels. They're still valid as part of the overall campaign but don't have the same reach and engagement. Plus, social media campaigns can be highly targeted and provide real-time data on engagement metrics since you can find out who is clicking through when and from what site without putting together focus groups to poll results.
The Undeniable Benefits
Let's get to the good parts of incorporating social media into your online business strategy. Trust me; you don't want to miss out on these advantages.
Brand Awareness
As I mentioned earlier, you have a golden opportunity to enhance your brand's visibility with social media. With billions of users across various platforms, you have the potential to reach a vast audience. By putting in the effort to consistently share valuable content and engage with your followers (make polls, ask questions, reply to comments), you can establish a solid online presence and make your brand more recognizable.
Direct Engagement
Social media provides a platform to connect directly with your customers. You can interact with your audience in real-time live video or chat, whether it's on Facebook, Instagram, Twitter, or LinkedIn. Through social media messenger systems, you can address inquiries promptly, tackle concerns head-on, and build meaningful relationships with your followers by talking to them instead of at them, as most advertising does. This isn't just about satisfaction; it's about fostering loyalty towards your brand.
Lead Generation
As lead generation powerhouses, these platforms offer robust targeting options, allowing you to reach specific demographics or interests relevant to your products or services. While the 18-29 stretch is still the largest user count, finding a community for anyone who loves anything on social media is possible. Crafting compelling content and using lead-generation tools like ads or contests can help you capture valuable leads directly from social media platforms.
Maximizing Exposure through Social Media
So, one thing is clear: it's all about increasing your visibility on social networks to reach a wider audience. That's where you'll see the ROI. They allow you to effectively showcase your products or services by strategically tailoring your content and messaging to resonate with your target market. These platforms are incredibly flexible, and you can use various approaches based on your business's goals, whether engagement, follows, awareness, or sales.
While the average click-through rate, or CTR, was 1.2% in 2022 and seems small, put that into perspective. 1.2% of 4.9 billion is just shy of 60 million people clicking on ads. If you got even 1.2% of that 1.2%, that's almost 706,000 eyes on your content! I'd be overjoyed to have that many people click through to my stuff and spend just a dollar. I'd be set for the year! So, all that math aside, the demographics are there. It's up to you to learn what platform your ICA uses and what tool you are targeting to find them.
Social Media Enhances Your Brand's Credibility and Trust
Once you've found your potential customers, you have so much power to enhance your brand's credibility and trust. People love to see an active and engaged brand on social media. Knowing that a company could " see " them creates a sense of legitimacy and reliability. That can only boost brand awareness further and encourage word-of-mouth marketing as satisfied followers often share their positive experiences.
2023 statistics show that over 70% of shoppers online turn to social media to make recommendations to others. The number of people I follow online who share stuff from their favorite brands just because they love the product or what the company itself is doing in the world, or how they talk are many, and none of them are being paid to make those posts. They're doing it because they think others will enjoy what they are enjoying! That, right there, is brand loyalty at its finest.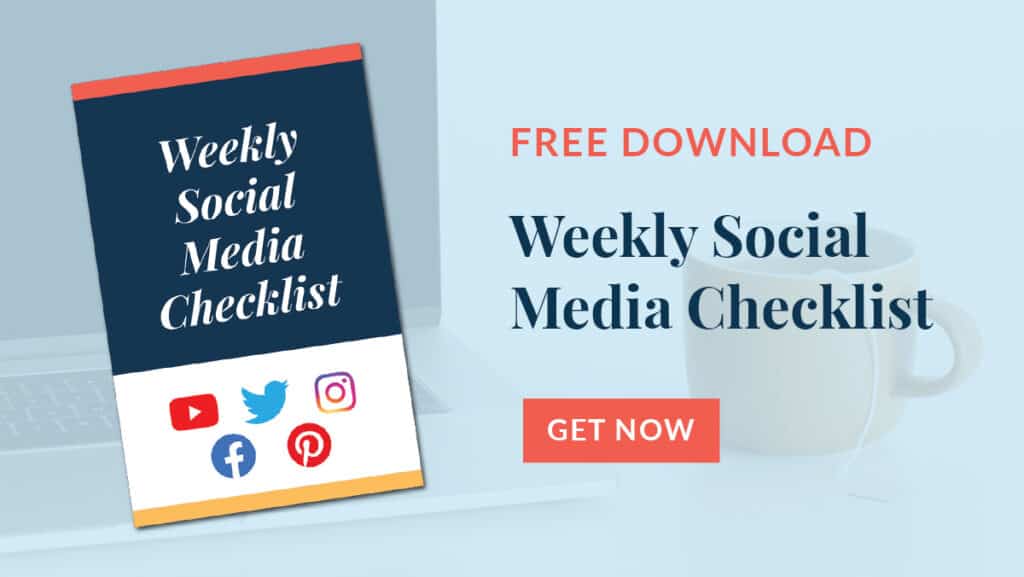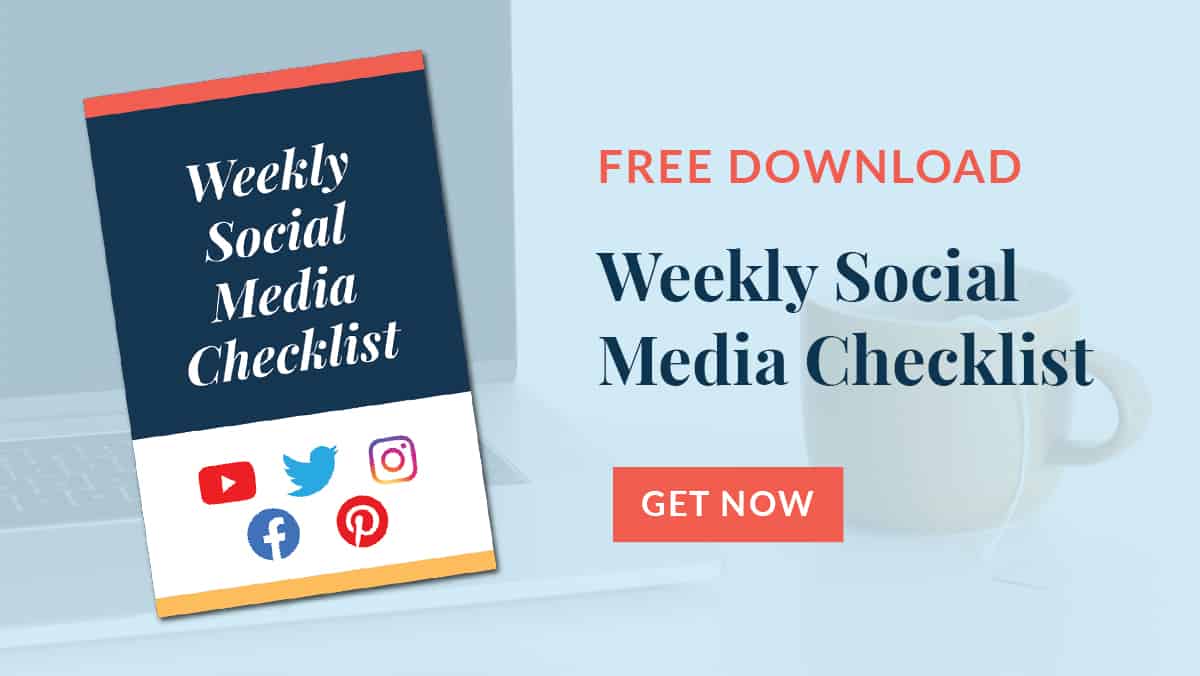 Resource: Weekly Social Media Checklist – While social media marketing can be a lot of fun, it's also a lot of work! There are a series of tasks that you need to do on a regular basis to have an impact on social media and grow your community. Our social media checklist walks you through everything you need to do each week on all of the social media networks! Before you know it, you'll have a wonderful social media community full of engaged potential customers!
No More Social Media Ads, Right?
As awesome as social media is for connecting with your prospects and generating leads, you can't overlook the vast advertising options. Each platform offers unique features you can tailor to your marketing objectives. Using ads is still a smart way to attract more potential customers and boost sales.
By adjusting the metrics, you can target your ads to show up on a person's favorite social apps in a variety of ways. You might want to feature your cool products, exciting offers that encourage instant action, or simply provide helpful information to let them get to know you and your brand. The key is making sure you're using striking visuals and providing the right content that matters to your ICA. Otherwise, like so many of us, they'll keep scrolling. But done right, you'll get people flooding your site, lead magnet, course, social profile, or wherever you want them to go!
You're not alone in believing that driving website traffic through social platforms is challenging. It's not the exact science, but you have much control over your effect on it. Share compelling content, use eye-catching visuals, and incorporate calls to action within your posts and ads. This will entice users to click through and visit your website, and you'll see the results. The increase in visibility and opportunities to engage with and capture valuable leads at an incredibly flexible price point offers your small business a lot of wiggle room to find a strategy that works. Plus, you can always scale down the line as your needs grow. I can't overstate it. Leveraging the power of social media to maximize your brand's exposure should be a no-brainer in 2023. So get out there and create!
Links for this episode:
Rate, Review, & Subscribe on Apple Podcasts
If you like what you hear on the podcast, please consider rating and reviewing my show! Woo Hoo! Click here, scroll to the bottom, tap to rate with five stars, and select "Write a Review." I would love to hear what episodes you enjoy the most!
If you haven't done so already, please subscribe to the podcast. I'll be adding new content weekly. If you're not subscribed, there's a good chance you'll miss out. Subscribe now!